Unique Approach to Lithium Exploration in Nevada
This profile is part of a paid investor education campaign.*
Overview
Cypress Development Corp. (TSXV:CYP, FRA:C1Z1,OCTQB:CYDVF) is a junior resource company focused on lithium exploration in Nevada's lithium-rich Clayton Valley, home to Albermarle's (NYSE:ALB) Silver Peak Mine. Cypress Development's flagship projects are the Dean and Glory Claystone/Brine projects located nearby the wells at the Silver Peak Mine and adjacent to Pure Energy Minerals' (TSXV:PE) Clayton Valley South Project.
Nevada's Clayton Valley is a rich jurisdiction for lithium exploration. The area is well served with maintained state highways that connect Silver Peak to the main road network in the state. As a whole, Nevada is considered to be the best mining jurisdiction in the US and ranked third worldwide by the Fraser Institute's annual Survey of Mining Countries. Cypress' projects also have access to electrical connection and water supply from the municipality of Silver Peak.
Lithium demand is on the rise due to the growth of the electric vehicle market. In Nevada, Tesla (NASDAQ:TSLA) has constructed a $5 billion Gigafactory, which is slated to increase demand for lithium in the state. Further large-scale lithium-ion battery factories are under construction around the world and are prompting increased production from companies already delivering on lithium, prompting companies like Albermarle to enter the Clayton Valley region.
Cypress' Clayton Valley project is well positioned to help deliver lithium for the growing demand in the space. Following extensive exploration programs that spanned across 2016 through 2018, Cypress released a preliminary economic assessment (PEA) for the project in September 2018. Highlights from the PEA include an after-tax NPV (8 percent) of $1.45 billion and an IRR of 32.7 percent. The company anticipates an annual production rate of 24,000 tonnes of lithium carbonate over a 40-year mine life. Moving forward, the company will be conducting further infill drilling as part of an effort to complete a prefeasibility study (PFS).
Company Highlights
Flagship Clayton Valley lithium project located in the heart of the Clayton Valley lithium brine exploration area of Esmeralda County, Nevada—adjoining the Albemarle Silver Peak lithium mine.
Resource estimate of 3.84 million tonnes of lithium carbonate equivalent indicated and 5.126 million tonnes of lithium carbonate equivalent inferred.
PEA highlights of after-tax NPV (8 percent) of $1.45 billion and an IRR of 32.7 percent with 40-year mine life at annual production.
Metallurgical tests have shown the claystone is weak acid leachable with lithium extractions over 80% in 2 to 8 hours in agitated leach tests using sulfuric acid. Ongoing work for development of PFS expect in 1Q 2019.
Clayton Valley Dean Lithium Project
The Clayton Valley lithium project is located in the center of the Clayton Valley lithium exploration area, adjacent to Albemarle's Silver Peak Mine property, North America's only lithium brine operation. The project is made up of two claim blocks, Dean and Glory, which collectively measure 4,220 acres.
As the project area is located in an active lithium mining and exploration region, significant local infrastructure is already in place including state highway and road networks, electric power, water, exploration and operation services and skilled labor.
The land package includes Angel Island, which is an isolated exposure of highly deformed and metamorphosed rocks of Cambrian age akin to many others in the region. The rocks in these occurrences are surrounded by basin-fill evaporite rocks known as claystones. Cypress has uncovered that these claystones are lithium-bearing.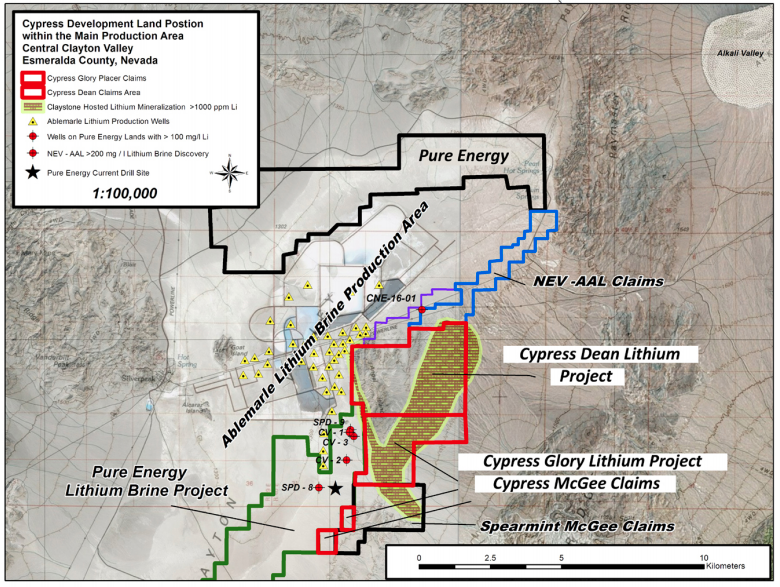 In May 2017, Cypress conducted a nine-hole core drill program on the Dean claim block. The drilling showed that all mineralized intercepts begin near the surface and the mineralized thickness is over 220 feet. The results outlined a lithium mineralized area of four kilometers by two kilometers and open in all directions. All nine holes encountered high values within claystone, ranging up to 1,790 ppm lithium and averaging 900 ppm lithium.
Between the end of 2017 and early 2018, Cypress conducted a 23-hole drilling program across the Dean and Glory claim packages. Results included 1,144 ppm lithium over 97 meters, 1,146 ppm lithium over 121 meters, and 1,134 ppm lithium over 107 meters. These results helped to expand mineralized zones on the property and led to the development of a maiden resource estimate in May 2018. This estimate was later updated as part of the PEA in September 2018.
Metallurgy
PEA
In September 2018, Cypress released its PEA for the Clayton Valley lithium project based on a $13,000 per tonne price for lithium. Highlights from the report included the following:
After-tax NPV (eight percent) of $1.45 billion
After-tax IRR of 32.7 percent
Capital costs of $482 million over two years and payback period of 2.7 years
Pre-production and operating costs of $3,983 per tonne of lithium carbonate
Operating rate of 15,000 tonnes per day for 40-year mine life
The PEA also included the design for a tank leaching plant and a multi-stage thermal evaporation system for concentrating leach solution. The estimated acid plant capacity is 2,000 tonnes per day of sulfuric acid and the plant will be able to produce a lithium carbonate product at 99.5 percent purity. Net recovery of lithium throughout processing is estimated at 81.5% percent.
As part of the PEA, Cypress released an updated resource update for the property. This included an indicated resource of 3.84 million tonnes of lithium carbonate equivalent and an inferred resource of 5.126 million tonnes of lithium carbonate equivalent.
Moving forward
Following the publication of a PEA for the project, Cypress has announced that it is working on a prefeasibility study (PFS). This will include additional infill drilling to update resource categories and optimize the mine production schedule expected in 1Q 2019.
Management
William Willoughby, PhD, PE—Director and CEO
William Willoughby is a mining engineer with 38 years of experience in all aspects of natural resources development. Since 2014, he has been principal and owner of consulting firm Willoughby and Associates, PLLC. Prior to that, he was President and COO of International Enexco Ltd, which was acquired by Denison Mines in 2014. He previously held various positions with Teck (Cominco). Willoughby has been a Professional Engineer since 1985 and received his Doctorate in Mining Engineering and Metallurgy from the University of Idaho in 1989.
Donald C. Huston—Chairman and President
Don Huston has been associated with the mineral exploration industry for over 30 years and has extensive experience as a financier and in-field manager of numerous mineral exploration projects in North America. He spent 15 years as a geophysical contractor with C.D. Huston and Sons as a mineral exploration consultant in northern Ontario, Manitoba and Saskatchewan. Huston serves as a director of four Canadian public resource companies.
James G. Pettit—Director and CFO
Jim Pettit is currently serving on the board of directors of five publicly traded companies and offers over 25 years of experience within the industry specializing in finance, corporate governance, executive management and compliance. He was previously Chairman and CEO of Bayfield Ventures, which was purchased by New Gold in January 2015.
Donald G. Myers—Director and Investor Relations
Don Myers is currently serving on the board of directors and manages the investor relations and corporate communications of three publicly traded mineral exploration and development companies. He has 30 plus years of experience in public company management and investor relations having helped raise over $350 million in venture capital for resource and technology companies listed on the TSX Venture, NASDAQ and Toronto Stock Exchanges.
Amanda Chow, CPA, CMA—Director
Amanda Chow is a Chartered Professional Accountant (CPA, CMA) and a graduate of Simon Fraser University where she earned her Bachelor of Business Administration degree. She began working with public companies in 1999.
Donald Mosher—Corporate Development
Donald Mosher has worked in the capital markets for 30 years, specializing in Venture Companies. He started his career as a financial adviser at Union Securities in Vancouver where he was introduced to the public markets, trading stocks listed on the Vancouver Stock Exchange. In 1998, he went to work for a company called Napier Environmental Technologies, remaining with the company until 2004. In 2004, Mosher started a business called B and D Capital Partners. The business funded Venture Companies in all sectors of business including mining, pharmaceutical, oil and gas, etc. He previously held the position of CEO and President of Rodinia Minerals which was focused on exploring for lithium in Clayton Valley, Nevada.
Simon Dyakowski, CFA, MBA – Strategic Advisor
Simon Dyakowski serves as Strategic Advisor for Cypress Development Corp. Mr. Dyakowski has over ten years of corporate finance, corporate development and capital markets advisory experience. He holds an MBA in Finance from the University of British Columbia, is a CFA charterholder and holds an undergraduate Finance degree from the University of Western Ontario. He advises venture stage and growth-oriented public market issuers on deal structuring, capital markets, and corporate development strategies. His professional experience is in equity research and equity sales coverage with previous positions held at Salman Partners and Leede Financial.
---
*Disclaimer: The profile provides information which was sourced and approved by Cypress Development Corp. in order to help investors learn more about the company. Cypress Development Corp. is a client of the Investing News Network (INN). The company's campaign fees pay for INN to create and update this profile page, to which links are placed on Investingnews.com and channel newsletters.
The company description, investment highlights and catalysts were sourced by INN and approved by the company. INN does not guarantee the accuracy or thoroughness of the information contained on this page.
INN does not provide investment advice and the information on Investingnews.com profile should not be considered a recommendation to buy or sell any security.
INN does not endorse or recommend the business, products, services or securities of any company profiled.
Readers should conduct their own research for all information publicly available concerning the company.