Ethical Cobalt from the Democratic Republic of Congo
This profile is part of a paid investor education campaign.*
Overview
Cobalt Blockchain Inc. (TSXV:COBC, OTC:COBCF) is a Canadian resource company currently focused on exploring and developing high-grade cobalt assets in the Democratic Republic of Congo (DRC). They are implementing a model that uses an innovative blockchain platform for mineral traceability, ensuring the ethical sourcing of materials.
The DRC is responsible for producing approximately 58 percent of the world's cobalt and holds the world's largest reserves of cobalt. However, the DRC has a history of internal conflict and corruption, leading manufacturers to look to other sources of the metal. Issues have also been identified with regards to human rights violations, specifically for the use of child labor by artisanal miners. These issues have brought up the question of how to track and acquire ethically-sourced cobalt.
Cobalt is integral to the electric vehicle (EV) market as it is an essential element in the cathode of lithium-ion batteries. As such, the demand for cobalt has been seeing a steady rise. By combining the supply issues from the DRC and the rising demand from the EV market, experts expect that by the year 2023, the cobalt market will be in a deficit.
In light of the problematic nature of the DRC, and understanding that the cobalt market needs to continue delivering a substantial supply of the metal, Cobalt Blockchain has proposed the application of blockchain technology to the mineral supply chain, particularly to that of cobalt. Blockchain would help trace where materials come from and how they were mined, providing transparency to the end-user.
The company has teamed up with Better Chain and DLT Labs to make sure that the technology is compliant with DRC policies and ethical sourcing practices and that this criteria is compatible with blockchain technology. Cobalt Blockchain is currently piloting this technology on their tin, tantalum and tungsten licenses and will be expecting their results by the end of the year.
Cobalt Blockchain has also signed a letter of intent (LOI) with Traxys Europe SA, a leader in financial and logistical solutions for the mining and energy industries, to establish a commercial partnership for Traxys' cobalt hydroxide plant in Lubumbashi, DRC. The LOI covers a 10-year joint venture agreement for the leasing and operation of the plant; a $30 million trade finance facility to be made available to Cobalt Blockchain for the processing of certified, ethically sourced cobalt concentrates; and a 10-year offtake agreement for 100 percent of the cobalt concentrates produced at the plant.
The Cobalt Blockchain management team has 12 years of on-the-ground experience in the DRC and have over 45 years worth of experience in the mining industry. Management is also notably invested in the company, holding 13 percent of the shares.
Company Highlights
Concentrated on the acquisition of several large-scale, high-potential projects.
Copper and Cobalt trading licence in hand.
Definitive supply agreement for the provision of 40,000 tonnes per annum of cobalt concentrate, of approximately four percent, to commence in June 2018.
Proof of concept of blockchain mineral traceability project expected by the end of the year.
Joint venture with Better Chain and DLT Labs to develop blockchain based mineral traceability project.
LOI for joint venture with Traxys Europe SA for cobalt hydroxide plant in Lubumbashi.
Twelve years of on-the-ground experience in operating in the DRC.
Experienced management team owns 13 percent of the shares.
The DRC
The DRC is located in Africa and is considered to be one of the most mineralized areas in the world. Of the 123,000 tonnes of cobalt that was globally produced in 2016, the DRC produced 66,000 tonnes. Responsible for 58 percent of the world's production, the country is one of the places in the world where cobalt is found as a primary material in projects. This is important as most of the world's cobalt is processed as a by-product in copper and nickel extraction. However, DRC possesses a long, checkered history tarnished by chronic corruption and internal conflict, which can lead to supply issues.
The use of artisanal miners, who account for approximately 20 percent of the cobalt mined in the country, has led to concerns for worker safety as most of the miners are using hand tools and work in dangerous conditions. Some artisanal miners in the region have also instigated concerns regarding child labor. Human rights violations of this nature have spurred technology giants, such as Apple (NASDAQ:AAPL), as well as other manufacturers using cobalt, to look at how and from where they acquire their cobalt.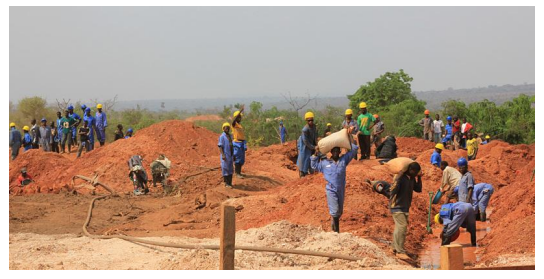 Due to the rising demand for cobalt, President Joseph Kabila has signed a new mining code which will increase taxation and royalties upon cobalt in March. This has lead to mining giants in the DRC to propose a sliding scale on royalties to enable them to meet the government's desire to implement higher taxes. The new mining code should not affect junior mining and exploration companies as most of these companies are not at a production phase and will have the time and the resources to be able to comply with the new code without suffering any significant financial fallbacks.
Risk mitigation
Cobalt Blockchain has 12 years of on-the-ground experience working within the DRC. The area that they have based their operations has been conflict free for 10 years, showing that not all areas in the DRC face the same supply issues when it comes to mining.
The company's executive team has extensive connections and experience with artisanal and small scale mining operations, and have extensive connections within DRC business communities, all levels of government, and multinational institutions. The company's legal affairs officer was an advisor on the revision of the 2002 Mining Code and for the drafting of the Decree which provides the guidelines of feasibility studies for the mining sector. The company also makes a point to respect the communities that they are operating in. They abide to both federal and provincial laws along with customary laws.
Cobalt Blockchain has policies in place that address problems such as child labour, extortion, policies for good environmental practices as well as acceptable health and safety practices. The company is ensuring that children are not onsite on their properties and that the artisanal miners are being trained to be safe on site. The company also has procedures for dealing with illegal taxes that may be applied to the company's business. Lastly, the company does not engage in armed groups benefits.
The company is also working on a mineral traceability project. The goal of this project is to provide transparency and to prove that minerals are ethically sourced. They are planning on using blockchain technology to help track where the minerals are from and where they will go and it will track from what company the minerals were sourced from.
Mineral Traceability Project
Cobalt Blockchain is concerned with providing transparency into the supply chain, so consumers are aware of where cobalt is coming from and how it was mined. The company believes that blockchain technology is the key to transparency. Cobalt Blockchain is applying this system to their own properties and minerals in a pilot project, but the company expects to be able to demonstrate proof of concept by the end of 2018. There has been interest expressed by other mining companies and African countries to implement this technology depending on the outcome of the pilot project.
Blockchain technology
Blockchain is a secure and decentralized peer-to-peer network where users can send digital assets to one another. By design, it doesn't require an intermediate or central party, like a bank or a third party, to authenticate and confirm transactions. This provides transparency and immutable verification capabilities to users, making it particularly useful as a component to any supply chain wanting to validate the source of a product.
Within the mining space, blockchain can be used to verify and track information regarding the materials being mined. The blockchain system will store information on who mined the mineral, on which governmental regulations have been followed and where it was mined from so that end users are assured that it has been ethically sourced.
As more and more cobalt end-users look to secure ethically sourced materials for the development of their products, Cobalt Blockchain's platform will play a significant role in making the distinction between materials that are ethically sourced and those that are not.
Technology development partners
To further the company's goals of using blockchain as a means to provide transparency, Cobalt Blockchain signed a LOI with Better Chain S.L., who has experience in the design of innovative solutions to encourage responsible procurement practices, with unique experience in conflict-free assurance for tin, tantalum, tungsten and gold supply chains. Better Chain also maintains a strong local network in the DRC and among other mineral supply chain stakeholders.
Cobalt Blockchain has also signed a LOI with DLT Labs Inc. to establish a joint venture to provide secure, traceable and transparent methods for tracking and certifying the provenance of metals and minerals, through the entire supply chain from source to end-user. The joint venture will develop and deploy a new enterprise-grade platform based on international blockchain standards and will be specifically designed for companies trading in base and precious minerals, including cobalt, gold and diamonds.
Cobalt Blockchain's partnerships with Better Chain and DLT Labs will allow the company to ensure that responsible procurement practices are being integrated into the blockchain technology being developed by DLT Labs.
Upstream data valuation framework
Property Holdings in the Democratic Republic of Congo
Cobalt Blockchain's exploration focus is tied to cobalt and copper properties in the DRC. They are currently engaged in negotiations on several other cobalt and copper properties and supply agreements.
The company has entered a definitive supply agreement for the provision of 40,000 tonnes per annum of cobalt concentrate, of approximately four percent, to commence in June 2018. In support of this agreement, the company is setting up its cobalt trading facilities. These facilities include a 1,000 square meter depot with storage, an assay lab, clinic and office space. The depot site will incorporate perimeter fencing and security equipment.
The first batch of trading shipments are expected to be received shortly and is contingent on final approval of the company's copper and cobalt license, which received provincial approval in May.
Kolwezi Area
Cobalt Blockchain has entered a joint venture with Alpha Cobalt SAS where Cobalt Blockchain will acquire a 70 percent interest in the company, which holds a land package that measures 40.8 square kilometers and contains 48 carres.
The properties are approximately 50 kilometers to the east of Kolwezi and 10 kilometers from an operating mine at the Tenke Fungurume project, which is one of the world's largest cobalt and copper deposits.
Lubumbashi Area
The company owns an 80 percent interest in Cobalt Blockchain SAS, a joint venture between Cobalt Blockchain and a private local partner.
The property held by the company is 7.6 square kilometers in size and contains nine carres. The property is approximately 50 kilometers from Lubumbashi and is in an area with active artisanal and small-scale cobalt and copper mining.
Cobalt Hydroxide Plant Joint Venture
In August 2018, Cobalt Blockchain announced that it had signed an LOI with Traxys Europe SA for a commercial partnership regarding the cobalt hydroxide plant wholly owned by Traxys in Lubumbashi. Cobalt hydroxide is used to prepare other cobalt compounds, as a catalyst and also in the manufacturing of battery electrodes. Under the LOI, both parties would enter into the following agreements:
a 10-year joint venture agreement for the leasing and operating of the plant;
a $30 million trade financing facility that Traxys will make available to Cobalt Blockchain for costs, charges and general working capital to procure certified, ethically-sourced cobalt concentrates; and
a 10-year offtake agreement that covers 100 percent of the cobalt concentrates produced by Cobalt Blockchain at the plant or purchased with the proceeds of the trade facility.
We're very excited about our commercial partnership with Traxys," noted Lance Hooper, Cobalt Blockchain President and Chief Operating Officer. "This joint venture puts Cobalt Blockchain that much closer to its near-term cash flow goal and the possibility of cash flow-linked dividends to loyal Cobalt Blockchain shareholders."
The cobalt hydroxide plant is located on a parcel of land measuring eight hectares, five kilometers away from the Lubumbashi airport. It is connected to the national electric grid and has a backup generator. The plant consists of a process facility for conventional hydrometallurgical cobalt leaching with a design throughput of 50,000 tonnes per year of run mine feed. The expected output (minimum feed grade of 3 percent) is of 3,150 tonnes of cobalt hydroxide, with 1,050 tonnes per year of contained cobalt. The process facility is also supplemented by an office complex, assay laboratory and housing for 20 people.
As part of the agreement, Cobalt Blockchain will invest up to $2 million to commission the plant towards full production capacity, a process expected to take between four and six months. Once the plant is commissioned, under the 10-year lease agreement with Traxys, Cobalt Blockchain will be responsible for plant operations, including maintenance costs.
Timmins, Ontario
Project 81 is approximately 3 kilometers north of Kidd Creek and approximately 30 kilometers north of the major Timmins mining district. The company signed a LOI with Noble Mineral Exploration Inc. (TSXV:NOB, OTC.PK:NLPXF) in October 2017 to acquire up to a 75 percent interest in specific target areas measuring up to 2,000 hectares.
The property has been covered by EM and Mag surveys, which have identified a number of drill ready targets and conductor trends of gold and nickel. A gravity gradiometer survey is currently being conducted on the property.
Management
Peter Hooper — CEO & Director
Peter Hooper is a graduate in mining engineering with over 45 years of broad‐based experience in permitting, building, and operating mines, which includes hands‐on expertise in mine management, engineering, operations and production.
His practical work experience spans five continents: North America (Eldorado Nuclear, Sherritt Gordon, J.S. Redpath, Dynatec Engineering, PC Gold); Africa (Rustenburg Platinum, Consolidated Murchison, Prestea Gold Mines, Kilo Gold Mines, PMI Resources, and Nevsun Resources); China (Afcan Mining); Australia (Consolidated Rio Australia); and South America (Latin Gold, Macusani Yellowcake). Hooper was the driving force behind a 2Moz gold discovery in northeastern DRC (2006-2012).
Hooper has served as the Executive Chairman of Belair African Metals, which was recently acquired by COBC, with operations in Katanga and Maniema provinces in the Democratic Republic of the Congo (DRC).
Lance Hooper — President, CEO & Director
For the past twenty years, Lance Hooper has developed a broad range of experience working for emerging companies, where he has played key roles as both an early employee and as a founder. ​
Hooper is a named inventor and has been intimately involved with the product development, business development, and sales and marketing of several commercially successful innovations, including the world's first interbank email money transfer service.
For the last decade, he has held senior corporate positions and served as a director for both private and public mining companies working in Canada, Peru, Afghanistan and the DRC. Recent work in the DRC includes Kilo Goldmines and a 2Moz gold discovery in the Oriental Province.​
Hooper was most recently President & CEO of Belair African Metals, which was acquired by COBC. Belair African Metals specialized in conflict-free tin, tantalum and tungsten concentrates in the DRC.
Philip Gibbs, B.Compt, MBA, CMA — CFO
Philip Gibbs has extensive knowledge of the financial aspects of exchange-listed mining and mineral exploration companies operating in Africa and South America.
Gibbs has a B.Compt. from the University of South Africa and an MBA from the University of Durban Westville, South Africa and is a Chartered Management Accountant. He has previously been CFO with Kilo Goldmines, Inc., Macusani Yellowcake, Inc., PC Gold Inc., Asante Gold Corporation, and PMI Gold Corporation.
William (Bill) Nielsen, P.Geo — VP Exploration & Qualified Person
Bill Nielsen is an accredited geologist with over 45 years of experience who has held senior management positions and has been a director of a number of TSX-listed mining and exploration companies. He has operated as a senior-level industry consultant on numerous advanced projects that have been working with a variety of commodities in various countries and geological environments.
Michel Kabongo — Chairman of DRC Operations
Michel Kabongo has more than 45 years of business experience in the DRC across a variety of industries including transportation, real estate and mining. He has well-established connections within the DRC business community, all levels of the DRC government and multinational institutions operating in the country.
Yves Kabongo — Managing Director of DRC Operations
Yves Kabongo started his career at a major financial institution as an analyst and has spent the past eight years involved with junior mining companies located in Canada, Peru and the DRC. Kabongo has been with Belair African Metals SARL, which was recently acquired by COBC, for the past 3 years and is responsible for managing the day-to-day operations of the project.
Emery Mukendi Wafwana — DRC Legal Affairs
Emery Mukendi Wafwana has been practicing mining law since 1995. He is a lawyer at the Court of Cassation and the Council of State, licensed mining and quarries agent (DRC) and a legal consultant registered with the New York State Supreme Court. In his practice of mining law, he has advised in the reform of the legal, tax, customs and exchange frameworks of the mining sector during the revision of the 2002 Mining Code and in the drafting of the Decree providing guidelines for feasibility studies of mining projects in the DRC.
He has advised and represented clients in the management of mining titles, in negotiations and renegotiations of mining conventions, in claims and litigation on the issuance and validity of mining rights and titles and in obtaining various administrative permits for the construction and rehabilitation of mines and related infrastructures. He has led due diligence effort for the financing or acquisition of mining projects and advised in many mining transactions in the DRC, Cameroon, Gabon, Burkina Faso and Mali.
Antoine Tshbangu — VP of DRC Operations
Antoine Tshibangu has over 15 years of experience as a consultant in the mining industry while working with Canadian and African companies. He has extensive experience in the artisanal and small scale mining and processing of copper, cobalt, gold and diamonds in the DRC, Angola, Guinea and Tanzania.
H.J. (Jim) Blake, QC — Chairman
Jim Blake is Chairman of the Board & Corporate Secretary, Chair of the Corporate Governance and Social Responsibility Committee, and a member of the Compensation Committee. Blake is a member of McLean & Kerr's Securities and Corporate Finance and its corporate and commercial practice groups. He achieved his Bachelor of Law from Osgoode Hall in 1965, was called to the bar in 1967, and was granted Master of Law from York University in 1970.​
Blake has extensive experience in securities, finance, mining and natural resources and in various areas of commercial and corporate law. Previously, Blake was Chair of the Natural Resources and Energy Section, Chair of the Business Law Section, Ontario Bar Association (OBA); Chair of the OBA Working Group on Modernizing Ontario's Mining Act; and Chair of the Planning Board of the Township of Adjala.
Patricia Mannard — Director
Patricia Mannard is a member of the Board of Directors, and a member of the Audit Committee. Mannard graduated from the University of Guelph with a Bachelor of Arts in 1986. She has worked in the junior resource sector for over 25 years, with experience in corporate maintenance, accounting management and financial reporting.
She was a founding officer of Pine Point Mining Limited (formerly Darnley Bay Resources Limited), a publicly traded company listed on the TSX Venture Exchange, upon its incorporation in 1993, joining its Board of Directors in 2002. She has been an officer of COBC from 1991-2018 and a Director since 2004.
Michael Cachia, CA, CPA — Director
Michael Cachia is an independent member of the Board of Directors, Chair of the Audit Committee, a member of the Compensation Committee, and a member of the Corporate Governance and Social Responsibility Committee. He is a licensed public accountant and a partner in a Toronto based firm of public accountants. He has been on the company's Board of Directors since 2015.
Cachia has extensive experience in providing both consulting and audit-based services to public companies, with a special focus on companies in the mining and resources sector.
Samuel Peralta, PhD — Director & Strategic Advisor, Technology
Samuel Peralta is an independent member of the Board of Directors, and Strategic Advisor on Technology. He is Chair of the Compensation Committee, a member of the Audit Committee, and a member of the Corporate Governance and Social Responsibility Committee.
Peralta also serves on the Board of Noble Mineral Exploration, on the Advisory Board of GraphenTech, and as Chairman of Incandence. He has co-founded and served on the Boards of POET Technologies; Windrift Bay; OPEL Solar; Envergence; and Qvadis. He also served on the boards of Axiom NDT, and the Organization of Canadian Nuclear Industries. He was CEO of Qvadis, CTO of OH Solar, Chair of Windrift Bay, Chair of Envergence, and has served in executive roles at Kinectrics, Ontario Hydro, and the Ontario Laser and Lightwave Research Centre.
​Peralta is active in the Toronto technology ecosystem as an advisor to companies focusing on A.I., the Internet of Things, and blockchain – including at the ICUBE and BlockchainHub startup accelerators.
*Disclaimer: The profile provides information which was sourced and approved by Cobalt Blockchain in order to help investors learn more about the company. Cobalt Blockchain is a client of the Investing News Network (INN). The company's campaign fees pay for INN to create and update this profile page, to which links are placed on Investingnews.com and channel newsletters.
The company description, investment highlights and catalysts were sourced by INN and approved by the company. INN does not guarantee the accuracy or thoroughness of the information contained on this page.
INN does not provide investment advice and the information on Investingnews.com profile should not be considered a recommendation to buy or sell any security.
INN does not endorse or recommend the business, products, services or securities of any company profiled.
Readers should conduct their own research for all information publicly available concerning the company.