This profile is part of an investor education campaign. The profile provides detailed information which was sourced and approved by Lexaria Bioscience in order to help investors make better investment decisions. The Company's support of Investing News Network ensures we can continue to bring you unbiased, independent news and information.
Resource Investing News Featured Stock
Overview
Lexaria Bioscience Corporation (CSE:LXX,OTCQB:LXRP) is a technology company with a robust patent portfolio for the improved delivery of bioactive compounds. The company is leveraging its proprietary technology for better-tasting, faster-acting and more potent cannabis edibles. The benefits of Lexaria's pharma-grade technology translates to a radical downshift in the cost per unit for cannabis edibles, a highly attractive feature for consumer goods companies. Lexaria is licensing the technology to companies in the United States under a royalty model, and will be seeking licensing partners and distributors in Canada once regulations allow.
Human tissue in-vitro and focus studies of Lexaria's lipophilic bioactives have demonstrated substantially improved absorption of beneficial molecules such as cannabidiol (CBD) and Tetrahydrocannabinol (THC); a significant increase in the rapidity of action; and a greatly enhanced flavor profile. The company is now working to bring the benefits of its technology to other markets including vitamins, pain relievers, and nicotine edibles.
In February 2017, Lexaria signed a master collaborative research agreement with the National Research Council of Canada (NRC)—the Government of Canada's premier research and technology organization— to investigate opportunities associated with the bioavailability enhancement of lipophilic active ingredient compositions, and evaluate the best methods for processing such agents with foods. Under the agreement, Lexaria and the NRC will each fund up to C$125,000 in research for a total investment of C$250,000. The agents to be studied include cannabinoids (CBD and THC), fat soluble vitamins, non-steroidal anti-inflammatory drugs (NSAIDs) and nicotine. The design phase for the studies commenced in March 2017.
"The master collaboration agreement with Canada's National Research Council speaks to our ability to achieve our goals and demonstrates that outside parties see the validity and significance of the technology to the point of supporting its advancement," said Lexario CEO Chris Bunka. "Having a federal government agency such as the NRC as a research collaborator is a point of distinction between Lexaria and any other cannabis-related company we can find."
In 2017, management anticipates the R&D program to provide key data on its technology's application in fat-soluble vitamins, NSAIDS and nicotine. Such data will allow the company to actively compete for corporate partners in those sectors and create additional revenue streams as it has in the cannabis market. Nicotine itself is an example of an emerging edibles market as Big Tobacco shifts focus to combustion-free methods of nicotine delivery. There is some accumulating evidence that suggests nicotine may have therapeutic value for Parkinson's disease. Unique among all cannabis-participating companies, Lexaria's technology provides for possibilities of revenue streams from these three additional market sectors, each of which is larger than the cannabis market.
Investment Highlights
Lexaria completed a financing in April 2017 totaling more than US$1.7 million and received over US$1.0 million in warrant and option exercise proceeds since November 2016.
Unique, highly-scalable technology provides pharma-grade solutions at mass market costs to deliver a product that is better tasting, fast-acting and highly potent.
Human tissue in-vitro and focus studies demonstrate 5 to 10-fold increase in absorption of beneficial molecules like THC and CBD found in cannabis edible products.
Lowest cost-per-serving bio-absorption technology in the cannabis edibles market.
Revenue generation based on royalty model. Lexaria has signed two definitive agreements and has four LOI/MOUs pending (April 2017) in key markets including California, Colorado, Oregon and Nevada .
Technology is patented in the US; patent pending in Canada and in 42 other countries around the world; covering CBD and all other non-psychoactive cannabinoids, and patent-pending for THC, other psychoactive cannabinoids, NSAIDs, nicotine and other molecules.
$250,000 R&D program underway through master collaboration agreement with Canada's National Research Council.
Technology: Fast-Acting, High-Absorption Cannabis Edibles
Lexaria's lipophilic enhancement technology is designed to increase the bioavailability of orally- ingested cannabinoids in the bloodstream.
There are three main paths for cannabinoids to enter the bloodstream:
Inhalation: high bioavailability—estimated 30 percent; harmful to lungs.
Sub-lingual (under tongue): medium bioavailability—estimated 16 percent; foul taste.
Oral/GI Tract: Low availability—estimated 3 to 5 percent; loaded with sugar to mask taste.
With Lexaria's patented technology, orally-ingested cannabinoids will quickly become a viable alternative to harmful inhalation while also offering better-tasting edibles for health conscience consumers.
By nature, cannabinoids are poorly absorbed by the human body's gastrointestinal (GI) tract, which explains the low bioavailability of cannabis edibles. Research testing has proven that Lexaria's lipid-based delivery system solves that problem by protecting the cannabinoid molecule from the acidic environment of the GI tract. In fact, the human endocannabinoid system is itself lipid based. Lipids are fats, oils, waxes and fat-like molecules with insulative properties, well-known to aid in higher absorption levels and the transfer of drugs into the bloodstream.
Broken down into more easily absorbed particles in the small intestine, these long chain fatty acids are able to bypass the portal vein that travels to the liver where additional filtration occurs, and enter the bloodstream via the lymphatic and circulatory systems.
Lexaria's patented technology combines non-psychoactive cannabinoids (for mass markets) and psychoactive cannabinoids (for licensed markets) co-joined with lipids by way of dehydration or lyophilization, and in contact with a food product substrate material.
Four benefits of Lexaria's disruptive technology: 
Lexaria is paving the path to the future of the cannabis edibles industry. Lexaria's technology provides four critical benefits for cannabinoid edibles:
Masks the strong taste inherent in cannabis edibles and eliminates the need for sugar additives, resulting in a better tasting and healthier cannabis edible.
Protects cannabinoid molecules as they transit through the stomach's acidic environment.
Bypasses the liver's filtration system, increasing bio-absorption by 5 to 10-fold to match the high bioavailability of inhalation.
Fast-acting delivery after entering the bloodstream via the lymphatic system, reducing onset time of desired effect from 60-120 minutes to 15-20 minutes.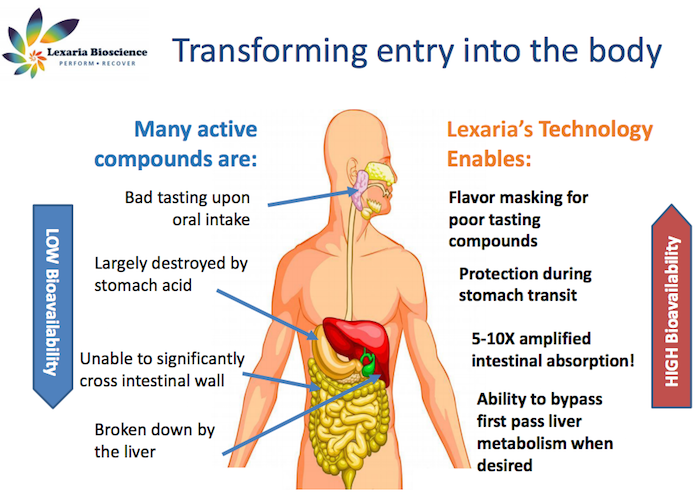 Improving taste key to greater consumer preference for cannabis edibles
"Did you really put anything in here because I can't taste it,"— test subjects ranked Lexaria's products as best tasting and delivering the best overall experience.
The strong, not-so-pleasant taste of cannabis has led many edibles companies to overload their products with sugar and artificial flavors. "The cannabis industry has a taste problem," said Lexaria CEO Chris Bunka. "Companies load up edibles with sugar to mask the flavor. Medical patients do not want 800 calories a day of sweetened cannabis products. They need more healthy ways of transmitting cannabis into the blood stream." Lexaria's technology places the active cannabinoids inside fatty acids, preventing them from being drawn to the tongue's bitter taste receptors. "Our technology might be the solution to making genuinely healthy cannabis food products with no added sugar or artificial flavors."
Competitive Advantage: disruptive technology that creates low cost edibles
Lexaria's technology costs cannabis edible companies less than one penny per serving to implement.
The more efficient delivery of cannabinoid molecules to the bloodstream, the lower the overall dosage required to achieve the desired outcome for consumers. At a bioavailability of only 5 percent, a medical marijuana patient requiring 10 mg would have to consume 200 mg. Raising the bioavailability rate to 30 percent lowers the required dosage to just 33 mg. The ability to use a lot less of the active molecule to achieve the same effect represents a 10 to 15 percent cost savings for cannabis edibles manufacturers.
The latest trends in cannabis edibles in California and Colorado are to "micro-dosing" of just 5mg per edible serving. In fact, regulators are beginning to force manufacturers to individual doses of just 5mg to 20mg per serving, making Lexaria's technology vital and competitively invaluable. Regulator-required smaller edible doses could enhance demand for Lexaria's technology among licensed cannabis companies seeking to deliver the most positive customer experiences within dose limitations.
On top of that, the capital costs for implementation of Lexaria's technology are significantly lower compared with competing pharma-based technologies, including micro-homogenization machines. Such equipment also has limited throughput capacity, whereas Lexaria's technology is highly scalable for the food and consumer goods marketplace.
"What makes Lexaria unique in the field of functional foods is that we are the first company to provide pharma-grade solutions at mass market costs," said Lexaria President John Docherty. While existing pharmaceutical technology may offer one benefit such as improved taste or enhance bio-absorption, Lexaria's technology can do more at a fraction of the price. "Even after paying a royalty, costs will be revenue neutral for the licensee of our technology and potentially even revenue positive. None of our competitors in North America or Europe can offer higher profitably."
Large Intellectual Property Portfolio
18 patent applications filed in the United States and internationally under the Patent Cooperation Treaty covering 44 countries.
Patents include both method and composition of matter claims.
Patents name a broad range of lipophilic bioactives and food/carrier particles that can be formulated and delivered using Lexaria's technology, including: cannabinoids, vitamins, NSAIDs and nicotine.
Applicable to many consumer/pharma product dosage forms, including: foods, liquid emulsions, tablets and capsules.
First patent issued by the US Patent and Trademark Office in October 2016, "Cannabinoid Infused Food and Beverage Compositions and Methods of Use Thereof" (US 9,474,725 B1).
First international patent accepted for issuance in Australia in February 2017 (2015274698).
Additional patent acceptances/issuances are expected to follow in 2017 and beyond.
Study results
Third-Party In-Vitro Absorption Study, August 2015
First tests ever known to be conducted on CBD bio-absorption in human intestinal tissues.
499-percent increase in CBD bio-absorption.
Human Biomarker Study, January 2016
5 to 10-fold increase in salivary nitric oxide within 15 to 30 minutes.
Surrogate indication of proportionate CBD absorption.
Human Focus Study, March 2016
15 to 20 minutes for onset of THC effects in human volunteers.
Evidentiary CBD Products
Lexaria has developed a range of CBD products for demonstration, testing and sales. The products are made using a high-absorption hemp oil formula and are excellent source of omegas and essential fatty acids.
Lexaria-branded Protein Energy Bars – Sports nutrition; energy, fiber and protein
ViPova™ brand premium teas – Seven flavors; anti-oxidant
TurboCBD™ –specially formulated with American Ginseng and Ginkgo Biloba capsules for support of enhanced focus and memory, and reduced stress and fatigue.
Generating Revenue Through Outsourcing Technology
Lexaria's business model is based on out-licensing its technology to third-party partners and distributors for royalty fees. These royalty agreements earn the company an estimated 5 to 10 percent of gross sales. As of April 2017, Lexaria has signed two definitive agreements and has four LOI/MOUs pending.
Early in its growth stage, Lexaria already has revenue potential in more markets in North America and globally, than perhaps any other cannabis-sector company. Royalty-style revenue is among the highest quality revenue streams possible in any industry, with astonishingly high profit margins of over 90 percent once established.
Definitive agreement with undisclosed third-party for three THC product lines with access to markets Colorado, Washington, California and Oregon.
LOI with CBDM LLC., for five THC product lines with access to Pennsylvania, Massachusetts, Nevada, Arizona & Indian Lands.
LOI with undisclosed third-party for THC products; well-known, California-based brand.
Definitive agreement with Timeless Herbal Care Ltd. for multiple CBD products with access to USA, Canada and Jamaica.
Joint venture signed with NeutriSci International, a publicly-traded company, to develop cannabinoid mouth-melts targeted at California, Colorado and, when allowable, Canada.
LOI with HempCo, a publicly-traded company, for hemp products in North America, Europe and Asia.
Management
Chris Bunka, CEO and Chairman of the Board
Chris Bunka is a serial entrepreneur and has been involved in several private and public companies since the late 1980s. He was well known in Canada for more than a decade as a part time business commentator in print and radio, and as an author. He has extensive experience in the capital markets, corporate governance, project acquisition and finance, having assisted in the raising of well over $50 million.
John Docherty, President
John Docherty was formerly President and Chief Operating officer of Helix BioPharma Corp. (TSX: HBP) where he led the company's pharmaceutical development programs for its plant and recombinantly derived therapeutic protein product candidates. He is a senior operations and management executive with over 20 years' experience in the pharmaceutical and biopharmaceutical sectors. He has worked with large multinational companies and emerging, private and publicly held start-ups. At Helix, Docherty was also instrumental in the areas of investor/stakeholder relations, capital raising, capital markets development, strategic partnering, regulatory authority interactions and media relations, and he also served as a management member of its board of directors. Prior to this, he was President and a board member of PharmaDerm Laboratories Ltd., a Canadian drug delivery company that developed unique microencapsulation formulation technologies for use with a range of active compounds. Docherty has also held positions with companies such as Astra Pharma, Nu-Pharm and PriceWaterhouseCoopers' former global pharmaceutical industry consulting practice. He is a named inventor on issued and pending patents and he has a M.Sc. in pharmacology and a B.Sc. in Toxicology from the University of Toronto.
Nicholas Baxter, Director
Nick Baxter received a Bachelor of Science (Honours) from the University of Liverpool in 1975, and has worked on oil & gas projects in many areas of the world. Since the 1980s he has worked with companies in the public markets both in the UK and in Canada, and brings extensive real-world experience as a board member.
Ted McKechnie, Director
Ted McKechnie is a senior entrepreneurial executive with extensive Board and Senior Management Experience in the consumer goods industry with a proven track record for achieving corporate financial and growth objectives. He is the former President and COO of Maple Leaf Foods and has held executive positions with Kraft, Frito Lay, General Foods, PepsiCo, and Philip Morris Companies. He is the Founder, Chairman and CEO of Canada's Technology For Food.
Dr. Edward Ergenzinger, Advisor
Dr. Ed Ergenzinger serves as outside patent counsel to Lexaria. He is a US licensed patent attorney who also holds a doctorate in Neuroscience (with concentrations in Pharmacology and Physiology). Ergenzinger has over 15 years of experience providing patent services to clients that have ranged from small start-ups to some of the world's largest pharmaceutical and biotechnology companies. His professional experience includes serving as Director of Intellectual Property and Legal Affairs at the Duke Human Vaccine Institute where he managed intellectual property assets arising from over $50 million dollars per year of extramural grants. He also provided seminal patent prosecution and worldwide portfolio management services for a second-generation vaccine that generated $4.5 billion in revenue in 2014. He is lead author or co-author on over forty scientific and legal publications.