This profile is part of an investor education campaign. The profile provides detailed information which was sourced and approved by Granada Gold Mine Inc in order to help investors make better investment decisions. The Company's support of Investing News Network ensures we can continue to bring you unbiased, independent news and information.
Resource Investing News Featured Stock
Overview
Granada Gold Mine Inc. (TSXV:GGM;OTCPK:GBBFF;FRA:B6D) is a junior resource company currently developing their flagship Granada gold property in Canada's Quebec province. The company's wholly owned, previously-producing property was first acquired in 2006 and Granada Gold has been leading the mine to its upcoming first stage of production.
The Granada property has a NI 43-101 resource of 2.3 million ounces (1.5 million Inferred underground, 0.8 million pit-constrained Measured and Indicated) that was announced in 2017. In addition, the Block Model estimate (of all gold discovered so far on the property) showed a 233 percent growth in the Inferred category from the 2012 resource estimate thanks to the results obtained from the project's 2016-2017 drilling campaign.
Only 20 percent of the property's exploration zone has been surveyed to date, making the company optimistic as to the potential expansion of the resource. As it moves towards its first phase of production, the company also hopes to explore additional target areas on the property with the goal of adding significantly to the current resource.
At its present stage of development, Granada Gold has been undervalued by the market compared to other companies in the same area. The company's market value per ounce of in-situ gold resource (2.3 million ounces) is less than C$10 per ounce. When compared to other gold companies at a similar stage of development, it is evident that Granada Gold has space to grow.
Granada Gold boasts an experienced management team with noted expertise in all aspects of mining, including President and CEO Frank Basa, who also heads Castle Silver Resources Inc (TSXV:CSR), a company that emerged as a spin-out from Granada Gold to manage one of the company's properties in Northern Ontario, Castle Silver. As part of the split, it was agreed that Castle Silver would issue a total of 10 million shares and 10 million warrants at 10 cents each to Granada shareholders over the course of four years. At this point in time, there are still 2.5 million shares to be distributed in 2018, and another 2.5 million in 2019, with the accompanying equal amount of warrants.
An additional unique benefit for investors is that when Granada Gold begins production, there will be a three percent NSR paid to Granada as a dividend. On top of that, per the agreements with Castle Silver, a one percent NSR on their properties will also be paid out as dividends to Granada Gold shareholders.
Investment Highlights
High-grade past-producing project in mining friendly jurisdiction of Quebec, on Cadillac trend
Production-ready property with open-pit mining permits in place
Updated 2017 NI 43-101 resource of 2.3 million ounces (M+I+I)
Only 20 percent of potential 5.5 km strike length has been explored to date
Plans for exploring further and expanding the current resource
Granada Gold undervalued by the market, with a market value of under C$10 per ounce
5 million shares and 5 million warrants of Castle Silver Resources to be distributed to shareholders
3 percent NSR to be paid as dividends when Granada production begins
Flagship: Granada Gold Project
The Granada gold project is located 7 kilometers south of the mining-friendly community of Rouyn-Noranda in Quebec, Canada. The property sits in the heart of the Abitibi Greenstone belt, which has produced 160 million ounces of gold since the start of the 20th century. The property is also located upon the prolific Cadillac trend, which has highly-prospective geology and is host to many mining communities.
The Granada property is easily-accessible by highways and roads and supported by the appropriate infrastructure for a large open-pit, bulk tonnage gold deposit. The property is also supported by a power line that provides up to 1,200 horsepower, a natural gas pipeline and water supply from nearby lakes.
Granada Gold has been conducting a community engagement initiative where representatives from the company engage with local residents, members of the nearby First Nations communities, elected officials and other relevant public servants.
History
The Rouyn-Noranda town has a rich mining history that began in the 1920s with the discovery of the Horne copper-gold deposit. Following that, 15 other deposits were discovered in the region, including Granada, which was originally staked in 1922 and brought to production in 1930. Five veins were discovered on the property and an on-site mill processed 51,476 ounces of gold from 181,744 tonnes of ore with an average grade of 9.7 g/t gold and 1.5 g/t silver. In 1935, the surface structures of the mine were destroyed by a fire, stopping production entirely.
In the 1980s, Kewagama Gold conducted a series of exploration activities that continued until the mid-1990s. Their initiatives included detailed ground geophysics and geological mapping. Kewagama Gold sold the mine to Mousseau Tremblay Inc in 1998, and the new proprietors mined a total 2,200 ounces of gold from one of the veins. Granada Gold Mine acquired the property in 2006.
The Granada gold resource
Since its acquisition, Granada Gold has conducted a number of exploration activities on the property including an initial drill program in late 2009, which resulted in the discovery of mineralization in previously undrilled land, more than 500 meters away from the past-producing pit. Drilling continued on the property and by 2012 the company had a defined resource in the LONG Bars zone.
In anticipation of renewing the resource estimate, Granada Gold conducted additional drilling programs in 2016 and 2017, which produced notable results such as 14.5 g/t gold over four meters, including 55.9 g/t gold over one meter at 881 meters and 7.3 g/t gold over one meter at 710 meters.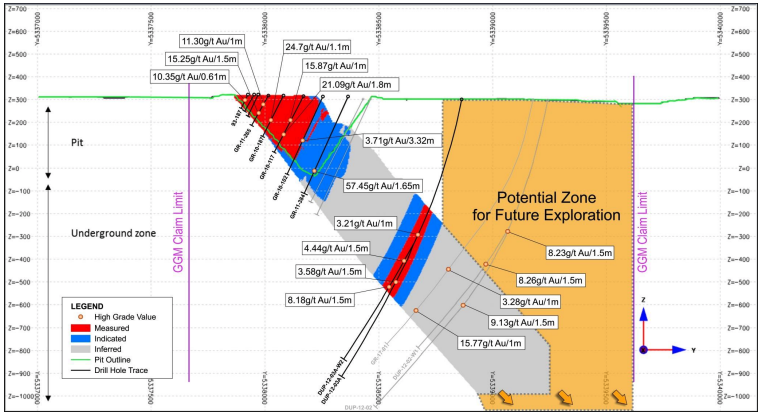 "We are highly encouraged by these drill results," said Basa. "This is one of the best intercepts at depth of all of our drilling over the years at Granada and is from an area not previously included in resource estimates."
In July 2017, Granada Gold announced the publication of a NI 43-101 mineral resource estimate for its flagship property. The report outlined an Inferred underground resource of 1.5 million ounces of gold along 600 meters of strike, grading 4.56 g/t gold at a cut-off grade of 1.5 g/t gold. Additionally, the 2017 report outlined a combined pit-constrained Measured and Indicated resource of 807,700 ounces at 1.16 g/t gold with a 0.39 g/t cut-off.
To date, only 20 percent of the LONG Bars zone has been explored. While Granada Gold prepares the project for production, it is also working on plans for expanding the existing gold resource by exploring additional target areas. The company's long-term goal is to produce 100,000 ounces per year from a combined open-pit and underground operation.
In November 2017, the company was granted exploration permits for the former Aukeko Mine site on its property, two kilometres east of the LONG Bars zone. Plans include trenching and drilling in an area where three bulk samples were reported to have been taken in 1938 from a trench approximately 50-150 metres east of the Aukeko Shaft that averaged a grade of 7.0 ounces gold per ton (240.0 grams per tonne).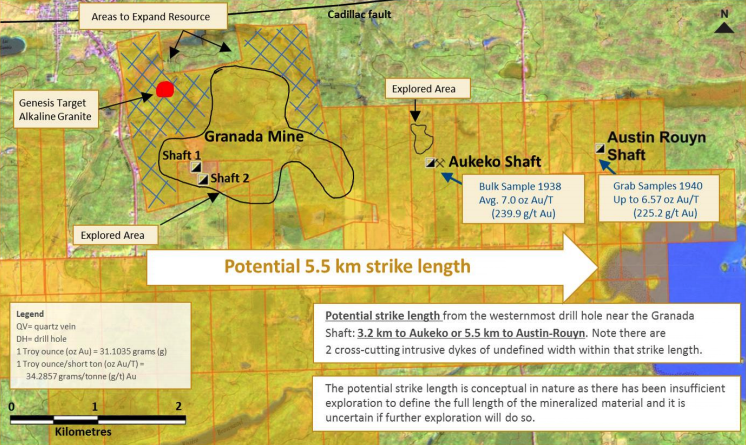 Plans for production
Due to the property's opportunities for both open-pit and underground mining, Granada Gold has entertained a variety of options for how to initiate production and achieve the goal of producing 100,000 ounces of gold per year. One variable consideration for the company has been the lack of an operating mill on the property, which has encouraged discussions with nearby operators for the use of their mills.
In 2012, the company conducted a PEA for a combined open-pit and underground mine that had an operating mill on the property. Results of the PEA outlined production of 100,000 ounces per year for 11 years, mining 7,500 tonnes a day. The report also outlined a CAPEX of C$259 million. Soon after the report was published, when gold prices were lowering and raising this level of funding was a significant endeavor, this was not considered a feasible approach.
As an alternative, in 2014, Granada Gold conducted a prefeasibility study (PFS) for what was named a 'rolling start' plan. This plan suggested the launch of an initial phase of reduced-scale production in the form of open-pit, selective high-grade mining. The PFS outlined a three-year-long production phase of 25,000 ounces per year, mining 550 tonnes a day at an average grade of 4.24 g/t gold. The CAPEX for this initiative was reported at C$6.7 million and assumed a partnership with a nearby mine for the use of their mill.
Since the publication of the 2014 PFS, Granada Gold has obtained all the necessary permits for open-pit mining and entered into the appropriate First Nations agreements for launching the 'rolling start' phase of production, making the property production-ready. However, discussions with the local mills showed that they were not willing to engage in a longer-term agreement to process the ore from the Granada property.
In response to this, Granada Gold is planning to conduct a full, bankable feasibility study (FS) for the company to have its own mill on the property, producing 100,000 ounces of gold a year. As gold prices in Canadian dollar terms have improved since 2012, the approach is now much more economically viable.
While this work is being done, the company is also conducting a PFS for the construction of a mill at Castle Silver's property in Northern Ontario for the time it takes to develop the mill at the Granada site. This PFS is expected to be published soon. This follows Granada Gold's September 2017 announcement that the company had signed a Memorandum of Understanding with Castle Silver for the consideration of processing 579,000 tonnes of ore over the course of three years.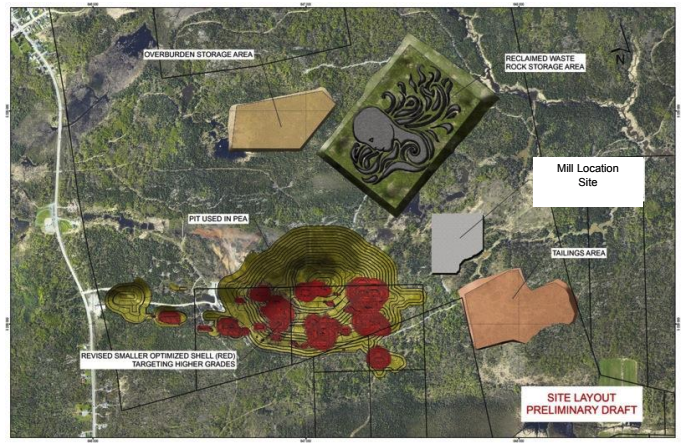 Management
Frank Basa, PEng—President, CEO and Chairman
Frank Basa has been a director of Granada Gold Mine Inc since 2004. He is also President of Grupo Moje Ltd. and Mineral Recovery Management Systems Corp. He has over 28 years of global experience in gold mining and development as a professional hydrometallurgical engineer with expertise in milling, gravity concentration, flotation, leaching and refining of precious and base metals. He is a member of the Professional Engineers of Ontario and a graduate of McGill University.
Jacques Monette—Director
Jacques Monette has been a Granada Gold Mine director since 2008. He is also a director of Landdrill International Inc and their Vice President of Marketing. He is a career miner who has been engaged in every facet of underground mining for more than 40 years. His previous positions included Shaft Project Coordinator with Cementation Canada Inc, Vice President of Operations/Mining Division for Wabi Development Corp, Vice President of Development for CMAC Mining Group, Operations Manager for Moran Mining and Tunneling, as well as Area Manager for J.S. Redpath Group.
Thomas Devlin—CFO
Thomas Devlin became Granada Gold Mine's CFO in January, 2009. He brings to the company over 40 years of accounting and management experience in the investment and junior resource industries.
Ronald Goguen, SR—Director
Ronald Goguen has over 30 years of experience in the mining exploration industry, having purchased his first exploration drilling company, Ideal Drilling, in 1980, which he later combined with a second exploration drilling company to form Major Drilling Group International Inc, a major metals and minerals contract drilling service company listed on the Toronto Stock Exchange. He is Chairman of Colibri Resource Corporation and President and CEO of ONTOP Capital Limited. In 1995, he was named Atlantic Canada's Entrepreneur of the year as presented by Governor General of Canada.
Dianne Tookenay, MPA, BAdmin—Director
Dianne Tookenay holds a Certificate in Mining Law from the Osgoode Hall Law School, York University, a Joint Masters of Public Administration from the University of Manitoba, a Bachelor of Administration from Lakehead University and Native Band Management and Indian Economic Development Diplomas from Confederation College Applied Arts and Technology. Her experience, knowledge and deep roots within the First Nation communities adds significant value to Granada's development.
Tina Whyte—Corporate Secretary
Tina Whyte brings over 20 years of experience in the corporate and securities industry. Her expertise spans to areas of corporate governance, continuous disclosure, financing transactions and regulatory filings and compliance. She holds corporate secretary positions with other publicly listed companies.