Becoming a Low-Cost, High-Quality Cannabis Producer in British Columbia
This profile is part of a paid investor education campaign.*
Overview
Lotus Ventures Inc (CSE:J) is a Canadian licensed producer pursuant to Health Canada's Cannabis Act and Cannabis Regulations. The company is focused on producing low-cost, premium-quality cannabis at its 22,500-square-foot state-of-the-art indoor cultivation facility near Armstrong, British Columbia. To date, Lotus has been granted their Standard Cultivation license as well as their Sale for Medical Purposes license. Once fully operational, the company intends to apply for EU & cGMP certification, which once certified, would give Lotus the ability to export production internationally.
In addition to obtaining the appropriate licenses for their initial cultivation facility (Phase 1A), Lotus is currently in the planning and design phase of an additional facility, expected to adjoin to Phase 1A. The subsequent facility will use a vertically tiered hydroponic growing method, adding significant production capacity. Lotus owns a 23-acre property and intends to continue the buildout of future production facilities.
Lotus recently launched its first consumer-focused cannabis brand "Lotus Cannabis Co." targeting discerning cannabis connoisseurs. The company has a seed library with over 200 strains to choose from and will be releasing a proprietary, Canadian-centric product line in the near term.
Robust economics
To date, Lotus has functioned within a non-dilutive financing strategy that has left it in control of its assets. Its initial financing was provided by private placements and by Auxly Cannabis Group Inc. (TSXV:XLY), where Auxly committed $1 million to help fund the initial facility buildout in Spallumcheen, BC. Following Auxly's initial funding, the company again invested in Lotus. Auxly advanced an additional $4 million to Lotus to partially fund the completion of their 22,500-square-foot facility.
From an operational standpoint, the company plans to maintain its robust economics by becoming a low-cost producer with goals of achieving a production cash cost of $1.05 to $1.20 per gram, compared to the industry standards of $1.90 to $3.50. The low cost of production is attributed to Lotus' proprietary facility design, state-of-the-art automation, and the low-cost of energy in the province of British Columbia.
Company Highlights
Licensed Producer holding a Standard Cultivation license and Sale for Medical Purposes license – Obtained March 8th 2019
Lotus received the licenses mentioned above in under a month, one of the fastest to obtain a license subsequent to submitting its confirmation of readiness evidence package
Initial facility of 22,500 square feet is complete and is expected to produce 2000KG per annum
Planning and design for the first expansion is underway. Expected to be a vertically tiered hydroponic growing method adding significant production capacity
Lotus owns a 23-acre property in the township of Spallumcheen, British Columbia with access to water, power and Okanagan cultivation talent
Robust economic potential based on low-cost production of high-quality cannabis within controlled environments
Lotus' launched its initial consumer-focused brand Lotus Cannabis Co. to target discerning cannabis consumers
Canadian Cannabis Market
According to Deloitte's recent report, "Recreational Marijuana: Insights and Opportunities," the Canadian retail cannabis market will be worth between $4.9 billion and $8.7 billion annually. In order to satisfy the demands of the recreational market, cultivators will have to collectively produce 655,000 kilograms of marijuana annually, which, according to the Parliamentary Budget Office, is far more than the current capacity of existing ACMPR Licensed Producers. In 2017, the number of registered patients exceeded Health Canada's projection for 2021, suggesting the potential for a supply deficit in the Canadian market and the subsequent opportunities for producers like Lotus Ventures awaiting their licensing.
Spallumcheen, BC Property
Since November 2015, Lotus had a lease on a 23-acre property near Armstrong, British Columbia with the option to buy the property at any point for $1.1 million. The company exercised their option to purchase the property for the agreed upon price in June 2018. Since then, Lotus has completed the construction of their initial 22,500-square-foot property and received its standard cultivation and sale for medical purposes licenses from Health Canada in March 2019.
The facility has been specifically designed for the unique requirements of cultivating cannabis and to address Health Canada policies regarding quality control. The facility will house a combination of complete and flexible computer-controlled air flow systems, a dedicated hospital-grade HVAC system in every grow room and airlocks between the rooms to provide an ideal pharmaceutical-grade growing environment that avoids contamination. Lotus believes that having these systems in place will help lower the cost of production per gram while also enhancing the quality of the product.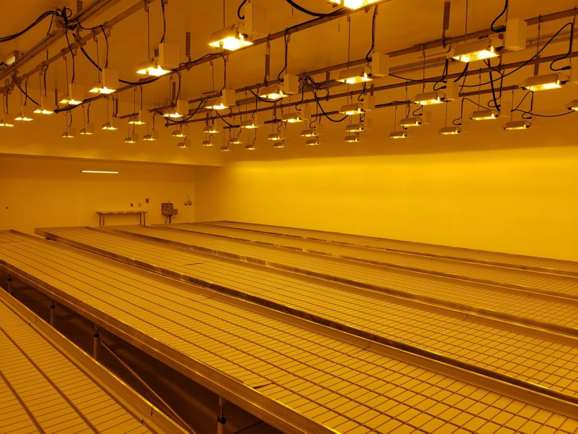 Benefits of a BC location
Lotus has found a number of benefits being located in Canada's westernmost province. These include the low cost of energy—British Columbia electricity costs only 77 percent of what it costs in Ontario—and the access to skilled labor. Additionally, as a proponent of the regulatory change within the cannabis space in Canada, the British Columbian government is expected to be expeditious in the development of a permanent regulated distribution system.
Due to the location of its property, Lotus has begun establishing a local community contribution profile nearby Armstrong. The company plans to take advantage of the availability of skilled labor in the region, potentially creating 20 to 40 permanent jobs within their facility.
Auxly Streaming Agreement
In addition to the investments Auxly has made, the company has also signed a definitive long-term offtake agreement with Lotus. Auxly has the right to purchase or direct the sale of 50 percent of the facilities total production, which is expected to be 2,000 kilograms of cannabis per annum, for a period of 10 years. For the first three years of the agreement, Auxly will purchase cannabis from Lotus at a fixed price of $2.25 per gram. The revenues generated from this agreement will be enough to cover almost all of the production costs for the facility during that time. Auxly will also have the option to purchase the remaining 50 percent of production at a discount to market prices.
"Auxly is emerging as a large player in the distribution and marketing of cannabis in Canada. Lotus Ventures benefits in several ways from the Auxly streaming relationship, in addition to access to equity, the relationship provides us with assured offtake of at least half of our production as well as access to their market and industry expertise. This will enable Lotus to grow more rapidly than it otherwise would while working towards establishing a reputation as a top-tier Licensed Producer," said McClanaghan.
Management
Dale McClanaghan—President, CEO and Director
Dale McClanaghan has had a varied career in banking (Bank of Montreal corporate finance), real estate development (privately and as CEO of Van City Real Estate Company) and mineral exploration. As well, he has had active social roles as director of non-profit (Vancouver Heritage Foundation, Sanford Housing Society), educational (Board Member of Langara College) and civic agencies (President of the NPA Association, Chair of City of Vancouver Planning Commission).
Carl Correia—COO
Carl Correia is a Lotus Director, Chief Operating Officer and the Responsible Person in Charge (RPIC) as defined by the ACMPR. Correia provides irreplaceable experience with over 10 years in medical cannabis environmental design, control implementation and cultivation (MMAR, MMPR, ACMPR 2003 – Present). He holds a certification in Quality Assurance for Medical Marihuana – GPP and Security for Operating Commercial Medical Marihuana Facilities. Three years of experience in document control and record keeping in the medical cannabis field. He also has 16 years of experience in electrical contracting and installation.
Jason Brown – Head Grower
Jason Brown has spent the majority of his adult life pursuing perfection in the cultivation of cannabis. As a long-time licensed cultivator, he has refined his skills to enable him to expertly coax the best attributes out of the plant for the adult use recreational market. He is known for his ability to source rare genetics in the local cannabis community and develop his own blockbuster phenotypes from new and old seed stock.
Monica Holubowski—Head Grower
Monica Holubowski holds a Diploma in Horticulture and Commercial Floriculture from the Ontario Agricultural College. She has worked with Pacific Regeneration Technologies (PRT) Growing Services Inc. in Vernon, British Columbia since 1985 and been head grower since 2004. She has been responsible for organizing, implementing and directing the horticultural program, supervising and training employees in all elements of growing activities including quality control.
Tracy Edwards—Quality Control Specialist
Tracy Edwards holds a BA from Red Deer College with concentration in biological sciences technology and a Diploma in Biological Sciences from Northern Alberta Institute of Technology in 1988. She has worked in Quality Assurance in the beer brewing business since 1997. Her experience is directly relevant to the operation of this types of facility as beer production and sale is regulated in a similar manner to the MMPR and the quality assurance issues are largely the same. She will also attend courses offered by the Academy of Applied Pharmaceuticals Sciences to be certified in quality control for medical cannabis.
Jarrod Stinn – Quality Control Assistant
Jarrod Stinn has a B.Sc. from the University of British Columbia Okanagan with a double major in Chemistry and Biology. His chemistry focus was on analytical and organic chemistry. He applied his knowledge of the cannabis industry while leveraging his extensive scientific knowledge to aid the Lotus team in the development of standard operating procedures. He is certified in quality control for medical cannabis.
Simon Davie, PMP—Director
Simon Davie is a certified project management professional with specialized expertise in social purpose real estate. He currently serves as the COO and Managing Partner for the Terra Group of Companies, with over $600 million in assets under development and over 14,000 housing units developed. He is also the Vice President and Co-Founder of Lu'ma Development Management, an indigenous-owned and operated company, focused on social housing development.
---
*Disclaimer: The profile provides information which was sourced and approved by Lotus Ventures in order to help investors learn more about the company. Lotus Ventures is a client of the Investing News Network (INN). The company's campaign fees pay for INN to create and update this profile page, to which links are placed on Investingnews.com and channel newsletters.
The company description, investment highlights and catalysts were sourced by INN and approved by the company. INN does not guarantee the accuracy or thoroughness of the information contained on this page.
INN does not provide investment advice and the information on Investingnews.com profile should not be considered a recommendation to buy or sell any security.
INN does not endorse or recommend the business, products, services or securities of any company profiled.
Readers should conduct their own research for all information publicly available concerning the company.