Becoming a Low-Cost, High-Quality Cannabis Producer in British Columbia
This profile is part of a paid investor education campaign.*
Overview
Lotus Ventures Inc (CSE:J) is a premium cannabis company in the final stages of the Cannabis Act (formerly ACMPR) license application process. Focusing on developing high-quality cannabis at a low cost of production, Lotus Ventures is based in Vancouver, BC and has a 23-acre property near Armstrong, BC.
In June 2018, Lotus Ventures exercised its option to purchase a 23-acre land package for $1.1 million. Having received a building permit for their first facility, the company is in the process of building a 22,500-square-foot structure that at full capacity will be able to produce 2.0 million grams of cannabis per year.
Alongside the construction of their first building, Lotus is progressing with its 30,000 sq. ft. expansion adjoining to its initial purpose-built prototype facility. Lotus ultimately plans on constructing up to 500,000 square feet of facilities with an annual production of 36,000 kilograms of high-quality cannabis.
Robust economics
To date, Lotus has functioned within a non-dilutive financing strategy that has left it in control of its assets. Its initial financing was provided by private placements and by Auxly, which has committed $12 million of funding to the company. From an operational standpoint, the company plans to maintain its robust economics by becoming a low-cost producer with goals of achieving a production cost of $1.05 to $1.20 per gram, compared to the industry standards of $1.90 to $3.50. The low cost of production is associated to Lotus' proprietary advanced facility design and the low cost of energy in the province of BC.
Licensing intellectual property (IP)
In an innovative approach to increase the company's production levels, Lotus entered into an agreement with 4th Gen Duwyn Farms Inc (DFI) to license its IP in return for DFI selling its cultivated cannabis exclusively to Lotus at discounted wholesale pricing for a period of 15 years. The company's licensed intellectual property will include the proprietary design of their facility, standard operating procedures, training documents and license application support. This approach will see Lotus leveraging its assets, adding 1.8 million grams of cannabis to its annual production and minimizing overall capital investment in anticipation of Canadian legalization. The strategic alliance with DFI is part of the company's planned initiative to partner with farmer growers across Canada that could garner value from Lotus' IP.
"Our agreement with DFI will help us realize the significant business opportunity we foresee with legalization around the corner and the great need for additional licensed production," said Lotus President and CEO Dale McClanaghan. "What really is important to Lotus, is that we partner with the right people and we believe [the Duwyn] family are a perfect fit for us."
Company Highlights
Lotus Ventures is a licensed producer applicant with a 23-acre property in the Township of Spallumcheen, BC

Robust economic potential based on low-cost production of high-quality cannabis within controlled environments
First facility of 22,500 square feet close to completion
The first expansion will measure 30,000 square feet, producing 4.5 million grams per year, error range +/- 5%. Preparation for construction of this expansion has already commenced
Lotus property with potential to host up to 500,000 square feet of facilities with anticipated production levels of 36,000 kilograms
Receipt of ACMPR Confirmation of Readiness for a License from Health Canada
Lotus has agreed to sell 50% of the production from the facility and its expansion in the Township of Spallumcheen, for a period of 10 years. The first three years of the streaming agreement pay a fixed price of $2.25 per gram. The revenues generated from the streaming agreement will be enough to notionally cover close to 100% of the operating costs during that time. Auxly has a right to purchase, at discounted market rates, from time to time the 50% of the non-allocated production.
Upcoming catalysts include cultivation and sales license
Canadian Cannabis Market
The Government of Canada has announced that the country will have a legalized and regulated recreational cannabis market on October 17, 2018. This decision makes Canada the first G7 country to legalize recreational marijuana and develop a wholly-legal licensed cannabis production base.
According to Deloitte's recent report, "Recreational Marijuana: Insights and Opportunities," the Canadian retail cannabis market will be worth between $4.9 billion and $8.7 billion annually. In order to satisfy the demands of the recreational market, cultivators will have to collectively produce 655,000 kilograms of marijuana annually, which, according to the Parliamentary Budget Office, is far more than the current capacity of existing ACMPR Licensed Producers. In 2017, the number of registered patients exceeded Health Canada's projection for 2021, suggesting the potential for a supply deficit in the Canadian market and the subsequent opportunities for producers like Lotus Ventures awaiting their licensing.
Spallumcheen, BC Property
Since November 2015, Lotus had a lease on a 23-acre property near Armstrong, BC with the option to buy this land at any point for $1.1 million. As part of the agreement, the company later exercised this option to purchase the property for the agreed upon price on June 8, 2018.
Lotus is close to completing the initial 22,500-square-foot facility on the property, and plans to submit the evidence package to Health Canada in early 2019.
The facility has been specifically designed for the unique requirements of cultivating cannabis and to address Health Canada policies regarding quality control. The facility will house a combination of complete and flexible computer controlled air flow, a dedicated HVAC system in every grow room and airlocks between the rooms so as to provide an ideal pharmaceutical-grade environment that avoids contamination. Lotus believes that having these systems in place will help lower the cost of production per gram while also enhancing the quality of the product.
While construction of the first facility is underway, Lotus has already designed its second facility, which will be 30,000 square feet in size. Lotus has projected that the build of the first three facilities will be financed by selling direct minority interests in these. Subsequent to the start of production, the company will use production earnings to fund all future facility builds.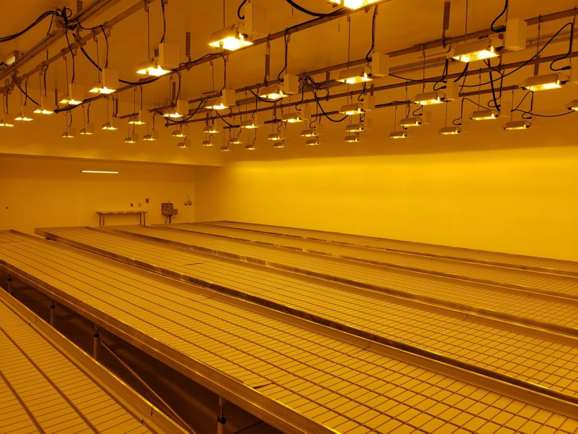 Benefits of a BC location
Lotus has found a number of benefits to being located in Canada's westernmost province. These include the low cost of energy—BC electricity costs only 77 percent of what it costs in Ontario—and the access to skilled labour. Additionally, as a proponent of the regulatory change within the cannabis space in Canada, the BC government is expected to be expeditious in the development of a permanent regulated distribution system.
Due to the location of its property, Lotus has begun establishing a local community contribution profile nearby Armstrong. Once construction is complete, the company plans to take advantage of the availability of skilled labour in the region, potentially creating 60 to 90 permanent jobs within their facility.
Management
Dale McClanaghan—President, CEO and Director
Dale McClanaghan has had a varied career in banking (Bank of Montreal corporate finance), real estate development (privately and as CEO of Van City Real Estate Company) and mineral exploration. As well, he has had active social roles as director of non-profit (Vancouver Heritage Foundation, Sanford Housing Society), educational (Board Member of Langara College) and civic agencies (President of the NPA Association, Chair of City of Vancouver Planning Commission).
Gary Mathiensen—CFO
Gary Mathiesen is a chartered accountant. He has been the President and principal of Quay Property Management Corp, and related companies since October 2000. Quay Property Management Corp is a real estate management company which currently manages and owns Lonsdale Quay Market and Tsawwassen Quay Market, and previously a number of other real estate projects and businesses in Canada, the US and other countries. He has served as an officer and director of several TSX Venture Exchange listed companies.
Carl Correia—COO and Responsible Person in Charge (MMPR)
Mr. Correia is a Lotus Director, Chief Operating Officer and the Responsible Person in Charge (RPIC) as defined by the ACMPR. Correia provides irreplaceable experience with over 10 years in medical marihuana environmental design, control implementation and cultivation (MMAR, MMPR, ACMPR 2003 – Present). He holds a certification in Quality Assurance for Medical Marihuana – GPP and Security for Operating Commercial Medical Marihuana Facilities. Three years of experience in document control/record keeping in the medical marihuana field. Carl also has 16 years of experience in electrical contracting and installation.
Tracy Edwards—Quality Control Specialist MMPR
Tracy Edwards holds a BA from Red Deer College with concentration in biological sciences technology and a Diploma in Biological Sciences from Northern Alberta Institute of Technology in 1988. She has worked in Quality Assurance in the beer brewing business since 1997. Her experience is directly relevant to the operation of this types of facility as beer production and sale is regulated in a similar manner to the MMPR and the quality assurance issues are largely the same. She will also attend courses offered by the Academy Of Applied Pharmaceuticals Sciences to be certified in Quality Control for Medical Marijuana.
Monica Holubowski—Head Grower and Assistant Person in Charge (MMPR)
Monica holds a Diploma in Horticulture and Commercial Floriculture from the Ontario Agricultural College. She has worked with Pacific Regeneration Technologies (PRT) Growing Services Inc in Vernon, British Columbia since 1985 and been head grower since 2004. She has been responsible for organizing, implementing and directing the horticultural program, supervising and training employees in all elements of growing activities including quality control.
Steve Mathiesen—Director
Steve Mathiesen is a corporate director and consultant. He was previously a corporate and securities lawyer for more than 30 years and until 2011, was a partner at the national law firm, McMillan LLP, focussed on mergers and acquisitions, financings, governance and other corporate matters. He is currently a director and officer of several private and public companies.
---
*Disclaimer: The profile provides information which was sourced and approved by Lotus Ventures in order to help investors learn more about the company. Lotus Ventures is a client of the Investing News Network (INN). The company's campaign fees pay for INN to create and update this profile page, to which links are placed on Investingnews.com and channel newsletters.
The company description, investment highlights and catalysts were sourced by INN and approved by the company. INN does not guarantee the accuracy or thoroughness of the information contained on this page.
INN does not provide investment advice and the information on Investingnews.com profile should not be considered a recommendation to buy or sell any security.
INN does not endorse or recommend the business, products, services or securities of any company profiled.
Readers should conduct their own research for all information publicly available concerning the company.