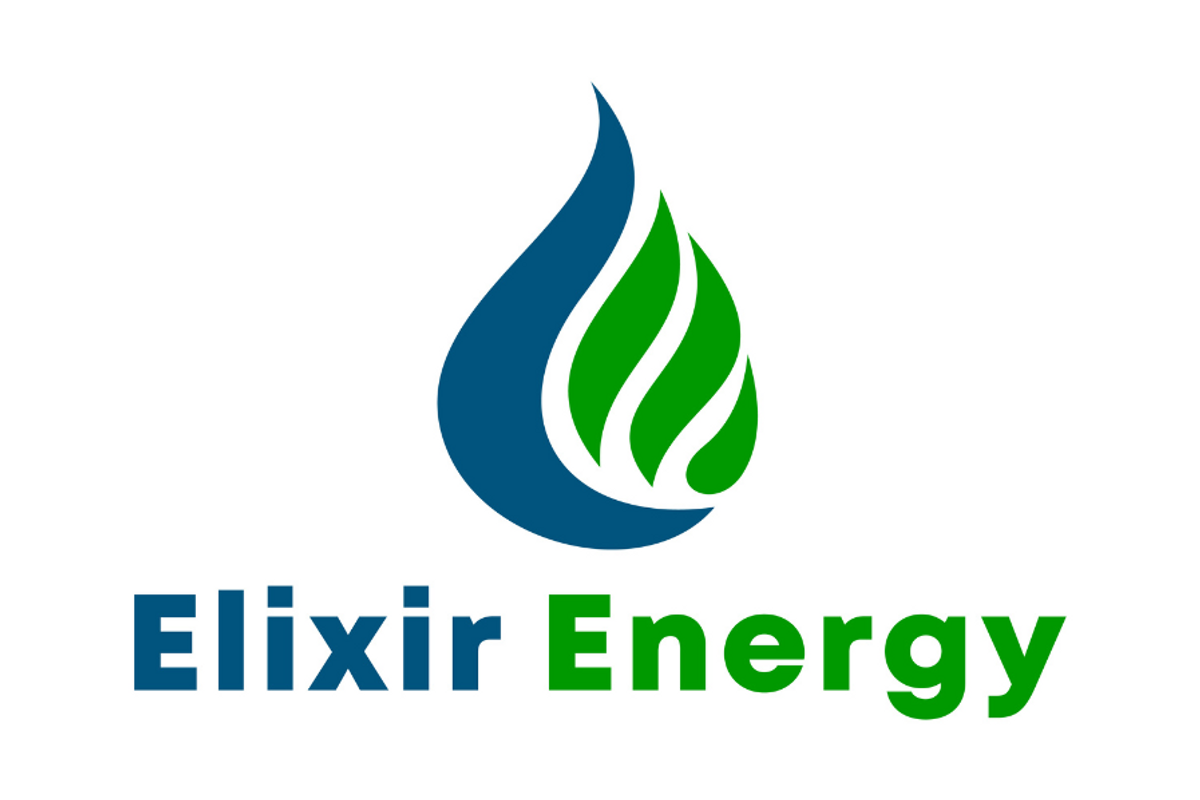 Nomgon CBM Operations Update
Elixir Energy Limited ("Elixir" or the "Company") is pleased to provide an operations update on the work currently underway in its 100% owned Nomgon IX Coal Bed Methane (CBM) Production Sharing Contract (PSC) in the South Gobi Basin, Mongolia.
---
HIGHLIGHTS
Nomgon-10 Pilot well drilled, completed and on line
CBM discovery declared at Yangir
Successful 2023 Drilling program near completion
The Nomgon-10 pilot production well has now been successfully drilled, completed and brought into production (with water flowing initially and gas due to follow). The time from spud to first water production was 19 days, with work proceeding on time and on budget. The well is being brought into production slowly to minimize the risks of formation damage and shocks to the coal reservoir.

Nomgon-10 is an additional pilot well that will be connected to the Nomgon Pilot Production plant. The Nomgon-8 and 9 pilot wells remain suspended whilst the Company monitors pressure communication between the wells.
Nomgon-10 Production Skid
In the Yangir region, Elixir is pleased to announce that it has performed a successful Drill Stem Test (DST) on the Yangir West-2 well. The DST over the interval 269-282 metres recorded a permeability of 2 milliDarcies (mD). The results of this well therefore constitute a CBM gas discovery under the Petroleum Resources Management System (PRMS) guidelines (Appendix 1), having proved the presence of gas saturated coal with adequate permeability.
Excelsior Energy (see company description below) conducted the DST by undertaking considerable pre-planning with Elixir and around the clock wellsite and remote supervision to ensure a successful outcome. Yangir core holes and chip holes have intersected coal thicknesses of up to 60 metres of coal, even though the full stratigraphic section is yet to be intersected. Elixir has measured gas contents of up to 10 cubic metres per ton (on a raw basis) in the Yangir sub-Basin.
At Big Slope, the Big Slope West-1 well has been successfully drilled. The well reached a total depth of 620 metres and intersected more than 27 metres of coal.
The Company' 4 rig program is now winding down, with now one rig still drilling. The remaining Erdene Drilling rig is drilling Yangir Far West-1, and is currently at a depth of 425 metres, which is still above the coal targets.
Excelsior Energy personnel operating Drill Stem Testing tools
With Nomgon-10 on production, and CBM discoveries declared at both Big Slope and Yangir, Elixir has now met all its major drilling objectives for 2023. The drilling program for 2023 will now be finalised once the Nomgon Far West-1 well is completed. Planning for the 2024 program has commenced and will have a primary focus on de-risking the discoveries made to date.
Elixir's Managing Director, Mr Neil Young, said: "The drilling of the Nomgon-10 pilot well has gone to plan and we look forward to growing production of water – and then gas – from this well. Favourable results will put the Nomgon Pilot Project back on the intended pathway of determining commerciality. Our other appraisal and exploration drilling in 2023 – completed safely and within budget - has added new discoveries in the key South West region of our PSC. We expect in 2024 to focus on moving these discovered resources into reserves."
Click here for the full ASX Release

This article includes content from Elixir Energy, licensed for the purpose of publishing on Investing News Australia. This article does not constitute financial product advice. It is your responsibility to perform proper due diligence before acting upon any information provided here. Please refer to our full disclaimer here.

EXR:AU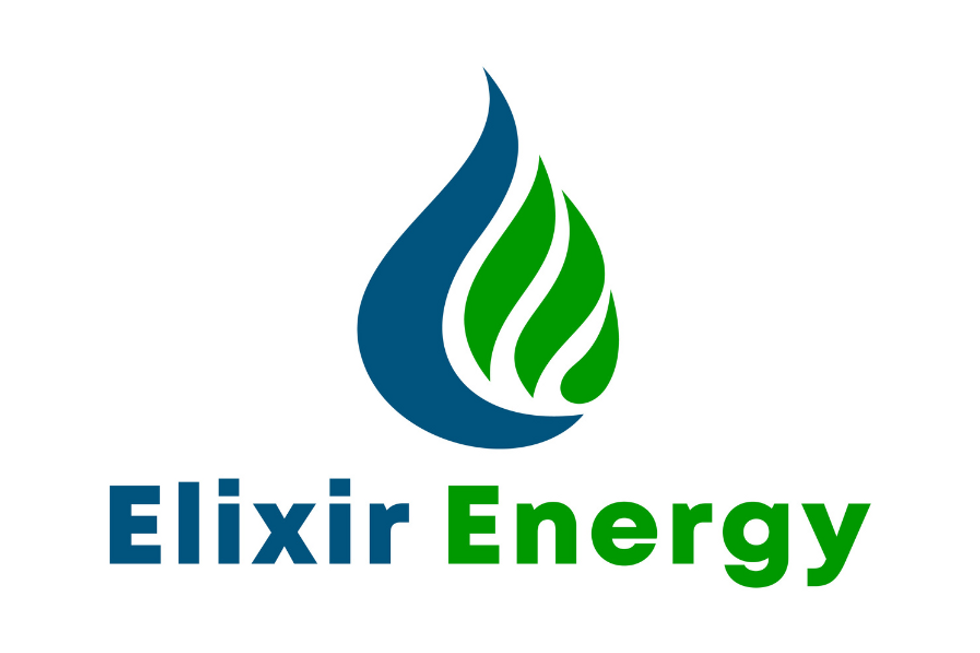 Elixir Energy
Investor Kit
and hear about exciting investment opportunities.
Corporate info
Insights
Growth strategies
Upcoming projects
GET YOUR FREE INVESTOR KIT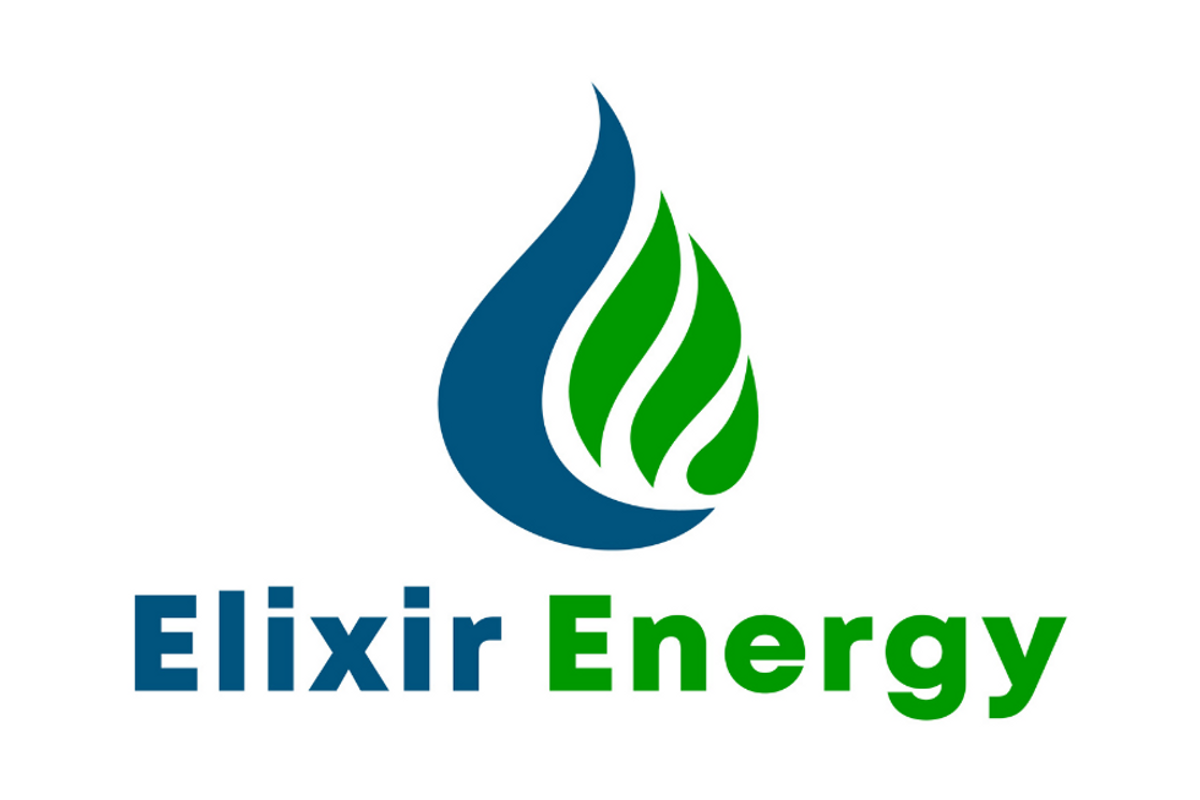 Overview
Elixir Energy (ASX:EXR) is a gas exploration and development company currently focused on its portfolio of natural gas and hydrogen assets in Mongolia and in Queensland, Australia. As an early mover in Mongolia, Elixir Energy is the first company ever to flow gas in the country.
The clean hydrogen market is rapidly emerging and is expected to become an ever-expanding part of the global energy mix by 2030. This projection sets the stage for Elixir Energy to reach production from its in-development Gobi H2 hydrogen project in Mongolia and have an early mover advantage in a sector that is attracting global attention from the world's largest companies.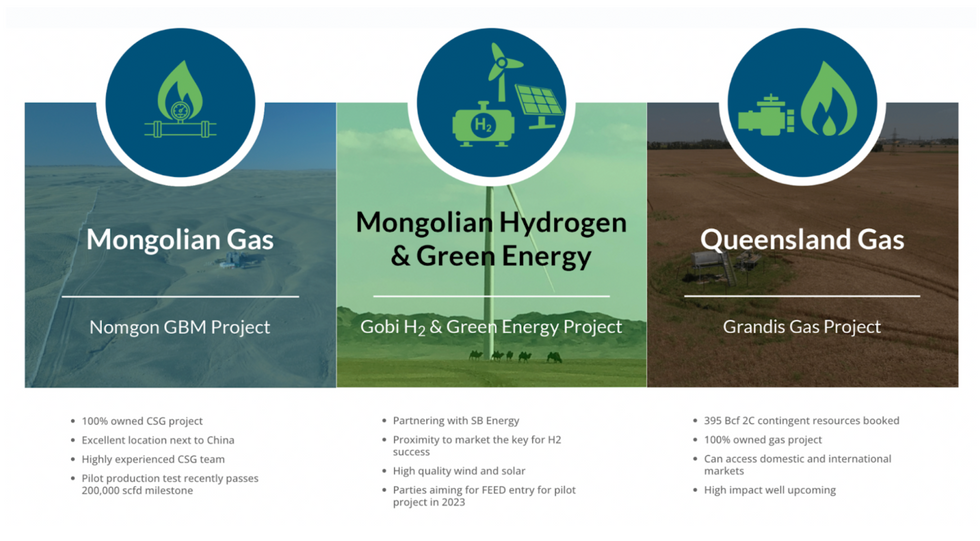 Elixir Energy recently began developing the Gobi H2 green hydrogen project in Mongolia. The project has exceptional renewable resource inputs and the potential to become a world-class hydrogen asset. The company has a maturing 50/50 partnership with Japan's Terras Energy in this project which earlier this year moved to the point of Term Sheet execution.
There are two compelling advantages to developing hydrogen assets in Mongolia: access to very high quality renewable energy and proximity to the emerging hydrogen market in China – likely to be the world's largest. In addition, Elixir Energy has the long-term potential to deliver hydrogen to China by pipeline rather than by boat, a significant cost advantage as development progresses.
In addition to the Gobi H2 hydrogen project, Elixir Energy's Nomgon coal-bed methane (CBM) project is also located in Mongolia.
The Nomgon CBM project is in the South Gobi region of Mongolia and on the Chinese/Mongolian border. The ideal location of the asset provides access to excellent infrastructure, including planned pipelines and local mines as customers. The Nomgon project includes a CBM pilot production plant, which earlier this year
passed an important milestone of 200,000 standard cubic feet per day (SCFPD)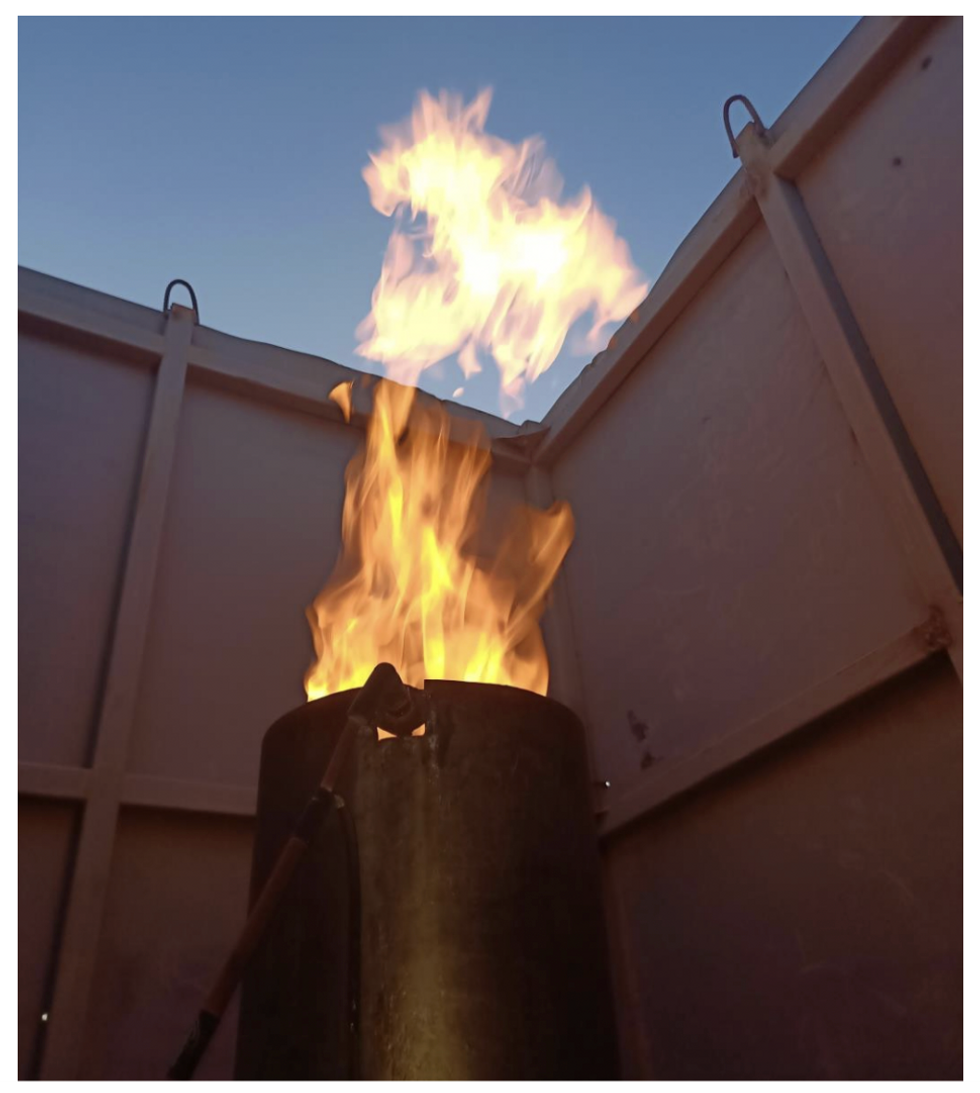 Recent flare at the Nomgon plant.
In Queensland, Elixir Energy acquired the Grandis Gas project last year and is currently moving towards drilling the Daydream-2 appraisal well in October 2023, that will seek to materially increase contingent resources, possibly book initial reserves and confirm liquids content.
The company is led by a team of managers with direct experience in Australia and Mongolia and expertise in the natural resources industry, community engagement and working with government stakeholders.
Company Highlights
Elixir Energy (ASX:EXR) is an exploration and development company with energy assets in Mongolia and Australia, targeting both natural gas and renewable energy/hydrogen.
The company was the first to flow natural gas in Mongolia, pioneering production in the country.
Elixir has two projects in Mongolia and a growing gas resource in Australia that cover a range of ever-cleaner energy sources of the type global markets are increasingly demanding.
The market for clean hydrogen has been steadily growing as technology has improved and carbon reduction goals have increased, allowing Elixir's Gobi H2 hydrogen project to potentially commence production just as demand skyrockets.
The Gobi H2 project is also near China – allowing delivery by pipeline rather than boat, facilitating much lower-cost deliveries.
Elixir's confidential pre-feasibility study (PFS) results led to an expanded memorandum of understanding with Terras Energy (now majority-owned by a member of the Toyota group), providing a framework to enter into a binding 50/50 joint venture.
Elixir Energy's Nomgon CBM asset's pilot plant surpassed the initial milestone of 200,000 square cubic feet per day and has recently been expanded with another well being added.
The company's Grandis Gas project in Queensland is located in an established gas and oil region and is moving towards a very high-impact appraisal next month.
A management team with a range of expertise in the natural resource sector leads Elixir Energy towards capitalizing on its assets.
Key Projects
Gobi H2 Hydrogen Project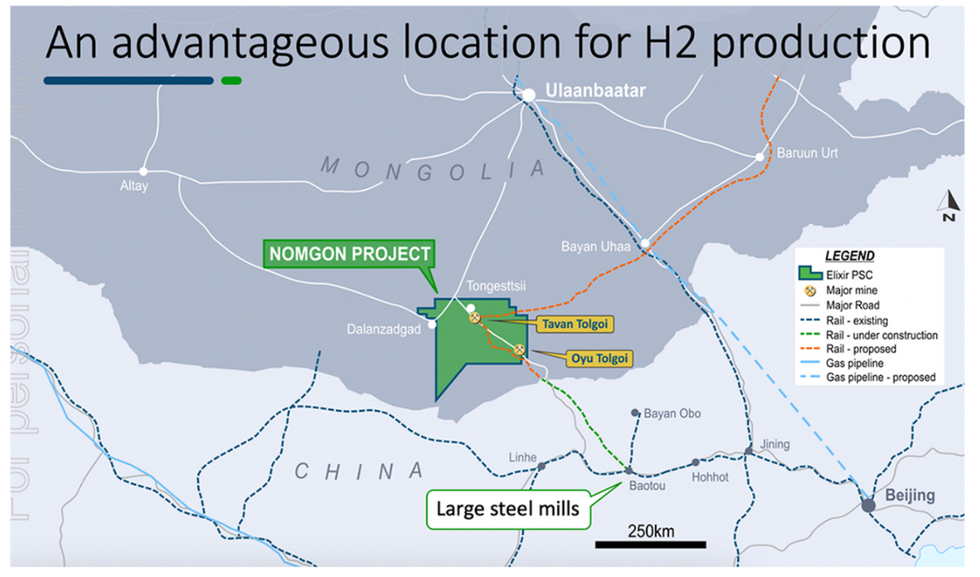 The Gobi H2 project aims to capitalize on emerging opportunities in the clean hydrogen market. The project is ideally located for cost-effective transportation, and the company is aiming to enter into FEED for an initial pilot plant.
Project Highlights:
Pre-feasibility Study (PFS): Elixir Energy has procured a PFS to support the development of a pilot plant as the project takes steps forward to reach full production.
Partnership with Terras Energy (renamed from SB Energy following its acquisition by Toyota Tsusho): The company recently signed a Term Sheet with SB Energy to explore and develop the asset mutually. Terras Energy is already operating a world-class wind farm in the region and will lend its expertise to Elixir's future plans for the asset.
Ideal Hydrogen Delivery Cost: A significant advantage of the project is the potential for much lower delivery costs once production begins. The project would facilitate delivery by pipeline, allowing the company to transport hydrogen by land, rather than sea, creating significant cost savings.
Nomgon CBM Project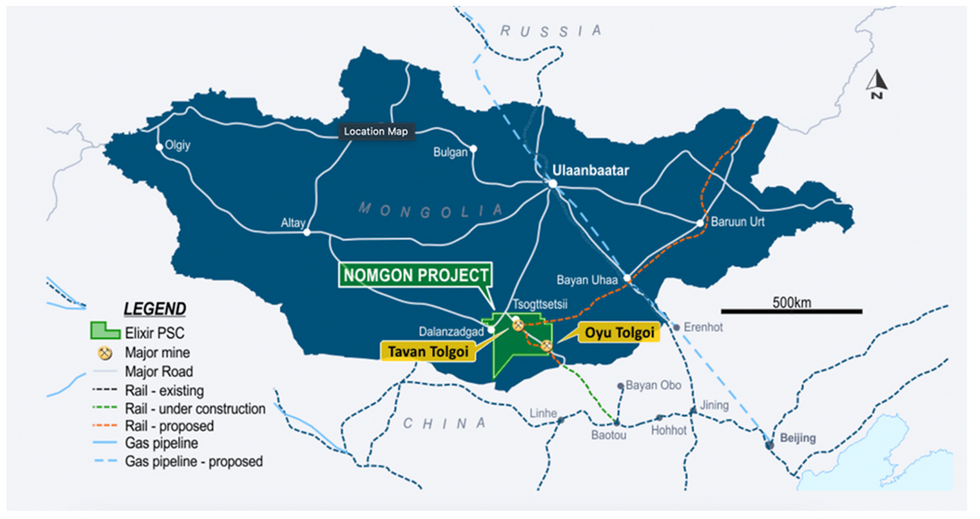 Elixir Energy's 100-percent-owned coal-bed methane (CBM) project is ideally located in the South Gobi region of Mongolia. This location gives the asset access to robust local infrastructure and close access to Chinese energy markets – the world's largest.
Project Highlights:
CBM Pilot Project In Production: The pilot plant has passed a key production milestone of 200,000 square cubic feet per day earlier this year. Water production has also remained stable at ~150 barrels per day. Both of these results are promising as the asset continues to move forward – with another pilot well currently being added to the Project.
2023 Drilling Program Underway: Exploration began in 2019, and the first CBM discovery was made in 2020. The 2023 drilling program is currently underway.
District-scale Asset: The Nomgon project covers a significant 30,000 square kilometers in Mongolia. Initial exploration campaigns have been promising and indicate the potential for the asset to become a significant producer of regional energy markets.
Grandis Gas Project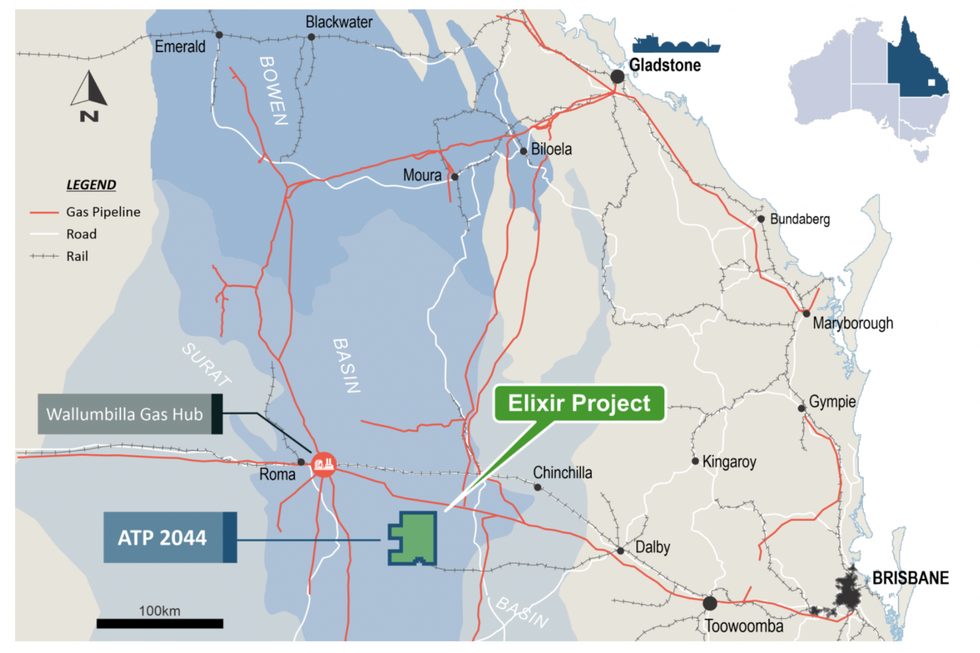 The company's asset in Queensland, Australia, covers approximately 1,000 square kilometers in an established oil and gas province. The project is well-suited for cost-effective transportation to domestic and international oil markets.
Project Highlights:
Strong Local Infrastructure: The region's long history of oil and gas production has resulted in a robust infrastructure, including transportation and power access – and community support for the industry.
Adjacent to Current and Proposed Pipelines: The asset is located close to existing – and proposed gas pipelines to assist in efficient and low-cost transportation as production commences.
Well Planning Underway: Elixir Energy is currently working towards spudding the Daydream-2 appraisal well in October this year.
Management Team
Richard Cottee - Non-executive Chairman
Richard Cottee was appointed as the non-executive chairman of the company on April 29, 2019. Cottee was the managing director of coal-seam-gas(CSG)-focused Queensland Gas Company (QGC) during its growth from a $20-million market capitalization junior explorer through to its acquisition by BG Group for $5.7 billion. QGC's CSG assets are now operated by Shell and produce gas that is sold to China and other LNG markets.
Originally a lawyer, Cottee has spent the vast majority of his career in senior executive roles in the energy industry, including as CEO at CS Energy, NRG Europe, Central Petroleum and Nexus Energy. A 32-year veteran of the industry, Cottee is a strong business development professional and a graduate of The University of Queensland.
Neil Young - Managing Director and Chief Executive Officer
Neil Young was appointed to the board of Elixir on December 14, 2018, as its chief executive officer. Young has more than 20 years of experience in senior management positions in the upstream and downstream parts of the energy sector, focusing on business development, new ventures, gas marketing and general commercial functions. He has worked for a range of companies in the UK and Australia, including EY, Tarong Energy and Santos. Young founded Golden Horde Ltd in 2011 with a view to exploring gas on the Chinese border in Mongolia. He has also developed various new ventures in other countries including Kazakhstan, Japan and the USA. Young has an M.A. (Hons) joint degree in economics/politics from the University of Edinburgh.
Stephen Kelemen - Non-executive Director
Stephen Kelemen was appointed as the non-executive director of the company on May 6, 2019. Kelemen led Santos' coal seam gas (CSG) team from its inception in 2004 and drove the growth in this area that allowed Santos to become one of Australia's leading CSG companies. An engineering graduate from Adelaide University, Kelemen served Santos for 38 years in multiple technical and leadership roles.
Kelemen is currently an adjunct professor at the University of Queensland's Centre for Coal Seam Gas and also acts as a non-executive director on the boards of Galilee Energy (ASX:GLL) and Advent Energy Ltd.
Anna Sloboda - Non-executive Director
Anna Sloboda was appointed as the non-executive director of the company on October 1, 2020. Sloboda is a joint Belarusian/Australian citizen and has more than 20 years of experience in corporate finance, and in developing junior resource companies operating around the world.
Sloboda is currently an executive director of Red Citadel Resources Pty Ltd, a privately owned mineral resources exploration company with a range of projects in Africa and South America. She also serves as an advisory committee member, maritime archaeology, at the Western Australian Museum.
Previously she was a co-founder of Trans-Tasman Resources and in that capacity had substantial experience in dealing with Chinese off-takers and partners. Other prior employers include Lehman Brothers, Clough and Curtin University.
Sloboda has a Master of Economics from Belarusian University and an executive MBA from Melbourne Business School.
Victoria Allinson - Company Secretary and Chief Financial Officer
Victoria Allinson is a fellow of The Association of Certified Chartered Accountants, a fellow of the Governance Institute of Australia and an NSX-nominated advisor. She has more than 30 years of accounting and auditing experience, including senior accounting positions in a number of listed companies and was an audit manager for Deloitte Touche Tohmatsu. Allinson has gained professional experience while living and working in both Australia and the United Kingdom.
Her previous experience has included being company secretary and CFO for a number of listed companies, including ASX-listed: Kiland, Safety Medical Products, Marmota Limited, Centrex Metals, Adelaide Energy, Enterprise Energy NL, and Island Sky Australia as well as a number of unlisted companies.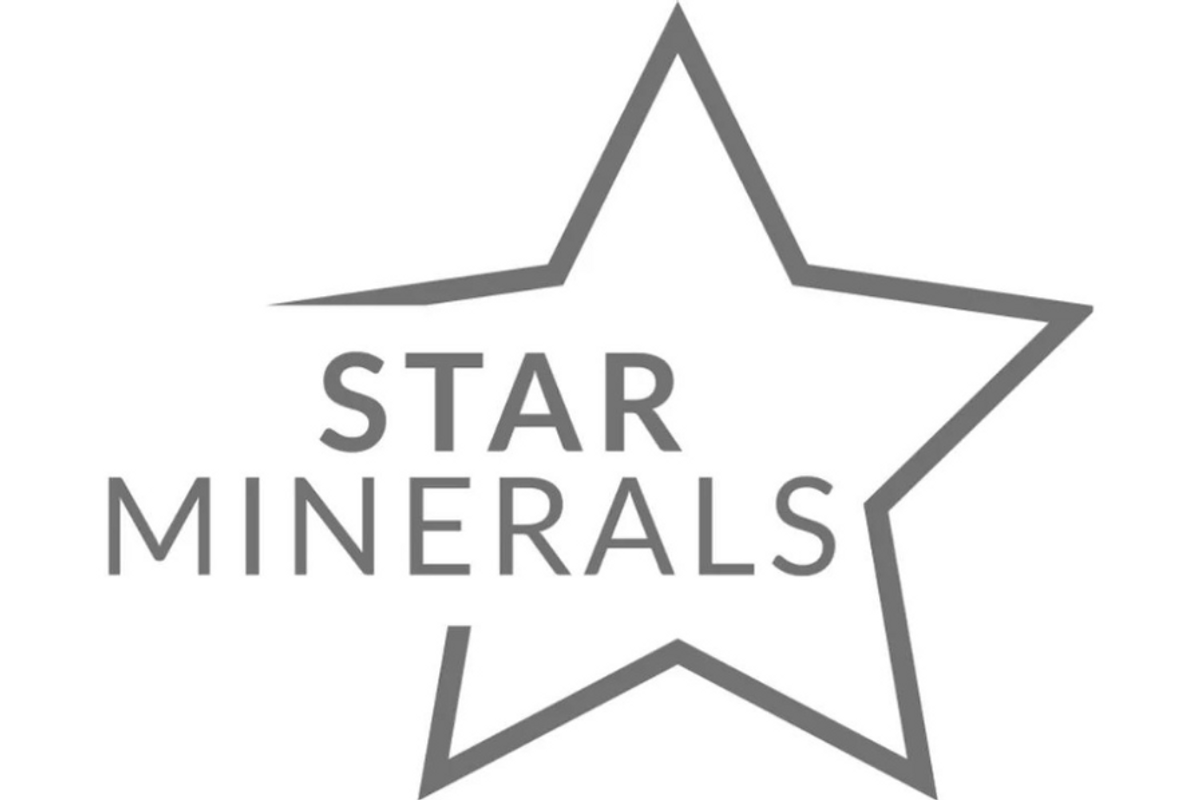 Star Minerals Limited (ASX: SMS, "the Company" or "Star Minerals") is pleased to present the range of outcomes of a Scoping Study for open-pit mining and third-party toll treatment of the Tumblegum South gold deposit ("Tumblegum South" or "the Project") which is located approximately 40km south of Meekatharra in the Murchison district of Western Australia.
The positive results of this Scoping Study provide a basis to refine material inputs and enhance project economics for the Tumblegum South gold deposit.
Study Highlights
Various options utilising third-party processing plants operating under a toll treatment agreement were considered. There are currently two active processing plants with a radius of 50km to 150km from Tumblegum South. A range of outcomes were defined based on gold price, and processing cost including trucking costs.
At gold prices from AUD$2,250 to AUD$3,000/oz, the Production Target for the Project ranges from approximately:

116kt at 2.25g/t producing 7.6koz gold, to
286kt at 2.00g/t producing 16.6koz gold.

The Production Target generates an undiscounted accumulated cash surplus after payment of all working capital costs, but excluding pre-mining capital requirements, of approximately $7.2M to $16.3M.
Mining is contemplated as a single campaign over approximately 18-months.
Pre-mining capital and start-up costs are estimated to be approximately $0.7M to $1.5M.
Sensitivity of the Base Case scenario to gold price was assessed. Results suggest that project economics are robust for a broad range of gold prices.
Chair Ian Stuart commented:
The Scoping Study has demonstrated the value and viability of the Tumblegum South Gold Project over a broad range of gold price. Star can now take the next steps to monetising this asset and more accurately assess various strategies to achieve this, including sale, partial sale or joint venture of the Project.
The Scoping Study also serves as basis for analysis by third parties wishing to evaluate the Project as potential ore feed for existing processing operations.
We look forward to building on the knowledge gained through this Study and rapidly advancing the Project to commercialisation.
Introduction
Star commissioned Orelogy Consulting Pty Ltd, a Western Australian based mine planning consulting firm with extensive experience evaluating mining projects across Australia, to undertake a Scoping Study evaluating potential open pit mining at Tumblegum South and ore processing via toll treatment at an existing plant.
The processing plants considered for this study are located within a radius of 50-150km from Tumblegum South. No agreement has been entered into at the time of writing, and there is no guarantee an agreement will be entered into. It is noted the diluted Tumblegum South Production Target at 2.01g/t compares favourably with head grade mined at a number of plants in the Murchison and has the potential to provide valuable mill feed and ore blending opportunities.
Click here for the full ASX Release

This article includes content from Star Minerals, licensed for the purpose of publishing on Investing News Australia. This article does not constitute financial product advice. It is your responsibility to perform proper due diligence before acting upon any information provided here. Please refer to our full disclaimer here.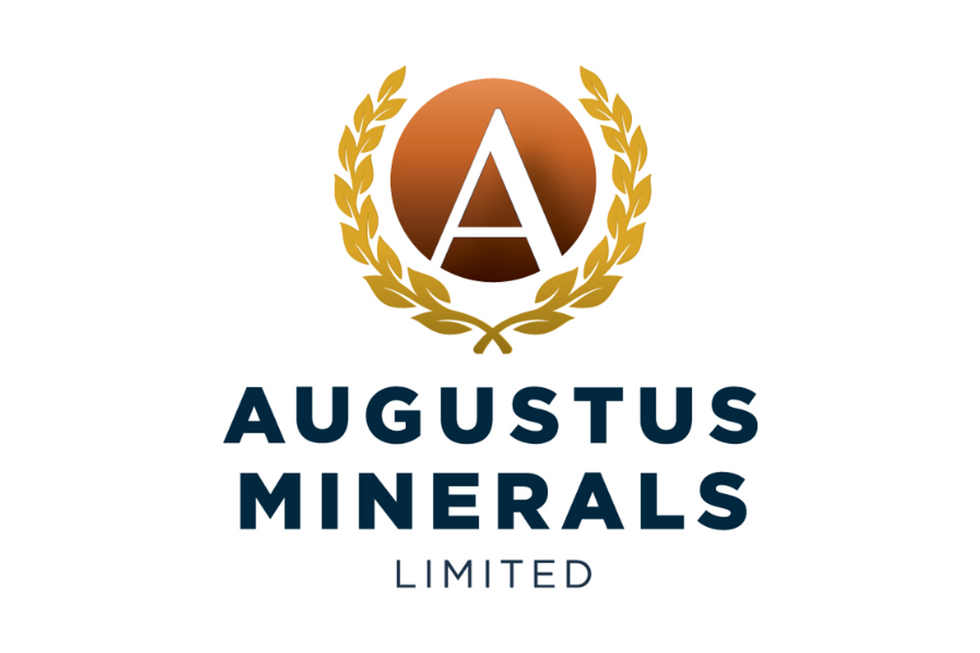 9,086m drilled in 78 holes across six project areas
Campaign designed to test extensive surface mineralisation identified through soil sampling and rock chip analysis
Visual observations of copper sulphide mineralisation in quartz veining in multiple holes at depth
Assays are due back progressively over the coming weeks.
Exploration and drilling activities to re-commence in Q1 2024
The drilling campaign included 78 holes totalling 9,086m of Reverse Circulation (RC) drilling. The program consisted of discovery drilling only and was designed to confirm historical results and to test near surface mineralisation at depth and along strike, with drilling having been limited to approximately 70m vertical depth.
Holes in the Crawfords, Nic's Bore and Copper Ridge areas also intersected some visible disseminated mineralisation within quartz veins in the form of pyrite, malachite and chalcopyrite and assay are awaited.
Andrew Reid, Managing Director
"Our maiden drilling campaign following the IPO in May 2023 is now completed and has been a great success. The campaign was designed to test for mineralisation both at near surface and at depth and resulted in visually identifying mineralisation/veining in the majority of drill holes at our Minnie Springs copper-molybdenum-gold project.
Minnie Springs could represent a sizeable porphyry hosted copper deposit with the next step to be the completion of drilling in the remaining 50% of the copper-in-soil anomaly yet to be tested during the next drilling campaign in Q1 2024."

Figure 1. Location map showing prospects drilled to date, Minnie Springs, Copper Ridge,Nick's Bore, Crawford and Crawford South and COO Creek.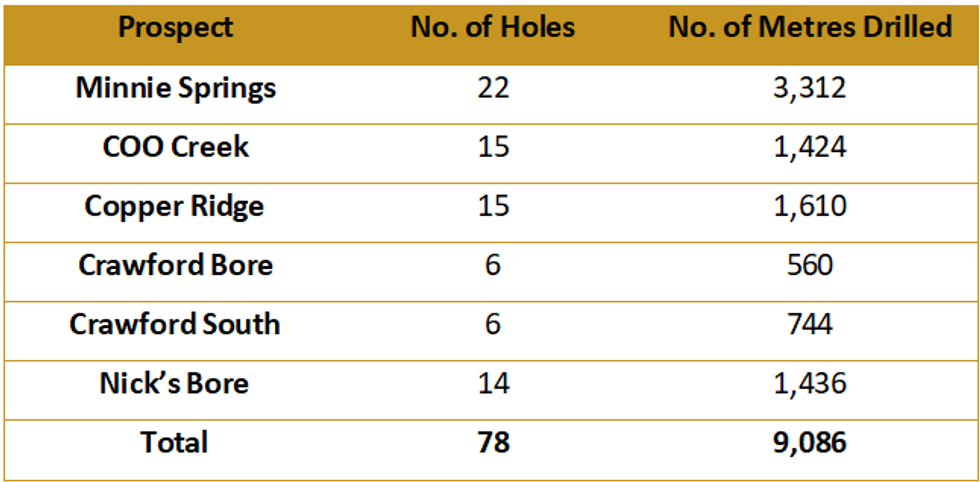 Table 1. List of RC holes completed by prospect location.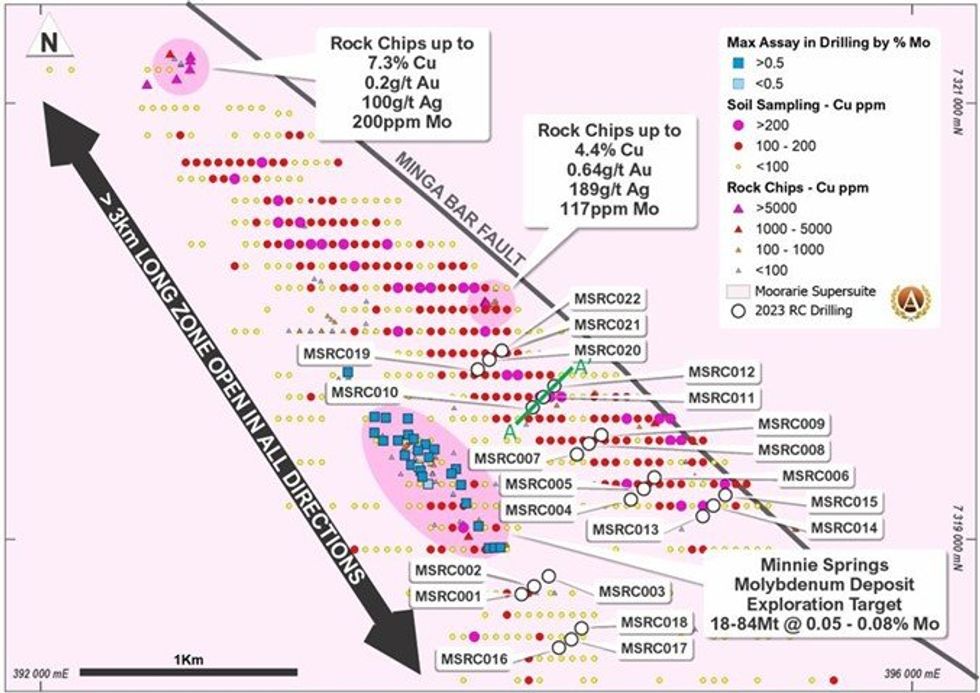 Figure 2. Minnie Springs soil sampling, rock chip and drilling location map showing location of the x-section A – A'.

Figure 3. Hole MSRC012 – showing visual pyrite - chalcopyrite – chalcocite – covellite mineralisation in zones from 127 – 139m downhole at the Minnie Springs prospect1.
The second northern-most line at Minnie Springs (Figure 2. MSRC 010 – 012) intersected multiple zones of copper sulphide mineralisation1 co-incident with chlorite-epidote alteration in hole MSRC012, which is characteristic of propylitic alteration commonly seen in in porphyry copper-molybdenum-gold deposits.
Click here for the full ASX Release

This article includes content from Augustus Minerals, licensed for the purpose of publishing on Investing News Australia. This article does not constitute financial product advice. It is your responsibility to perform proper due diligence before acting upon any information provided here. Please refer to our full disclaimer here.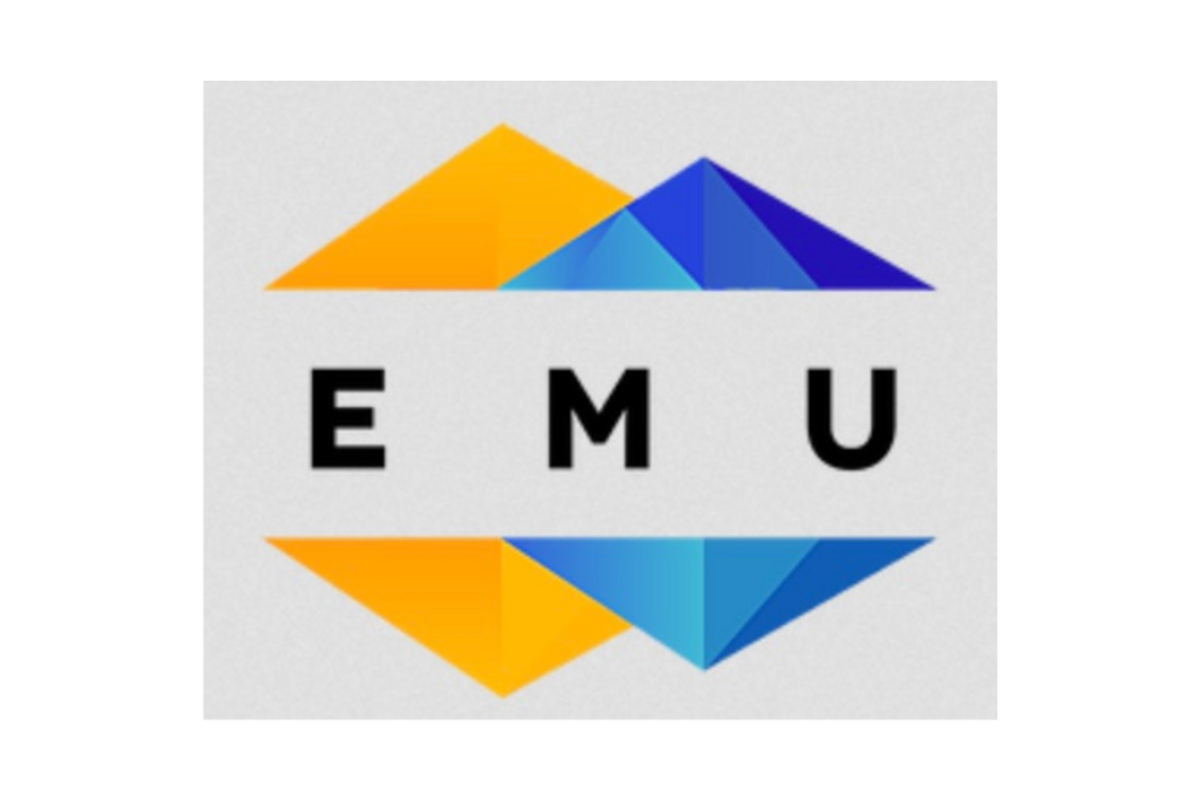 EMU NL (ASX: EMU) ("EMU" or "the Company") is pleased to release gold assay results from its maiden reconnaissance field survey conducted during July and August 2023 at the Georgetown Project in Queensland.
HIGHLIGHTS*
Camp Oven Creek area historic surface rock assay results ranging from 12.9 g/t up to 224 g/t gold and 24 g/t to 135 g/t silver from rock samples in broad rhyolite breccia hosted veins in the NW1.

15.4 g/t gold assay results recorded from EMU's first reconnaissance rock samples in the NE Dagworth area, ~19km east from Camp Oven Creek, along Delany Fault extension2.

15 historic rock values greater than 31.1 g/t gold (> 1 Ounce) identified from zones in the Camp Oven Creek, 130 Quartz Vein and Quartz 250 Prospects ("new historic information")3.

Three historic rock samples in the Quartz 130 prospect returned values ranging from 51 g/t gold up to 73 g/t gold4.

Limited historic drilling at Rhyolite Breccia/Turtle Arm returned values to 2m at 15.8 g/t Au and 3m at 2.8 g/t Au.( See table 3).
86 historic surface rock samples greater than 1 g/t gold with a weighted average of 17.3 g/t within Georgetown EPM 27667 - NW Camp Oven Creek/Turtle Arm quadrant5.
2 EMU first reconnaissance rock samples returned 36.1 g/t gold and 25.6 g/t gold respectively from the Sandy Creek prospect just south of Georgetown6.
Limited historic drilling at Munitions Creek (EPM 27642) returned values to 4m at 2.73 g/t Au and 1m at 10.85 g/t Au. (see table 3).
EMU's geological teams currently in field undertaking follow up sampling from these areas.
Commenting on the high gold values historically reported in the project area coupled with EMU's latest results, EMU's Chairman Mr Peter Thomas commented:
"It is quite remarkable that the Georgetown tenements and surrounding areas have not been comprehensively subjected to a modern and systematic exploration effort previously. EMU's initial "first pass" reconnaissance field survey comprised the collection of a limited number of samples from rock outcrop, termite mounds and stream sediments in multiple areas targeted for gold, base metals, lithium and critical minerals. In addition to the recently reported copper, silver and lead values, the gold assay results and historic exploration results support EMU's view that the project has the potential to deliver world-class discoveries which underpinned its decision to farm into the project".
Further to the recent announcement7 confirming a substantial high-grade copper and silver system at Fiery Creek and high-grade lead and silver assays results from Snake Creek, EMU reports high grade gold values from rock chip samples collected from a number of prospective areas at Georgetown.
Recently compiled historic gold and base metal drill hole and surface outcrop sampling values from the Georgetown area and from within the three tenements which comprise the project, confirm the outstanding prospectivity of the project.
EMU is currently undertaking a new, limited and targeted follow-up exploration programme with teams in the field over areas not previously sampled to investigate zones which have historically reported high-grade gold and base metal values.
Figure 1 - Identified current and historic Gold Occurrences at Fiery Creek and Georgetown Tenements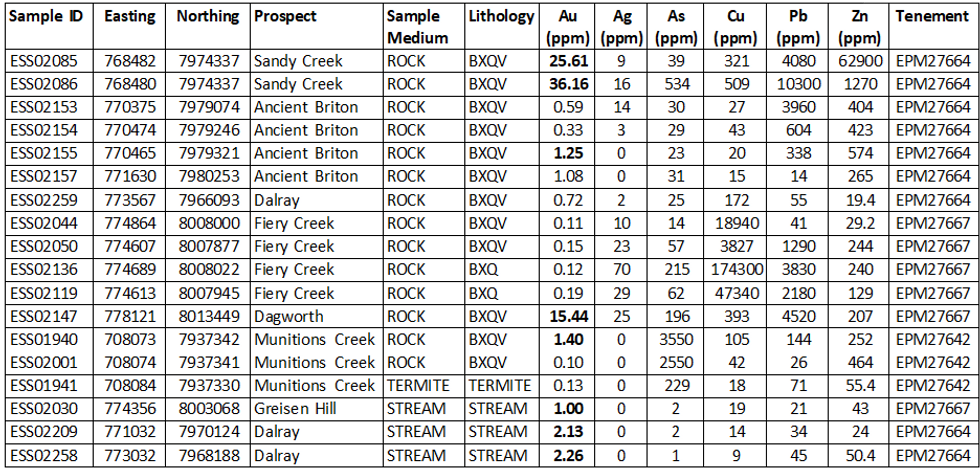 Table 1. Emu's Significant Gold Sample Assay Results (>1 g/t Au in bold text)
Historical Gold Reported:
Fiery Creek EPM 27667 (Gold + Base Metal Targets)
Based upon significant results that have emerged from the compilation of historic data and the limited field work already completed by EMU, the significant northern portion of the Fiery Creek tenement (EPM 27667) is emerging as a high priority for both precious and base metals. The higher priority targets include structural settings for gold in the Camp Oven Creek, Quartz 130, Quartz 250 and Dagworth Prospect areas, whilst the Fiery Creek prospect within the Yataga Granodiorite demands further attention due to the high-grade outcrop sample assay values for copper and silver.
Click here for the full ASX Release

This article includes content from EMU NL, licensed for the purpose of publishing on Investing News Australia. This article does not constitute financial product advice. It is your responsibility to perform proper due diligence before acting upon any information provided here. Please refer to our full disclaimer here.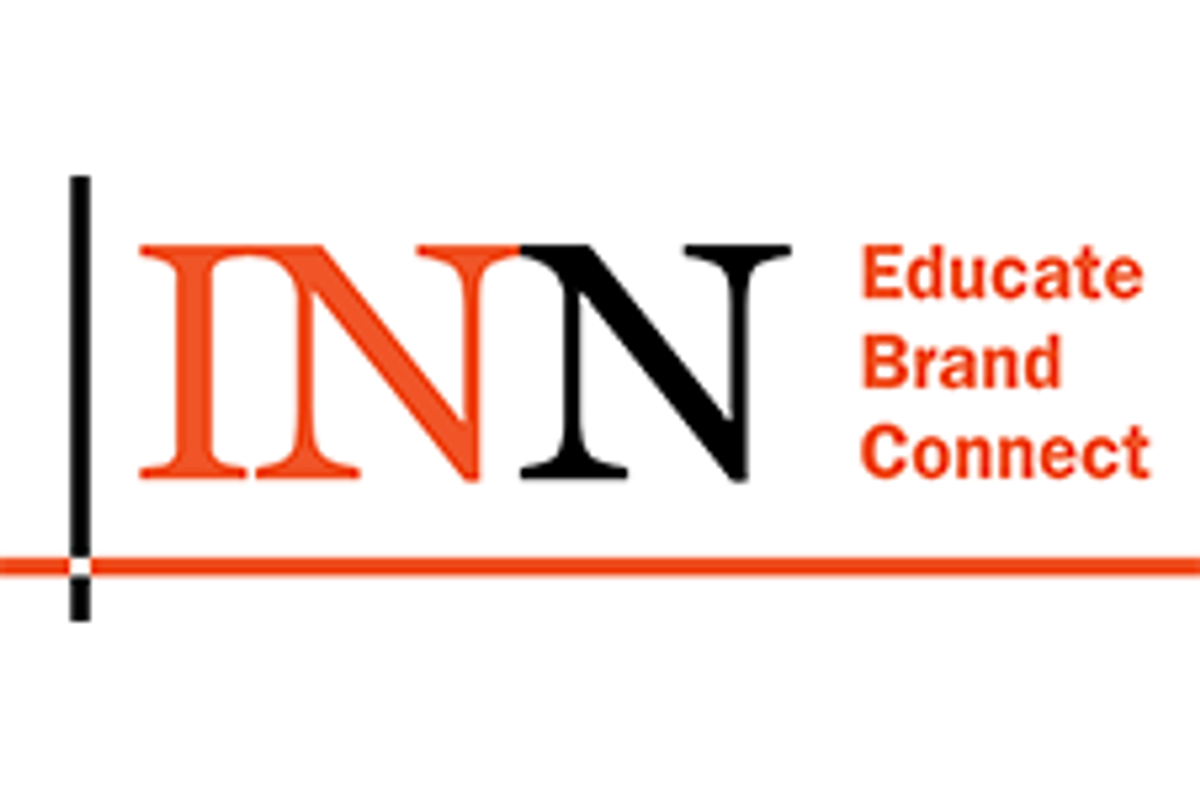 The Investing News Network (INN), a leading source of independent news and educational content for investors, is pleased to announce the integration of InvestingNews.com.au into InvestingNews.com, its flagship publication.
Since 2019, InvestingNews.com.au has been INN's hub for Australia-focused content, and the company is excited to merge this website with InvestingNews.com. This strategic decision allows users to access all INN's content through one streamlined website, and marks a significant milestone in the company's long-term commitment to serving a global audience.
"We are thrilled to announce the integration of InvestingNews.com.au into InvestingNews.com, a pivotal step in our ongoing goal of educating investors and connecting them with opportunities," said CEO Nick Smith. "This consolidation not only simplifies the user experience, but also makes all of INN's content easily accessible to investors across the world."
INN invites users to explore the enhanced features of InvestingNews.com and discover the benefits of this integration firsthand. These include:
Streamlined access — The integration provides users with a seamless transition to a unified platform, eliminating the need to navigate between multiple websites.
Comprehensive content — InvestingNews.com now combines the strengths of both platforms, offering a more comprehensive range of investing content. From market trends to expert analysis, users can benefit from a wealth of information, all in one place.
Enhanced user experience — The consolidation of InvestingNews.com.au into InvestingNews.com is designed to enhance the overall user experience. With a user-friendly interface and improved navigation, investors can enjoy a more intuitive, efficient and customizable journey through the platform.
Trust and reliability — InvestingNews.com and InvestingNews.com.au are both trusted sources for investing content, and this integration further solidifies INN's commitment to delivering reliable and trustworthy information. Users can continue to rely on INN for accurate and timely financial insights, now in a single place.
About the Investing News Network:
The Investing News Network (INN) is a leading source of independent news and educational content for investors. Since 2007, INN has been providing breaking news, analysis and expert commentary on the latest developments in the resource, tech, life science and cannabis sectors. With a global network of reporters and analysts, INN is committed to providing accurate, timely and actionable information to investors.
For more information, please visit the Investing News Network website at InvestingNews.com.
Contact:
David Nguyen
Investing News Network
+1 (604) 688-8231
dnguyen@investingnews.com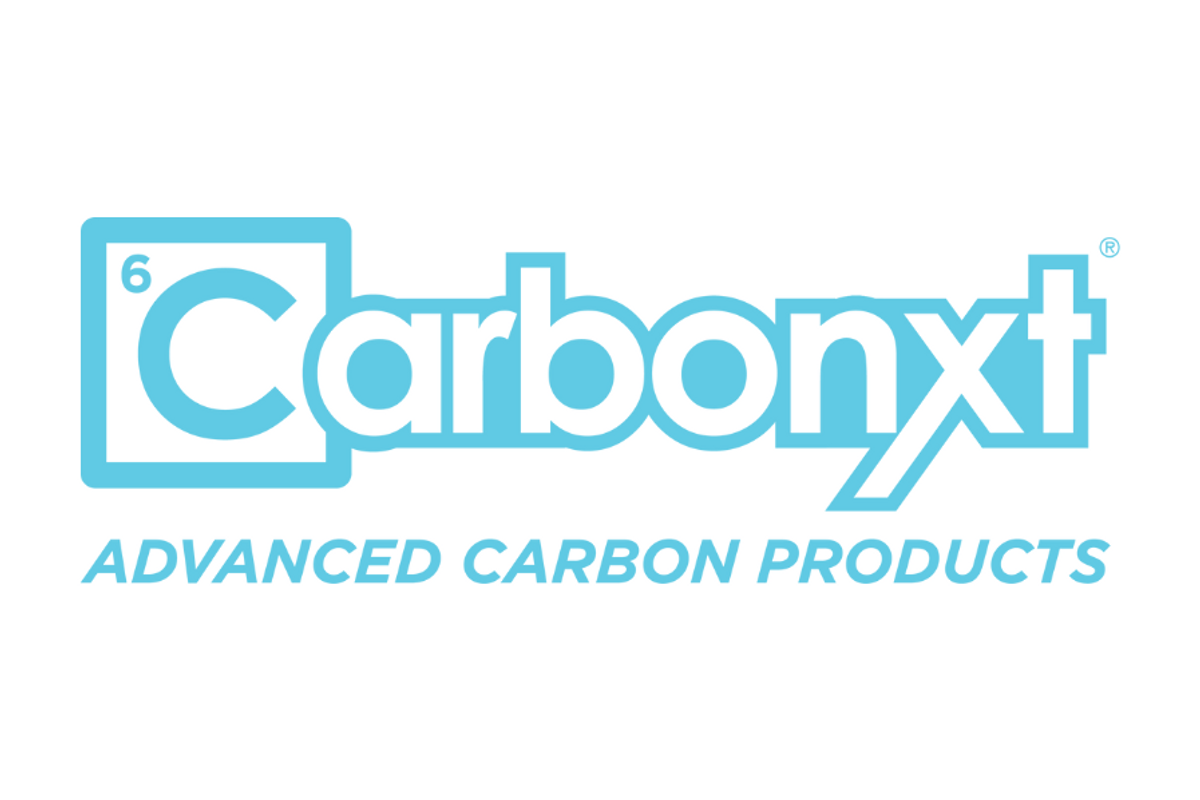 Carbonxt Group Limited
(Carbonxt or the Company) is pleased to announce that it has successfully raised$0.6m (before costs) through the placement ("the Placement") of 10m new fully paid ordinary shares at an issue price of $0.06 ("Placement Shares"). The Placement Shares will be issued under the Company's available placement capacity as per ASX Listing Rule 7.1 and 7.1A on 18 December 2023.
The Placement was completed in connection with Carbonxt's capital raise to raise approximately $2.94m before costs, which also comprises a non-renounceable pro-rata Entitlement Offer to existing shareholders (refer ASX Announcement 4 December 2023).
As part of the capital raise, the Company will make a further placement of 8.33m new fully paid ordinary shares at an issue price of $0.06 to Pure Asset Management, to raise an additional $0.5m. These shares will be issued in January 2024 concurrently with the allotment of the Entitlement Offer shares under the Company's available placement capacity as per ASX Listing Rule 7.1 and 7.1A.
Funds raised will be used to provide funding to the Company for the development of the Kentucky Facility and for working capital purposes.
Managing Director Warren Murphy commented: "We are pleased to confirm the successful completion of the Placement component of Carbonxt's capital raise. The short time to completion was reflective of strong support from a network of institutional and sophisticated investors. These funds provide the Company with working capital to assist management oversee the accelerated construction activity at our flagship activated carbon production facility in Kentucky, USA. Alongside the funds from the fully-underwritten Entitlement Offer, Carbonxt will be well-capitalised to execute on its stated strategy to deliver a material uplift in production and sales once the NewCarbon facility is operational in CY2024."
Lead Manager for the Placement were Sanlam Private Wealth. The Lead Manager will be entitled to receive a fee of 6% on the funds raised by them.
Click here for the full ASX Release

This article includes content from Carbonxt Group, licensed for the purpose of publishing on Investing News Australia. This article does not constitute financial product advice. It is your responsibility to perform proper due diligence before acting upon any information provided here. Please refer to our full disclaimer here.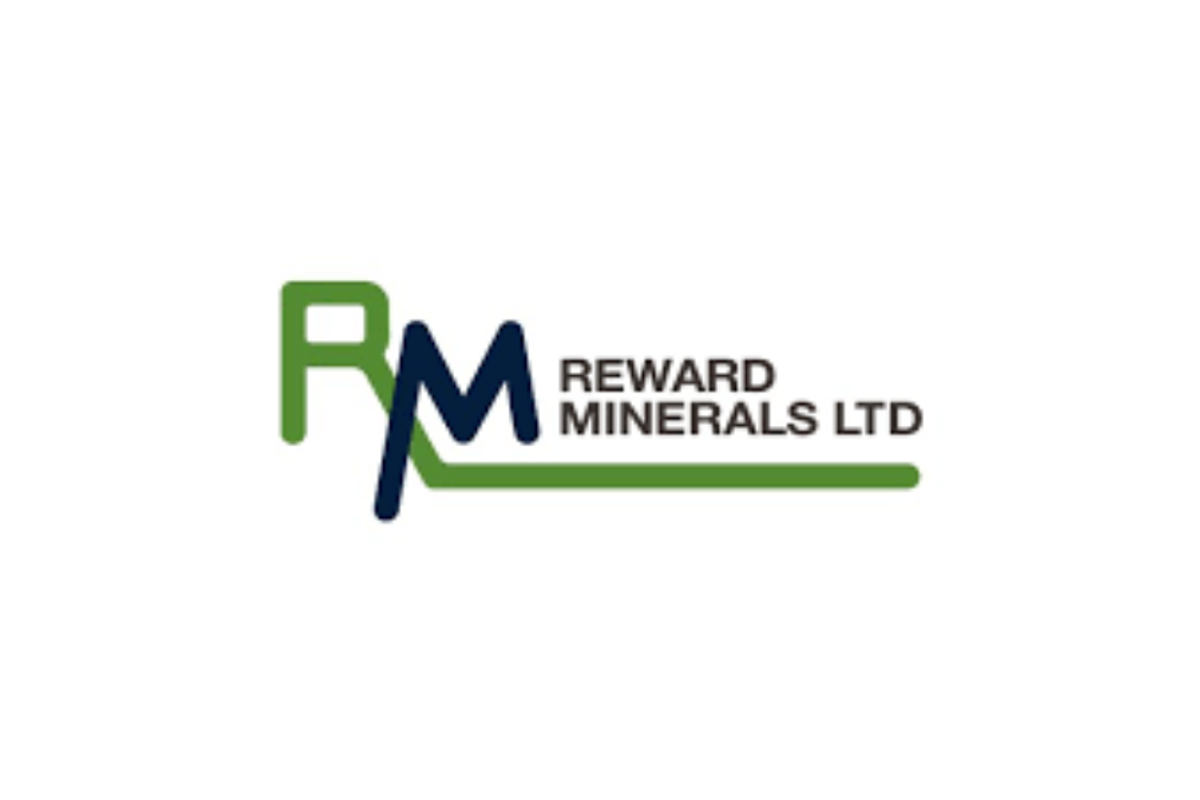 Reward Minerals Limited (ASX: RWD) (Reward or the Company) is pleased to announce that it has entered into a binding share sale agreement (Share Sale Agreement) with the Receivers and Managers (Receivers) of Kalium Lakes Limited (Administrators appointed) (Receivers and Managers appointed) (ASX: KLL) ACN 613 656 643 (Kalium) to acquire the Beyondie Sulphate of Potash (SOP) Project (Beyondie Project) on a debt-free basis, free of encumbrances for total consideration of A$20 million, comprising a A$250,000 exclusivity payment previously made (see ASX announcement dated 16 November 2023), upfront cash consideration of $14.75 million and deferred cash consideration of $5 million by 30 June 2025. See the Schedule for further details.
Execution of the Share Sale Agreement and submission of a deed of company arrangement (DOCA) proposal (DOCA Proposal) follows the Company's entry into an exclusivity deed with Kalium and the Receivers, as announced to ASX on 16 November 2023, and represents the next step towards Reward acquiring the Beyondie Project.
Commenting on the Share Sale Agreement, Reward Executive Director, Dr Michael Ruane said:
"Reward is pleased to have progressed the potential acquisition of the Beyondie SOP project on a debt-free basis, free of encumbrances to the execution of the Share Sale Agreement stage.
Assuming that the proposed DOCA with Creditors, Shareholder Approval and Capital Raising are completed, the Reward team are keen to move quickly on evaluation of the plant and flowsheet modifications and costs for potentially recommissioning the Beyondie Project.
The evaluation will also cover the incorporation of the Reward Process into the existing project layout and also for SOP recovery operations at other SOP resource sites."
Share Sale Agreement
Reward has entered into the Share Sale Agreement for the acquisition of 100% of the issued share capital of Kalium Lakes Infrastructure Pty Ltd (KLI) and Kalium Lakes Potash Pty Ltd (KLP) (together, the Target Entities), on a debt-free basis, free of encumbrances. KLP is the employing entity for the Beyondie Project, with the majority of suppliers contracted through KLP. KLI holds the non-process infrastructure assets for the Beyondie Project.
The material terms of the Share Sale Agreement are summarised in the Schedule.
DOCA Proposal
As a key condition to completion of the Share Sale Agreement, DOCAs for each of KLP and KLI must be approved by creditors of KLP and KLI (with meetings of creditors scheduled to be held on 6 December 2023). The DOCA Proposal submitted by Reward contains customary terms for a document of its nature, and provides that:
all KLP and KLI unsecured creditor claims and debts will be compromised through effectuation of the DOCAs and the establishment of separate Creditors Trusts, which will act as the vehicle to distribute any DOCA funds to the creditors of KLP and KLI;
funds will be allocated from the consideration payable under the Share Sale Agreement to satisfy the costs of the administration of KLI and KLP and enable a dividend to be paid to priority employee creditors in full and to unsecured creditors of KLP and KLI;
KLP and KLI will continue under the ownership of Reward (subject to completion of the Share Sale Agreement);
priority employee claims will be paid 100 cents in the dollar and under each DOCA, they are afforded a priority claim over unsecured creditors;
a combined fund of up to $250k will be available to meet the claims of unsecured creditors of KLP and KLI (estimated to represent a dividend of approximately 5 cents in the dollar); and
the existing unsecured founder royalty of 1.9% of gross revenue from all products extracted from the relevant mining tenements that comprise the Beyondie Project will be extinguished by the DOCA or reduced on such terms to be agreed between Reward and the relevant royalty holders for the purposes of preventing any termination right described in item 7(b) of the Schedule that Kalium might otherwise have under the Share Sale Agreement.
Tyson Loan
As part of the transaction, Tyson Resources Pty Ltd (Tyson Resources), an entity associated with Executive Director, Michael Ruane, has provided $8.750 million of loan funding to Kalium towards prepayment of a post- administration secured debt outstanding from Kalium to a third-party lender (Tyson Loan). The Tyson Loan is secured over the present and after acquired property of Kalium, KLP and KLI (but ranking behind the third-party lender debt), and will only receive interest should the Share Sale Agreement not complete due to the DOCAs not being approved or breach by Kalium or the Receivers (at a rate of 12.5% per annum from 1 January 2024). The Tyson Loan (including attaching interest and security interests) will be repaid and discharged on completion of the Share Sale Agreement. There is no recourse against Reward in relation to the Tyson Loan.
Click here for the full ASX Release
This article includes content from Rewards Minerals Limited, licensed for the purpose of publishing on Investing News Australia. This article does not constitute financial product advice. It is your responsibility to perform proper due diligence before acting upon any information provided here. Please refer to our full disclaimer here.
Investing News Network websites or approved third-party tools use cookies. Please refer to the cookie policy for collected data, privacy and GDPR compliance. By continuing to browse the site, you agree to our use of cookies.