Overview
The most promising gold mine isn't worth much if it's located in an unsafe or non-mining-friendly jurisdiction. Navigating obstructive laws and adapting to political instability can quickly consume a mining company's resources. Regions with clearly stated mining laws that have demonstrated political stability are essential to the long-term success of a mining project. Even with the current geopolitical climate skyrocketing the price of gold, investors must consider the jurisdiction in which mining companies operate.
The Fraser Institute repeatedly ranks Nevada as the top jurisdiction for investment attractiveness in the entire world. Nevada's mineral endowments, regulatory certainty and clearly stated public policy are what earned the state its top spot. Overall, North America has quickly become known as a politically stable and mining-friendly continent.
Few countries have embraced the mining industry quite like Canada. The country's clear sustainability requirements and multiple initiatives that aim to improve the country's economy by leveraging its natural resources are only a few of the reasons why Canada continues to be an attractive country for mining. Much like real estate, the location of mining projects is vital and investors need to take an asset's jurisdiction into consideration when performing due diligence.
Newrange Gold (TSXV:
NRG
,OTC:NRGOF,FSE:X6C.F) is a Canadian-based mining exploration and development company focused on district-scale exploration of prolific assets in safe jurisdictions. The company has projects in Nevada and Ontario that benefit from pro-mining regulations, a highly-trained local workforce and district-scale historical data. Newrange Gold focuses on stable jurisdictions in order to cultivate long-term value for shareholders.
The company's asset portfolio is rich with district scale potential projects, all located within stable and mining-friendly jurisdictions. The Argosy Gold Mine and North Birch Gold Project are both located in the Red Lake District in Ontario. To date, this district has produced 22 million ounces of gold. The projects are nearly contiguous and comprise 4,454 hectares located on the Birch-Uchi Greenstone Belt and adjacent to the prolific Red Lake Greenstone Belt which has similar geographical formations and is three times the size of the Red Lake Belt. Despite this, it is relatively underexplored.
Newrange Gold's Pamlico Project is located in Nevada. The project is located in the famous Pamlico District, which was known as one of the highest-grade gold districts in the 1880s. However, because it's been privately held since 1896, the district has largely gone unexplored. Fortunately, the presence of over 300 historic mines in the region has led to the creation of excellent infrastructure to facilitate future development. The project sits on the Walker Lane geographic structure, which is a large-scale multi-phase polymetallic mineralization system that contains multiple gold and copper targets across 5,700 hectares.
The management team leading Newrange Gold is equally as impressive as its asset portfolio. Robert Archer, president and CEO, has over 40 years of management experience in the mining industry within the Americas. He also possesses a strong scientific background as a professional geologist with an honors BSc. Meanwhile, David Cross, CFO, has 21 years of experience focused on corporate governance and finance. The team is rounded out by independent directors who add their specific expertise to the company, including a geologist, metallurgical engineer and corporate accountant.
Company Highlights
Newrange Gold is a Canada-based exploration and development mining company dedicated to building long-term shareholder value with its gold-focused assets that leverage district-scale historical data to inform its decisions
The company has built an asset portfolio that is entirely within mining-friendly jurisdictions with clear legal requirements and regulations that provide confidence in the future of each project
Both the Argosy Gold Mine and North Birch Project are located in the Red Lake District in Northwestern Ontario, a region famous for gold production
Newrange Gold's Pamlico Project in Nevada benefits from an incredibly mining-friendly state and is located in a legendary district that has remained relatively unexplored since the late 1800s
The company is led by an impressive management team with decades of experience that is directly relevant to Newrange Gold's ambitions, including experience managing mining companies that operate in the Americas
Key Projects
The Pamlico Project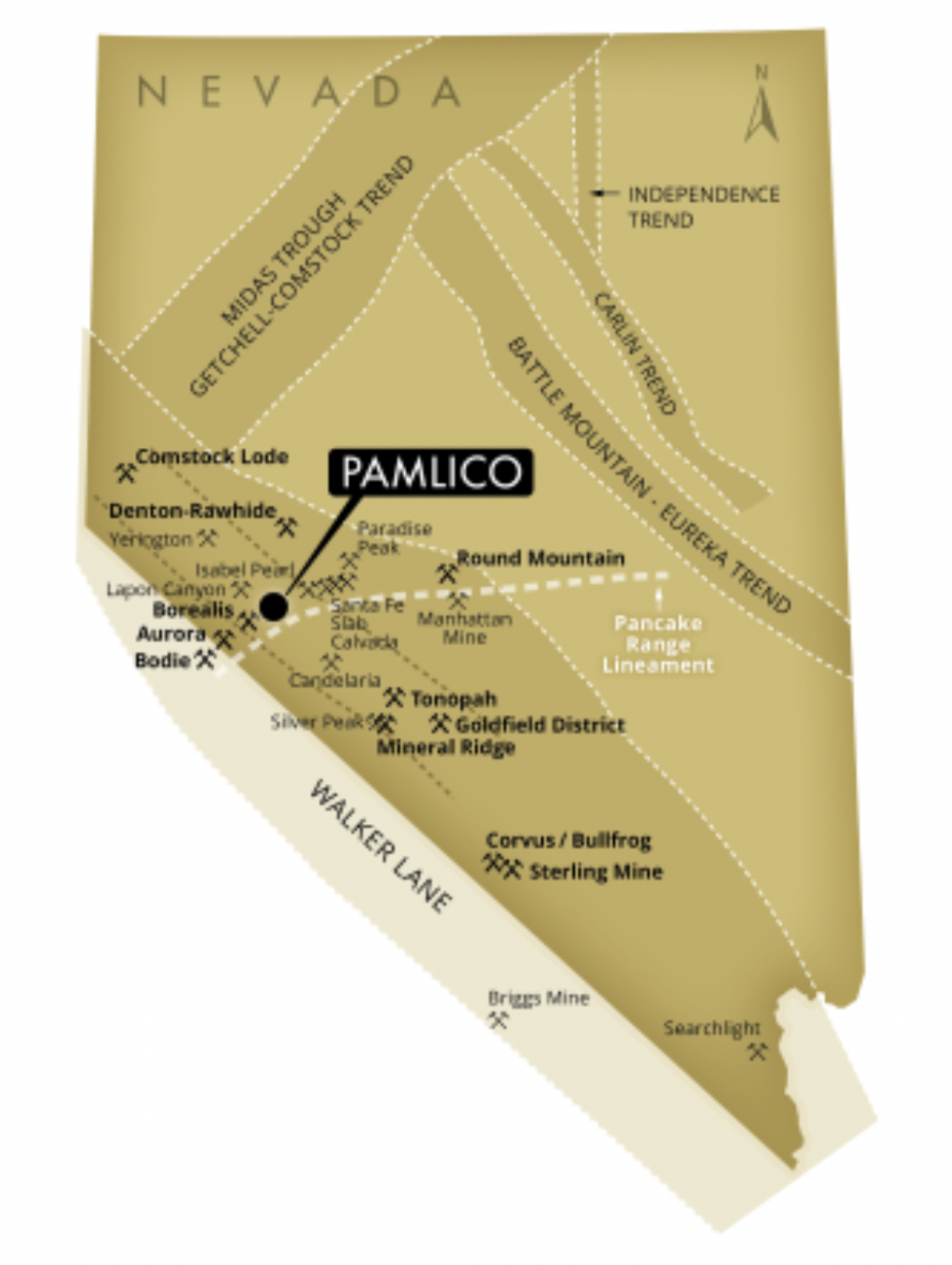 This project is located in Nevada, a state that ranks as the most desirable mining jurisdiction in the world and is currently the fifth-largest gold producer. Mines throughout the state produced a combined 5.4 million ounces of gold in 2019 alone and a staggering 169.1 million ounces from 1835 to 2018.
Project Highlights:
Located on the Prolific Walker Lane Geologic Structure: Current and historic mining operations on the Walker Lane structure have produced 53 million ounces of gold and 519 million ounces of silver
Unique Opportunity in a Legendary District: The Pamlico District was the highest-grade gold district in Nevada between the 1880s and 1920s. Despite its reputation, much of the property has been in private hands and has been largely unexplored. Newrange Gold is now in a unique position with tremendous potential.
Excellent Infrastructure and Metallurgy: The region's historical and current emphasis on gold mining has resulted in a reliable infrastructure, along with exceptional metallurgy.
New Discoveries in a Proven District: Recent geological models suggest the presence of a large gold-copper system with high-grade, near-surface oxide gold mineralization. The same models also indicate lower-grade bulk tonnage gold mineralization, along with skarn and porphyry copper-gold targets.
Multiple Drill Targets Identified: Newrange Gold has identified promising drill targets to further explore the project's area, including the McGill Canyon Skarn Zone, the La Panta Mine, and the new '91' zone.
North Birch Gold Project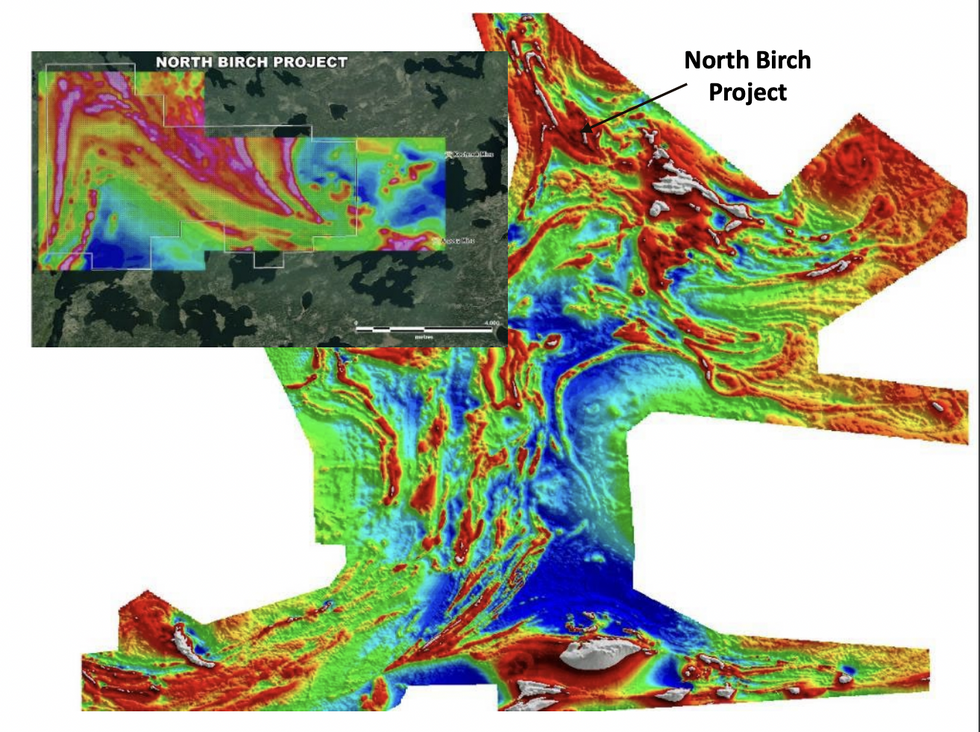 The North Birch Gold Project sits upon the Birch-Uchi Greenstone Belt, which has similar geology as the famous Red Lake Greenstone Belt. However, limited accessibility has left the area belt largely unexplored. Current exploration data and the proximity to an existing mine create tremendous blue-sky potential for the project.
Project Highlights:
Proximity to Existing Projects: The Springpole Gold Deposit operated by First Mining Gold has an indicated 4.6 million ounces of gold and is only 12 kilometers away from the North Birch Gold Project.
Folded Iron Formations (IF) Indicate Gold Deposits: IF-hosted gold deposits are well known around the world and have become attractive targets for gold exploration. Roughly 3,850 hectares of the project are sitting on IF packages.
IF Yet to Be Drilled: Even though the project has multiple gold showings, the IF has never been drilled, creating blue-sky potential as the company further develops promising targets
Promising Historical Data: Historic drilling south of the IF has indicated up to 35 g/t gold over 1.6 meters. A grab sample of pyritic IF has indicated 5.64 g/t gold.
Multiple Strong Drill Targets Identified: Current exploration data has already identified several promising drill targets for further exploration and development.
Argosy Gold Mine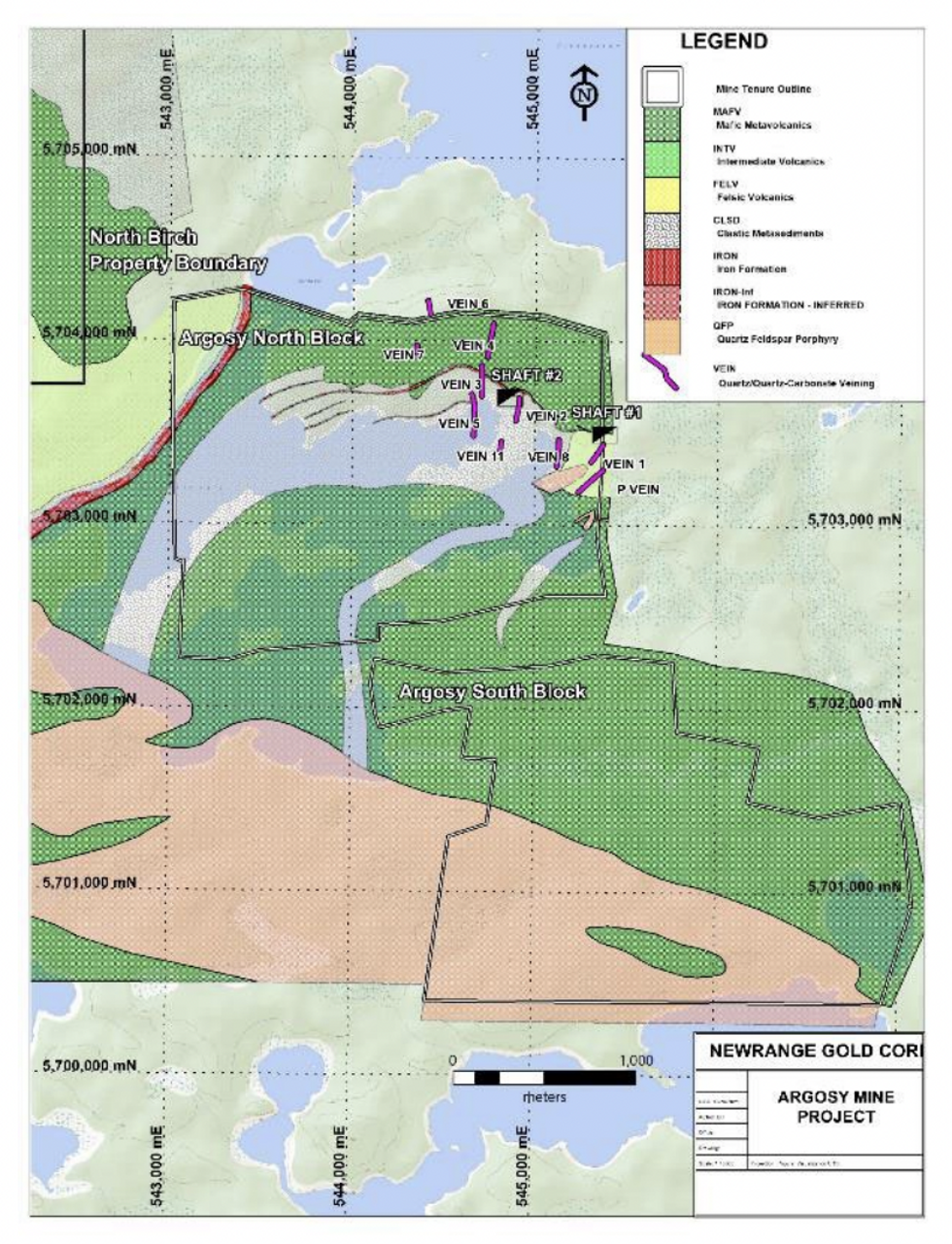 The Argosy Gold Mine is immediately southeast of the North Birch Gold Project and is even closer to the Springpole Gold Deposit, which is only 10 kilometers away. Unlike the North Birch project, Argosy was a high-grade gold mine between 1931 and 1952. Including more recent exploration conducted in the early 2000s, 72 drill holes have generated promising data that have created strong confidence in the project.
Project Highlights:
Promising Historical High-Grade Production: The Argosy Gold Mine was once the belt's most significant gold producer before closing in 1952. While in operation, the mine produced 101,875 ounces of gold at 12.7 g/t.
Recent Exploration Data Indicates Deeper Gold Deposits: The four gold veins that were previously mined reached a maximum depth of 270 meters. However, more recent exploration in 2003-04 indicated that gold mineralizations extend to 400 meters, which includes 10.46 g/t gold over 2.98m and 14.15 g/t gold over 1.65m.
Underdeveloped Asset Showing Promising Results: Even with the above promising data, the asset has not had any work since 2005. Newrange Gold has leveraged existing data to identify multiple drill targets to commence in 2022.
Management Team
Robert Archer - President and CEO
Robert Archer has more than 40 years' experience in the mining industry, working throughout the Americas. After spending more than 15 years with major mining companies, he held several senior management positions in the junior mining sector and co-founded Great Panther Mining Limited, now a mid-tier precious metals producer. He served as President & CEO of Great Panther from 2004-2017 and Director until 2020, and joined Newrange Gold Corp. as a Director in March 2018 followed by his appointment as CEO in January 2019 and President in October 2021. Mr. Archer is a Professional Geologist and holds an Honors BSc from Laurentian University in Sudbury, Ontario.
David Cross - CFO
David Cross is a CPA and CGA with over 21 years' experience in the junior sector with a focus on finance and corporate governance. He is currently a partner of Cross Davis and Company LLP Chartered Professional Accountant, which specializes in accounting and management services for private and publicly-listed companies within the mining industry, and has recently been appointed CFO of Ashburton Ventures Inc.
Colin Jones - Independent Director
Colin Jones lives in New Zealand and is Principal Consultant for Orimco Resource Investment Advisors, based in Perth, Australia. He has almost 40 years' experience as a mining, exploration and consulting geologist in a number of different geological environments on all continents. He has managed large exploration and due diligence projects, and has undertaken numerous bankable technical audits, technical valuations, independent expert reports and due diligence studies worldwide, most of which were on behalf of major international resource financing institutions and banks. Jones holds a Bachelor of Science (Earth Sciences) degree from Massey University, NZ.
David Salari - Independent Director
David Salari has worldwide experience in the design, construction and operation of extractive metallurgical plants. He is an engineer with more than 35 years of experience in the mining and mineral processing field and is currently the President and CEO of DENM Engineering.
Ron Schmitz - Independent Director
Ron Schmitz is the Principal and President of ASI Accounting Services Inc., a firm that has provided administrative, accounting and office services to public and private companies since July 1995. Schmitz has served as a Director and/or Chief Financial Officer of various public companies since 1997, and currently holds these positions with various public and private companies.
Request an Investor Kit
EXCITING upcoming projects!
IN-DEPTH reliable insights!
SUCCESSFUL growth strategies!
VALUE-BASED content!
Newrange Gold