Overview
The Iberian Pyrite Belt is globally recognized as having one of the highest concentrations of volcanogenic massive sulfide deposits on Earth. The entire belt has more than 2 billion tonnes of ore, with an estimated 400 million tonnes remaining. Prior exploration also indicates that the Iberian Pyrite Belt contains gold, silver, copper, lead and zinc.
The Iberian Pyrite Belt is located across Spain and Portugal. It features a rich history of productive mining that dates all the way back to the Roman Empire. Overall, the average mineral production in Spain is 20,400,119 tonnes between 2009 and 2018. Over 100 minerals can be mined through Spain, with many of these minerals being located on the Iberian Pyrite Belt.
Denarius ((TSXV: DSLV; OTCQB: DNRSF) is a Canadian junior exploration company dedicated to advancing mining projects that are located in high-grade mining districts. Its portfolio contains international projects ranging from exploration to near-term production of metal assets that can be leveraged across multiple markets.
Denarius' flagship project is the Lomero-Poyatos Project, which is located in the Iberian Pyrite Belt in Spain. The historical production at this site was a minimum of 2.6 million tonnes of massive sulphide ore. In August 2021, Denarius received a mining permit for its Lomero-Poyatos project, allowing for exploratory drilling in select historical holes.
The Lomero-Poyatos project is a polymetallic asset that will allow Denarius to mine green metals, such as lead, zinc and copper, in addition to gold. Mining copper directly supports the global initiative towards embracing environmental technologies since copper is required for electric vehicles, wind turbines, solar powers and electric vehicle batteries. It's estimated that copper demand will increase by 900 percent by 2030. Denarius is poised to capitalize on the increased demand for copper through its Lomero-Poyatos project.
Denarius also has two additional mining projects located in Colombia. Colombia is an OECD member country and has one of the lowest inflation rates in Latin America. Some experts predict that Colombia's GDP will recover from the 2020 pandemic-induced plunge with a projected increase of 6.5 percent in 2021.
The two projects located in Colombia, Guia Antigua and Zancudo, are both located in historically productive high-grade mining districts. The Guia Antigua project is located in a mining district that has been in continuous operation for 150 years and has produced approximately 6 million ounces of gold, while the Zancudo project is located in a mining district that has been producing ore since 1793.
"Silver is becoming not only such an important thing as a metal but as an industrial metal. As part of all this new green energy that is going to be created, it's going to be an important element in the making of batteries and conductors," said Denarius Executive Chairman Serafino Iacono in a recent interview.
Denarius has issued 205,076,865 shares (299,300,565 on a fully diluted basis), creating a market capitalization of C$80 million. Approximately 27 percent of these shares have insider ownership, which shows the confidence of the management team. As of Q1 2021, it reports having US$32.4 million in total cash, US$10 million was used in April 2021 in connection with the acquisition of the Lomero Project and the balance is available to fund the Company's exploration programs at Lomero and Guia Antigua.
Serafino Iacono is currently the executive chairman and interim CEO. Iacono brings over thirty years of experience throughout numerous natural resource projects around the world. He has raised billions of dollars for these projects throughout his career.
Company Highlights
Denarius is a Canadian junior exploration company with a diverse portfolio of high-grade mines. It is focused on developing projects located in historical productive districts in Spain and Colombia.
Each of the company's assets is located near existing projects that are massively productive, which creates an existing robust infrastructure that allows Denarius to quickly advance their projects.
All three of the company's projects have historically returned high-grade minerals that are consistent with their neighbors' production.
The company has a management team that has international experience and brings plenty of operational expertise that may enable them to quickly advance projects.
Key Projects
Lomero-Poyatos Project
The Lomero-Poyatos project is the flagship project of Denarius. The deposit is located in the northeast section of The Iberian Pyrite Belt. The Iberian Pyrite Belt has been previously explored by prior ownership, who inferred that there are approximately 20.93 mt of resources at the following grades:
Gold – 3.08 g/t
Silver – 62.38 g/t
Copper – 0.90 percent
Lead – 0.85 percent
Zinc – 3.05 percent
As a polymetallic mine, this asset allows Denarius to produce green metals, which are estimated to grow in demand. The demand for these metals coincides with the transition to green energy since copper is required for wind turbines, solar panels, electric vehicles and electric vehicle batteries.
Close proximity to other high-producing projects means there is existing infrastructure that will allow Denarius to quickly develop this project. The site is serviced by water, power, and paved roads that lead to Seville, a nearby town. There are also several nearby villages that represent an opportunity for labor and accommodation.
The 2021 objectives for the Lomero-Poyatos Project are to commence 22,050 meters of drilling, along with metallurgy testing. The 22,050 meters of drilling include 14 drill holes to verify the results of historical drilling, 59 holes planned to infill the previous drilling, and 15 holes to extend the deposit.
Guia Antigua Project
The Guia Antigua project is located in the high-grade Segovia mining district. The mines in this district have historically produced 6 million ounces of gold.. Early exploration initiatives show that there is strong potential for more discoveries in the surrounding area.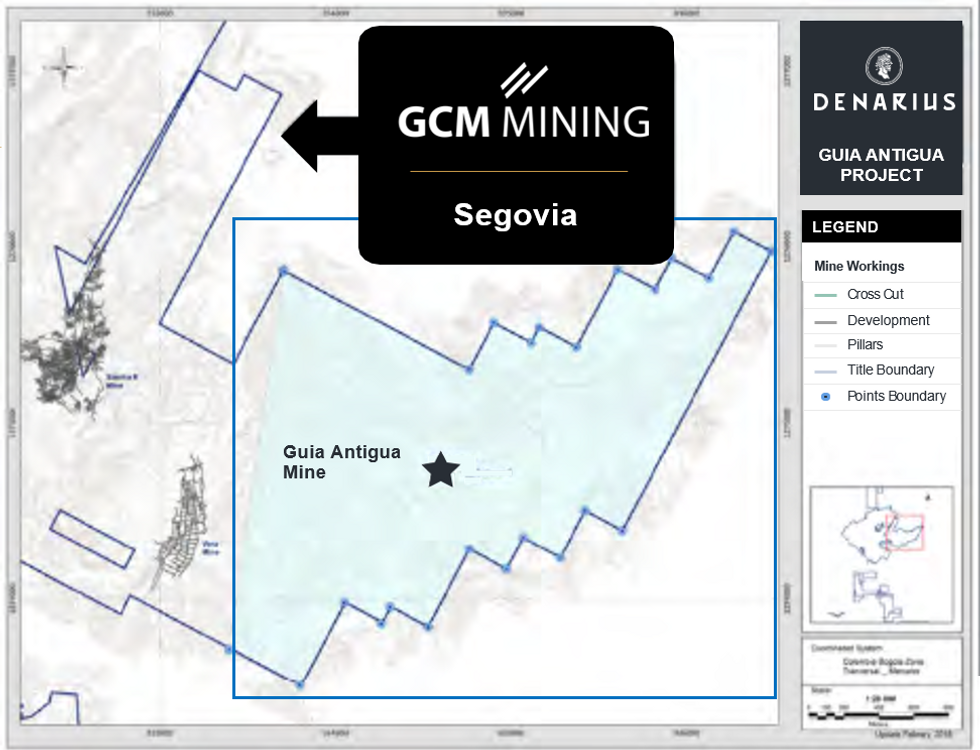 This asset produced 78,558 oz silver and 1,174 oz gold from a total of 6,034 tonnes with an average grade of 404.90 g/t silver and 6.05 g/t gold between 2014-2016. In 2018, a rock channel sampling returned the grades of 7.645 g/t gold and 335.1 g/t silver, with a grade range of 0.012 to 133.7 g/t gold and <0.3 to 10,381 g/t silver.
The first phase of this project, which commenced in February 2021, calls for the completion of ongoing soil surveys. Several other exploration technologies will be employed to identify new trill targets and locations, which may include historically productive drill sites. Ongoing development is dependent on positive results from this phase of the project.
Zancudo Project
The Zancudo project includes the Independencia Mine, which has historically been productive. Furthermore, the asset is near GoldMining's Titiribi project, which is a highly productive gold mine. This project also has an option agreement in place with IAMGOLD to further explore the area for minerals.
Production in this area dates back to 1793 and has been in constant production ever since. It was further developed in 1993 when it was acquired as a silver mine. Denarius acquired the project from GranColombiaGold in 2020.
There are currently seven identified drilling exploration targets that aim to explore locations that are believed to be rich in minerals. Progress has already been made on these exploratory drilling sites. However, the COVID-19 pandemic caused delays on completing the exploratory drilling objective. The company expects to complete the exploratory drilling sometime in 2021.
Management Team
Serafino Iacono —
Executive Chairman and CEO
Serafino Iacono has over thirty years of experience in capital markets and public companies and has raised more than $4 billion for numerous natural resource projects internationally. He is currently Executive Chairman of Gran Colombia Gold and is a former Co-Chairman and an Executive Director of Pacific Exploration and Production Corporation and a former director of Petromagdalena Energy Corp. Iacono was also a co-founder of Bolivar Gold Corp and Pacific Stratus Energy, among others, and is involved in numerous resource and business ventures in Latin America, Canada and the United States.
Mike Davies — CFO
Mike Davies is a Chartered Professional Accountant (Ontario) with over 20 years of extensive international and public company experience in financial management, strategic planning and external reporting in resource and other sectors, including management positions with PetroMagdalena Energy Corp., Coalcorp Mining Inc., Medoro Resources Inc., LAC Minerals Ltd. and Pamour/Giant Yellowknife Mines. Davies also holds a Bachelor of Commerce degree from the University of Toronto.
Jeff Couch — Director
Jeff Couch is a financial services executive with extensive experience in the natural resources sector having advised and raised capital for clients globally, with a particular focus on emerging markets. He works with Orion Resource Partners, a mining-focused private equity firm with $6 billion under management. Couch has worked with several financial services firms in Europe, including being Head of Investment Banking Europe for BMO Capital Markets (Bank of Montreal). Couch has also had senior investment banking roles with Credit Suisse Europe and Citigroup (Solomon Brothers). He has public board experience in both the London Stock Exchange and Toronto Exchange and has advised several governments on their natural resources capital requirements.
Request an Investor Kit
EXCITING upcoming projects!
IN-DEPTH reliable insights!
SUCCESSFUL growth strategies!
VALUE-BASED content!
Denarius