Building a Community-Focused, Cannabis Blockchain Platform
This profile is part of a paid investor education campaign.*
Overview
TruTrace Technologies Inc. (TSXV:TTT, OTC PINK: BKKSF) is a full-service software company currently launching a comprehensive, blockchain-based platform to serve the cannabis industry. TruTrace Technologies' solutions enhance efficiency, validity, security and visibility for cannabis breeders and growers. It is the first cannabis genetics and licensing archive platform that also plays a role throughout the supply chain, from gene-to-sale.
Company Highlights
First mover in the cannabis tracking technology space.
Launched a blockchain-based platform for tracking, licensing and archiving genetics of cannabis plants.
Automated platform that is integrated into Health-Canada approved cannabis-testing facilities, cutting red tape and administrative expenses by 50 percent for all required and optional testing.
Strategic partnerships in place with WeedMD, Harvest One and NXT Water.
Pending acquisition of Spark Digital Technologies, the owner of the the IgniteProTM global cannabis tracking platform.
Platform can be integrated with most current and legacy seed-to-sale and enterprise resource planning (ERP) systems.
Open Source platform to be publicly accessible, transparent and community oriented.
In partnership discussions with Canada's provincial and territorial governments.
Management team with varied and extensive experience in technology and cannabis sectors.
An Innovative Blockchain Solution
The platform
Built within its own unique blockchain or distributed ledger technology, the StrainSecure™ platform will be deployed as a solution for licensed cannabis producers (LPs), as well as licensed craft growers and will host several potential revenue streams. On the one hand, it will serve as a booking system for all required and optional testing of cannabis throughout Canada. Through its platform and partnerships with testing labs, participants can expect to cut red tape in half in terms of administrative overhead currently associated with testing. By streamlining the process, producers can get their product more quickly to market, helping to meet the increased demand of legalization.
As a second offering, it will also act as a way for cannabis breeders to log their genetic strains in an environment that immutably verifies the source of the strain and removes the need for a patent. This is important for future collaborations and innovations, that will lead to more products and choice for consumers.
That leads to the third offering: The platform will act as a secure marketplace in which LPs can license their strains to other growers. To do this effectively, the blockchain platform will incorporate contractual elements that protect both parties and ensure the LPs ownership of the genetic strains being licensed.
Lastly, focusing on visibility and transparency within the cannabis supply chain, TruTrace Technologies Inc. will provide a blockchain-based tracking system that gives growers and regulators the knowledge of where plants are at any given time in the gene-to-sale process. To do this effectively, the platform will integrate with all tracking and logging systems across the supply chain, and will take into account the jurisdiction's regulatory framework. This approach will provide collaboration between all parties involved in the supply chain in order to communicate when issues may arise.
The company has been doing a significant amount of work in ensuring that the platform can integrate with all modern or legacy seed to sale and ERP systems that too often are unable to 'talk' with each other. Acting as a central source, or "smart-hub" for information, the StrainSecure™ platform will implement targeted efficiencies in the cannabis supply chain, reducing costs and time spent.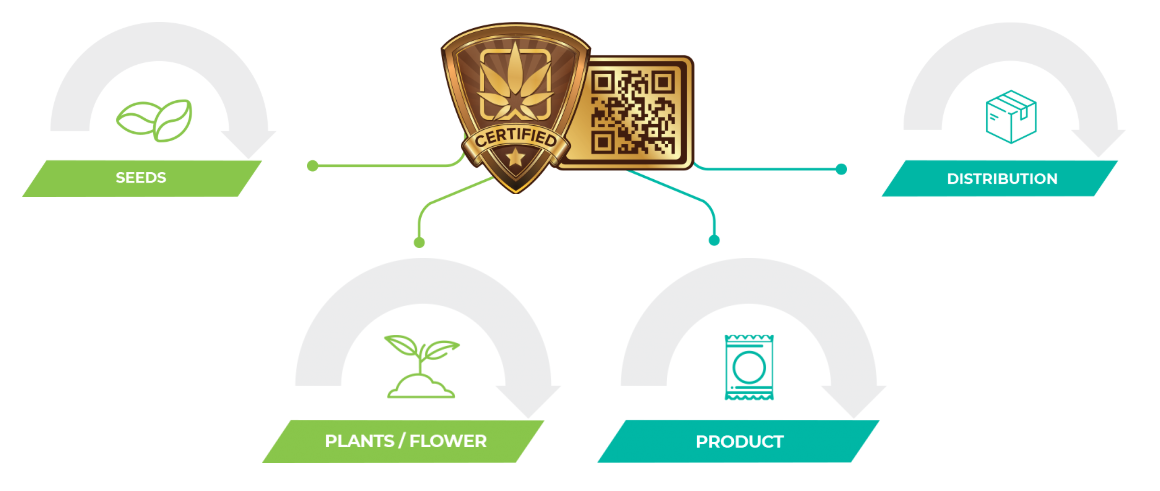 Strategic partnership
WeedMD
In March 2018, WeedMD Inc. (TSXV:WMD), an Ontario-based licensed producer which has a robust and expansive library of genetics, announced that it had made a strategic investment in TruTrace Technologies. As part of the agreement, WeedMD invested $500,000 and will be the first company to integrate the StrainSecure™ blockchain platform into its ecosystem.
"We are thrilled to have the strategic support of WeedMD in the development and launch of our technology-based solutions," said TruTrace Technologies CEO Robert Galarza. "Our platform brings the best aspects of blockchain technology into the cannabis industry in order to protect the intellectual property of producers, while giving customers visibility and transparency. By utilizing TruTrace Technologies, WeedMD can now expand its library of world class genetics while building customers' trust in the quality of the products they are purchasing."
In January 2019, TruTrace Technologies and WeedMD completed the first-of-its-kind cannabis strain registration program. The completion of the program makes WeedMD the first licensed producer in the world to incorporate a cannabis strains authenticity and tracking platform into its sales program.
NXT Water
In January 2019, TruTrace Technologies signed a LOI with NXT Water LLC, a hemp-based beverage company. Under the terms of the agreement, TruTrace Technologies will integrate its technology into NXT Water's launch of its AKESO functional fitness water, a hemp-based CBD beverage.
Harvest One
In February 2019, TruTrace Technologies announced that Harvest One (TSXV:HVT) will be utilizing the company's proprietary genome tracking software to collect and register its cannabis plant DNA and strains. By using TruTrace Technologies' tracking software, Harvest One will be able to provides its consumers with increased transparency and confidence with its products.
"This agreement with Harvest One is a testament to the growing traction of our proprietary genome-to-sale software, which we expect to increase as more companies recognize the inherent and significant value in protecting the genetics and IP of their various strains," said Galarza. "We believe our unique technology will enable Harvest One to guarantee its strains and provide consumers with unparalleled assuredness about the products they purchase. This is of particular importance for medical cannabis when patients with specific conditions are relying on products to be of consistent quality and provide consistent results."
An open-source offering
As an early mover in addressing key problems within the cannabis industry with blockchain solutions, TruTrace Technologies will open-source its technology, giving access to consumers, providers, grow facilities, software developers, major supply chain platforms and others to build their own apps and solutions. In this way, the cannabis community as a whole can use StrainSecure™'s platform to communally drive technology and innovation in the industry.
Spark Digital Technologies
IN March 2019, TruTrace Technologies signed a LOI to acquire Spark Digital Technologies, the owner of the IgniteProTM platform. The platform is able to travel with cannabis plants and products as they move from cultivation to distribution. IgniteProTM produces reports, stores documentation and tracks transports.
Navigating multiple regulatory environments
The company is in the process of launching and releasing its innovative, community-focused platform in concert and has plans to release it by mid-2018, to coincide with the legalization of the recreational marijuana market in Canada. Understanding that the sale of cannabis in the Canadian market will be regulated in part—and in slightly different ways—by each individual province and territory, TruTrace Technologies has been in discussions with regional government entities so as to be able to incorporate the various regulatory aspects into their platform.
The company is also in partnership discussions with these governments to make StrainSecure™ the go-to technology platform for cannabis tracking, licensing and genetics archiving.
Management team with vast industry experience
TruTrace Technologies is led by a team of executives who bring extensive and varied experience from the technology and cannabis sectors. The team includes Tommy Stephenson, who has delivered technology solutions to Fortune 500 companies like Microsoft and YouTube, and was instrumental in the rebuild of Weedmaps.com, the flagship cannabis branding and marketing platform owned by California-based Ghost Group. He and the management team are supported by a strategic advisor, Derek Pedro, who was one of the first cannabis consultants in Canada and has registered over 2,000 unique strains with Health Canada. Pedro is also a pioneer in government relations and has provided his expertise to help TruTrace Technologies navigate discussions with the provincial governments of Canada.
As the company awaits TSXV approval for a reverse takeover of Scorpion Resources Inc., it has proposed a board of directors with additional industry experts. One of the proposed directors is Cameron Chell, who brings vast experience in developing blockchain technologies, having worked on the Kodak blockchain. He also brings in-depth knowledge of the public sector, and is also helping the company navigate that environment.
Management
Robert Galarza—CEO and Director
Robert Galarza is the co-founder and chief executive officer of Spark Digital Technologies Inc., a software company specializing in revolutionary enterprise technology. He has over 10 years of experience in advertising and mass-media communications, more than seven years of experience as a corporate transactional attorney, during which his practice included the representation of professional athletes in the entertainment industry, and more than four years of experience in the digital technology sector, specifically focused on mobile platform development, software-as-a-service (SaaS) solutions and blockchain integration. He received a bachelor of science in advertising from the University of Texas at Austin in 2005 and a doctorate of jurisprudence, cum laude honors, from St. Mary's University College of Law in San Antonio, Texas, in 2009.
Tommy Stephenson—Co-founder and CTO
Tommy Stephenson is the co-founder of Spark. Since September 1998, he has been chief executive officer of Heated Details Inc., a Seattle-based design and development agency he founded, which provides services to Fortune 500 companies, including Microsoft, Google/YouTube, Starbucks and Mercedes Benz. He has also been the chief technology officer of Globatom Inc., a software-as-a-service cloud-based technology company specializing in real-time global logistics management systems, since May, 2016. He previously served as the chief technology officer of Ghost Group, a technology company that owns and manages a portfolio of advertising, Web, point-of-sale and logistics solutions for the cannabis industry (including its well-known flagship platform, Weedmaps), from September, 2014, to January, 2016.
Cameron Chell—Co-founder and Chairman
Cameron Chell is the chief executive officer of Business Instincts Group (BIG). He has built several start-ups, including Draganfly, RaptorRig, ColdBore, as well as was the founder of Futurelink, the original cloud computing company. He is also the co-founder of UrtheCast, the first commercial video platform from space, and Slyce, the visual purchasing engine. He is currently involved with creating and sourcing new projects and overseeing corporate development for BIG, which is a venture creation and management services company that integrates a proprietary strategic planning process into organizations fostering strategic growth, valuation appreciation, liquidity and management accountability. His primary responsibility is to provide project and strategic management facilitation while working with his co-founders, executives and investors to determine what is most important and specifically how to get it done.
Dr. James LaValle – Chief Medical Manager
Dr. James LaValle has more than 40 years of experience in the natural products industry as a clinician, industry consultant and educator. He has dedicated his professional career to becoming a voice for the emerging value of the natural product industry, with particular emphasis on the need for quality standards and transparency of ingredients in order to ensure consumer safety and efficacy.
Michael Kraft—Director
Michael Kraft is an entrepreneur with more than 30 years of experience in sales, marketing and corporate management, with a strong record of success in both public and private company leadership. He has been the chairman and a director of WeedMD Inc., a licensed producer listed on the TSX-V that he co-founded in 2013, since April 2017. In September 1993, he founded and is chairman of Buckingham Group Ltd., a privately-owned merchant bank that provides a full range of business support and commercial services to investee companies in a wide range of sectors, including technology, edtech (education technology), life sciences and natural resources. He is also a director of numerous private and public companies and holds a bachelor of arts in economics from York University.
James Carter – Director
James Carter is a Chartered Professional Accountant with over 45 years of experience in both the private and public sectors. From 1998 to 2017, he served as Vice President of an NYSE-listed company focused on merchant banking activities, where he specialized in mergers and acquisitions, corporate and debt restructuring and risk management. He has particular experience with North American and European capital markets.
Swapan Kakumanu—CFO and Director
Swapan Kakumanu has more than 25 years of senior finance and operations experience and has served at senior executive management levels, both in public and private companies, in high growth technology, manufacturing, blockchain, medical device, trading and oil field services industries. He has held senior roles as President, Chief Executive Officer, Chief Financial Officer, Company Secretary and Board Member. Mr. Kakumanu has extensive experience in public company reporting, investor relations, mergers and acquisitions, internal controls and general overall financial and operational management. He holds CPA.CGA, ACA and ACMA designations.
---
*Disclaimer: This profile is sponsored by TruTrace Technologies Inc. (TSXV:TTT, OTC PINK: BKKSF). This profile provides information which was sourced by the Investing News Network (INN) and approved by TruTrace Technologies Inc., in order to help investors learn more about the company. TruTrace Technologies Inc. is a client of INN. The company's campaign fees pay for INN to create and update this profile.
INN does not provide investment advice and the information on this profile should not be considered a recommendation to buy or sell any security. INN does not endorse or recommend the business, products, services or securities of any company profiled.
The information contained here is for information purposes only and is not to be construed as an offer or solicitation for the sale or purchase of securities. Readers should conduct their own research for all information publicly available concerning the company. Prior to making any investment decision, it is recommended that readers consult directly with TruTrace Technologies Inc. and seek advice from a qualified investment advisor.