The Green Organic Dutchman Holdings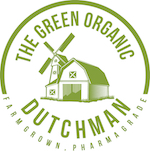 Farm Grown, Pharma Grade Organic Cannabis
This profile is part of a paid investor education campaign.*
Overview
The Green Organic Dutchman Holdings Ltd.'s ("TGOD") (TSX:TGOD) 100-percent owned subsidiary, The Green Organic Dutchman Ltd. is a licensed medical cannabis producer under Health Canada's Access to Cannabis for Medical Purposes Regulations (ACMPR). The company's mission is to provide other Licensed Producers and patients with farm-grown, pharmaceutical-grade, organic cannabis that is 100 percent non-irradiated. The Green Organic Dutchman Holdings is the third licensed producer to be developed and brought to market by this highly experienced financial team with excellent access to capital.
The Green Organic Dutchman owns two farms that add up to 175 acres, one of the largest land packages under a single ACMPR license. The first of these is a certified fully-organic cannabis farm located on 100 acres of agricultural land in Ancaster, Ontario, which includes a 1,000 kilogram-per-year indoor production facility with near-term revenue from wholesale sales. TGOD began planting in late 2016 and has planned an expansion program that will bring the farm's production capacity to 14,000 kilograms-per-year in 2018. As part this initiative, the company is also entering the cannabis oil market by building an extraction facility capable of processing up to 12,000 kilograms per year.
The company secured a second, 75-acre property in September 2017, located in Salaberry-de-Valleyfield, Quebec. TGOD has planned to develop an 820,000-square-foot cultivation facility on the property, with construction set to conclude in late 2018.
TGOD has a proven management team that has noted experience in the executive and operational aspects of the consumer packaged goods, consumer products, cannabis and finance industries. The company's leadership also includes the financial team that funded and brought Organigram Inc. and Emblem Corp. to market. Significantly invested in the company, the management team, directors, insiders, and employees collectively owned just shy of 50% prior to the most recent financing.
Investment Highlights
Hyper-growth potential: third LP backed by the same financial team with exceptional access to capital
Management has more than $10 million invested in the company
Experienced, passionate growers with over 8 years growing experience under Health Canada medical cannabis regulations
Large land package of over 175 acres; one of the largest covered under a single ACMPR license
First phases of 970,000-square-foot expansion underway
Immediate revenue from wholesale market in 2018
Higher margins as quality organic product demands premium price
Debt-free and recently closed $112 million through a non-brokered & brokered private placement
Aurora Cannabis recently invested $55 million as a strategic investment & partner in TGOD
Consumers Prefer Organic
Consumers are increasingly choosing organic foods and products, and that demand is expected to make organics one of the fastest-growing sectors. Research shows when it comes to organic products, consumers are more than willing to pay a premium—and as a medicine, cannabis is no different. Medical marijuana patients are expected to increasingly demand quality organic products over conventionally produced or irradiated products.
The Green Organic Dutchman's commitment to producing organically-grown cannabis greatly differentiates the company from its peers while creating significant opportunities in the marketplace. The company uses small-batch, chemical-free growing principles, producing high quality yields rich in terpenes that deliver a robust flavor and aroma.
TGOD owns 36 of the highest quality cannabis strains, more than most of its LP peers.
Developing a 175-Acre Licensed Land Package
In developing its vision, TGOD has acquired two properties located in Ontario and Quebec. These locations are strategic as the provinces represent two thirds of the Canadian populations, presenting the opportunity for lower shipping costs, simplified logistics and heightened customer satisfaction. Additionally, there is also easy access to six bordering US states, which would allow TGOD to capitalize on the recreational market associated with cannabis tourism.
Ontario Property
TGOD's initial property is a 100-acre farm located in Ancaster Ontario with a current production rate of 1,000 kilograms per year. The company has implemented several environmentally sustainable practices at the farm including chemical-free grow mediums, natural supplements, solar and geothermal power generation, beekeeping and a reforestation program.
Quebec Property
Acquired in September 2017, TGOD's Quebec property is a 75-acre farm located 50 kilometers away from Montreal, Quebec with the potential to host over 820,000 square feet of ultra-high technology hybrid greenhouse facilities. The property is also located nearby a 50-megawatt substation which will provide significant power access to TGOD at one of the lowest commercial rates in Canada. The property is also serviced with industrial gas lines, sewage and unlimited access to raw water.
The company envisions that the Quebec facilities will boast a climate-controlled environment with advanced automization technology, ensuring full control over any external influences and providing optimal growing conditions for organic, pesticide free cannabis.
"The acquisition of this property is significant and will play an instrumental role on our path to becoming one of the lowest cost cannabis producers in Canada," said TGOD President Csaba Reider.
Overall phased expansion plans for hybrid indoor/greenhouse operation
Using a multi-phased approach, TGOD plans to expand its production capacity in both of their properties. The first phase of expansion has focused on the development of the Ontario property from having a 1,000-kilogram per year capacity to annual production of over 100,000-kilogram's by early 2019.
Phase one expansion is fully funded and currently underway with the construction of a 150,000-square-foot facility that will host indoor facilities used for specialty growing and formulations and a hybrid greenhouse focused on the growth of high-quality organic cannabis.
Phases 2, 3 and 4 are focused on the development of the Quebec property facilities, which will make up 820,000 square feet of hybrid greenhouse space, producing 102,000 kilograms a year. The three phase's of development—due to be completed by late 2018—will show an initial 220,000 square feet of production space with 22,000 kilograms produced annually. Phase 3 will then an additional 250,000 square feet to the facility and Phase 4 will incorporate the final 350,000 square feet of cultivation space.
The Company has fulled funded these expansions in preparation for it's IPO planned for March, 2018.
Strategic Alliances
TGOD is ensuring the success of their expansion initiatives through strategic alliance partnerships, aimed at de-risking the access to power and the construction. As part of this approach, the company has entered into strategic agreements with Eaton, which is a power management company helping clients effectively manage their power usage; the Ledcor Group, a multidisciplinary construction company focused on developing the Green Building Industry; and Aurora Larssen Projects Ltd. (ALPS), an industry leading design firm that has been involved in over 1,000 facilities around the world.
Targeting wholesale market while building retail business
TGOD is addressing the high-level of demand for organic products from other licensed producers through wholesale agreements. Many existing licensed producers are restricted in scalability and not equipped for an organic grow operation, making the wholesale market an excellent starting place for immediate revenue generation while the company develops its retail business.
The company expects to start generating revenues from wholesale sales in 2018. Concurrently, management is developing strategic partnerships with marijuana clinic networks, pain clinics and veteran networks to increase patient acquisitions for the much more profitable retail market.
JV Opportunities
Leveraging management's experience with structuring large joint venture transactions, TGOD is also targeting growth through opportunities with distribution partners, which could include other LPs, pharma companies, pharmacies and dispensaries, for the retail/recreational market.
Management
Rob Anderson—CEO and Director
Rob Anderson brings over 20 years of experience working with micro-cap companies in a broad range of sectors. He spent 12 years in the Canadian brokerage Industry with one of Canada's leading independent firms. Anderson has financed hundreds of micro-cap companies he has developed a unique identification & selection process which has led to an impressive track record of success, with multiple companies reaching market valuations in excess of $1 billion. He is a strong advocate for retail shareholders, believes in working with management by developing a staged financing approach to addressing a company's capital requirements, as well as advising on the development of business plans, recruiting management, negotiating transactions, joint ventures, and supporting management during the company's growth cycle.
Csaba Reider—President
Csaba Reider is a seasoned entrepreneur who brings over 35 years of national and global senior executive leadership experience in the highly competitive consumer packaged goods industry. He has a proven track record of transforming companies across multiple areas and industries including; contract manufacturing, product quality, purchasing, logistics, Six Sigma & lean manufacturing, branded and private label packaged goods and real estate.
During his time at Cott Corporation as Vice-President of Global Sourcing and Six Sigma, he led the team that implemented lean initiatives that drove manufacturing efficiencies to exceed industry metrics across 18 facilities. His expertise and proven manufacturing track record, gave him the responsibility of managing a $1 billion dollar US spend for the company.
Amy Stephenson, MBA, CFA, CPA, CMA—CFO
Amy Stephenson has over 20 years of executive experience in both the private and public sectors. Amy brings a wealth of knowledge and experience to TGOD from her vast experience working with market leaders in a Canadian cannabis industry. Some of Amy's previous experience includes; CFO for Branson Corporate Services where she acted as CFO of Aurora Cannabis Inc. Prior to that, Amy was the CFO at Bedrocan Cannabis Corp. and controller at Canopy Growth Inc.
Amy Stephenson is a Board member of CFA Society Toronto. She was non-member Council and Chair of the Audit Committee for the Association of Professional GeoScientists Ontario ("APGO") for 6 years. Amy is a CFA Charter holder, a Chartered Professional Accountant (CPA, CMA) and a member of the Financial Executive International (FEI).
Jim Shone—EVP Operations
Jim Shone has 20 years of experience in the Canadian financial services industry, focused on small to medium sized enterprises. He has spent 12 years of his career in commercial banking, including seven years at BDC and four and a half years at a factoring company. He founded Firepower Financial by merging the Shone Capital Partners investment banking operations into Firepower Capital, growing the business from one founder to 16 full time employees in four years. Prior to TGOD, he CFO and Director of Sales for a digital Healthcare software provider where he implemented financial controls and systems, revamped pricing and overall business model and rebuilt the quote, contract and execution model.
Marc Cernovitch—EVP Project Operations
Marc Cernovitch brings over 20 years of investment and corporate finance experience to the company. He studied Economics at McGill University and has focused on corporate development, funding and building companies primarily in the resource and energy technology fields. He has a strong background in corporate governance and finance. For the past 20 years, Cernovitch has been providing capital markets advisory services to companies across both public and private sectors. In this capacity, he has served as a director and advisor to numerous small and mid-cap companies contemplating and/or executing financing and M&A transactions.
Brett Allan—EVP
Brett Allan brings 10 years of public markets and corporate finance experience to the company. Prior to co-founding GEMTEC International, he served as Dir. Capital Markets for Organigram Inc. and raised approximately $13 million while helping to list the company on the TSX Venture. Allan is the Founder and CEO of Apex Capital Corp., a boutique capital markets firm which provides capital markets and investor relations services to a number of public companies and has raised in excess of $120 million since 2010.
Amer Cheema, PhD Candidate—Head Grower
Amer Cheema has a strong educational background in Post Harvest Biology. He has over 20 years in greenhouse vegetable production and management in high-tech commercial greenhouses in GAP and HACCP regulated environments. He also has 13 years of experience as a commercial head grower and over eight years of experience in agriculture teaching, research and extension services. His deep understanding and experience to prevent and cure major diseases and infestations within organic greenhouse cultivations, which reduce the cost of pest management by up to 75 percent. He has won premier awards for high production and best quality of greenhouse produce.
David Peron, MSc—Vice President of Growing Operations
David Bernard-Perron is an agrologist and holds a Master of Science Degree in Plant Sciences from McGill University. In addition to his role at TGOD, David consults as the Chief Science Officer for Destiny Biotechnology, a company based in Vernon, BC that provides living soil systems for organic cannabis production. David began his career working in greenhouse production in 2001, then for McGill Greenhouses and Horticultural Research Centre. From there, he went on to become the lead agrologist at the Whistler Medical Marijuana Corporation (WMMC), where he designed the certified organic growing program and lead the company's facility through the organic certification process, becoming the first and only fully certified organic licensed producer of medical cannabis in Canada.
Jeff Paikin—Chairman of the Board
Jeff Paikin is the president and founder of New Horizon Development Group. In 2013 he was named RBC Distinguished Citizen of the Year for Hamilton. He is very active in the home building industry as a past president of the Hamilton Halton Home Builders' Association and a former board member of both the Ontario Home Builders' Association and the Canadian Home Builders' Association. Paikin is a member of the Hamilton Tiger- Cats advisory board and the Hamilton Bulldogs Community Foundation board, as well as being the current Chair of the Hillfield Strathallan College Capital Campaign and past Chair of the board of both Hillfield Strathallan College and the Canadian Accredited Independent Schools (CAIS.ca).
Ian Wilms—Director
Ian Wilms is an executive with over 25 years of global, business experience leading successful entrepreneurial and corporate ventures. As an executive with IBM for 14 years, he led and managed sales and operational teams across North and South America. Wilms is a certified Client Executive from the Harvard Business School and a graduate of McMaster University in Hamilton. He was appointed Chairman of the Calgary Police Commission in 2005 and elected President of the Canadian Association of Police Boards in 2006. Wilms also served 10 years with the Canadian Military as an Officer LT (N) in the Naval Reserve. Currently, he is the Vice President of Sales and Marketing for Energy Advantage, a leader in helping corporations become energy efficient and reduce their carbon footprint.
Dave Doherty—Director
Dave Doherty brings over 20 years of investment and finance experience to the company. He assists with financings, identifying acquisition targets, develop strategic plans and, support operations as well as implementing exit strategies. Doherty was an investment adviser with Canaccord Capital, Canada's largest independent securities dealer covering the North American capital markets specializing in developing, structuring and financing venture and growth companies in the Resource sector. Doherty has sat on numerous boards including Organigram Holdings and presently is on the Board of Saber Capital, to be renamed Emblem Cannabis. He holds a degree from Simon Fraser University, with a major in finance. 
Marc Bertrand—Director
Marc Bertrand is a seasoned consumer products executive with three decades of success in brand building, strategic licensing, international markets and manufacturing. He was previously president and CEO of the Mega Bloks brand, which was sold to Mattel in 2014 for over $500 million. He is known for having developed strategic license agreements with many of the world's most iconic entertainment franchises including Disney, Nickelodeon and Marvel.
---
*Disclaimer: The profile provides information which was sourced and approved by The Green Organic Dutchman Holdings in order to help investors learn more about the company. The Green Organic Dutchman Holdings is a client of the Investing News Network (INN). The company's campaign fees pay for INN to create and update this profile page, to which links are placed on Investingnews.com and channel newsletters.
The company description, investment highlights and catalysts were sourced by INN and approved by the company. INN does not guarantee the accuracy or thoroughness of the information contained on this page.
INN does not provide investment advice and the information on Investingnews.com profile should not be considered a recommendation to buy or sell any security.
INN does not endorse or recommend the business, products, services or securities of any company profiled.
Readers should conduct their own research for all information publicly available concerning the company.