Squire Mining
Providing the Next Generation ASIC Microchip and Cryptocurrency Mining Rigs
Overview
Squire Mining Ltd. (CSE:SQR, OTCQB:SQRMF) is a Canadian-based cryptocurrency mining company focused on the development, manufacturing and sale of data mining infrastructure and system technology. Their products support global blockchain applications in the mining space, including application specific integrated circuit (ASIC) chips and next-generation cryptocurrency mining rigs.
Since Bitcoin was unveiled in 2009, the cryptocurrency market has grown to include several different types of tokens. Most cryptocurrencies are transacted across a decentralized network, or blockchain, where other users, known as miners, validate the transaction. Miners compete against one another for newly minted currency by solving cryptographic puzzles that determine who transcribes transactions on the block. To do this, companies dedicated to mining for cryptocurrencies require equipment that can mine continuously.
Setting the standard for the industry, cryptomining giant Bitmain is the data mining infrastructure and system technology indicator for how the development of cryptomining technology, producing ASIC chips and cryptocurrency mining rigs. Bitmain generated $2.5 billion in revenue in 2017 and recorded a net profit of $1.1 billion in Q1 2018. Currently, Bitmain is gearing up for its IPO as a publicly-traded company on the Hong Kong Stock Exchange in either Q4 2018 or Q1 2019 and has a pre-IPO valuation of $14 billion according to Forbes.
Looking to enter the same space, Squire is currently testing their prototype 10 nanometer ASIC chips and cryptomining rigs. Squire has signed an exclusive distributor agreement with Coingeek.com, which is subject to minimum purchase requirements and will be in charge of marketing, soliciting, selling and distributing Squire's new ASIC chip and mining system under the Coingeek.com brand. Once these products go to market, the company will be turning its attention to developing seven or eight nanometer chips and rig systems that will address issues other seven nanometer systems are facing.
Company Highlights
Exclusive distribution agreement signed with Coingeek.com with minimum purchase requirements.

Will be releasing latest 10 nanometer rigs and ASIC chips in Q4 2018.

Rig sales to commence in 2019.

Blockchain market is expected to grow at an CAGR of 37.2 percent and generate

US$7.59 billion in revenue by 2024.

Management is experienced in marketing, branding and raising capital.
Cryptocurrencies
Cryptocurrencies are decentralized and encrypted tokens that can be exchanged between users across a network. The transactions between users are validated across a decentralized public ledger, or blockchain, by other users on the network.
Since the emergence of Bitcoin in 2009, the cryptocurrency market has developed into a comprehensive industry that includes numerous cryptocurrencies, such as Ethereum, Litecoin and Dash, that are hosted and transacted within blockchain networks. Cryptocurrencies have seen significant growth as they gain more traction and as multiple industries, such as banking, finance, mining, among others, begin to embrace blockchain technology solutions.
Cryptocurrency mining
As cryptocurrencies gained popularity, new businesses emerged that were focused on large scale cryptocurrency mining. These companies make money by solving cryptographic puzzles that are placed in a block and then verified by other miners. Once this is done, the miner that solved the puzzle receives a portion of the cryptocurrency being transacted. In order to deploy large-scale operations of this type, miners require dedicated hardware and software that is up to the task.
Sensing the need for equipment in the growing cryptocurrency space, companies like as Bitmain, have been working on developing mining algorithms and software that can quickly and effectively solve cryptographic puzzles. The software lives within specialized hardware called 'rigs', which are designed to run continuously so they can mine 24 hours a day, which makes a life cycle of "eight months to a year" for the rigs according to Squire Mining EVP Richard Underhill.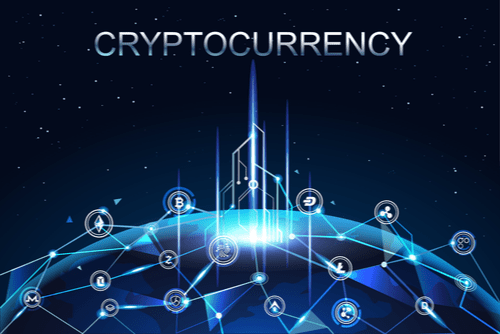 To help extend the life of the rig, certain conditions need to be met to ensure optimal performance. The rigs need to be in a cool environment to avoid overheating, supported by high-speed Internet and they should be situated in jurisdictions with low costs of power to ensure the profitability. With these three factors in mind, jurisdictions like Iceland, Venezuela and Georgia are becoming increasingly popular for the development of cryptocurrency mining warehouses. Currently, approximately 73.12 terawatt hours worth of power are dedicated to cryptocurrency mining operations across the world.
The market has proven a profitable one. Within 2017 alone, Bitmain generated $2.5 billion in revenue where approximately 96 percent of their revenue was made from the sales of their mining rigs. Their Antminer rig line accounts for approximately 85 percent of the mining rigs sold globally.
Blockchain
Blockchain is a decentralized electronic transaction-processing and record keeping system, which allows various users to track information that is uploaded into the system. Blockchain can provide transparency, ease of access and legitimacy to transactions happening in variety of industries. Due to the variety of its applications, the blockchain market is expected to have a CAGR of 37.2 percent and will generate US$7.59 billion in revenue by 2024, according to a report by Grand View Research Inc.
While blockchain technology was originally invented as a transaction record for Bitcoin miners, the applications for the technology are expanding into other sectors. As analysts question the longevity of cryptocurrencies, other applications for blockchain are emerging including supply chain tracking and validation for the food and cannabis industries, smart contract solutions in the financial services sector and more.
Products
Squire develops the equipment cryptocurrency miners need to run their operations. Currently Squire is testing its prototype 10 nanometer ASIC chips and rigs. The expected timeline for Squire's chip and rig development is as follows:
End of September 2018: Chip prototype tested

Q4 2018: 60,000 chips tested in prototype rigs

Q4 2018: Launch of the rig at the Coingeek Conference

Q4 2018: Commencement of mass manufacturing of the chip

Q1 2019: Commencement of rig manufacturing

Q1 2019: Commencement of rig sales.
After Squire has started to distribute their 10 nanometer microchip and cryptomining rigs, the company will be turning its attention to developing a seven or eight nanometer microchips and cryptomining rigs.
Partnerships
Coingeek.com
In August 2018, Squire entered into an exclusive distributor agreement with an associate of Coingeek.com, the world's largest miner of bitcoin cash. The distributer will market, solicit, sell and distribute Squire's new ASIC chip and mining system to cryptocurrency miners under the Coingeek.com brand. The distribution of the chips and mining systems are subjected to a minimum purchase requirements over a three year term, which can be extended to five.

Squire is currently in the process of solidifying a couple of manufacturing agreements with well known microchip and technology manufacturing companies to ensure that they are providing cryptocurrency miners with a quality product.
Management
Taras Kulyk — CEO, Director
Taras Kulyk has spent his career in venture capital, banking, and technology. Most recently, Mr. Kulyk led the CoinGeek Mining and Hardware team where he oversaw the development and growth of one of the largest crypto mining fleets globally. Before joining CoinGeek, Mr. Kulyk was part of Decentral's leadership team in Toronto, Canada. Prior to this, Mr. Kulyk spent three years in investment banking at CIBC World Markets and BMO Capital Markets in the resources sector, followed by two years with TD Securities with the Communications, Media and Technology team, where his coverage focus was on the Canadian tech and media sectors. He is a graduate of Osgoode Hall Law School at York University where he received a Juris Doctor with a focus in Banking, Corporate, Finance, and Securities Law, and earned his MBA, with distinction, with a specialization in Finance and Strategic Management from the Schulich School of Business.
Yevgeniy Meshcherekov — CFO
Mr. Meshcherekov is a Chartered Professional Accountant with more than 15 years of management experience in industry and public practice. He has demonstrated financial and organizational leadership in the wealth management, blockchain technology and fintech sectors within operations spanning Canada, Europe and Asia. Prior to joining Squire, Mr. Meshcherekov was Director of Finance of the nChain Group, a global leading blockchain research and development company. Previous to that he was Director of Finance of nTrust Technology Solutions Corp., a regulated money transfer platform which evolved into a Bitcoin wallet and exchange. He started his career and gained extensive experience through a Canadian audit firm providing tax, reporting and accounting assurance services to private and publicly traded companies. Mr. Meshcherekov has board and committee level experience, having recently served a three year term on the board of a local not-for-profit organization.
Angela Holowaychuk — Chief Operations Officer
Over the last 15 years, Mrs. Holowaychuk has found herself at the forefront of emerging technologies, holding senior management positions leading day to day operations, technical development teams and global expansion projects within the fintech, regtech and most recently, blockchain and Bitcoin exchange sectors. Her expertise is building global operations and service channels from the ground up and working closely with legal and regulatory advisers, executives and technology specialists. Mrs. Holowaychuk attended the British Columbia Institute of Technology for Operations and Supply Chain Management.
Justin Corinella — Head of Technology
Justin Corinella is the Co Founder and CTO of Dahrwin, a mesh network, communication technology company; with three issued patents and several more pending. Corinella is the primary inventor of this technology, which is lauded by many as an incredible leap forward and revolutionary for wireless networking that specifically allows any mobile device to directly and securely connect for communication without internet access or cellular infrastructure.
In 2010, Corinella teamed up with multiple high-level venture capital firms to create Dahrwin LLC, in an effort to build out the technology it offers today. The technical team, lead by Corinella, constantly worked to better the functionality, expand the scope of industry usage and perfect the stability of the Dahrwin Mesh Network with proven success.
Through his endeavors, Corinella has refined his knowledge and expertise, all of which began in the data storage and communications sectors. His deep insight into technology and wireless communications has positioned him as a lead in multiple R&D and Engineering departments working on various military and government based technologies. Corinella is a respected innovator in computer and communication engineering and a very sought after asset in these sectors.
Marko Hytinkoski — Head of Research
Marko Hytinkoski has been an international business executive for over 20 years in many cities in Europe and Asia. He has worked in the technology sector in various high-level management roles and has lived in four continents while successfully executing those positions. Through the benefits of this experience and exposure, he has a very diverse and unique scope of global business practices, business etiquette and employee culture from multiple countries around the globe.
Further, Hytinkoski has earned years of knowledge to cryptocurrencies, blockchain and initial coin offerings in investor, consultant and advisor roles. He has been an early adopter of the technology since 2011, well before most were aware of the existence of the technology. Hytinkoski's opportunities and experience have given him a rare vision into the birth of blockchain to the Internet of Things. He holds an EMBA and Master of Science (Economics) by education.
Marco Strub — Director
Marco Strub has over 25 years of experience as an entrepreneur and executive in the financial services and consulting sectors. Since March 2003, Mr. Strub has been the Principal and Chief Executive Officer of Sircon AG, a portfolio management company based in Zurich, Switzerland. Prior to this, Mr. Strub served as a Partner of Exulta AG from 1997 to 2003. He has been an Independent Director of numerous private and publicly listed companies, including Triumph Gold Corp and ZincX Resources Corp, listed on the TSX Venture Exchange. Mr. Strub received a Master of Arts degree from the University of St. Gallen, Switzerland in 1982.
Peter Wielgosz — Director
Peter Wielgosz is a lawyer with more than 12 years experience across Australia, Europe and the Middle East with a particular focus on capital markets and structuring financial instruments. Over the last five years, Wielgosz has been a legal advisor to family offices and has worked on a variety of acquisitions, divestments and private equity deals as well as the establishment of various corporate investment/holding vehicles, SPVs and trusts and the governance structures that unite them.
Prior thereto, Wielgosz was an attorney in the capital markets practice of Clifford Chance LLP in both its Dubai and London offices and in the banking and project finance team with Freehills in Melbourne, Australia.
Wielgosz has a Juris Doctor from Melbourne University (Australia) and a bachelor in economics from McGill University (Canada). He recently studied private equity at Oxford University Said Business School and is a member of the Institute of Directors in London.
Stefan Matthews — Director
Stefan Matthews has significant senior management and executive leadership experience totalling more than 30 years in the technology and online services sector, where he has been responsible for operations in Australia, Japan, Hong Kong, South Korea, Singapore, Spain, Malta and the United Kingdom at CIO, CTO and CEO level. He has been actively involved in several IPOs (Australia and USA) and multiple mergers and acquisitions.
In 2015, Mr. Matthews was a founder and is currently Chairman of the nChain Group, known for global leadership in blockchain and bitcoin research. BMG, a division of the nChain Group has a significant investment in Bitcoin BCH mining, operating a diversified fleet in multiple locations.
Mr. Matthews holds a Bachelor of Financial Administration and a MBA (International Business) from the University of New England.
---