Leveraging 25 Years of Mining Experience in Peru
Overview
Rio Silver Inc. (TSXV:RYO) is a precious metals mining and exploration company with a focus on the acquisition, exploration and development of precious metals deposits in South America. The company is currently focused on advancing its 100 percent owned Niñobamba silver–gold project in Peru. The company has decades of experience navigating the mining regulatory landscape of Peru and considers itself to be well-positioned for the coming mining cycle.
Rio Silver's flagship Niñobamba property is located in the Department of Ayacucho about 330 kilometers southeast of Lima. The 3,933-hectare property is wholly owned by the company and the project is drill ready. The Niñobamba project is partially comprised of a 2200 hectare property which was previously owned by Newmont Mining (NYSE:NEM) and Southern Peru Mining. The balance was held by AngloGold Ashanti and Bear Creek Mining but has since been strategically acquired and consolidated into Rio Silver's property. The additions to Rio's property allow for the possibility of extensions to the company's current outlined mineralization. The Niñobamba zone and the surrounding area contain known occurrences of high-sulfidation gold and silver mineralized deposits.
Rio Silver's Property now covers an entire 8km high-sulfidation epithermal silver & gold mineralized trend with a conceptual exploration-potential model now being compiled from Anglo Gold/Bear Creek's Database, in addition to the August 2011 Newmont Peru SRL's conceptual model and summary of Jorimina, from a US $7M program which concluded:
The project has demonstrated potential for a highly profitable medium-sized mine.
More importantly, is the possibility of finding a larger deposit.
Rio Silver's management team is comprised of industry veterans, some with as many as 25 years of experience working in Peru. The team has an in-depth understanding of the regulatory processes associated with mining exploration in the country. To date, Rio Silver and other historical operators have completed US$10 million in exploration expenditure on the Niñobamba property. The company has low overhead expenditure and strong alliances in Peru that are helping it to achieve new initiatives for enhanced sustainability.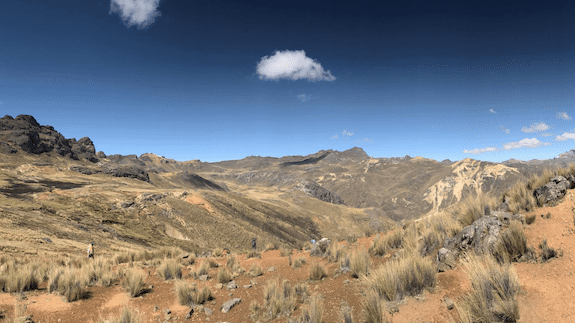 Rio silver is currently working on additional gold/silver focused initiatives, yet to be announced, and expects to see revenue flow within the second quarter of 2020. In addition, the company is working on acquiring social license, a necessary requirement of drill permitting for the project and intends to gain support from local communities in the area by engaging in social works projects and guaranteeing employment levels.
[qmodmodule name="miniquotes" parameters='"symbol":"RYO:CA"']
Rio Silver's Company Highlights
3,933 hectares of 100 percent-owned land in a historic Peruvian mining district.
Property historically belonged to big-name miners (Newmont, Southern Peru Mining). Now wholly owned by Rio Silver.
Experienced management team with more over seven decades of mining experience in Peru.
Extensive trenching completed at the Niñobamba zone.
Management team holds a 35 percent stake in the company with close associates owning another 30 percent
US$8.5 million in exploration expenditure completed to date by Rio and historical operators.
Historical database acquired from Newmont Peru SRL
Historical drilling on the Niñobamba property intersected 130 meters of 2.55 oz/t silver and 72.3 meters of 1.19 g/t gold.
New gold zone identified including 56 meters at 98.9 g/t silver and 21.77 meters at 1.32 g/t gold, 102.46 g/t silver.
Niñobamba Silver Project, Peru
Located 330 kilometers southeast of Lima in the Department of Ayacucho, the Niñobamba property is 100 percent owned by Rio Silver. The property includes 6 mineral concessions covering 3,933 hectares. The district has historically been mined by major international gold miners including Newmont Goldcorp and Southern Peru Mining as well as AngloGold and Bear Ck Mining.
The property was initially explored by AngloGold (JSE:ANG) in 2001. Anglo drilled five widely-spaced core holes totaling 861 meters focusing in an area of intense hydrothermal surface alteration. AngloGold's drilling highlights included assay results of 87.0 grams per tonne (g/t) silver over a drilled interval of 130 meters starting from a depth of 9 meters reported from drill hole DDH-2 and 54.0 g/t silver over a drilled interval of 96 meters starting from 23 meters reported from the DDH-4 drill hole.
Adjacent zones acquired from major miners
In 2016, Rio Silver consolidated its property by acquiring the adjacent 2200 hectares of adjoining land from Newmont Mining Corp. and Southern Peru Copper Corp. These included the Jorimina zone, which is located about 6.5 kilometers west of the Niñobamba is a low sulfidation epithermal deposit and occures next to a high-sulfidation silver-gold system identified on the main Niñobamba zones. Along with the property came an extensive database of information including results and reports from an exploration program by the mining majors which encompassed 553 hectares. Newmont's exploration included mapping, 2147 rock samples and induced polarization geophysics. This historic exploration indicated a gold anomalous area of more than 700 meters by 1000 meters as well as four strong chargeability anomalies coinciding with gold-silver in rock anomalies. Newmont's historic data includes samples of 17.4 meters of 3.06 g/t gold and 200 meters of 0.26 g/t gold. Historic exploration in the Jorimina zone conducted by Newmont in 2009 and 2010 shows highlights of 72.3 meters of 1.19 g/t gold starting at 53-meter depth.
In August of 2011 Newmont concluded the following in a report translated from Spanish
In conclusion the work to date has demonstrated potential for a highly profitable medium sized mine, even after considering only gold and silver in the evaluation exercise and excluding the base metals, and especially when also considering the conservative values used for pricing gold and silver within the study.
The results merit further exploration work towards confirming this resource potential and more importantly is the possibility of finding a larger deposit.
Exploration and trenching results
To date, extensive trenching has been completed by Rio Silver on the Niñobamba property. In 2012, the company began conducting surface trenching in areas proximate to historical drilling locations. Exploration has focused primarily on the north and south zones of silver mineralization approximately 400 meters apart with variable thicknesses. Surface sampling near trenches in the north zone returned highlights of 1.32 g/t gold and 102.46 g/t silver. Sampling near trenches in the south zone returned highlights of 42.62 meters of 130.98 g/t silver. Additional highlights can be found at Rio Silver's website.
Rio Silver's Management Team
Chris Verrico—President and CEO, Director
Chris Verrico has extensive experience with rural-remote construction and contract mining throughout BC, the Yukon, Alaska and Nunavut. He has been a Director for a dozen startup junior mining companies, with many becoming public companies. Verrico has managed exploration projects in North America, Mexico and throughout western South America. He is currently a director for Juggernaut Exploration Ltd.
Christopher Hopton, CGA—CFO
Christopher Hopton has over 25 years of experience in senior accounting and financial roles. He is currently the CFO of Sirona Biochem.
Steve Brunelle, B.Sc.—Chairman
Steve Brunelle is the former Officer and Director of Corner Bay Silver Inc, which was acquired by Pan American Silver Inc. He has 35 years of experience in mineral exploration throughout the Americas and is currently an Officer and Director for several TSX.V companies.
Edward J Badidaa, C.A.—Director
Edward J Badidaa is a professional accountant with over 40 years of financial management and corporate governance experience. He currently serves as a Director for Patagonia Gold Plc.
Richard Mazur, MBA, ICD.D—Director
Director of Patagonia Gold Plc is a chairman, Co-Founder and past Managing Director of RLG International Inc.
Ryan Grywul, P.Geo., V.P. Exploration
Professional geologist with over 18+ years experience as Exploration Manager/VP Exploration from project generation, mine exploration, advanced drill programs, and identifying mine feed. Field experience in Canadian Cordillera/Arctic, Peru, Brazil, Mexico, Ecuador, Dominican Republic, and Colombia.
Jeff Reeder, P.Geo., Consulting Geologist
B.Sc. (Hon.) in Geology, University of Alberta, 1988. Professional Geologist.
Over 30 years of experience in conducting exploration for Precious and Base Metals throughout the Americas. Strong track record of discovery. Responsible for the identification and sale of Aguila Cu-Mo and Pinaya Cu-Au projects in Peru.
Jim McCrea, P.Geo., Consulting Geologist
B.Sc. (Hon.) in Geology, University of Alberta, 1988
Specialist in geologic modelling and resource estimation
---
Disclaimer: This profile is sponsored by Rio Silver Inc. (TSXV:RYO). This profile provides information which was sourced by the Investing News Network (INN) and approved by Rio Silver, in order to help investors learn more about the company. Rio Silver is a client of INN. The company's campaign fees pay for INN to create and update this profile.
INN does not provide investment advice and the information on this profile should not be considered a recommendation to buy or sell any security. INN does not endorse or recommend the business, products, services or securities of any company profiled.
The information contained here is for information purposes only and is not to be construed as an offer or solicitation for the sale or purchase of securities. Readers should conduct their own research for all information publicly available concerning the company. Prior to making any investment decision, it is recommended that readers consult directly with Rio Silver and seek advice from a qualified investment advisor.