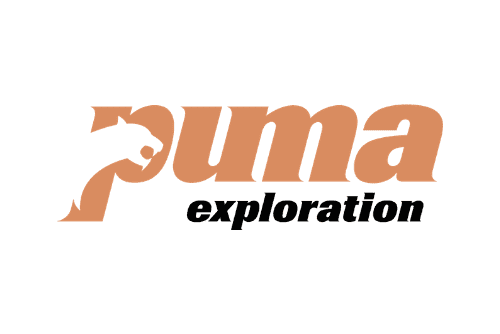 Puma Exploration
Making the Next Significant Discovery in the Bathurst Mining Camp
Overview
Puma Exploration Inc. (TSXV:PUMA,OTC:PUXPF) is a Canada-based gold exploration company located in Rimouski, in the province of Quebec. This junior company, which has been active in the field of mineral exploration since 2003, is distinguished by its dynamism, as evidenced by its projects at different stages of development in gold, silver and base metals. The company flagship project is Triple Fault Gold recently acquired during 2020. Also, later this year, Puma launches wholly owned Murray Brook Minerals Inc. to explore and develop its copper assets (Chester, Legacy, Turgeon, Brunswick CARDS, Murray Brook West and Fe Bloom).
About Puma Exploration
Puma Exploration is a Canadian mineral exploration company with precious and base metals projects in early to advanced stages located in the famous Bathurst Mining Camp (BMC) in New Brunswick, Canada. Great efforts will be made by the company in the coming years to deploy its DEAR strategy (Development, Exploration, Acquisition and Royalties) in order to generate maximum value for shareholders with low shares dilution
New Brunswick is a province rich in natural resources, qualifying every year to be a top place in the world for mineral exploration by the Fraser Institute. Puma Exploration projects are located nearby and inside the BMC.
Puma Exploration has become a major player in mineral exploration in New Brunswick through the acquisition of a diversified portfolio of mining properties. In 2014, the Company was honored to receive the Prospector of the Year award from The New Brunswick Prospectors and Developers Association.
The projects benefit from the proximity of several infrastructures in the area. In addition to the structured road network bordering and running through its projects, a major seaport, Belledune, is located 30 kilometers north of the city of Bathurst.
In addition to its portfolio of mineral properties in New Brunswick, Puma Exploration gained a significant stake of 48 percent in Target Minerals following the Nicholas-Denys property transaction.
Puma Exploration's Management Team
Puma Exploration's success can be attributed to its management, which has extensive experience in exploration and junior companies. Dominique Gagné is a Professional Geologist with 15 years' experience who brings a lot of value to the company with his diversified profile as he specialized in GIS and Mining Exploration. He was involved with Marcel Robillard (President and CEO) through many discoveries and geology advancements for 15 years in Northern New Brunswick. This team has shown they can find exploration targets and promising new projects. He holds a Bachelor of Earth Science in Geology and a certificate in GIS, both from Université du Québec à Montréal (UQAM).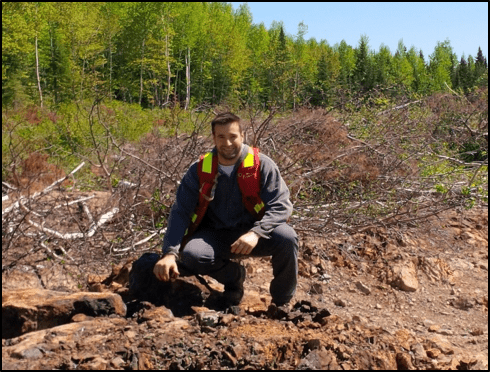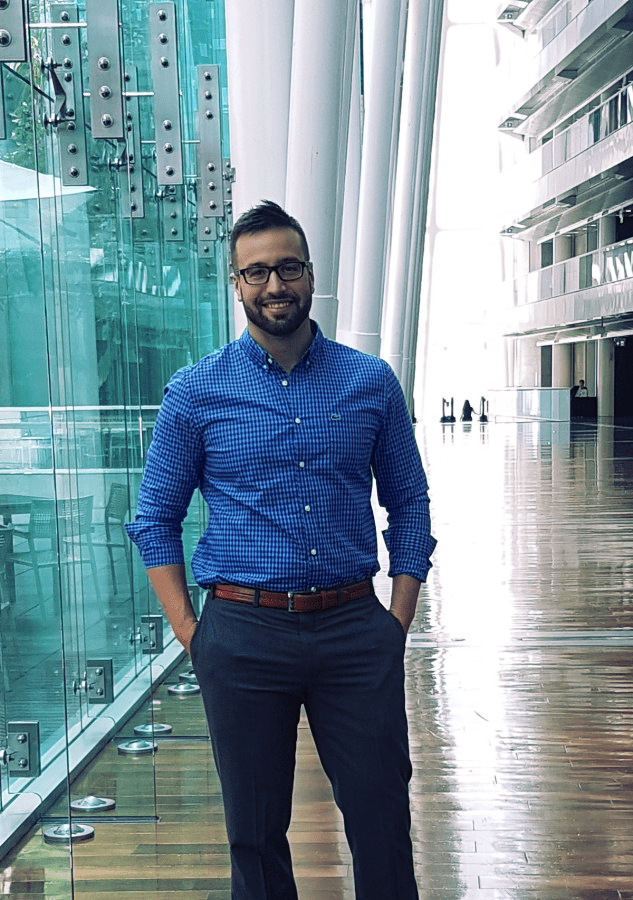 Puma Exploration's management team is also notably invested in the company, as President Marcel Robillard, who owns more than 1.5 million shares, has raised approximately C$20 million in the last 15 years for the company. Marcel Robillard is a geologist, and he graduated in 1993 from the University of Quebec in Montreal. He also holds a Bachelor and a Master of Earth Sciences obtained in 1995, both from Université du Québec in Montréal. Mr. Robillard has been on the board of directors of Puma Exploration since 2007 and the CEO of the company since 2010.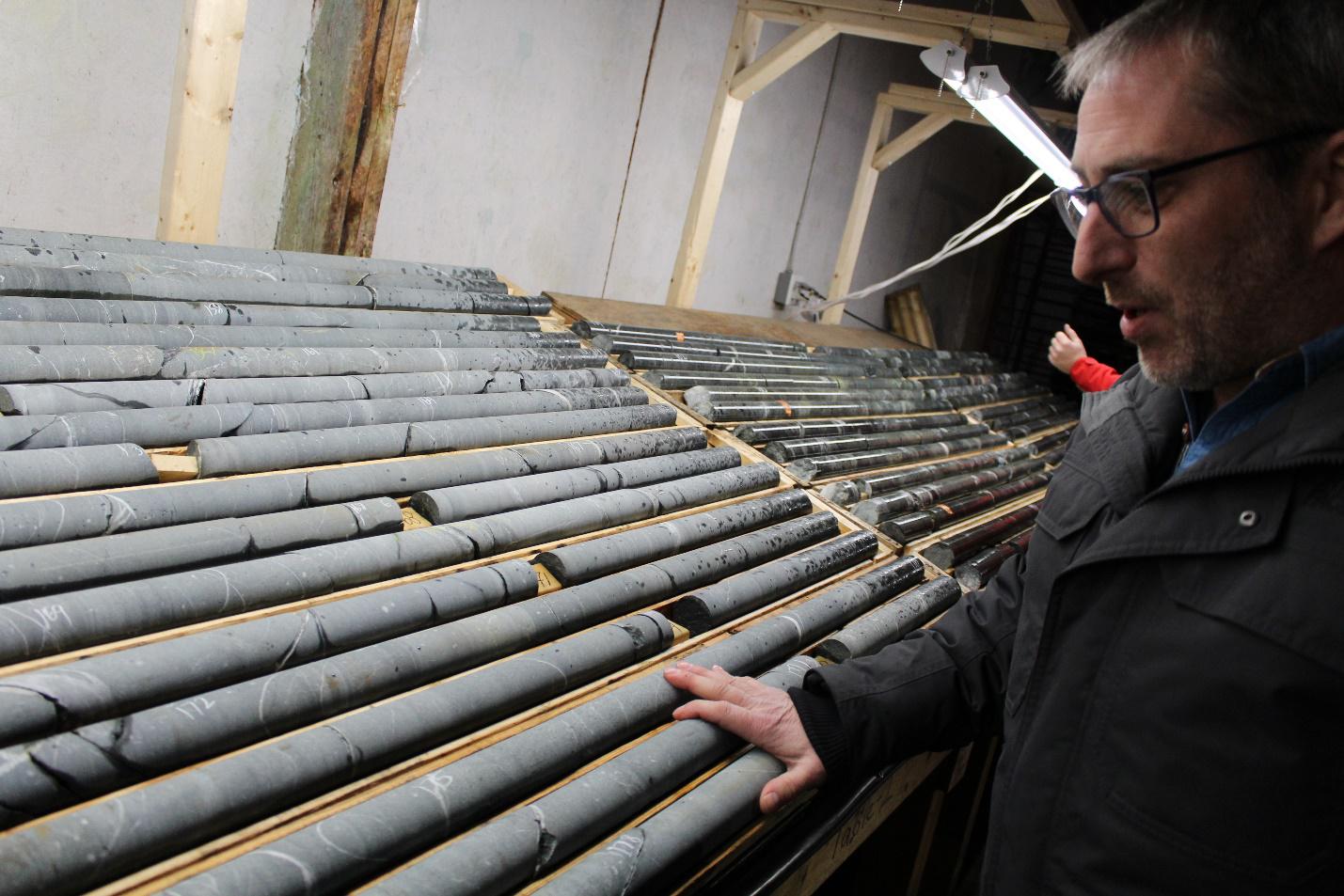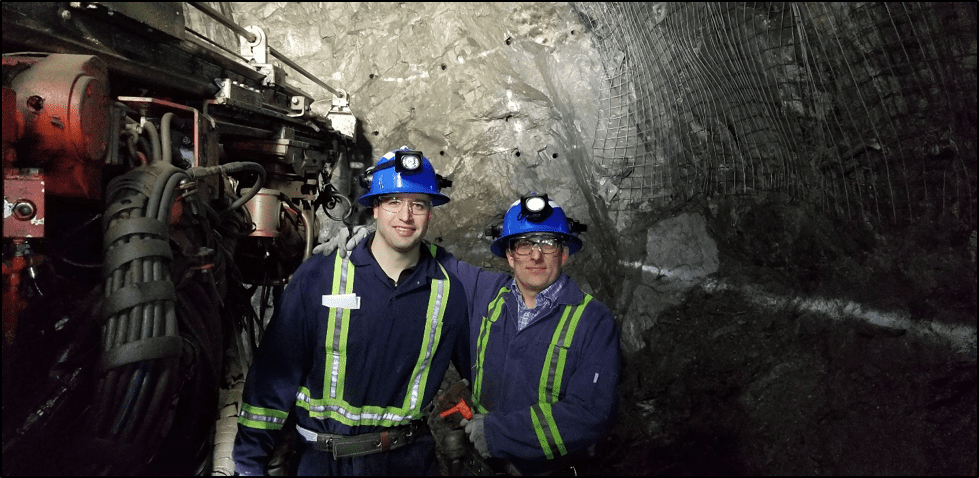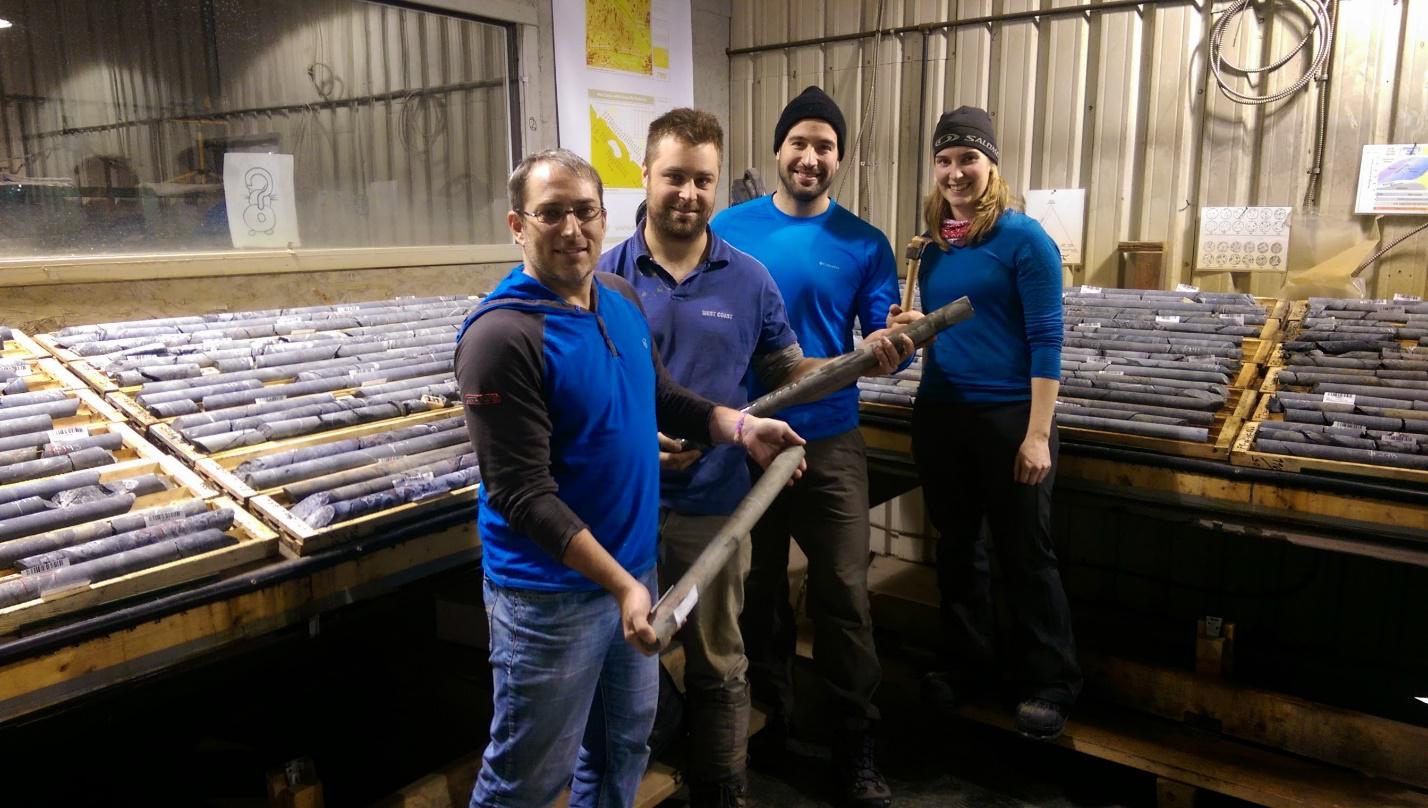 Puma Exploration's Company Highlights
Puma Exploration is operating in the world-renowned, mining-friendly Bathurst mining camp in New Brunswick, Canada.

The Bathurst mining camp contains established infrastructure and a skilled local labor force.

Puma Exploration's management team has 15 years of experience exploring in the Bathurst mining camp.

Puma Exploration has an experienced management team with significant shareholdings.

Pumas focus in 2020 is on its new flagship, the Triple Fault gold project.
Mining in New Brunswick
The New Brunswick Bathurst region is a jurisdiction that could potentially host significant mining projects. Based on its mining history, Bathurst is one of the most prolific districts for base metals in Canada. Puma Exploration's projects in the Bathurst mining camp are supported by a skilled local labor force and previously established infrastructure such as paved roads, railway services, as well as access to a seaport and smelter. The region is also known for having hosted the Brunswick #12 mine, which was one of the largest underground zinc mines in the world.
Triple Fault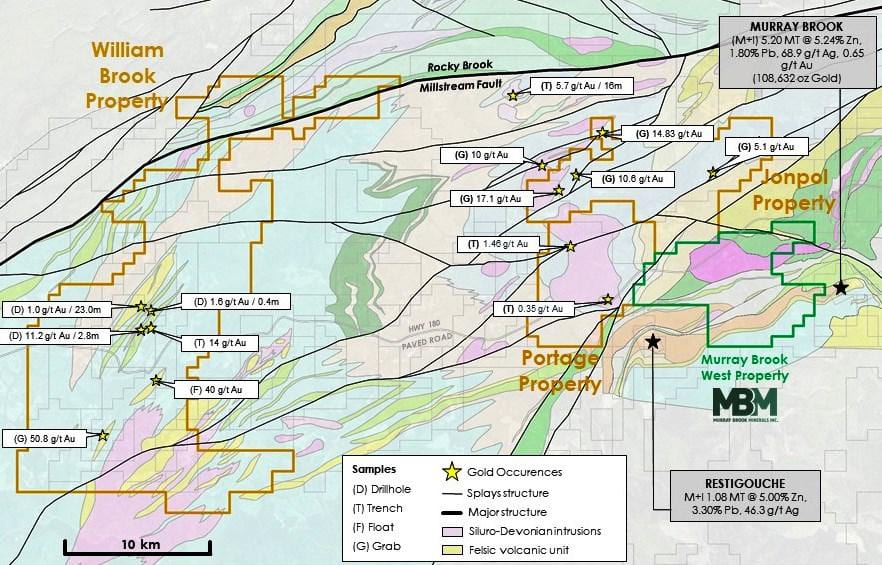 The Triple Fault Gold Project includes three properties, Williams Brook, Jonpol Gold and Portage Lake, that cover more than 30,000 hectares of favorable gold exploration land package. The project is located about 60 kilometers west of Bathurst along the paved road 180 cross-cutting the property.
Puma is currently focusing its field work on its priority, the Williams Brook Property. There has been very limited drilling and exploration in the area mapped to be part of the Dunnage Zone, which hosts major gold deposits and gold occurrences in Siluro-Devonian rocks and is considered an emergence gold exploration and development district.
Williams Brook
There are known gold occurrences grading up to 109.5 grams per tonne (g/t) Au, previously sampled in bedrock, within the property. There are also numerous gold soil anomalies and extremely anomalous till samples, with up to 508 gold grains, discovered over an area of approximately 12 by 3 kilometers. Drilling has been limited to a small area of approximately 1.4 by 0.8 kilometers and includes significant intersections that warrant follow-up drilling. Drill hole WB-08-04 intersected 28 meters grading 0.91 g/t Au within the rhyolite, which was altered from the collar to a depth of 60.7 meters down the hole. Grades in the altered rhyolite from the WB-08-04 drill hole ranged up to 5.4 g/t Au over 1.0 meter. Other significant drill results include hole WB-08-11 with 11.2 g/t Au over 2.8 meters. In the same area, grab samples collected in trenches returned values of 3.5 g/t Au and 14.0 g/t Au. Floats grading 28.0 g/t Au and 40.5 g/t Au were also found.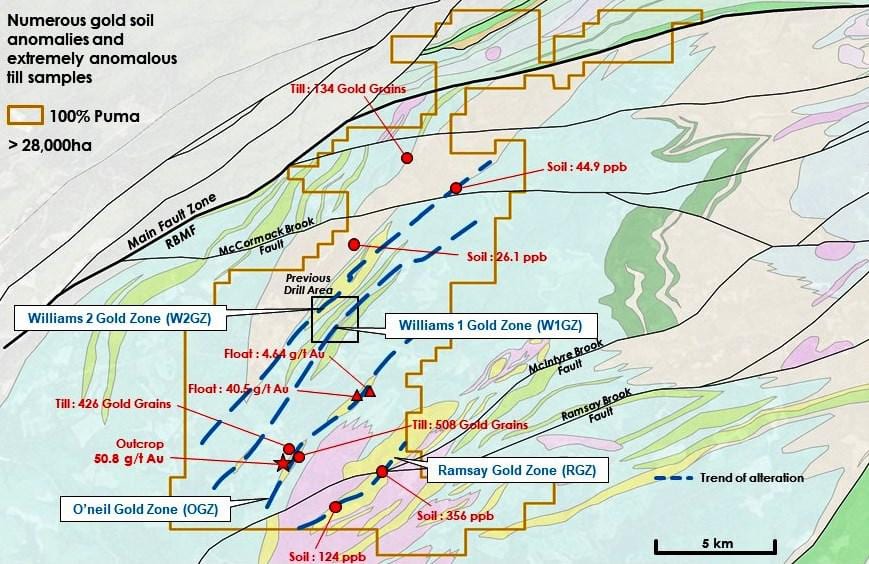 To date, the main focus of exploration was centered on an area of approximately 2.0 by 1.5 kilometers, an area that includes numerous gold occurrences, as well as the initial discoveries from 2005. An induced polarization survey indicates that the alteration zones remain open to the south of the surveyed area. An IP survey carried out in 2012 identified anomalous chargeability to the north of the earlier surveys that remains untested. Moreover, a reconnaissance soil survey line, crossing the south end of this IP anomaly, returned a value of 63 ppb Au, possibly indicative of another alteration zone. Puma's team is currently compiling the data to generate the exploration program to be conducted for 2020 field season.
Two types of gold mineralization have been identified on the Williams Brook gold property. One type is associated with disseminated pyrite in salmon pink altered rhyolite, with local breccia texture and quartz veinlets. This type of mineralization has been found in two broad subparallel northeast trending zones; it has been interpreted using induced polarization, soil geochemical surveys, trenching and diamond drilling to extend over a combined strike length more than two kilometers. This type of zone is known to occur over horizontal widths exceeding 40 meters. The highest gold grades have been found in quartz veins and heavily quartz veined rhyolite that contain variable concentrations of disseminated and/or veinlets of pyrite. Gold-bearing quartz veins have returned up to 50.8 g/t Au. The gold-bearing quartz veins have been observed trending northwest, approximately perpendicular to the trend of the alteration zones.
Jonpol Gold
The Jonpol gold property covers 150 claim blocks for more than 10,000 hectares and is located 20 kilometers east of the Williams Brook property. Very limited diamond drilling has been done on the property which is underlain by sedimentary rocks and mafic intrusions. Drill results reported were 1.13 g/t Au over 12.0 m, 1.37 g/t Au over 6.0 m, 1.37 g/t Au over 1.4 m, 3.89 g/t Au over 1.0 m and 2.78 g/t Au over 1.5 m. Numerous gold occurrences have been identified and are associated with gabbroic intrusions located along a major subsidiary fault of the Rocky Brook Millstream Fault (RBMF). Grab samples collected in trenches reported grades of 17.1 g/t Au, 14.8 g/t Au, 10.6 g/t Au, 6.8 g/t Au, 5.1 g/t Au and 3.4 g/t Au. The RBMF represents a major structure trending ENE formed by the Acadian Orogeny. It hosts numerous showings and deposits and represents a perfect plumbing system for mineralized fluids.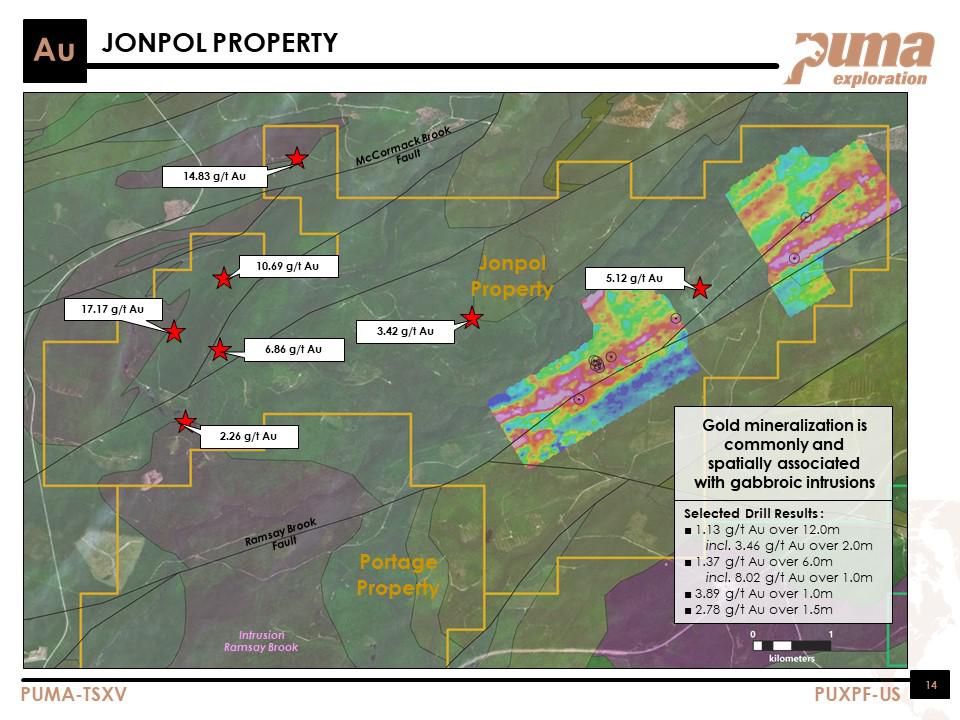 Portage Lake
The property covers a Devonian mafic intrusion (4 km by 6 km) and its associated skarn horizons of the Chaleur Group, containing both significant copper-nickel and cobalt mineralization.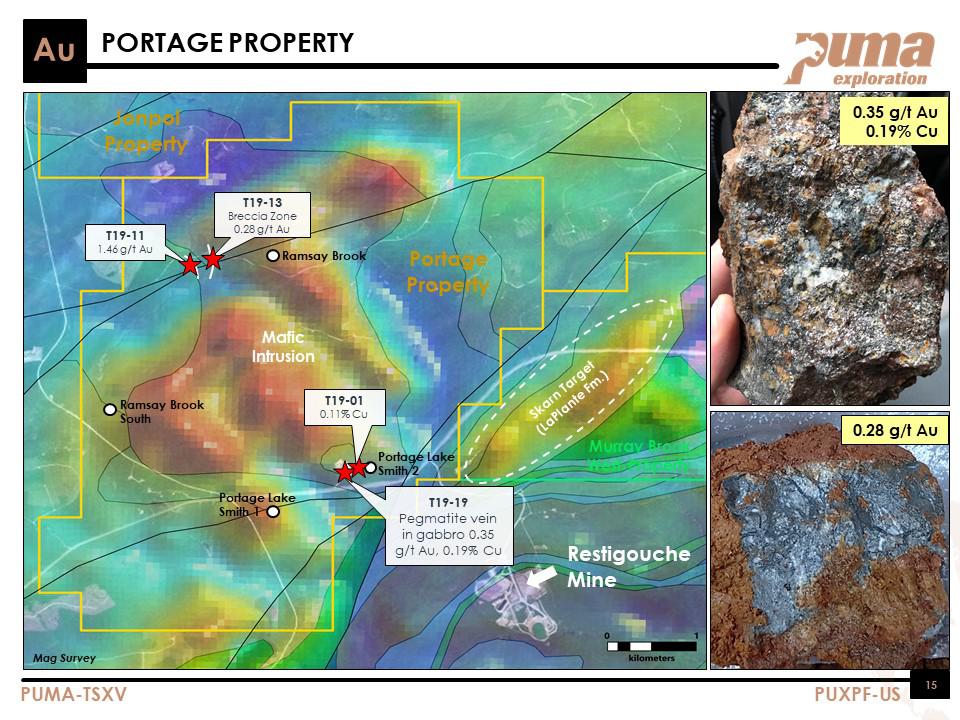 The property contains several showings, with the most promising discovered in the last trenching program conducted on the property in 2017. The prospector excavated an area of 100 meters consisting of mainly skarn alteration containing 50 meters of massive sulphide showing significant iron, copper, nickel and cobalt. Grab samples grading 0.2 g/t Au and 0.6 g/t Au were collected just north of this recent trench. Very limited advanced work has been conducted on the property, which offers huge potential for new discoveries.
Table 1: Grab Samples Collected from trenching in 2017
| | | | | |
| --- | --- | --- | --- | --- |
| Samples | Cu (%) | Ni (ppm) | Co (ppm) | Fe (%) |
| 8836267 | 0.34 | 700 | 710 | 21 |
| 8836269 | 0.21 | 460 | 640 | 36 |
| 8836266 | 0.21 | 330 | 560 | 15 |
| 8836262 | 0.20 | 390 | 620 | 34 |
| 8836260 | 0.21 | 490 | 630 | 26 |
| 8836255 | 0.15 | 250 | 470 | 24 |
| 8836265 | 0.12 | 380 | 490 | 21 |
| 8836254 | 0.10 | 120 | 400 | 24 |
Murray Brook Minerals (wholly owned by Puma)
Puma Exploration Inc. transferred all of its copper assets to its wholly owned subsidiary, Murray Brook Minerals Inc. The objective is to generate maximum value to its shareholders from its base metal projects while Puma Exploration continues to concentrate on its new Flagship Triple Fault gold project in New Brunswick, Canada.
The newly created strategic advisory board and current management and consultants will evaluate different scenarios to generate maximum value for Puma's shareholders in light of the current reorganization of Puma's base metals assets. The reorganization of the copper assets will be effective on August 31, 2020. The main copper assets held by the wholly owned Murray Brook Minerals are as follows.
Chester
Puma Exploration has recently signed an option to acquire a 100 percent interest in the 3,600 hectare Chester project, which is located 25 kilometers southwest of three of Trevali Mining Corporation's (TSX:TV) volcanic massive sulfide (VMS) deposits: Halfmine Lake, Stratmat and Heath Steele.
The Chester Deposit property is known to contain copper deposits containing three zones, the Central Zone, the East Zone and the West Zone (Copper Stringer), all located near the surface. Only the West Zone was included in the NI 43-101 resources calculation dated 2008 and updated in 2014. The copper deposit has measured and indicated resources of 1,400,000 tonnes grading 1.38% Cu and 3.5 g/t Ag and inferred resources of 2,089,000 tonnes grading 1.26% Cu (assayed for Cu only) as reported in the NI 43-101 Technical Report entitled "Technical Report – Chester Copper Property New Brunswick Canada" (effective March 07, 2014) prepared by Robert C. Sim, P. Geo., for Explor Resources and filed on www.sedar.com.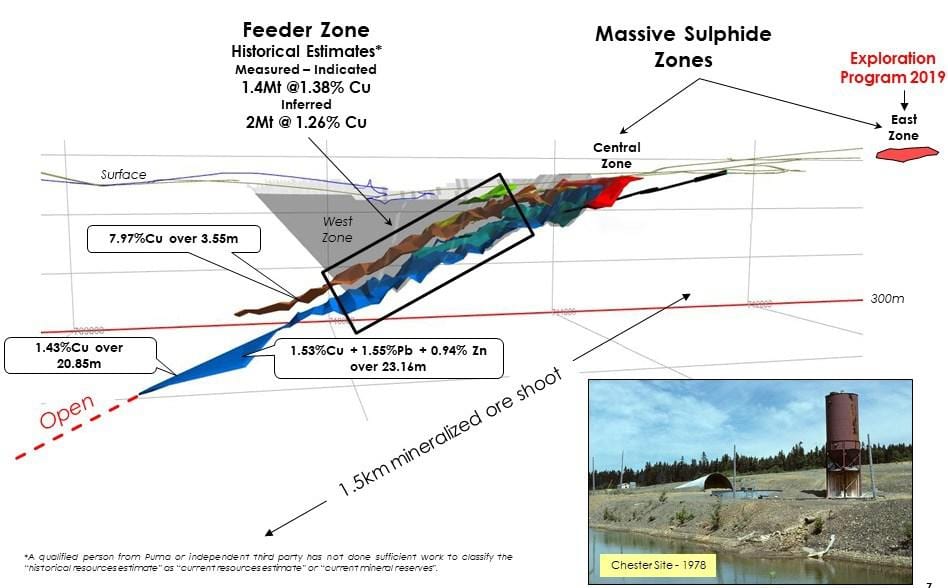 Previous operators at Chester Deposit reported historical resources totalling 16.8 Mt at 0.76% Cu divided in three zones*:
East Zone*: 0.5 Mt of massive and disseminated sulphide grading 0.78% Cu, 0.36% Pb and 1.14% Zn.
Central Zone*: 1.1 Mt of massive sulphide grading 0.47% Cu, 0.90% Pb and 2.22% Zn.
West Zone*: 15.2 Mt of copper stringers grading 0.78% Cu.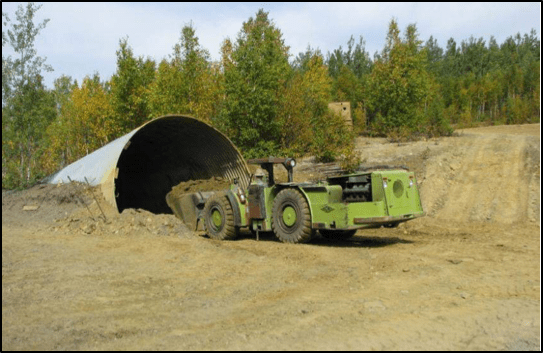 Significant previous drill results at Chester property
| | |
| --- | --- |
| West Zone (Surface to 50 m) | Central Zone (Surface to 50 m) |
| 4.8% Cu over 20.3 meters | 10.8% Zn + 4.5% Pb over 5.6 meters |
| 3.4% Cu over 25.0 meters | 7.4% Zn + 2.3% Pb over 6.1 meters |
| 6.0% Cu over 13.1 meters | 8.0% Zn + 3.9% Pb over 7.0 meters |
| 8.0% Cu over 5.2 meters | 8.5% Zn + 4.0% Pb over 7.9 meters |
| 4.9% Cu over 14.2 meters | 7.0% Zn + 2.6% Pb over 15.6 meters |
Legacy
The Legacy copper project consists of two (2) block of claims, which cover an area of about 499.4 ha and are situated in Restigouche County, New Brunswick. The project is approximately 100 km west of Bathurst and approximately 40 km from Saint Quentin.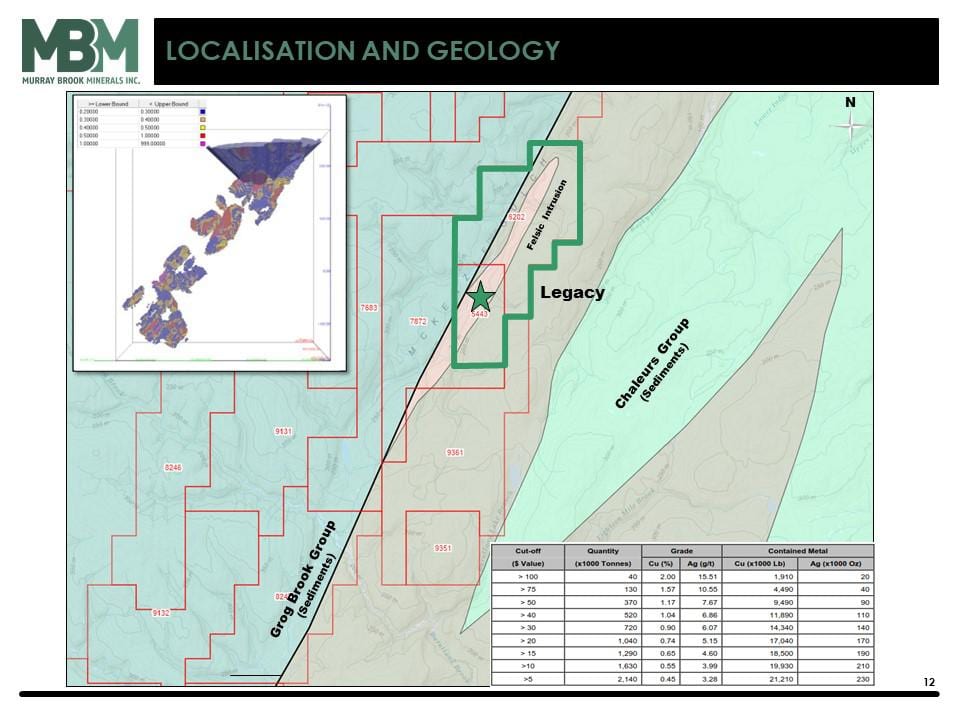 The Legacy Project includes the Legacy deposit, two main prospects (the Hornfels Zone and the J.J. Gold Zone) and numerous geophysical targets. The drilling and resource model suggest that the mineralization continues with depth and that additional tonnage could be delineated with additional drilling. Mineralization is primarily hosted by silicified calcareous argillite and, to a lesser extent, in skarnified beds and irregular zones within the argillite. The skarns are erratically distributed, but usually occur in proximity to felsic dykes, which are generally only weakly mineralized.
A historical resource* of 1,040,000 tonnes grading 0.74% Cu and 5.15 g/t Ag was estimated in 2015 by SKR Consulting and released as "Independent Technical Report for the Legacy Project, Restigouche County, New Brunswick, Canada" with the effective date of June 22, 2015.
This copper mineralization is contained in three steeply dipping mineralized zones varying from 1.5 m to 12.2 m in width. The steeply dipping zones are confined along strike with a plunge to the North/North East of about 50˚. Therefore, they have a pipe-like shape.
Turgeon
The company holds a 100 percent interest in the Turgeon property consisting of 31 claims over a total surface area of 6.7 km2. The property is located 5 km south of the Belledune deep water port and is accessible by road all year long. It is crossed by an electrical transport line.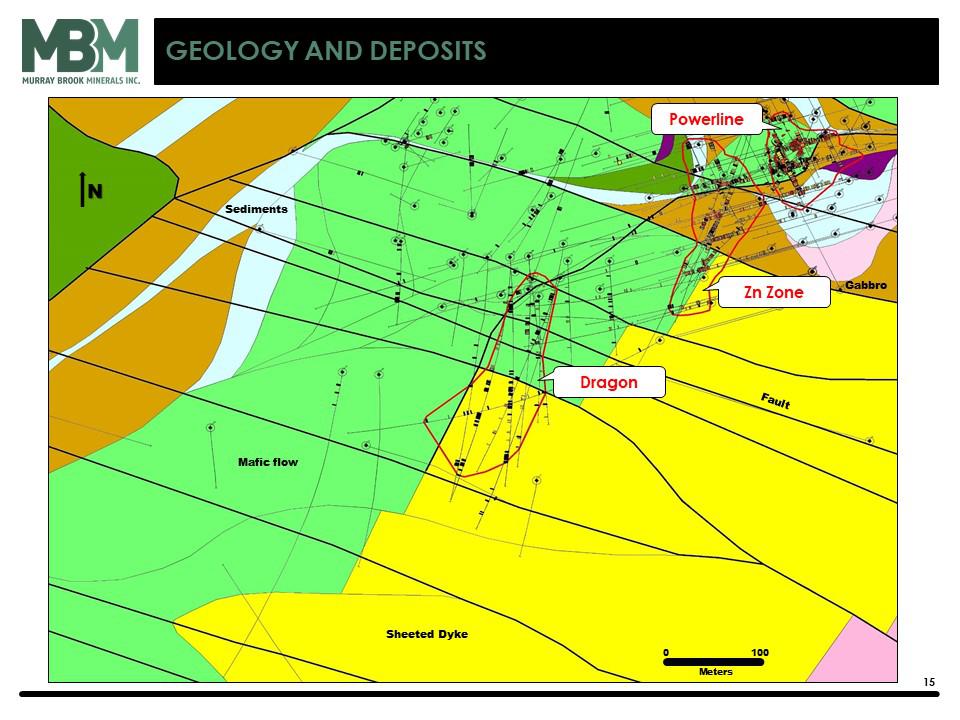 The drilling done in 1983 by Esso Minerals led to the identification of a historical resource of 1.5 to 2.0 million tonnes with a grade of 1.5% Cu and 4% Zn. The historical resource* was estimated only for the Powerline and Zinc Zone deposit. Since the beginning of work in 1958, about 100 holes have been drilled on the deposit, resulting in more than 25,000 meters of core.
In late 2013, the Dragon Zone was discovered by Puma Exploration. The zone is located approximately 200 meters south of the main Powerline and Zinc Zones, which represent typical VMS mineralized lenses. Drillhole FT13-13 intersected 4 meters of massive sulphides grading 1.01% Cu and 0.78% Zn. The autumn 2014 drill program included a massive sulphide intercept grading 5.66% Zn, 0.38% Cu and 2.3 g/t Ag over 6.8 meters starting downhole at 219.1 meters and including 10.05% Zn and 0.23% Cu over 2.7 meters. (Drillhole FT14-05).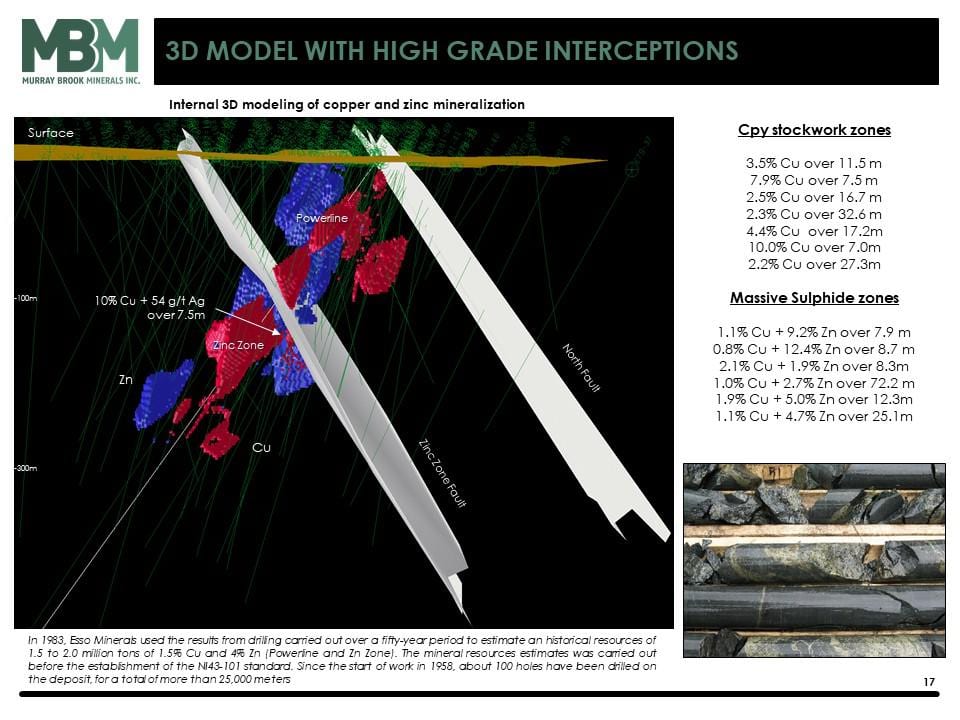 Significant previous drill results at Turgeon property
| | |
| --- | --- |
| Power Line (Cu Stockwerk) | Zinc Zone (Massive Sulphide) |
| 3.5% Cu over 11.5 m | 1.1% Cu + 9.2% Zn over 7.9 m |
| 7.9% Cu over 7.5 m | 0.8% Cu + 12.4% Zn over 8.7 m |
| 2.2% Cu over 27.3 m | 2.1% Cu + 1.9% Zn over 8.3 m |
| 2.3% Cu over 32.6 m | 1.0% Cu + 2.7% Zn over 72.2 m |
| 4.4% Cu over 17.2 m | 1.9% Cu + 5.0% Zn over 12.3 m |
| 10.0% Cu over 7.0 m | 1.1% Cu + 4.7% Zn over 25.1 m |
Brunswick CARDS
To complete its impressive landholdings of advanced projects to be held by Murray Brook Minerals, Puma executed two distinct option agreements with a prospector and a private company to secure first priority grassroots targets generated using the CARDS system developed by Windfall Geotek (TSXV:WIN). The new properties totalling 101 claims units are located north of the Chester Project and south-east of the East Steel past operating mine. Additionally, Puma added to this by staking 63 new claims units in the area to cover favorable geology. These properties will be also transferred into Murray Brook Minerals.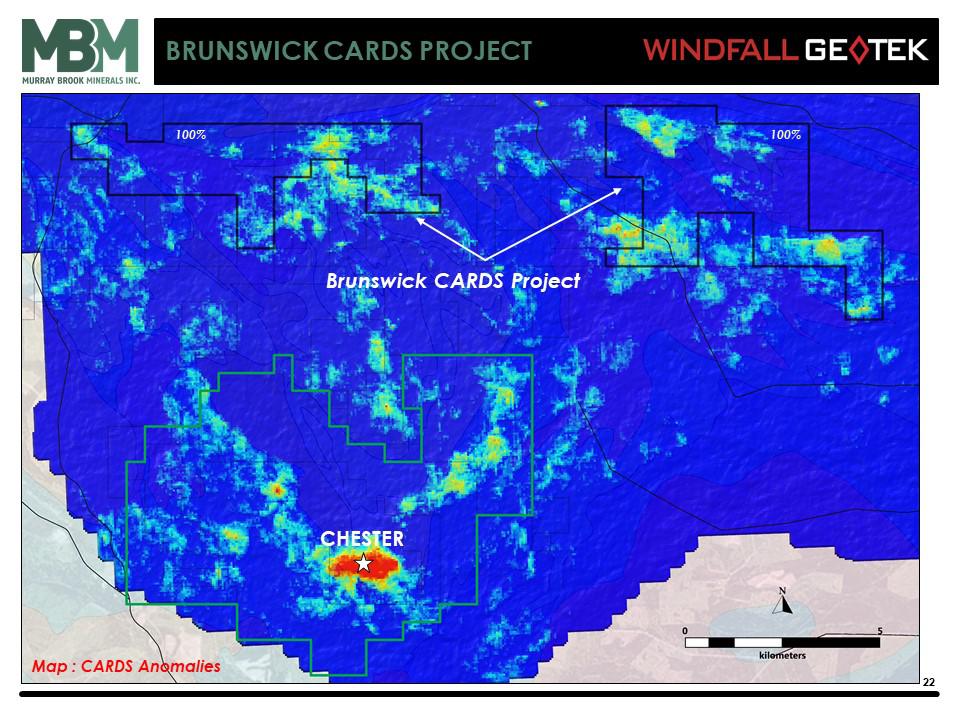 Fe Bloom
The Fe Bloom project had exploration work conducted from 1950 to 1970 targeting a potential manganese deposit. The property consists of 69 claims totaling 643 hectares and is in a favorable horizon along the Brunswick Belt, where only limited exploration programs were done in the past. Most of the major exploration work was done in the southern part of the Camp in the vicinity of the Brunswick Mines 12 and 6. The property is ready to drill.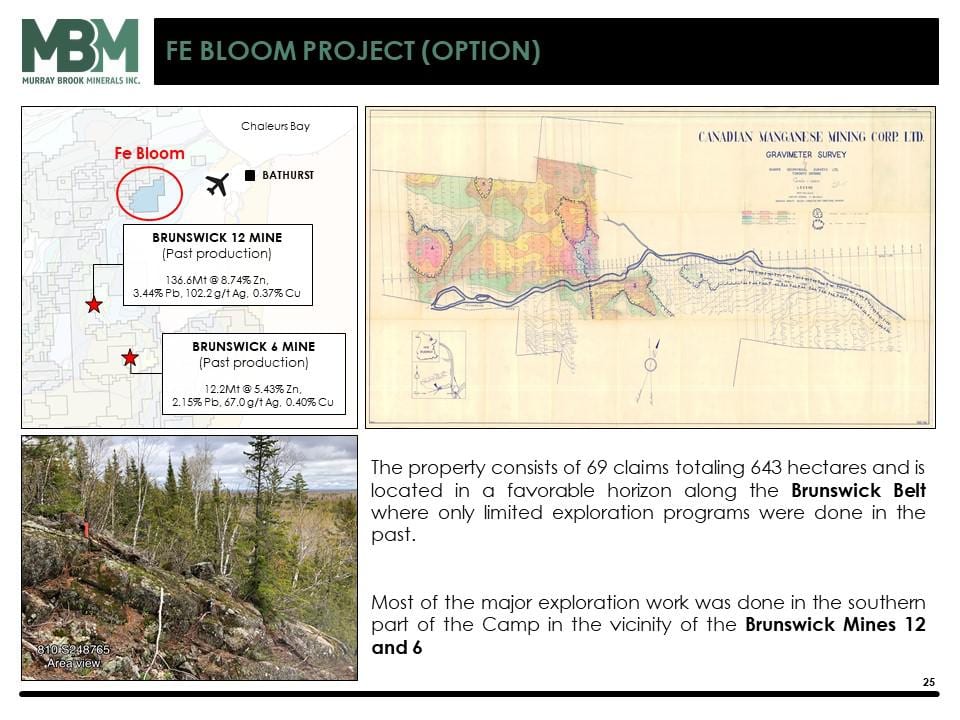 Murray Brook West
The Murray Brook West property is comprised of 128 claims (2,800 ha) and is 100% owned by Murray Brook Minerals now. The property is located between the Murray Brook Deposit and the former Restigouche mine held by Trevali Mining Corporation. In 2018, a major line cut totaling 33.3 km was carried out on the Murray Brook West property, as well as a ground and geophysical survey of the PP and Magnetic type.
*Puma is not treating the "historical resources estimate" as a "current resources estimate" or "mineral reserves," as it has not taken steps to identify what work needs to be done to verify, upgrade or re-classify the "historical resources estimate" using a qualified person from Puma or an independent third party.
---
*Disclaimer: This profile is sponsored by Puma Exploration Inc. (TSXV:PUMA,OTC:PUXPF). This profile provides information which was sourced by the Investing News Network (INN) and approved by Puma Exploration Inc., in order to help investors learn more about the company. Puma Exploration Inc. is a client of INN. The company's campaign fees pay for INN to create and update this profile.
INN does not provide investment advice and the information on this profile should not be considered a recommendation to buy or sell any security. INN does not endorse or recommend the business, products, services or securities of any company profiled.
The information contained here is for information purposes only and is not to be construed as an offer or solicitation for the sale or purchase of securities. Readers should conduct their own research for all information publicly available concerning the company. Prior to making any investment decision, it is recommended that readers consult directly with Puma Exploration Inc. and seek advice from a qualified investment advisor.