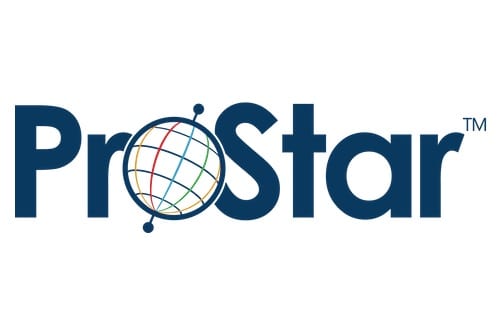 ProStar™ GeoCorp
Integrated Precision Mapping Solutions
This ProStar™ GeoCorp profile is part of a paid investor education campaign.*
Overview
Every year, inaccurate, unreliable, and incomplete information about subsurface infrastructure creates significant environmental, personal, and property damages. In 2019, the United States alone suffered over US$30 billion in societal costs due to damage to buried infrastructure globally. In the past two decades, the United States suffered 1,906 personal injuries and 421 needless deaths. In the face of the rising industry, government, and public insistence for precise underground location and mapping software, ProStar™ (TSXV:MAPS) is providing government agencies, infrastructure companies, and some of the world's largest engineering firms precision subsurface and surface data for sectors like utility, oil and gas, construction, engineering, and surveying. With 19 issued patents, the ProStar system is compatible with virtually all mobile devices, GPS/GNSS receivers, and electromagnetic locators on the market.
ProStar captures, records, and visualizes survey-grade utility location data through cloud-based and mobile applications, a market estimated in 2019 as worth US$5.17 billion, growing by a compound annual growth rate (CAGR) of 6 percent. The same report states that by 2023, the global commercial utility locator market is expected to be worth US$7.5 billion.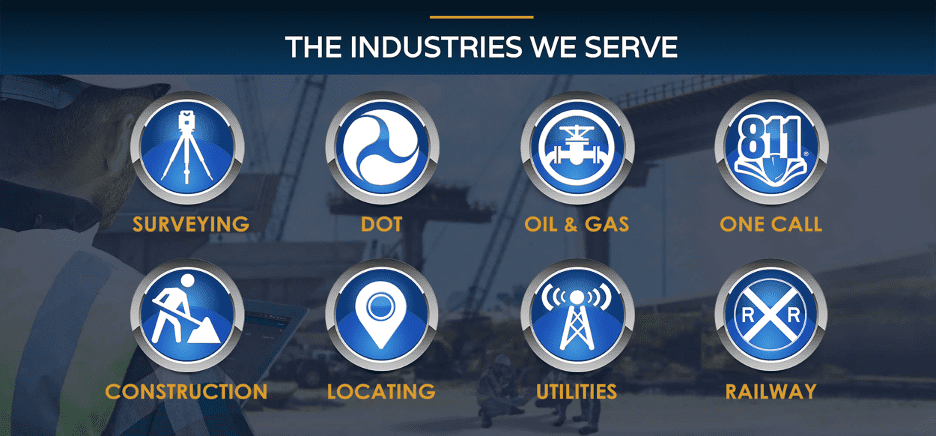 ProStar's on-demand, SaaS model, utility mapping solution dramatically streamlines internal operations for a growing number of companies in increasing numbers of industries. Increased industry and government recognition and acceptance of Prostar's solution could not come at a better time – according to an analysis report released by the Common Ground Alliance (CGA), which analyzes damages to buried infrastructure throughout the US and Canada, environmental, property and human costs hit an all-time high in 2019. ProStar's solution is a game changer on damage prevention through the use of its patented geospatial technologies, which includes the development of their patented Precision Mapping Solutions™ and flagship product, PointMan®.
ProStar's cloud and mobile Precision Mapping Solutions™ immediately captures, records, and visualizes utility assets during planning, construction, and operational maintenance phases, which reduce costs and the odds of economic and environmental calamities.
With an increasing demand for reliable, new, and safe subsurface and surface utilities due to population growth and to replace decaying, unsafe historical infrastructure, the absolute best in location and mapping software is critical. In just the United States alone, hundreds of thousands of miles of fiber optic, water and gas and electrical lines are installed annually. And at the same time, over half a million infrastructural disruptions negatively impact the American economy and environment. ProStar's accurate geospatial data collection and storage allows everyone to have accurate data, from field workers to COO's and CEO's
The core, multi-patented I.P. behind Prostar's solution provides identification, capturing, mapping, storing, analysis, and visualization of underground utilities. ProStar's key partnerships include companies with world-class expertise in mapping software and integration technologies, including Trimble Geospatial (NASDAQ:TRMB).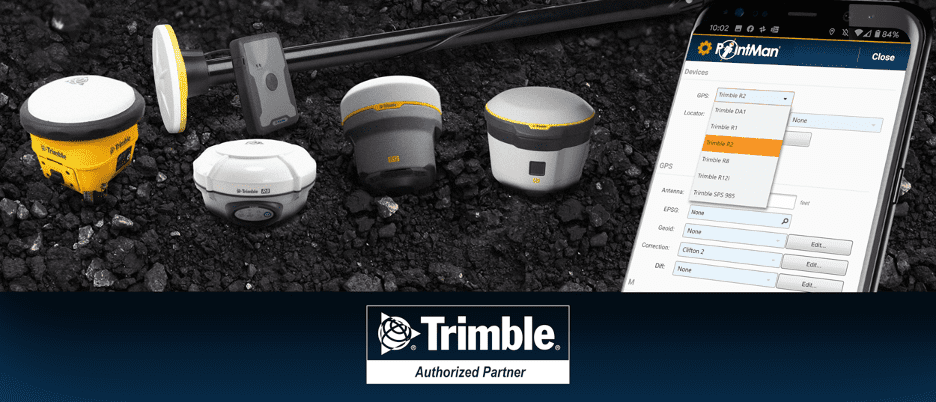 ProStar's growing client list of Fortune 500 companies and local government agencies have attracted a significant Canadian investment/shareholder base in the Company and international investors from Europe, Asia, and the US. ProStar is currently being integrated into the engineering curriculums of several large, highly respected US universities.
ProStar has also partnered with multiple high-level hardware manufacturers of location tools to bring Prostar software into global markets. The Company has secured partnerships with tool manufacturers such as Radiodetection, Vivax-Metrotech, and Subsite. ProStar has a seasoned management and operational team with extensive experience in software development, DevOps, professional services, cloud computing, and customer success.
ProStar™ GeoCorp's Company Highlights
ProStar provides specialized solutions that bring to market state-of-the-art precision utility location and data software integrated on both cloud and mobile platforms.
ProStar's PointMan is a multi-patented software solution that captures, documents, and displays the precise location, pedigree, and geospatial intelligence of above and below ground utility assets.
ProStar's key partnerships are with leading multinational hardware manufactures of GPS/GNSS receivers and electromagnetic cable and pipe locators.
ProStar's management and operational teams consist of proven leaders with world-class business and software development expertise.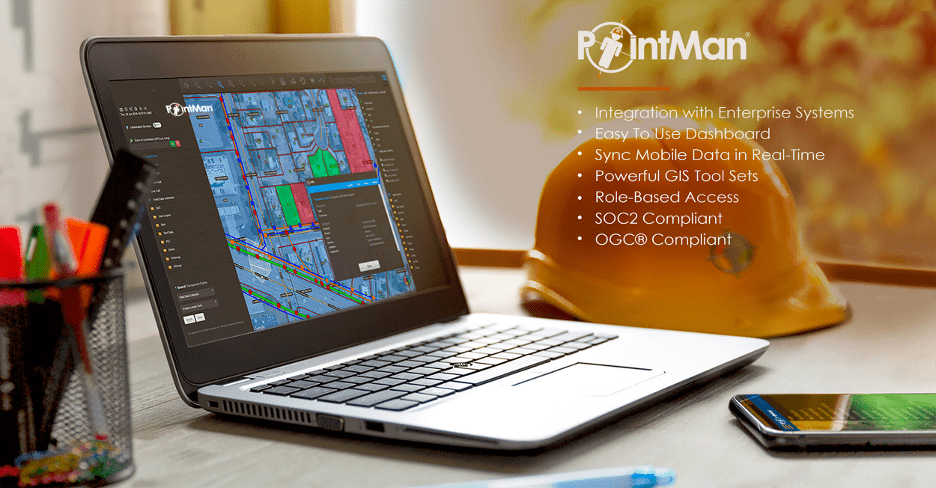 PointMan Plus™
ProStar's PointMan Plus solution is a remarkably user-friendly, intuitive mobile software application that works seamlessly within mobile networks. This enables field workers, Project Managers, CTO's and CEO's immediate, real-time access to every level of asset management processes, including their condition and precise location.
Streamlining intelligence onto a mobile and online platform allows project data to be digitally captured and recorded forever to ensure project requirements and regulatory standards. This seamless integration works with all major, globally recognized GPS/GNSS receivers with added features like importing KML files and a data dictionary.
With national distribution partners, PointMan Plus has been brought to market and is also available in app stores already. Currently, the software uses a SaaS model priced at $495 per year.
PointMan Enterprise
PointMan Enterprise is an intuitive software platform delivering innovative cloud technology and geospatial intelligence in an integrated system to improve asset management and overall internal business practices. The Enterprise is a combination of secure cloud services and an open geospatial engine and data collection technologies that provide real-time and streamlined integration with client incorporated systems. This solution costs approximately $100,000 per year.
Used both externally and internally with company operations, PointMan Enterprise offers unlimited storage capabilities and unlimited logins. It can be integrated into third party operating systems, including GIS or CAD. In addition, with ProStar's use of OGC standards, (Open Geospatial Consortium), the ProStar Solution eliminates the issue of fragmented systems allowing for the visualization of critical data faster and more efficiently, no matter where it is accessed.
The software runs on the largest and most secure cloud infrastructure in the world. It uses patented integration tools to improve business processes and all phases of the asset management lifecycle. Businesses can access maintenance and repair reports, track project progress, and locate cable and pipe infrastructures digitally. With advancements in technology and the complex nature of construction industries, streamlining these processes is vital for the success of infrastructural projects, company communications, and overall business growth.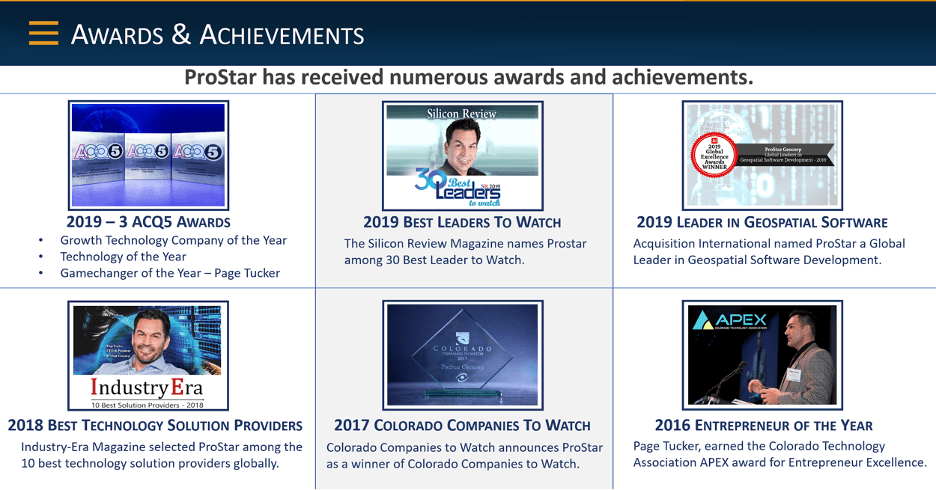 ProStar™ GeoCorp's Management Team
Page Tucker – CEO and President
Page Tucker has an extensive background in technology start-ups, including development, marketing, recruiting, capital financing and executive management. Tucker first became known as a technology visionary in the automotive industry for combining data mining and predictive modeling with geographic information systems. Tucker was the founder of Impact Solutions, Inc., a Silicon Valley-based company he formed to provide state-of-the-art customer acquisition and retention solutions to the automotive industry. Tucker reorganized Impact Solutions and began e-auto business, the pioneer in developing a web-based CRM solution that provided services to well over 900 dealerships throughout the United States before being acquired.
Tucker went on to author several patents based on geospatial technology including the methods for capturing, recording and displaying the precise location of buried utilities and in 2014 founded ProStar Geocorp. In 2016 the Colorado Technology Association named him Entrepreneur of the Year for his efforts and innovations in developing Geospatial Intelligence Software. Today, Tucker continues to serve as the company's CEO and President.
Vasa Dasan – COO
Vasa Dasan is responsible for building, managing and leading product management, software development, DevOps, professional services and customer success at ProStar GeoCorp. A veteran of driving technical strategy and execution in cloud computing, Dasan joined ProStar from CU Boulder, where he served as head of software development. Before that, Dasan was the VP of Engineering at Symplified, a single sign-on startup acquired by RSA a division of EMC-DELL and was the first engineering hire at Wayin, a mobile and web engagement platform founded by Scott McNealy. As CTO, Dasan built and led the team that developed Wayin's services for iPhone, iPad and Android devices, social media applications including Facebook and Twitter, and Java backend services operating on Amazon Web Services.
Dasan spent more than 15 years of his career at Sun Microsystems. He served as chief technologist for the company's Cloud Computing Practice, and he spent more than a decade as Distinguished Engineer and CTO for Sun's $5.1 billion SunService division. Dasan holds a BS. in Engineering Physics, a MA in Mathematics and Statistics, and an MS in Computer Science from Bowling Green State University, and did his Ph.D. work in Computer Science at Colorado State University.
Carl Lashua – VP of Admin Services
Carl Lashua is a proven senior executive with extensive international experience building and leading information technology, operations and program management teams. Before joining ProStar, Lashua was with HSBC, one of the world's leading global financial services companies. Lashua held various executive-level positions in both North America and Europe, including Program Director Global Change Delivery, Head of Software Delivery Europe, CIO France and CIO Canada. He has extensive experience leading teams providing business consulting, software engineering, enterprise technology deployment, change management and support services. He earned his Bachelor of Science (BS), Information Technology with concentrations in Economics and Business Administration from State University of New York College at Buffalo. Lashua has proudly served as a board member for several organizations, including The National Hospice Foundation, Canadian Payment Association, and the New York Cash Exchange.
Bill McIntyre – VP of Business Development
Bill brings over 20 years of IT services and SaaS solution business development experience. McIntyre first began his sales career selling IT business solutions & services with Origin Technologies, an ERP implementation and IT consulting division of Phillips. McIntyre went on to ReSource Partners, an ASP provider of PeopleSoft, CRM and data center solutions. He was awarded for both the highest revenue generation and the most improved customer service management. Before being recruited by ProStar, McIntyre was the National Business Development Manager for Willbros Engineering, a leader in energy infrastructure design, build and management services. McIntyre holds a BS in Marketing from the University of Cincinnati and is certified by Miller Heiman – Solution Sales and KARRASS – Contract negotiations "The Win-Win" training. He is also an active member of several industry organizations including, CGA, AGA, OGA and CTC (Columbus Technology Council).
---
INN does not provide investment advice and the information on this profile should not be considered a recommendation to buy or sell any security. INN does not endorse or recommend the business, products, services or securities of any company profiled.
The information contained here is for information purposes only and is not to be construed as an offer or solicitation for the sale or purchase of securities. Readers should conduct their own research for all information publicly available concerning the company. Prior to making any investment decision, it is recommended that readers consult directly with ProStar™ GeoCorp and seek advice from a qualified investment advisor.