This profile is part of an investor education campaign. The profile provides detailed information which was sourced and approved by ChroMedX Corp in order to help investors make better investment decisions. The Company's support of Investing News Network ensures we can continue to bring you unbiased, independent news and information.
Life Science Investing News Featured Stock
Overview
ChroMedX Corp (CSE:CHX;OTC:CHXIF;FRA:EIY2) is a medical technology company currently developing their proprietary HemoPalm platform, which brings lab based analysis to point-of-care situations. The ChroMedX Corp HemoPalm platform combines spectroscopy and biosensors to analyze CO-oximetry along with blood gas and electrolytes in a portable, handheld device. This approach requires two analysis techniques as blood gases and electrolytes can be analyzed with the same method.
The ChroMEdX Corp comprehensive platform stands out among its competitors in the point-of-care market as it is the only device able to conduct both analyses. To compare, the i-Stat, which is the current market leader and was acquired by Abbott in 2003 for $400 million, is a portable device that only analyzes blood gases and electrolytes. To compensate for this, the i-Stat is usually sold alongside a bench-top Co-oximetry analyzer, the Avoximeter. Similarly, Alere—recently purchased for approximately $6 billion by Abbott—acquired and distributed Epocal, which is another handheld device that only analyzes blood gases and electrolytes.
The HemoPalm device could be used within a number of environments including first response, military medicine, disaster relief, triage centers and within emerging economies with limited medical infrastructure. As it consolidates two analyses that are otherwise performed by two separate devices, the HemoPalm could also present a cost-saving opportunity as it reduces the amount of equipment and time required for blood tests of this type. Additionally, as it offers a rapid understanding of a patient's condition and potential treatment options, the device could also play a role in reducing the number of patient complications brought on by initial delays in treatment.
ChroMedX's proprietary platform is protected by issued patents in both the US and Canada. In addition to that, the company also has patents pending in all other major markets. ChroMedX is in the process of developing and testing the HemoPalm analyzer and its cartridges, and hopes to conduct clinical trials during the first half of 2018 and submit their FDA 510(k) application during 2018 as well.
The company's management team is made up by industry experts that include Ash Kaushal and James Samsoondar. Kaushal brings 25 years of experience in product development within various industries including the fields of medicine and defense, and Samsoondar has been awarded over 30 patents to date, including for technology used in Johnson & Johnson's Central Laboratory Chemical Analyzer. The management team is also significantly invested in the company, holding a total 31 percent of company shares.
Investment Highlights
Developing HemoPalm platform to analyze CO-oximetry, blood gases and electrolytes within capillary blood samples

Unique technology that consolidates analytical methods otherwise performed by more than one device

Stands apart from competitors like Abbott's i-Stat and Alere's Epocal

Extensive application opportunities including first response care, military medicine and disaster relief

Technology provides potential cost-saving opportunities for medical institutions as it reduces amount of equipment required and makes diagnosis more efficient

Management team includes James Samsoondar, who holds the patent for the HemoPalm and other point of care technologies

Recently raised $1.5 million in financing through private placement

31 percent of shares owned internally
Proprietary HemoPalm Platform
ChroMedX's proprietary HemoPalm platform is designed to conduct lab-like analysis of the three primary categories of blood chemistry—CO-oximetry, blood gases and electrolytes—from a single disposable microfluidic cartridge that contains a small capillary blood sample obtained from a finger prick.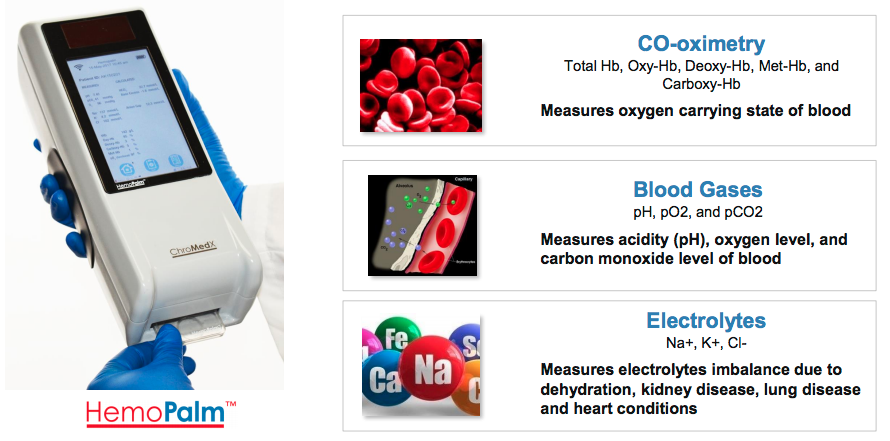 The analysis platform exists within a portable, handheld device that uses spectroscopy and biosensors to evaluate the sample and provide a complete overview of a patient's blood oxygenation and acid-base balance. ChroMedX's device is the first that is able to host both of the analysis techniques within one device that can be easily used in the field, making it revolutionary within the point-of-care technology market.
HemoPalm Applications
The possible applications for the HemoPalm device are extensive. From an in-the-field perspective, it could be readily used in environments such as first response, military medicine and disaster relief. Additionally, it could play a role in nursing homes and in home care, helping to determine the severity a patient's condition and in treatment and transportation decisions. In a similar manner, the HemoPalm platform could also support decision-making in triage centers and help practitioners rapidly determine the required treatment for a given patient.
A factor that could significantly drive up the use of the HemoPalm device is the growth of emerging economies that might not have the infrastructure in the form of centralized lab capabilities. This lack of existing infrastructure offers a window of opportunity for easily portable, comprehensive analysis devices like HemoPalm to enter the market and help treat patients with limited access to medical support.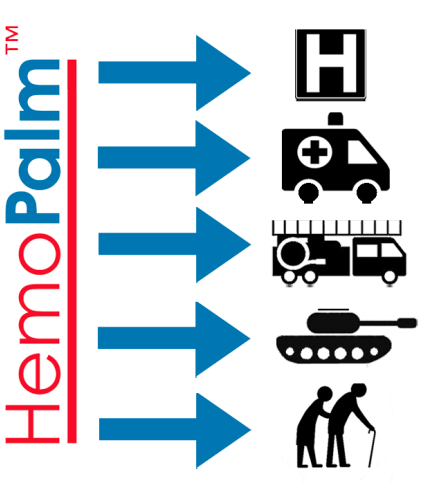 Advantages of the HemoPalm technology
One of the key advantages of introducing the HemoPalm device into the point-of-care market is that it can enable an earlier and more efficient diagnosis of patients before they enter a clinical environment. Used in the field by paramedics, for instance, the HemoPalm would be able to generate on-site results that provide insight into treatment options before the patient has even set foot in a hospital. This would replace the time taken to conduct tests within a lab setting, making the intake process much more efficient. An added benefit of early diagnosis and early treatment is also the prevention of further complications, making it a cost-saving tool for both patients and medical institutions.
The HemoPalm device also acts as a cost saver in the sense that it reduces the number of devices required to glean information concerning CO-oximetry, blood gases and electrolytes in a patient's blood. As the device can conduct its analysis on blood extracted from a finger prick, it also saves patients from having to provide painful arterial blood samples that would have to be conducted in a clinical setting.
Next steps
The HemoPalm analyzer is currently in development and the company is designing and testing the functionality of the device's durability, software and ergonomics. ChroMedX is also in the process of producing a limited number of cartridges in order to test their manufacturability and reproducibility while also conducting tests on their biosensors.
ChroMedX expects to conduct its clinical testing on the product in the first half of 2018. The company also anticipates submitting its FDA 510(k) approval within 2018. Within the FDA 510(k) framework, the HemoPalm will be tested against a predicate device and approved on the basis that it can deliver results as accurate as the existing technology.
Once the device is in production, ChroMedX plans to design and develop further cartridges that can be used within the HemoPalm. These would be used to test for bilirubin; lactate, which is an indicator of sepsis; creatinine, which is a measure of the kidney function; and beta-hydroxybutyrate, which plays a role in diabetes.
As part of its business development approach and in anticipation for launching the HemoPalm device in 2018, ChroMedX has retained DxEconomix Inc to support the company in determining a marketing and commercialization plan.
"We are excited to identify new applications and further explore the economic value of the HemoPalm," said ChroMEdX President and CEO Ash Kaushal. "The expertise of Dr. Janeczko and DxEconomix is a perfect addition to ChroMedX's strategic initiatives and we look forward to their analysis and formalization of the HemoPalms introduction to market."
Looking towards the 2018 launch date, ChroMedX has also established an international list of potential distributors and end-users for the HemoPalm product.
Management
Ash Kaushal, BSc—Director, President and CEO
Ash Kaushal has over 25 years of experience in product development in the medical, defence, safety and nuclear industries. He has held Vice President and senior level management positions with several Canadian and British corporations throughout his career including NIR Science Corp and NIR Diagnostics Corp in Campbellvile, Ontario, CME Telemetrix in Waterloo, Indal Technologies in Mississauga, Ontario and several companies based in England, UK. He has developed handheld products from initial concept right through to FDA submission. In these positions he had responsibility for research, engineering, quality assurance and clinical trials.
Chris Hopkins, CPA, CA—CFO
Chris Hopkins has 25 years of experience in leadership, strategic planning, mergers and acquisitions, valuations, corporate finance, investor relations, financial management, economic evaluation, systems design/implementation, and financial and management reporting and performance evaluation KPIs.
The majority of his career has been spent in senior positions with numerous publicly-listed mining companies, including US Silver, Rio Algom Limited, BHP Billiton, Suncor Inc and several Canadian and international junior mining companies.
Hopkins received his Bachelor of Commerce degree from the University of Toronto, his Chartered Accountant designation and his Master of Business Administration from the Schulich School of Business at York University.
George Langdon, PhD—Chairman
George Langdon studied geology at the Memorial University of Newfoundland, where he took BSc., MSc and PhD degrees between 1978 and 1996. He joined the petroleum industry as an exploration geologist in 1980, and worked for majors Hudson's Bay Oil and Gas in Calgary, Saudi ARAMCO in Dhahran, Saudi Arabia, and Mobil Oil Canada in Toronto, until 1999. Since that time he has acted as a consultant for and has been involved in the development of junior public companies in the oil and gas sector, including Canadian Imperial Venture Corp. (TSXV-CQV) and Contact Exploration Inc.
In 2006 he became the founding President of Shoal Point Energy Ltd. (CNSX-SHP), where he served until June 2013. He was co-responsible as President and lead geologist for the company's amassing a land position of some 720,000 acres in which it owns a 100 percent interest, and for negotiating a joint venture which aims to see up to 10 wells drilled over the next 3 to 4 years to assess this massive play, which has the potential to impact the energy balance in eastern North America over the next several years.
James Samsoondar, PhD, FCACB—Director
James Samsoondar holds a PhD in Clinical Biochemistry from the University of Toronto.  He is a Certified Clinical Biochemist and a Fellow of the Canadian Academy of Clinical Biochemistry (FCACB).  He is currently Chair of the Professional Affairs Committee of the Ontario Society of Clinical Chemists and sits on the Chemistry Committee of the Institute of Quality Management in Healthcare. He is also Clinical Biochemist, Quality Manager and Chair of the Point-of-Care Testing (POCT) Advisory Committee at The Scarborough Hospital (affiliated with the University of Toronto).
James has been awarded 37 patents to date. He developed and licensed technology to Johnson & Johnson which is incorporated into the company's Central Laboratory Chemistry Analyzer–the most popular lab analyzer in Ontario.  He developed the HemoNIR hand-held analyzer with a previous company and went on to found ChroMedX in 2005.
Michael Minder—Director
Michael Minder is a seasoned finance professional with over 15 years of international banking experience. He held senior leadership roles in Asset and Wealth Management for Credit Suisse Group in both Switzerland and North America, managing assets of high net worth accounts.
In 1998 he left the Credit Suisse Group to form his own firm providing international investment banking and investor relations advisory services to numerous US, Canadian and European listed companies.  Michael is the current CFO of TSX Venture listed Zecotek Photonics Inc, a company focused on the innovation and commercialization of key enabling technology, subsystems, and components for medical and industrial imaging.
Gerard Edwards, BComm, MBA—Director
Gerard Edwards has a background in finance and administration and was co-founder and past president of Imperial Venture Corp/Canadian Imperial Venture Corp, as well as a co-founder and past president of Guigne Technologies Ltd, a St John's based high-tech company.