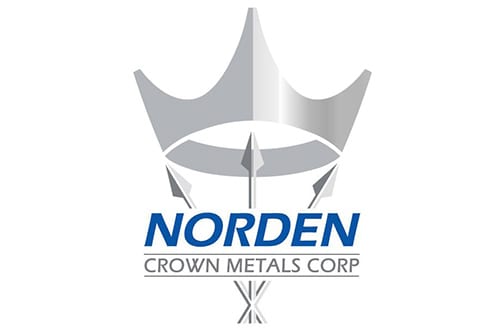 Norden Crown Metals
Low-capex Silver Polymetallic Exploration Projects in Finland and Norway
Overview
Norden Crown Metals (TSXV:NOCR) is a resource exploration company working towards the discovery of silver, zinc, copper and gold deposits in Sweden and Norway. The company's focus in Scandinavia is borne out of the region's stable mineral tenure, low regulatory risk as well as easy and fast permitting. Additionally, countries like Norway, Sweden and Finland have minimal corporate taxes at 27 percent, 22 percent and 20 percent respectively.
Ranked by the Fraser Institute as among the top 10 mining regions globally, Scandinavia has solid infrastructure with six smelters in the region, deep water ports near projects and road and rail systems that provide easy access. Projects in the region are no more than a two-hour drive from any major airport.
Norden Crown Metals has two key projects in Scandinavia — the Burfjord Iron Oxide Copper Gold (IOCG) project in Norway and the Gumsberg Volcanogenic Massive Sulfide (VMS) project in Sweden — and is focused on discovering new economic mineral deposits in mining regions that have yet to benefit from modern exploration techniques.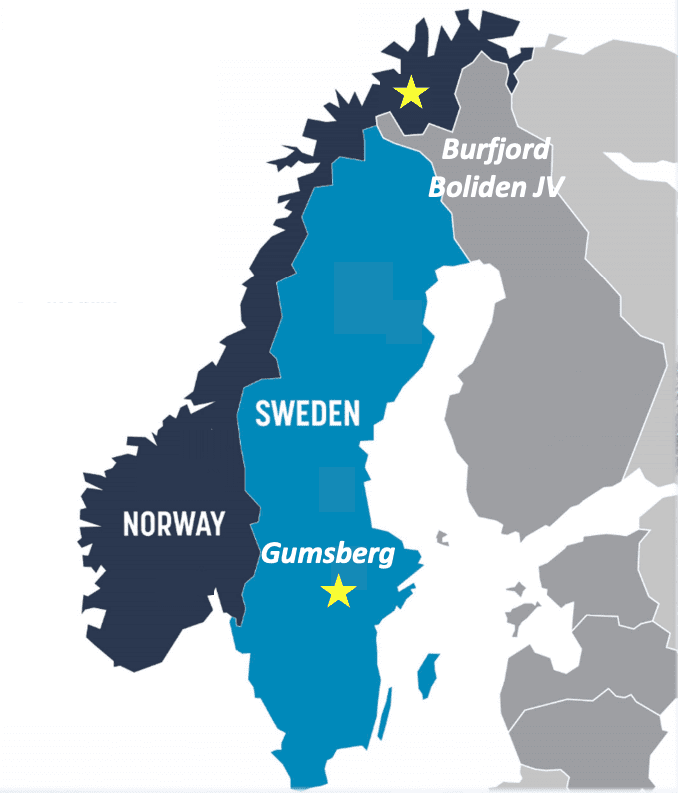 The company's Burfjord IOCG project, which has six exploration licenses, is located near Kåfjord, Norway. The mineralization at Burfjord is a part of the IOCG deposit clan. Additionally, Burfjord is made up of broad arrays of copper, gold and cobalt-bearing veins and has the potential to host a large copper deposit. Norden Crown commenced the ~3,500 meter diamond drill program at its 100 percent owned Burfjord Project in northern Norway in collaboration with Boliden Mineral AB. The jointly planned diamond drill program ais based on geological, geochemical, and geophysical anomalies identified during the 2020 Summer exploration programs and aims to test the copper-gold grades and continuity of new targets, historical mines, and prospects.
The Gumsberg VMS project and has five exploration licenses in the Bergslagen Mining District in southern Sweden, spanning over 18,000 hectares that contain multiple zones of VMS-style mineralization.
In 2020, Norden Crown obtained an exploration permit and an off road driving permit for the Fredriksson Gruva project in Sweden where the company intersected high grade and significant widths of Broken Hill Type mineralization in all three holes drilled in March 2021.
Norden Crown prides itself on having a strong board and technologically-driven team. With its focus in Scandinavia, Norden Crown has a competitive advantage due to the region's solid mining infrastructure in Sweden and Norway.
Norden Crown Metals' Company Highlights
Focused on silver, zinc, copper and gold deposits in Sweden and Norway
Scandinavia has a historical background as a mining district with strong infrastructure and smelters, particularly in Sweden
Two key projects — the Burfjord IOGC project in Norway and the Gumsberg VMS project in Sweden

The Gumsberg VMS is the company's flagship project and has five prospects: Östra Silvberg, Vallberget, Loberget, Fredriksson Gruvan and Gumsberg West
The Burfjord IOCG Project has six exploration licenses with the project's mineralization a part of the IOCG deposit clan

Strong board of directors and technologically-driven team
Norden Crown intersected high grade and significant widths of Broken Hill Type mineralization in all three holes drilled at its Fredriksson Gruva Prospect.
Norden Crown's Key Projects
The Fredriksson Gruva Prospect
Norden Crown's current focus project is the 100 percent owned Fredriksson Gruva prospect in Sweden. The company recently announced an exceptional discovery at its 100% owned Fredriksson Gruva prospect ("Fredriksson Gruva") demonstrated by significant results from the first three holes drilled below historical mine workings. The discovery holes intersected significant mineralized widths ranging from 8.15 to 13.60 metres of precious and base metal, massive and semi-massive sulphide mineralization, within a geological setting unique to mineralization belonging to the Broken Hill Type ("BHT") clan of silver rich zinc-lead ore deposits.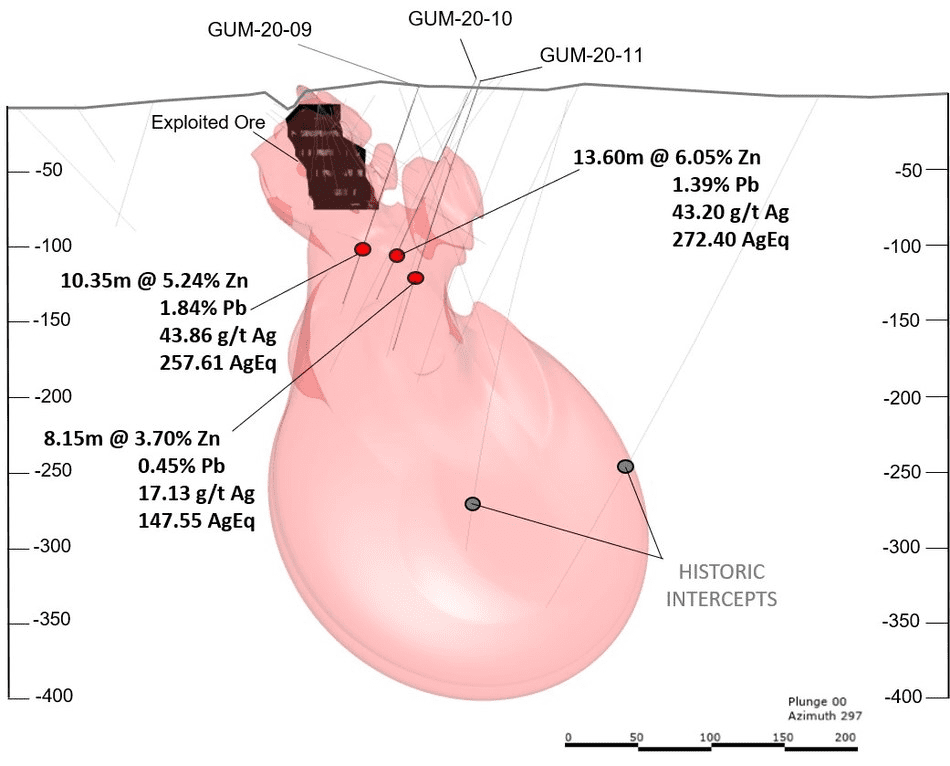 The objective of the drill program was to demonstrate that mineralization continues beneath the historical mine workings, which extend to 91 metres below surface. The program was also designed to confirm historical silver-zinc-lead grades, thicknesses, and to test the continuity of this mineralization. Holes GUM-20-09 and GUM-20-10 are positioned 30 metres down plunge of the historical underground workings and are spaced 40 metres apart. Hole GUM-20-11 is 30 metres below GUM-20-10 (60 metres below the historical workings).
BHT Ag-Zn-Pb deposits constitute some of the largest and highest-grade ore deposits in the world2 (see Table 4). The namesake deposit, Broken Hill, is located in western New South Wales, Australia, and represents the largest accumulation of Pb, Zn, and Ag on Earth2. BHT deposits constitute a distinctive type of stratiform, sediment hosted lead-zinc mineral deposits. BHT deposits are characterized and distinguished from other silver-zinc-lead deposits by the chemistry of the sediment that host them and that they are usually associated spatially and temporally with volcanism.
The Gumsberg VMS Project
Gumsberg VMS mineralization was first mined in the 13th century through to the early 1900s with more than 30 mines on the property. Although there is a long-lived production history, little modern exploration has been done on the property.
Gumsberg VMS is a highly prospective precious metal-enriched zinc-silver-lead volcanogenic sulfide drill project located in the Bergslagen mining district in between the past-producing Falun and Saxberget nines and active Garpenberg and Zincgruvan mines. With extensive historical mining done on the property from shallow workings, recent exploration has shown there is additional potential for further mining.
The project is located 40 kilometers southwest of Alta, which is a regional airport and is accessible by road while only being 7.5 kilometers from tidewater.
Contained in the Gumsberg VMS Project are five prospects including Östra Silvberg, Vallberget, Loberget, Fredrickssongruvan and Gumsberg West.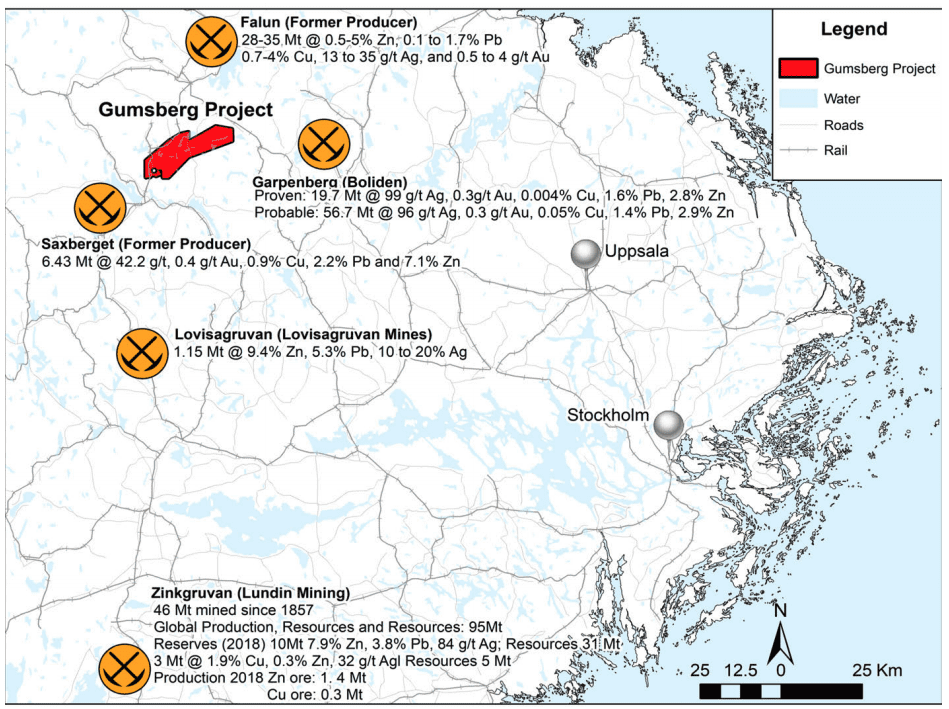 The Östra Silvberg prospect is the company's main focus in the Gumsberg VMS Project, which has exploration potential for silver and gold-enriched base metal mineralization. The prospect also has a deep history as Sweden's largest silver mine between 1250 and 1590. Additionally, there are only five historic drill holes in the mine, all of which are shallow.
Between 2017 and 2019, Norden Crown Metals conducted drilling programs on the property that confirmed high-grade silver and zinc mineralization with lead located at-depth and peripheral to historical mine workings.
Most recent drill results from the Östra Silvberg in July 2019 returned up to 5.12 percent zinc, 2.27 percent lead and 93 g/t silver over 8.04 meters and additionally suggested that mineralization in the area is more extensive than previously thought.
Also within the Gumsberg VMS project is the Fredriksson Mine, where the company conducted a soil survey in September 2020. Over 110 soil samples were collected at 15 to 25 cm below the organic horizon across three test lines. There was an average sample station spacing of 15 meters and an average line spacing of 100 meters.
The Fredriksson Mine was discovered in 1976 with exploration conducted between then and 1977. Norden staked the Fredriksson Gruva prospect as part of a larger staking acquisition in March 2017.
The Burfjord IOCG Project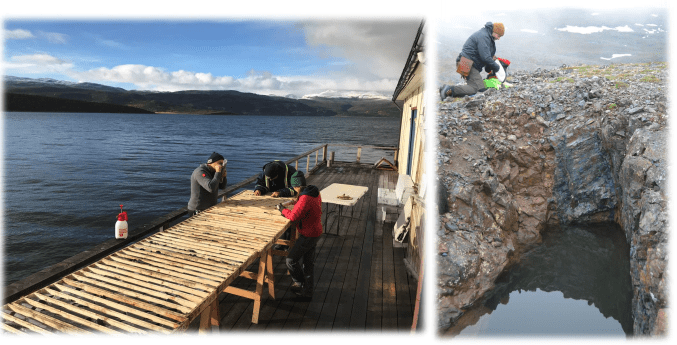 Located near Kåfjord, Norway, the company's Burfjord IOCG Project has six exploration licenses with mineralization identified as part of the Iron Oxide Copper Gold (IOCG) deposit clan. Additionally, Burfjord is made up of broad arrays of copper, gold and cobalt-bearing veins and has the potential to host a large copper deposit.
The Burfjord IOCG Project has six exploration licenses with the project's mineralization a part of the IOCG deposit clan.
Copper mineralization was mined in the Burfjord area during the 19th century. With over 30 historic mines and prospects, Burfjord was developed along the flanks of a prominent 4 by 6-kilometer anticlinal structure comprised of interbedded metasedimentary and metavolcanic rocks.
Located 40 kilometers northwest of regional airport Alta, the project is road-accessible and only 7.5 kilometers from tidewater. It is also 32 kilometers west of the Kåfjord copper mines, the first major industrial enterprise north of the Arctic Circle.
In June 2020, Norden Crown Metals signed an option agreement with Boliden Minerals regarding Norden's 100-percent-owned Burfjord project. As part of the agreement, Boliden could earn a 51 percent interest in the project by spending US$6,000,000 on exploration and development at Burfjord within four years of the date of the agreement.
The four-year period to exercise the agreement may be extended if exploration and development at Burfjord is delayed by an event of force majeure. If the agreement is exercised, Boliden could earn an additional 29 percent interest in the Burfjord for an aggregate 80 percent interest by solely funding further advancement work through the delivery of a NI 43-101 and PERC (Pan European Reserves & Resources Reporting Committee) compliant feasibility study and solely funding all annual costs to keep the project in good standing.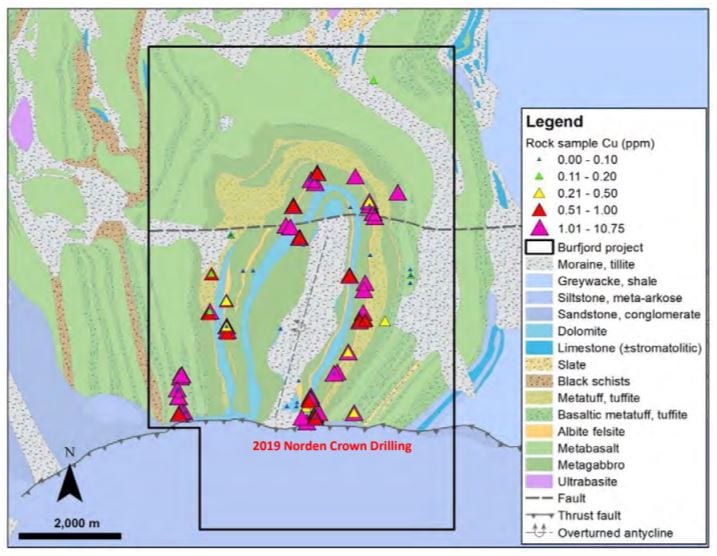 In August 2020, Norden announced exploration is officially underway at Burfjord in collaboration with Boliden. Exploration will include geological mapping focused on the hydrothermal alteration, lithology and structural controls on gold and copper mineralization. The exploration program will also entail detailed geochemical sampling, as well as geophysics including EM and a property-wide airborne magnetic survey.
Norden Crown Metals' Management Team
Patricio Varas—Executive Chairman and CEO
Patricio Varas is a professional geoscientist with over 30 years of experience in exploration, project development and corporate management. Mr. Varas has a vast background working in operating mines, exploration projects, feasibility studies and mine development. Mr. Varas founded and acted as president and CEO of Western Potash Corp, which discovered and developed the world class Milestone Potash deposit in Saskatchewan.
Jeannine Webb, CPA, CGA—CFO
Jeannine Webb has over 25 years of experience in the mineral exploration sector, serving as Chief Financial Officer, Corporate Secretary and Director for private, and junior "small cap" domestic and international public companies. She has a wide range of skills on financial management and regulatory reporting, and currently serves as CFO and Corporate Secretary for private companies and various Canadian venture companies with operations in Canada, the US, and South America. She is a Chartered Professional Accountant of British Columbia.
Daniel MacNeil—VP of Exploration
As a precious and base metals specialist, Daniel MacNeil has over 15 years of experience with continental-scale projection generation to in-mine resource expansion. Mr. MacNeil has worked in a wide range of geological settings in the Americas and Eastern Europe, with his expertise including exploration strategy, target and opportunity identification, district entry strategy, business development and strategic evaluation of geologic terranes among others.
---
*Disclaimer: This profile is sponsored by Norden Crown Metals (TSXV:NORC). This profile provides information which was sourced by the Investing News Network (INN) and approved by Norden Crown Metals, in order to help investors learn more about the company. Norden Crown Metals is a client of INN. The company's campaign fees pay for INN to create and update this profile.
INN does not provide investment advice and the information on this profile should not be considered a recommendation to buy or sell any security. INN does not endorse or recommend the business, products, services or securities of any company profiled.
The information contained here is for information purposes only and is not to be construed as an offer or solicitation for the sale or purchase of securities. Readers should conduct their own research for all information publicly available concerning the company. Prior to making any investment decision, it is recommended that readers consult directly with Norden Crown Metals and seek advice from a qualified investment advisor.