Overview
---
Naturally Splendid Enterprises Ltd. (TSXV:NSP,OTCQB:NSPDF,FWB:50N) was formed in 2010 with a strategy to take hemp nutrition more into the mainstream as a consumer product. The superfood hemp has a fantastic nutritional profile of protein, omegas and micro-nutrients.
In 2013, Naturally Splendid began test marketing various versions of their own branded hemp products in Vancouver. The brand evolved into NATERA Hemp Foods and since 2013 has been sold across Canada and Australia and into the USA and Germany.
In 2015, Naturally Splendid acquired CHII Hemp Food, which formed in 1998, making it one of Canada's original hemp food companies. CHII remains aligned with Naturally Splendid's vision of plant-based nutrition. Later that year, Naturally Splendid lead the Canadian charge into South Korea, exporting over 1.25 million pounds of hempseed in 2016.
In 2016, Naturally Splendid acquired 100 percent of Prosnack Natural Foods, a nutritious bar producer located in BC, Canada, that specializes in manufacturing plant-based bars. Prosnack operates a Safe Quality Food (SQF) manufacturing facility in Pitt Meadows], producing plant-based bars and bites for Naturally Splendid's brands, as well as providing contract manufacturing services to multiple regional, national and international clients that are also focused on delivering plant-based nutrition.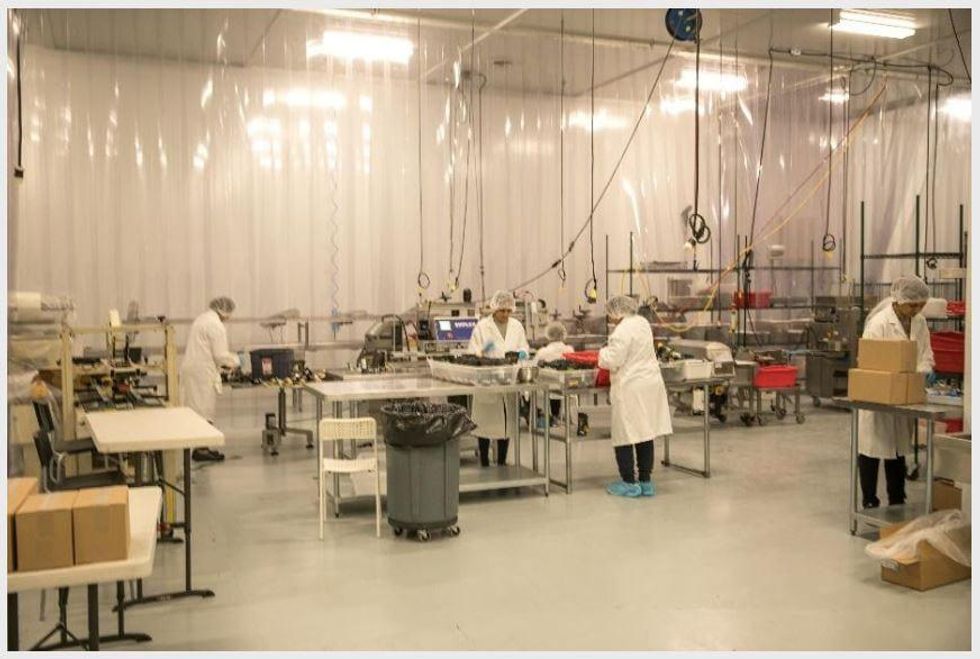 Naturally Splendid pursued a Processor License in 2017, which would have allowed the company to manufacture cannabidiol (CBD) fortified bars and bites as Naturally Splendid considered CBD as just another plant-based ingredient. However, regulations in Canada and abroad did not evolve as the industry was expecting. As a result, this project is suspended indefinitely, and the company instead focusing its resources on the much larger market of plant-based nutrition.
From 2013 to 2016, Craig Goodwin and Bryan Carson held senior management roles that guided the company to its most successful year in 2016. With the dynamic growth during that time, including sales growing over 20 times from 2015 to 2016, it was decided that additional senior management would be beneficial, and Craig and Bryan cooperatively stepped down from their senior positions.
From that time until 2019, the two remained fully engaged with Naturally Splendid, guiding the growth of Prosnack Natural Foods, the building out of the SQF certified food manufacturing facility, as well as the growth of the NATERA brand family of products.
In September of 2019, it was decided that Mr. Goodwin would once again take the role of CEO and President, and shortly after that Mr. Carson stepped into the position of CFO, adding to his role as VP of Operations.
Throughout 2020, Naturally Splendid made a number of strategic decisions to put the company in a better position for significant growth in the near and long term in order to focus on the plant-based opportunities it had identified.
In February 2020, Naturally Splendid launched Pro Curc 30 under the NATERA Sport banner. Pro Curc 30 is a plant based anti-inflammatory supplement that uses a Biologic Pharmamedical patented technology to extract curcuminoids from curcumin.
Pro Curc 30 has proven so effective that recently, Naturally Splendid entered into a joint venture named Plasm Pharmaceutical with Biologic Pharmamedical to conduct a Health Canada approved phase 2 clinical trial as a potential treatment for COVID-19 using the target JV owned drug Cavaltinib™. The drug is an amplified variant of the Pro Curc 30 product, meaning it is a plant-based medicine.
The company signed an exclusive sales and distribution agreement with one of Australia's most popular plant-based manufacturers for an extensive line of plant-based, meat-alternative products.
Naturally Splendid has come to terms with BettaLife Global Food Solutions of Australia for the exclusive sales and distribution rights for Canada, for a wide range of plant-based, meat-alternative products. The company has also been granted sales and distribution rights to access the United States market.
In North America, Naturally Splendid will market this product line under the brand NATERA Plant Based Foods.
Although most consumers are aware of plant-based burgers, the NATERA Plant Based Food line offers consumers far more choices than most plant-based food manufacturers in North America.
NATERA Plant Based Foods have over 20 SKUs ready to go for the North American market, and the products will begin to be systematically rolled out over the next 6 months. The company is launching 6 of the 20 products into retail beginning October 2020. The NATERA Plant Based Foods retail line will include: Burgers, Schnitzel, Kiev, Sweet Chili Tenders, Nuggets and Garlic Cheese Bites.
NATERA Plant Based Foods will offer a range of plant-based alternatives for: beef, chicken, pork, fish and shellfish. In each category there are multiple products, which provides significant choice for consumers looking to include plant-based foods into their eating habits.
NATERA Plant Based Foods is currently available for food service and is preparing for their retail launch targeted for Q4 2020.
In tandem with this, Naturally Splendid announced in October 2020 that Summit Specialty Foods is the first distributor of NATERA Plant Based Foods. Summit Speciality Food distribution regions include Save-On-Foods, Price Smart, Urban Fare, Quality Greens, Safeway, Whole Foods, Askews Foods, Buy Low Foods, Choices Markets, London Drugs and Natural Markets Food Group.
Additionally, Naturally Splendid has confirmed adequate line processing time with the manufacturer to meet current needs into Q2 of 2021. The companies have begun discussions about building out a manufacturing facility in Canada to meet anticipated consumer demand for these market disrupting products.
Naturally Splendid CEO, Mr. J. Craig Goodwin stated, "Naturally Splendid began with the idea that plant-based diets are good for people and the planet. Our initial products were hemp based, given hemp boasts such an impressive nutritional profile of protein and omegas. The acquisition of Prosnack Natural Foods afforded the opportunity to become a manufacturer of nutritious plant-based bars and bites. And more recently we entered a joint venture, Plasm Pharmaceutical, to pursue a Health Canada approved phase 2 clinical trial for the curcumin-based target drug Cavaltinib™, which incorporates a patented extraction technology. In essence, a plant-based medicine. And now, with our launch of NATERA Plant Based Foods, the Company is positioned to distribute delicious plant-based meals to a wide range of consumers in this rapidly growing category. Throughout these diverse opportunities, plant-based products have remained central to our strategy, as they will moving forward."
Naturally Splendid evolved into more than a hemp company as third party processing has opened numerous opportunities in the dynamically growing plant-based nutrition market, a market that is currently estimated at US$4.8 billion and forecast to grow to US$85 billion by 2030.
Supporting this strategy, Naturally Splendid has been systematically developing a food manufacturing business that produces its own company-branded products as well as contract manufactures nutritious, mostly plant-based, meat alternatives, bars, and bites for well-known brands across the North American market and abroad.
Naturally Splendid's Company Highlights
Aims to improve overall health and wellness through the development of sustainable, functional and renewable plant-based products for the global food and beverage industries
Portfolio of award-winning product lines developed with a science and technology-based approach with commercialized proprietary HempOmega® technology and provisional patent for hemp protein isolate in US
Established distribution to over 2,000 stores in North America
Exporting retail products, bulk and plant-based ingredients to Australia, Asia and Europe
Established retail presence in various industries including health and wellness, skincare, pet care, superfoods and more
Multiple revenue streams including retail, wholesale, bulk and private label
Over 20,000 square feet of space dedicated to production and distribution
The NATERA Sport KEY-TO Life bars generated over C$285,000 in sales within the first three months of the line's official launch date.
Summit Specialty Foods is the company's first distributor of NATERA Plant Based Foods.
Positioned for rapid growth in the plant-based food sector as an established and recognized plant-based food manufacturer
Plant-based nutrition currently estimated at US$4.8 billion and forecast to grow to US$85 billion by 2030.
Received Notice of Authorization from Health Canada to proceed with a Phase 2 clinical trial for a potential COVID-19 treatment utilizing the target drug Cavaltinib™.
Request an Investor Kit
EXCITING upcoming projects!
IN-DEPTH reliable insights!
SUCCESSFUL growth strategies!
VALUE-BASED content!
Naturally Splendid