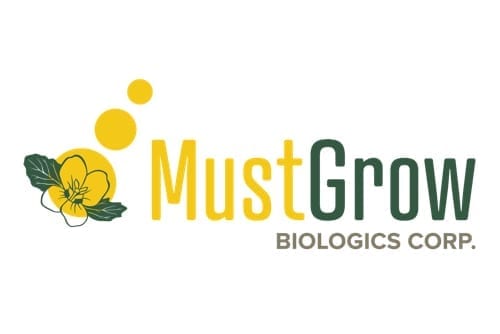 MustGrow Biologics
Innovative Natural Fertilizer and Pesticide Solutions for Multiple Crops
Overview
MustGrow Biologics Corp. (CSE:MGRO) is an agricultural biotech company focused on developing and commercializing its unique natural biopesticide that acts as a pesticide, fumigant, fertilizer, nematocide and fungicide. Targeting the fruit, vegetable and cannabis industries, MustGrow has designed an organic solution that uses the mustard seed's natural defense mechanisms to protect plants from pests and diseases.
Brassica plants, a genus within the mustard family, have been found to have organic compounds that can positively benefit agricultural production. As Canada produces 28 percent of the global mustard crop, MustGrow has access to a vast source of its base material.
Making use of the plant's applications, the MustGrow product has been tested on fruit and vegetables in 110 different trials and has been proven to protect the plant from a number of soil-borne fungal diseases and pests including nematodes, Fusarium, Verticillium, and Pythium. MustGrow is also potentially effective in preventing a number of other soil-borne pests and diseases, including spider mites and gnats, but further tests are needed.
Moving beyond the fruit and vegetable sphere, the company is looking to ascertain its product's potential as a pre-plant soil sterilizer for cannabis crops that can remove any pre-existing insects or fungi. As the cannabis market in North America continues its exponential growth spurred by the legalization of medicinal cannabis and (in some states) the recreational market, the industry is becoming an exciting market opportunity for MustGrow's natural and organic product. The company is also looking into the product's potential in the tobacco industry.
Having first created a granular product, MustGrow has now developed a liquid version that can be easily delivered to plants via existing drip systems. This new liquid form of the product will have to be tested again to confirm its efficacy and minimum usage rates. To this aim, the company has recently launched an R&D program with the National Research Council of Canada (NRC) to test on several fungi and diseases that affect fruit, vegetables and cannabis, with the aim of applying for Health Canada and US EPA approval for use on cannabis, fruits and vegetables once the program is complete.
MustGrow is led by a management team that brings extensive experience in the biotechnology and agriculture fields. As it looks towards entering the cannabis industry, it has brought on strategic board members like Tom Flow. Flow is the founder and president of The Flowr Corporation, a Health Canada-approved cannabis facility partnered with Scotts Miracle Gro, a large supplier of soil and grow materials playing a role in the cannabis sector. Flow also built MedReleaf in 2014, which is one of Canada's most profitable licensed producers with a $1 billion market cap.
MustGrow Biologics' Company Highlights
Proprietary natural, organic biopesticide solution for addressing pests and diseases in tobacco, cannabis, fruit and vegetable crops.
110 independent 3rd party trials conducted in fruit and vegetables, determining protection from a number of soil-borne pests and fungal diseases including nematodes, pythium and fusarium.
EPA approval across all key US states as a biofertilizer and biopesticide (currently limited to fertilizer in California).
Health Canada designation as a fruit and vegetable biofertilizer and biopesticide.
Developed a liquid format of tested product in response to market demand.
According to Fortune Business Insights, the growing global biopesticide market could be worth US$10.19 billion by the end of 2025.
Experienced management team supported by director Tom Flow, who brings vast cannabis sector experience.