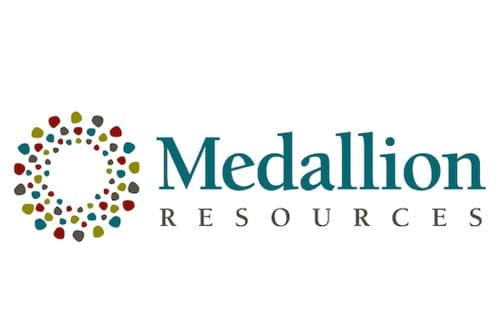 Medallion Resources
Rethinking Rare Earths Resource Development
Overview
Medallion Resources Ltd. (TSXV:MDL,OTC:MLLOF,OTCQX:MLLOF,FWB:MRDN) is pursuing near-term magnet metal production by exploiting by-product monazite. The rare earth elements (REEs) neodymium and praseodymium (NdPr) are the key input material for powerful permanent magnets. These high-powered rare earth magnets are required for the growing demands of vehicle electrification, wind power generation and robotics. China's domination of the REEs market is a significant supply chain headache for North American and European technology manufacturers, only aggravated further by the recently imposed US tariffs on Chinese sourced rare earths.
Swiss investment bank UBS recently projected dramatic growth in the demands for NdPr based upon expected growth of the electric vehicle (EV) and plug-in EV hybrid vehicle marketplace. Working with its refining partner Rare Earth Salts Separations and Refining (RES), a US-based materials technology company, Medallion aims to meet this increasing demand for strategic magnet metals. By utilizing the by-product mineral monazite, this can be done quickly and cheaply and Medallion is targeting North America for its first production.
Monazite is widely available as a by-product from heavy mineral sand mining operations and has a history as a commercial REE resource with well-understood metallurgy. Medallion Resources is pursuing monazite purchasing agreements, and has recently entered into a processing partnership with RES. The company is has completed critical bench-scale metallurgical testing and is finalizing the process flow sheet which will be used for engineering estimates on the capital costs for a commercial monazite rare earth extraction plant.
Medallion Resources Highlights
Upside and economics tied to key magnet metals market drivers: electric and hybrid vehicles, wind generators and robotics
Minimal technical risk – modern metallurgical process utilizing all material and utilizing agent recycling
Very low capital costs compared to hard rock exploration plays
Strategic leverage to:

Industrial world seeking non-Chinese sources (especially Germany and Japan)
New cost-competitive separation technologies (Rare Earth Salts)

Attractively priced and de-risked
A well-respected, experienced management and technical team with wide industry depth
Growing Market for Rare Earth Magnets
The recent magnet metal price movement is being driven by the growing demand for high-powered and lightweight magnets that use neodymium and praseodymium (shortened to NdPr). NdPr is the key input to magnets needed in the motors and generators of electric and hybrid vehicles, wind turbines, and a variety of other clean energy applications. These rare-earth magnets are about 3X stronger and 1/10 the weight of conventional magnets, and there is currently no known substitute. This growing market means that NdPr now represents about 80% of the value of global rare-earth demand. The benchmark China prices of NdPr has increased by approximately 30% in the last year and demand is expected to remain robust for many years–and there are virtually no new significant mining projects in development to fill the void.
The rare earth market received a lot of investor attention over the past several years on a precarious supply/demand balance. Industrial market demand for REEs is growing, especially for NdPr, while near-term supplies outside of China remain tight. NdPr represents about 80 percent of the value of total global rare-earth demand. China, the world's main producer is also the main consumer, reducing export flow to global markets. Benchmark China prices of NdPr have increased by about 30 percent over the last year.
According to a recent bullish report from Swiss bank UBS, growing demand from clean energy markets such as EVs and wind turbines alongside a tight supply chain has put the rare earths market at risk for a supply deficit by 2021. Analysts see the upcoming supply deficit as an opportunity for rare earth plays outside of China.
Much of the world's magnetic REEs are found in the phosphate mineral ore monazite, a by-product of the heavy mineral sands mining process. Monazite can be isolated as a nearly pure concentrate and contains significant amounts of magnet-oriented REEs including neodymium, praseodymium, dysprosium and terbium.
The 2016 value of the global annual rare-earth oxide demand for rare-earth magnets was $1.44 billion. Demand from the rare-earth magnet market is forecasted to continue growing, reaching an estimated value of $6.07 billion by 2025.
"We're taking a different approach to rare earth production than our peers. We are not focused on exploration and developing metallurgical techniques to get to production. Rather, we are exploiting a well-known resource," stated Lay. "Our objective is to ship that resource to a North America processing plant and create a rare earth chemical concentrate product. We sell to or partner with a rare earth separation company to separate individual rare earth oxide to be sold as individual products.''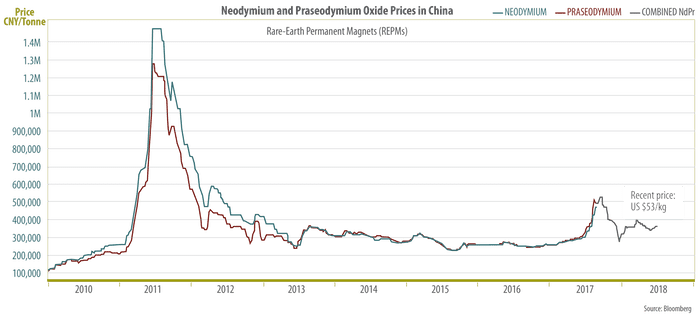 Strategy for Building a Low Cost Rare Earths Producer
Medallion Resources' strategy is centered on the near-term, low-cost production of rare earths from monazite. Monazite is a rare earth phosphate mineral commonly produced and discarded or stockpiled by mineral sands mines around the world making it available in large quantities at a low cost.
Monazite has a long history as a source of rare earths dating back to the late 19th century. The modern process for extracting rare earth elements from monazite is relatively simple and well established. And with many of the heavy mineral sand operations having an average mine life of 20 to 40 years, long-term production is virtually guaranteed.
Medallion Resources' rare-earth production strategy includes entering into long-term monazite supply agreements with reliable heavy-mineral sands producers starting in North America. These sources also exist in different regions outside of China, including South America, Australia and Africa. In this way, the company hopes to position itself as a leading supplier of non-China rare earths chemical concentrate to downstream separation processors.
Conventional hard-rock rare earths projects carry the risk and expense of exploration, drilling, metallurgical design, mine and mill construction, and direct mining costs. By partnering with heavy mineral sands mining operations, Medallion Resources expects to receive a pure ore and thereby incur significantly lower risk and lower capital and operational costs. Cutting out these stages of development will also move projects into production more quickly, generating cash flow faster for future growth even when REEs prices are low.
"We think we've got the best pathway to get into quick production of an REE concentrate," said Lay. "There is a race to production in rare earths and once you're in production you've got a much bigger advantage over the competition. We've got a lot of interest in the downstream side looking for rare earths concentrate product they can then separate into the individual oxides and these markets are keen on having alternatives to Chinese supply."
Medallion Product Validated by Industry
Medallion has developed a modern metallurgical process to produce the ideal feedstock—a magnet metal-rich, rare-earth chemical concentrate product from the by-product monazite sand— for rare-earth refineries worldwide.
"This is a welcome and expected response as well as validation of our approach. Rare-earth processing can be technically challenging, so we have taken a straightforward approach to get to production. Our strategy is to purchase by-product monazite sand. This will serve as a high-grade feedstock for our planned commercial extraction plant," said Lay.
Advancing toward Commercial Production
In February 2017, Medallion announced that the Saskatchewan Research Council (SRC) lab would perform advanced process development test-work focused on process optimization and determine the operating requirements for a full-scale REE extraction plant. The first phase of the SRC's work yielded positive results, providing analysis of a potential new monazite feedstock supply and helped Medallion solidify their choice of acid format for monazite dissolution.
Further test-work in 2017 and 2018 has produced data which will inform economic studies, including preliminary economic assessment or feasibility, to support funding of Medallion's proposed commercial North American REE extraction plant.
In February 2018, the company announced the completion of the bench-scale optimization phase of its metallurgical test work. The test work results showed a mixed rare earth carbonate concentrate product containing 41.6 percent NdPr of rare earth mass compared to the 23.2 percent NdPr of rare earth mass in the monazite feedstock. The test work achieved an 84.8 percent recovery of REEs, excluding cerium, from the initial grinding through to the production of the carbonate concentrate.
"This is an excellent result. It provides confirmation we can recover a marketable mix of magnet metals from the tested commercial monazite feedstock," said Lay. "Given the improving market for REEs and these favourable results, we can confidently accelerate our extraction process test work to deliver a rare earth concentrate product rich in valuable magnet metals."
Medallion shipped a sample of its magnet metal-rich, rare earth concentrate to its partner RES for evaluation in June 2018. Additional prospects for further testing prior to finalizing the process flow sheet have been identified. The company anticipates that process development work will be complete in 2018. The final process flow sheet will then be used for engineering estimates on the capital costs for a commercial monazite rare earth extraction plant.
"We've made solid progress on our extraction flowsheet development work in 2018," said Lay. "Notably, this April, at a rare earth industry event, Rare Earth Salts announced its plans to dramatically expand commercial production output of rare earth oxides. In response, we're working to ensure they're well supplied with a suitable feedstock rich in magnet metals to meet their expected customer demands."
Partnership with North American Processing Facility
In June 2017, as part of the company's plans to process monazite for the production of rare earths, Medallion entered into a partnership with Rare Earth Salts Separations and Refining (RES). RES is an American materials technology company and, under the agreement, they will work with Medallion to produce, market and share revenues from the sale of finished rare-earth products. Medallion will supply a rare-earth concentrate from monazite sand and RES will use its technology to separate and refine it into marketable products. Initial production is anticipated for 2019 at an annual production rate of 500 tonnes of rare-earth oxides per year and growing over time to 3,500 tonnes per year by 2022.
Management
Mark Saxon, B.Sc. (Hons) GDipAppFin, MAusIMM, MAIG—President and CEO
Mark Saxon has 20 years of experience in exploration and resource geology. He graduated from the University of Melbourne in 1991 with a First Class Bachelor of Science (Honours) in geology, and is a fellow of the Australasian Institute of Mining and Metallurgy. Mr Saxon has worked for Pasminco Australia Ltd in Australia and South America.Mr Saxon has considerable experience and practical knowledge of the geology, prospectivity and operating environments of Australia, Northern Europe and South America. Mr Saxon was the President & CEO of Tasman Metals Ltd from 2009 to 2016, until the acquisition of Tasman by Leading Edge Materials. Mr. Saxon is also a director or advisory board member of other publicly-listed companies.
Tom Arnould, CPA, CA—CFO and Corporate Secretary
Tom Arnould is a graduate from Queen's University in Kingston Ontario, receiving his Chartered Accountant's designation after articling with Coopers & Lybrand (now part of PriceWaterhouseCoopers) in 1982. Since then, he has worked with various private companies in the food processing and distribution and group-benefits areas where he assisted with the sale of these companies to public entities. More recently, he has worked as a CFO of a private strategic-marketing firm and as a principal with Adler Business Solutions Inc. In addition, he consults with other companies on finance and accounting matters.
David Haber, ICD.D—Chairman and Compensation Committee Chair
David Haber serves in Vancouver as the Honorary Consul General, Republic of Austria. He was educated in Austria and graduated from the Vienna Business School. In 1981, Mr Haber founded what later became Heath Benefits Consulting Inc., a major National Pension and Benefits consultancy with offices in six major Canadian centres. In 2006, he sold Heath Benefits Consulting to Morneau Sobeco, the largest Canadian employee benefits consultancy, where he served on its Senior Executive Committee until early 2009. As a past President and Founding Member of the BC Chapter of the Certified Employee Benefits Specialists (CEBS), Mr Haber has played a key role in the development of the benefits industry in British Columbia. He is a member of the International Foundation of Employee Benefit Plans (IFEBP), the Canadian Pension and Benefits Institute (CPBI), and BC HRMA.
Rod C. McKeen, LLb—Director
Rod McKeen is a retired lawyer, and was a founder and principal of Axium Law Corporation law firm in Vancouver, Canada, from January 2004 to December 2017. Mr. McKeen had more than 35 years experience in all facets of securities and corporate law pertaining to the mining and mineral-exploration industry. Prior to forming Axium Law Corporation, Mr McKeen was a partner in the law firm of Gowling Lafleur Henderson LLP. Mr McKeen's practice encompassed emerging to mid-size mineral-resource companies with projects and operations around the world and involves dealing with stock exchanges and mergers, acquisitions and financing transactions on a similarly global basis. Mr McKeen earned a Bachelor of Laws degree from the University of British Columbia, Vancouver, Canada, and a Bachelor of Arts degree from the University of Alberta, Edmonton, Canada. Mr McKeen serves as a director of other emerging resource companies.
Andrew Morden, CPA, CA—Director, Audit Committee Chair
With over 25 years of operations and finance experience gained working with start-up, medium sized and large corporations, Mr. Morden is a seasoned executive and leader. He has acted as a Director, CEO and/or CFO for several public and venture-backed technology and manufacturing entities. His experience includes overseeing operations, raising venture and public market financing and leading M&A initiatives. Mr. Morden began his career at KPMG and was a Senior Manager in their Corporate Finance practice before moving on to industry. Mr. Morden is a Chartered Accountant and holds a Bachelor of Commerce (Honours) from the University of British Columbia.
David Shaw, PhD—Director
David Shaw has almost four decades of experience in the technical and financial sectors of the mining and oil and gas resource industries. On the technical side he has specialized in the investigation of the structural controls of mineral deposits, in the financial side he has focussed on financial and risk analysis of resource project investment. After graduating from Carleton University, Ottawa, with a Ph.D. in Structural Geology, he was employed by Chevron Resources Canada as an in-house structural consultant in both the mining and hydrocarbon divisions. He founded the Resource Research Department at Charlton Securities Ltd in Calgary before assuming the position as Senior Analyst at Yorkton Securities, based in Vancouver and Santiago, Chile. Since the mid 1990's he has worked as an independent consultant and serves on the Boards of three other publicly listed resource companies.
Daniel Mamadou—Director
Daniel Mamadou is the founder and executive director of Welsbach Holdings, a Singapore-based firm investing in the discovery and development of the metals and materials that are critical to the global energy transition. Prior to the formation of Welsbach, Daniel co-founded Talaxis Ltd, a subsidiary of Noble Group focused on the development of supply chains of technology metals and materials. He was the director of Talaxis from 2015 until December 2020. In addition, Daniel's professional career has included senior roles at Deutsche Bank in London and Hong Kong, Goldman Sachs in London and as Head of the Corporate Solutions and Financing for Nomura Securities for the Asia-Pacific region. Daniel holds an MSc in International Securities and Banking from the ICMA Centre University of Reading and a BA in Business Management from ESIC-Valencia.
Gabriel Alonso-Mendoza—Director
Gabriel Alonso-Mendoza co-founded Amvest Capital Inc. to support companies seeking growth capital within the natural resource sector. Throughout his career, Gabriel has raised and invested over $1 billion for companies in the mining and metals, oil and gas, and agriculture industries. Before forming Amvest Capital, Gabriel worked on the buy and sell-side ranging from analyst to junior partner. Gabriel graduated from the University of Miami with a degree in International Finance and Marketing.
Kurt Forrester—Metallurgist—Process Developer
Kurt Forrester is a Chartered Chemical Engineer (CEng MIChemE) and Chartered Professional Metallurgist (MAusIMM CP(Metallurgy)). During his 15 year career he has been professionally engaged as an engineering consultant in the metals and minerals, environmental and applied research domains. This includes process development, feasibility assessment (PEA, PFS, BFS) as well as detailed design (EPCM). He has a broad experience base across several commodities including base metals, gold, rare earth elements and industrial minerals. Kurt is a graduate of the University of Sydney (2001) with a BEng (Hon 1st) in Chemical Engineering and more recently with a PhD in Engineering (2007).
Warwick Bartle—Feedstock Acquisition
Warwick Bartle's commercial experience with titanium and related minerals spans almost 50 years. He started as an industrial chemist, working in pigment production for Laporte Titanium (now Cristal Pigments). He soon found his way into international mineral sales and marketing, and over the years has held those responsibilities for titanium minerals, zircon and monazite for leading companies that include Western Titanium (now Iluka Resources), QIT (now Rio Tinto Iron & Titanium Inc), Cable Sands/RZM (now Bemax), and others. Mr Bartle, who is based in Australia, is a graduate of the Royal Institute of Chemistry, London.
Robert Roe—Mineral Sands Geologist
Robert Roe is an expert consulting geologist with over 35 years of diverse experience in mineral exploration, mining-property evaluation, mineral-sands evaluation and supply-chain management. Robert has managed regional polymetallic exploration programs in diverse geologic environments for a variety of mineral commodities including gold, base metals, uranium and titanium. He has worked on all major continents while working for Rio Algom, Phelps Dodge and Essex International as a field geologist and for Kerr McGee Corporation as regional exploration manager and manager of geological services. Environmental remediation is also part of Mr. Roe's resume, leading a Kerr-McGee in-house group of geosciences professionals to deal with remediation of nuclear, mining and chemical-manufacturing sites. Additionally at Kerr-McGee, and its spin-off Tronox, Robert provided titanium-resource evaluations in support of the third largest manufacturer of titanium oxide in the world. Mr. Roe has a MS Geosciences degree from the University of Arizona and is a member of the Society of Economic Geologists.
---
*Disclaimer: The profile provides information which was sourced and approved by Medallion Resources in order to help investors learn more about the company. Medallion Resources is a client of the Investing News Network (INN). The company's campaign fees pay for INN to create and update this profile page, to which links are placed on Investingnews.com and channel newsletters.
The company description, investment highlights and catalysts were sourced by INN and approved by the company. INN does not guarantee the accuracy or thoroughness of the information contained on this page.
INN does not provide investment advice and the information on Investingnews.com profile should not be considered a recommendation to buy or sell any security.
INN does not endorse or recommend the business, products, services or securities of any company profiled.
Readers should conduct their own research for all information publicly available concerning the company.