Matica Enterprises
CSE:MMJ
Supplying Quebec's Self-Medicating Cannabis Market
Overview
Matica Enterprises Inc. (CSE:MMJ,FWB:39N,OTCQB:MMJFF) is a licensed cannabis producer operating in Quebec, Canada. Matica is targeting the self-medicating cannabis and recreational markets by providing high-quality cannabis flower. The company also has its sights on obtaining a license to extract oil, so as to develop distillate and oil-based products. Matica intends to produce proprietary time-released topicals for the pain management market.
Matica is able to develop these products through their partnership with Yunify Natural Technologies, a Quebec-based health and personal care research and innovation technology company. In collaboration with Yunify, Matica is working towards developing a proprietary odor-neutral time release formula and topical creams for individuals looking to self-medicate and manage their pain, among other ailments. Together, the companies have recently announced its first proprietary product, a cannabis odor neutralizer that can be used as a personal spray. The companies are also developing a room deodorizer and topical creams.
Matica also has a 70 percent interest in RoyalMax Biotechnology Canada Inc.'s 10,000-square-foot cultivation facility in Dorval, Quebec. The licensed and operational facility is anticipating the approval of its sales license within the next year. The facility is currently operational and has completed two harvests to date.
Matica's second, wholly-owned cultivation property boasts 181 acres of farmland in Hemmingford, Quebec, which is an hour south of Montreal. The property is ideally located and has the support of the local community. Matica will be building out five 200,000-square-foot greenhouses in stages for a combined production space of one million square feet. Phase 1 construction on the first greenhouse is currently underway. Additionally, the company has allotted approximately 30 acres of tilled land for outdoor growing.
To capitalize on the upcoming edibles market, Matica has acquired Trichrome Treats Inc. Trichrome and RoyalMax are expected to develop a full-range of adult-use cannabis-infused products, such as edibles and beverages. Initially, Matica intends to focus primarily on the chocolate and confectionary market.
Company Highlights
Low power costs associated with growing cannabis in Quebec.
Access to a $20 million equity facility from Alumina Partners.
Yunify partnership facilitates the development of topical creams, among other products for the self-medicating market.
The Dorval facility has a cultivation license and Matica has completed two harvests at the facility to date.
The Hemmingford property covers 181 acres of wholly-owned farmland with farming infrastructure in place.
Construction is underway on first of five 200,000-square-foot greenhouses.
Potential of one million square feet of indoor growing space once construction is complete.
Approximately 30 acres allotted as outdoor growing space.
Cannabis Production in Quebec
Deloitte is predicting that cannabis sales in Canada will generate up to $7.17 billion in 2019. While targeting the Canadian cannabis market, Matica is able to get a strong foothold in Quebec, Canada's second largest province by population. In Quebec alone, the recreational market is expected to generate between $420 million and $1 billion in sales.
Compared to other provinces in the country, Quebec has issued a relatively low number of licenses, having granted them to only 15 companies. However, Quebec remains an attractive location for growing cannabis as the province offers some of the lowest energy costs in the country and a strong pool of land, labor and technical expertise. Additionally, the provincial government has expressed interest in supporting local growers and producers, giving established cannabis companies an advantage over their peers from other provinces.
Dorval facility
In March 2017, Matica acquired a 70 percent interest in RoyalMax Biotechnology Canada Inc.'s 10,000-square-foot cultivation facility in Dorval, Quebec. Matica supplied the funding and building materials required to build out the facility, which is now complete. Additionally, the Dorval facility has received its cultivation license and is one of 15 licensed cannabis facilities in Quebec. Matica is working towards obtaining a sales license for the property, which they expect to receive within the next year.
Matica intends to supply the cannabis market with high quality cannabis flower from this facility. Its proximity to the international airport in Montreal and Highways 20, 520 and 13 provide Matica with the ease of distributing their cannabis products throughout Canada and internationally.
Soon after receiving its cultivation license, the facility received its rooted starting materials in January 2019 and a second shipment in February. The plants were quickly planted and Matica completed its first harvest in May 2019. The company completed a second harvest the following month. Matica expects its fully-operational facility to annually produce one million grams of cannabis. The facility will work on a rotating schedule that allows for harvests every two to three weeks.
Hemmingford facility
Matica has also secured 181 acres of farmland on the South Shore, Quebec, in an area known as Les Jardins du Québec, an hour south of Montreal. Les Jardins du Québec is a microclimate that receives over 1,800 effective growing degree days, as reported by Agriculture and Agri-Food Canada, and ample sunlight. Due to the agricultural developments in the region, power has already been installed on the property and the government will be funding and installing a gas line that will be servicing the region. The property also hosts 150 acres of wooded area, giving the company access to wood on site.
Matica will be building five 200,000-square-foot greenhouses in phases for a combined indoor growing capacity of one million square feet. Phase 1 of construction on the greenhouses is underway. There is also approximately 30 acres of tilled land on the property, which Matica intends to use for outdoor growing. The cannabis grown outside, and in the greenhouses, will be used to develop a line of cannabis distillate and oil-based products, such as creams and other topicals.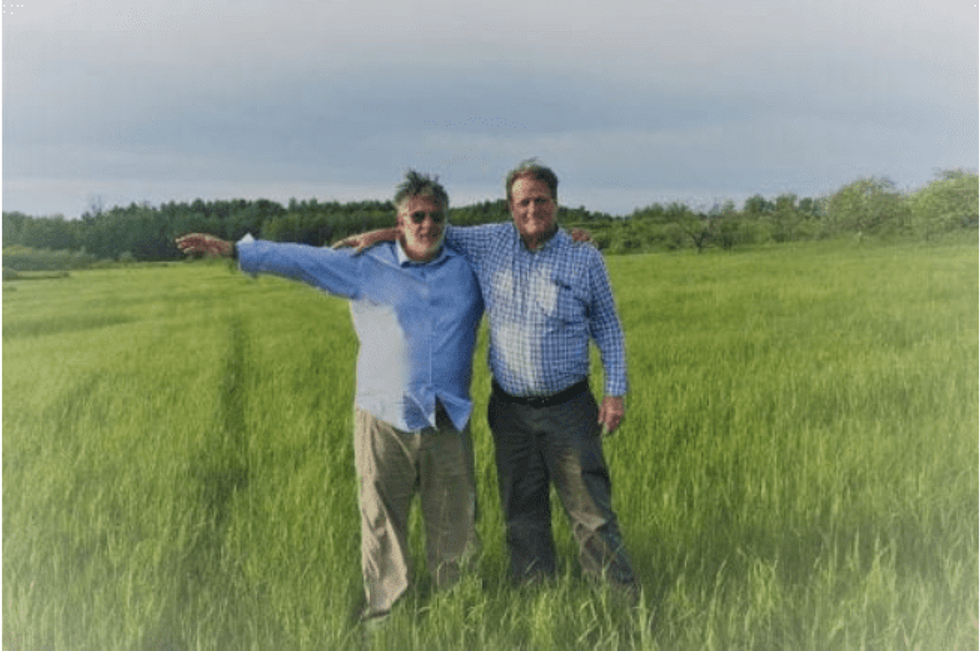 Partnerships and Agreements
Yunify
In March 2018, Matica signed a definitive agreement to acquire a 40 percent interest in Yunify. Through their agreement, Matica will be financing Yunify for $2 million and will be able to address the demand for alternative cannabis delivery systems for pain relief, among other ailments.
Yunify is expected to develop proprietary topical products using the company's mineral and plant-based suspension technologies, including a proprietary odor neutral time release formula that Matica intends to offer as a white-label solution for pharmacies and cannabis retailers. The companies have released their first proprietary product, an odor neutralizer that people can use to get rid of the scent of cannabis following consumption.
Yunify is also developing a line of functional hemp-based topical creams using its patented technologies. The topical creams are expected to use a time-release formula that is not greasy. The products would be available for sale in the US only and under the Matica brand.
Trichrome
In preparation for the upcoming cannabis-infused edibles market, Matica acquired Trichome Treats Inc. in May 2019. Matica and RoyalMax will be working with Trichrome to produce a full-range of adult-use cannabis-infused products, such as edibles and beverages. Initially, Matica intends to focus primarily on the chocolate and confectionary market.
Matica Enterprises' Management Team
Boris Ziger, MBA — CEO and Chairman of the Board
Boris Ziger has over 20 years of experience in the capital markets and has been instrumental in the establishment and financing junior companies. For the past seven years, Ziger has been involved largely in the resource sector and has worked closely with many companies holding both board and senior management positions. He has been appointed Chairman of the board of directors.
George Brown — CFO
George Brown has a Bachelor of Business Administration with Honours from Bishop's University in Lennoxville, Quebec. In 1982, Brown started his career in mining and resources as a Mining Analyst for La Societe en Commandite Camchib, a large flow-through fund established by Campbell Resources Inc. He was promoted to Controller of Culleton Lake Gold Mines Ltd. to oversee accounting, budgeting, payroll, purchasing and expediting a remote fly-in 350 ton a day gold mining operation in the Northwest Territories.
Brown was a financial consultant for Boulder Mining Corporation, Corner Bay Silver Inc., Flanagan McAdam Resources Inc., Muscocho Exploration Inc., MacMillan Gold Corp., McNellen Resources Inc. and Nugget Resources Inc. In September 2001, he became a director of MacMillan Gold Corp. and was appointed President. Brown was President and CEO until the amalgamation of MacMillan Gold Corp. with Duran Ventures Ltd. on October 2008 and was CEO of the amalgamated MacMillan-Duran until August 2009. He has been the President of MacMillan Minerals Inc. since March 2011. Brown was a Consultant to Corner Bay Silver Inc. during the discovery and development through feasibility of their Alamo Dorado project in Mexico, which was purchased in 2002 by Pan American Silver for over US$100 million in shares and warrants.
Charn Deol, Ph.D. — Director
Charn Deol has an extensive understanding of the marijuana industry having been an advocate for the legalization of marijuana since his studies at the University of British Columbia. Deol is a physiological psychologist by profession having earned a M.A. in psychology from UBC and a Ph.D. in counselling psychology from Columbia State College.
He also has over 30 years of experience in the financial markets. He has served on both private and public company boards. His past and current experience includes providing management and consulting services to companies, project analysis, investor relations and the financing of international projects. Deol is Vice-President of the Indo-Canada Chamber of Commerce (B.C.), and actively involved in fostering trade and business between Canada and India and provides corporate advice to foreign companies.
Meissam Hagh Panah — Director
Born and raised in Italy, speaking six languages and having lived and worked internationally, Meissam Hagh Panah's understanding of the complexity and diversity of North American and European culture gives him an advantage to face the challenges of this new and everchanging cannabis market. He brings 10 years of international affairs and business development experience in a variety of industries with a special focus in the past few years on the cannabis and hemp sector in Quebec and worldwide.
Before joining Matica Enterprises, Hagh Panah consulted for several public companies in their cannabis licensing application process with Health Canada. After immigrating to Canada in 2008, he obtained a Certificate in Administration from HEC Montreal while working in diverse management roles in Montreal's technology sector.
Roop Mundi— Director
Mr. Roop Mundi currently serves as Chief Executive Officer of Infuzed Brands Inc. Infuzed is a beverage company that focuses on CBD infused beverages. Infuzed is available in over 150 retail locations across the United States. In addition, Mr. Mundi owns and operates Mundi Capital Ventures – a private equity firm focused on consumer products distribution and logistics. Included in Mundi Capital's investment portfolio is Jilong Plastic Products (North America) Inc. which is the sales, marketing and logistics arm of Shanghai Jilong Plastic Products – the third largest PVC producer of consumer goods worldwide. Mundi Capital currently provides logistics services and solutions for Weveel Products LLC, LoopScooters, Volm Industries and GrillTime Inc. Since its inception in 2015, Mundi Capital has successfully exited in three portfolio companies with an average multiple of 4 times total investment amount.
Prior to Mundi Capital, Mr. Mundi served as Vice President, General Counsel of RCI Capital Group Inc., a private equity firm based in Vancouver focused on Asia based transactions in the technology and energy markets. In addition, Mr. Mundi was Vice President, General Counsel of Kingsdale Shareholder Services Inc., the largest proxy and corporate governance firm in Canada. Prior to Kingsdale, Mr. Mundi was an Associate at Cassels Brock & Blackwell LLP focusing on corporate finance and securities in the real estate, technology and mining sectors. Mr. Mundi currently sits on the Board of Directors for Loopshare Ltd. Loopshare is publicly listed and is an emerging global leader in ridesharing, micro-mobility and sustainable transportation. Mr. Mundi holds a Bachelor's degree from North Carolina State University, a Master's degree from the University of Toronto and a law degree from the University of British Columbia.
Marcel R. Tremblay — Advisor
Marcel Tremblay resides in Quebec City and is a former Member of Parliament. First elected in 1984, he occupied a number of important positions in the House of Commons, including Parliamentary Secretary to the Deputy Prime Minister, to the Minister of Finance and to the Minister of Justice and Solicitor General of Canada.
During his two terms in the House of Commons, he also held the positions of Vice-Chairman of the House External Affairs and National Defence Permanent Committee, Vice-Chairman of the Permanent Public Accounts Committee and Vice-Chairman of the Permanent Members Affairs Committee and was a member of the Legislative Committee Chairman's Committee, Co-Chairman of the Commission on Senate Reform, a member of the House of Commons Permanent Management Committee and Chairman of the ten-member caucus of MPs from the Quebec City area. In addition, he was a member of numerous parliamentary committees including: Canada-China, Canada-Europe, Canada-Japan, Canada-U.S. and Economic-Missions: Germany, Brussels, Moscow, New Zealand, Holland, and Taiwan. Finally, he was the representative of the Canadian government at the U.N., N.A.T.O. and O.E.C.D.
INN does not provide investment advice and the information on Investingnews.com profile should not be considered a recommendation to buy or sell any security.
INN does not endorse or recommend the business, products, services or securities of any company profiled.
Readers should conduct their own research for all information publicly available concerning the company.
Investing News Network websites or approved third-party tools use cookies. Please refer to the cookie policy for collected data, privacy and GDPR compliance. By continuing to browse the site, you agree to our use of cookies.