This profile is part of an investor education campaign. The profile provides detailed information which was sourced and approved by Invictus MD in order to help investors make better investment decisions. The Company's support of Investing News Network ensures we can continue to bring you unbiased, independent news and information.
Resource Investing News Featured Stock
Overview
Invictus MD (TSXV:IMH) is a cannabis company which represents a platform of licensed producers (LPs), under the Access to Cannabis for Medical Purposes Regulations (ACMPR), dedicated to providing high-quality, regulated pharma-grade cannabis for medical and recreational use. Its growers are supported by over 250 acres of buildable property with full access to our team of industry-leading horticulturists, biochemists and project managers.
Invictus MD's business model includes two verticals:
Cannabis cultivation in Canada
Cannabis fertilizer and nutrients
In May 2017, the company completed a bought deal private placement for total proceeds of more than $25 million. "Following our successful financing with Canaccord Genuity Corp., Eventus Capital Corp., Echelon Wealth Partners Inc., GMP Securities L.P. and PI Financial Corp., Invictus MD is well capitalized and prepared for an exciting year of growth," said Dan Kriznic, Executive Chairman.
Invictus MD controls 250 acres of cultivation space that stretches from Alberta to Ontario—the largest land package in Canada for building cultivation facilities.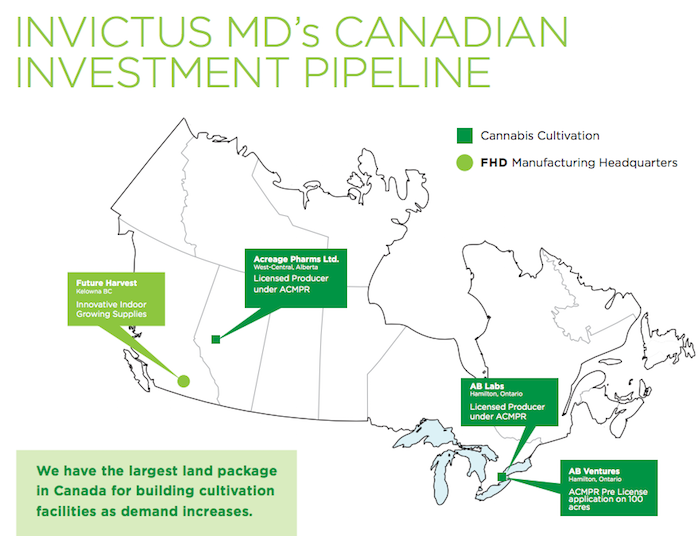 Successful Realized Return on Investment
To date, Invictus MD has acquired and sold the following assets: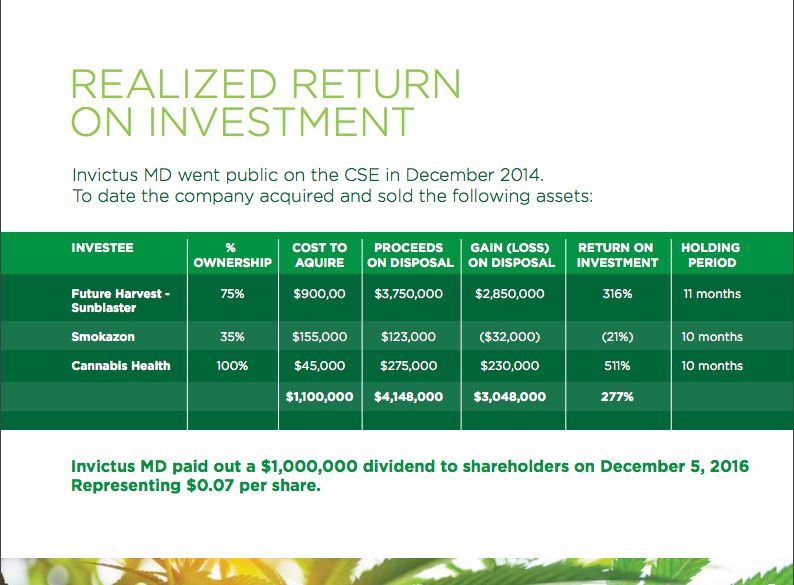 Market Insights: Existing LPs will Struggle to Match Demand
The market for legal Canadian-grown medical cannabis is growing exponentially due to expanding legislation. In the nearly four years since the federal government began the commercial-access program, approximately 167,754 Canadians have registered to purchase medical cannabis from LPs as of March 31, 2017. That figure is nearly 60 percent higher than the end of September 2016.
The Government of Canada under Liberal leader Justin Trudeau is targeting July 1, 2018 as the official start to a legalized recreational cannabis market. Deloitte's report, titled "Recreational Marijuana: Insights and Opportunities", estimates Canadian recreational cannabis could reach retail sales of $6 billion by 2021. The Parliamentary Budget Office estimates that satisfying the recreational cannabis market will require 655,000 kilograms of marijuana production annually, which is far more than the current capacity of existing ACMPR Licensed Producers.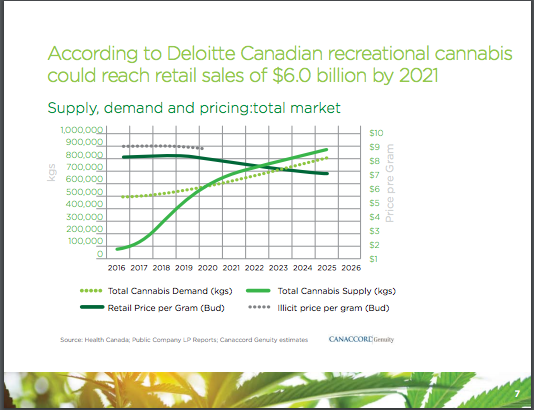 Large Production Platform for Growing Cannabis Market
Acreage Farms LP in Alberta
Invictus MD's latest addition to its cannabis production portfolio is its wholly-owned Acreage Farms Ltd., a licensed producer under Health Canada's Access to Cannabis for Medical Purposes Regulations located in west central Alberta. The operation will benefit from the province's low energy and water costs.
Acreage Farms' 6,800-square foot production facility sits on a 150-acre property. To meet the expected demand of recreational use, the company's Phase 2 development calls for the construction of a 27,400 square foot state-of-the-art production facility, once development permits are in place.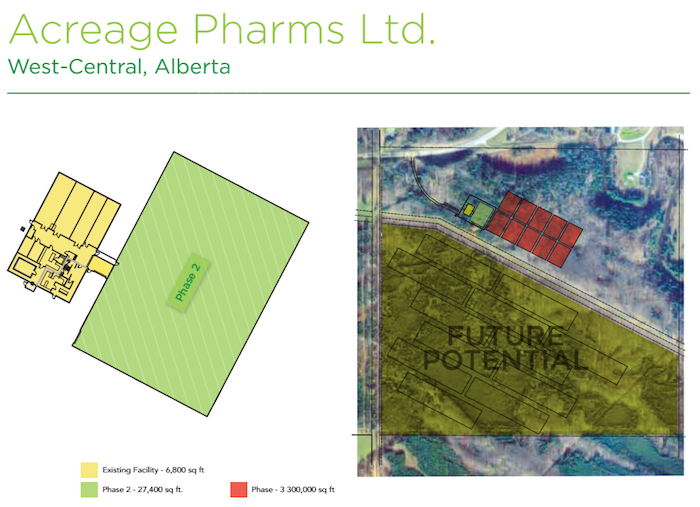 Acreage Pharms also plans to produce extracted or oil based products. Cannabis-based oil products is one of the fasted growing sectors in the industry and is expected to reach $2.1 billion by 2020, according to Hemp Business Journal.
AB Laboratories and AB Ventures: Planned production expansion in Ontario
Invictus MD holds a 33.33-percent interest in both AB Laboratories and AB Ventures. AB Laboratories is a licensed producer under the ACMPR. The company operates a 16,000-square foot facility located in Hamilton, Ontario. AB Labs has achieved full production capacity and recently completed its first harvest.
AB Venture is a newly incorporated company formed to apply for a second licensed expansion facility under ACMPR through its common ownership with AB Laboratories. In May the company closed its 100-acre land acquistion in Hamilton.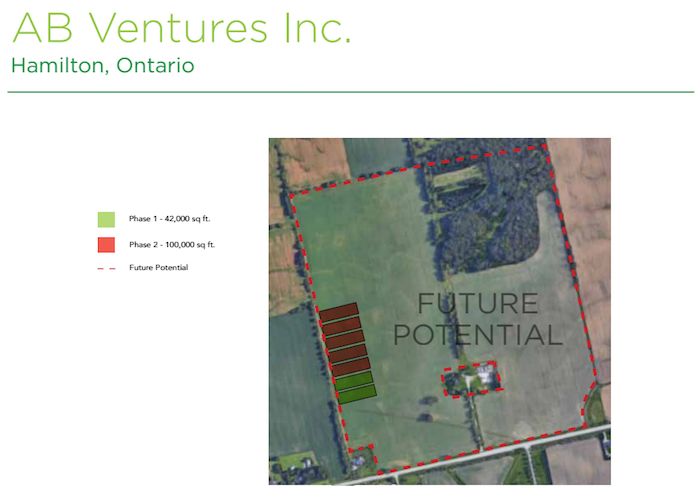 The plan calls for the construction of the initial 42,000 square foot cultivation facilities, with expansion plans to construct additional production facilities on the new land totaling 100,000 square feet. The combined production capacity of both AB Labs and AB Ventures is projected to exceed 25,000 kilograms by 2020.
Future Harvest: Supplying Fertilizer to Growers and Revenue to Shareholders
Future Harvest has manufactured and distributed fertilizers, metering and monitoring equipment for the hydroponic and indoor growing industry for more than 20 years. The company has designed more than 40 proprietary products and its product lines—including Nutradip, Plantlife Products and Future Harvest Plastics—are available across North America, the UK and Europe. Invictus MD acquired an 82.5 percent interest in Future Harvest in February 2015.
The sale of the Sunblaster lighting line for $4.8 million in cash translated into a $0.07/ share dividend in December 2016 to Invictus MD shareholders for a total of approximately $1 million.
The growing medical cannabis market has driven demand for commercial hydroponic nutrients and equipment and Future Harvest is winning a distinct share of this market. In 2016, the company hit record sales with a growth marker of 50 percent year over year. For the nine months ending March 31, 2017, Future Harvest generated $1.787 million in revenue with a gross margin of $907,864, representing a 50.8 gross margin compared to the same period in the prior year.
Future Harvest is actively working to further pursue emerging market opportunities in 2017 and beyond.
Fully-automated bottling line has increased overall production efficiency by 400 percent, allowing the company to meet increasing demand from emerging markets.

R&D partnerships with universities including UBC Kelowna for the development of innovative nutrient formulations.

Several new products ready to launch in 2017 including water-soluble nutrient tablets produced using the company's patent-pending pill press; and the new Plantlife Garden & Greens product line for distribution through large sales channels.
Investment Highlights
Focused on two main verticals within the burgeoning Canadian cannabis sector:

Cannabis Cultivation with LPs under the ACMPR

Fertilizer and Nutrients through Future Harvest Development Ltd.
Production profile forecasted to reach 50,000 kg by 2020—positioning Invictus MD to become one of Canada's top-tier licensed producers.

Revenue generation with Future Harvest.

Since December 2014, has acquired and sold three assets for a combined ROI of 277 percent.

$1 million paid out in dividends to shareholders in December 2016.

Recently completed $25 million financing.
Included in the Horizon Medical Marijuana Life Sciences ETF (TSX:HMMJ)—the first ETF to offer direct exposure to North American-listed cannabis stocks.
Management
Dan Kriznic CPA/CA — Executive Chairman. Founder & Director 
Dan Kriznic founded Invictus MD in June 2014 with a vision to create a Canadian Licensed Producer of Cannabis to meet the significant legal demand. He has been responsible for incubating companies in a variety of industry including Cannabis, Education, Real Estate, Lithium and Senior Care Facilities. Through his strategic direction and execution, these companies have grown from nominal to over $750 million in enterprise value.
Prior to this, he was a Senior Manager at Deloitte where he served in leadership roles in its Assurance and Advisory group, advising public and privately held companies for a period of 10 years.
Trevor Dixon — President, CEO & Director
Trevor Dixon founded Acreage Pharms Ltd in 2013 and with his sister Brenda Dixon, Chief Science Officer, submitted a successful ACMPR application. Prior to that, he extensively studied service businesses, which led to him founding a company that specialized in unique, high quality, bathroom renovations where he developed a franchise system, and within a decade was serving customers in more than 50 cities across Canada. His philosophy of customer value, quality, and excellent service has been carried over into the design and operational strategy of Acreage Pharms Ltd. and Invictus MD. Dixon brings these values into his role at Invictus MD.
George Kveton — Director
George Kveton is co-founding Partner of LOGSCALE Venture Partners, a boutique venture capital firm operating out of Switzerland focused on early stage and growth equity investments in disruptive health technologies including pharma, biotech, life science, personalized medicine, diagnostics and e-health. Before entering the venture capital world, he spent over two decades leading M&A for Fortune 500s, most recently as Vice President at Japan Tobacco International. He is a graduate of Queen's University in Canada, and executive programs at UC Berkeley Haas School of Business and Harvard Business School.
Aaron Bowden — Director
Aaron Bowden specializes in taxation and currently manages all areas of taxation for a large Canadian public company with over 12,000 employees and $4 billion in sales. Prior to this Bowden worked at Deloitte advising clients on assurance and tax matters and has been involved in various forms of financing, mergers, acquisitions, and divestitures.
Josef Hocher — Director
Josef W. Hocher was a founder of Buried Hill Energy, an international oil and gas company, where he acted as co-chief executive in creating, developing and implementing the organization's strategic direction. He continues to serve as the Senior Independent Director and is also either a Chair or a member of various committees. Joe also founded Hitic Energy Ltd., and was a partner at Osler, Hoskin & Harcourt LLP. Hocher currently serves as Chairman of Orthoshop Geomatics Ltd., a geomatics services company; holds the position of Chief Commercial Officer at Field Upgrading Limited and Western Hydrogen Limited and since 2016, has been a Partner at Cassels, Brock & Blackwell LLP.
Paul Sparkes — Director
Paul Sparkes sits on several public and private boards in Canada, the US and Europe, including Thunderbird Entertainment, Bluedrop Performance Learning, Inc., and is a former board member of the Liquor Control Board of Ontario (LCBO). Prior to joining Bell Globemedia in 2001 as Group Vice-President, Public Affairs, Mr. Sparkes held senior positions in public service, with the Governments of Canada, and Newfoundland and Labrador. As Executive Vice Chair, Director and co-founder of Difference Capital Financial, a TSX-listed specialty finance company that invested in media, technology, health care and US real estate, he helped raise over $200 million for investment purposes in under a year.
Larry Heinzlmeir, MBA — VP Marketing and Communications
Larry Heinzlmeir brings over twenty-five years of executive level experience in sales and marketing with several of the largest publicly traded companies in the for-profit higher education sector, namely DeVry and EDMC, that had a combined market cap in excess of $7B.  He was Vice President, Marketing and CMO of a growth-oriented organization that was Canada's largest private, for profit, Education Company and was responsible for the aggressive growth of seven brands and over four years grew revenue ten-fold. He has extensive experience in developing marketing strategies, multi-brand development, product management, communications, creative and content development, and leveraging digital marketing across multiple platforms and technologies including web, mobile and social.
Herrick Lau — CFO
Herrick Lau, currently the Managing Director of Baron Global Financial Canada Ltd., has over 20 years of experience in financial management and corporate finance. As a senior financial executive, he has acted as CFO and, or a director for various public companies listed on the TSX, TSXV and CSE. Lau holds Bachelor and Master's degrees in Business and Economics from Simon Fraser University and is a charter holder of the Chartered Financial Analyst (CFA) designation.