High-Grade Zinc Oxide Projects in Peru
This profile is part of a paid investor education campaign.*
Overview
Zinc One Resources Inc. (TSXV:Z, FSE:RH33, OTC:ZZZOF) is a mineral exploration and development company focused on acquiring, exploring and developing zinc projects in strong mining jurisdictions. Zinc One's key assets are the past-producing Bongará Zinc Mine and the neighboring Charlotte Bongará zinc oxide projects, both situated in the mining-friendly jurisdiction of Peru. The company is focused on achieving near term cash flow from the Bongará Mine and advancing the Charlotte Bongará project while acquiring other advanced zinc assets.
The Bongará Zinc Mine is counted among the world's highest grade zinc deposits. The mine was in production from 2007 to 2008, but shut down due to the global financial crisis and the resulting decrease in price of zinc.  Bongará produced zinc grades greater than 20 percent, from at or near surface, and achieved recoveries over 90 percent. The Charlotte Bongará project has excellent exploration potential with multiple near-surface, high-grade drill intercepts of zinc oxides.
Zinc One's acquisition of both projects marks the first time that these two properties have been controlled by a single operator.  Zinc One's unilateral control means that the area's resource can finally be properly delineated.  The company has access to extensive data and technical work for each dating back as far as the 1990s. Historical data should expedite the path to production, with Zinc One planning to reach this goal as early as 2020.
The company reached a significant milestone in July 2017 with the signing of the surface access agreement with the Yambrasbamba community.  With the agreement in place, Zinc One was able to begin updating the environmental baseline study the company needs to complete in order to submit the Environmental Impact Assessment for further drill permits.
Zinc One commenced drilling in January 2018 at Bongara.  The results of the drill program will contribute to the production of an updated resource estimate, followed by a planned Preliminary Economic Assessment in 2018.  This will help the company work towards bringing the Bongará mine back to production within 24 to 36 months.
Zinc One foresees ample blue sky potential in the region as well as a result of historical data and the findings of the recently completed sampling done in 2017-2018.  Management is confident that the updated data will increase the Bongará Zinc Mine's already impressive historic resource estimate and is looking to explore the mine's Campo Cielo region where more high-grade zinc oxide mineralization has been discovered.  There is also the potential for zinc sulphide deposits found in geologically deeper zones.
At the Charlotte Bongará Project, further exploration is needed to delineate the high-grade zinc oxide mineralization present on surface with the potential for numerous other mineralization in the area. This suggests Zinc One is peering down a well-stocked pipeline.
CEO Jim Walchuck on what sets Zinc One apart from its peers.
Investment Highlights
Among a select few new zinc companies with near-term production potential.
Past production record at Bongara zinc mine shows a greater than 90 percent recovery rate.
Key assets include some of the highest-grade zinc deposits in the world.
Exceptionally high-grade, on surface resource amenable to simple open pit mining methods, minimizing operational cost.
Access to past data and exploration records expected to expedite the permitting process.
Charlotte Bongará Project and other potential targets add up to strong blue sky potential.
Experienced management team has 100 plus years moving mining projects into production.
Deposits are located in Peru, historically an attractive mining jurisdiction.
Zinc One's Bongará project is a company-defining asset.
Well-situated in friendly mining jurisdiction
Both the Bongará and Charlotte-Bongara projects are located in Peru, an advantageous geographical positioning that lowers their risk profile.  Peru is a well-established and attractive mining jurisdiction with clear permitting regulations.  The communities in the area are receptive to mining projects which create local jobs and improve infrastructure.  Reclamation and remediation efforts in the past have left positive associations and laid the groundwork for a rewarding and mutually-beneficial relationship going forward.
Key Asset: The Bongará Zinc Mine
The Bongará Zinc Mine encompasses 8,000 hectares, with high grade zinc oxide mineralization appearing over 1.2 kilometres. The mine has delivered value before with the former operator having mined 148,000 tonnes of zinc here between 2007 and 2008 and increase of almost 50,000 tonnes more than they anticipated.   Zinc One is confident that the current historical resource estimate undervalues the mine because of the disparity in what was anticipated and what was actually mined.
Historic resource estimate likely to increase
Currently, the historical resource estimate sits at about 1.2 million tonnes at a grade of 21 percent zinc.  Zinc One plans to source new data and complete an updated resource estimate following its 2018 drilling program which is expected to be completed in Q4 2018.
Zinc deposits in the 98th percentile for grade
Historic estimates place the zinc grade at over 20 percent.  This level of grade is rare, putting the Bongará deposits in the 98th percentile globally.  Once back in production, the Bongará project will rank among the world's highest-grade zinc mines allowing for near-term cash flow that will enable Zinc One to advance other targets.
Proven metallurgy suggests >90 percent recovery rate
It can be challenging to extract zinc from non-sulphide ores, but the Bongará Mine has an impressive recovery rate: the mine's previous operator saw a greater than 90 percent recovery for its zinc oxide mineralization. They used a Waelz kiln, the same simple processing method Zinc One plans to use. The company expects to see a similarly impressive recovery because the metallurgy is proven.
High value per tonne
Initial production will be concentrated at the Bongará Zinc Mine, with management planning to mine 500 tonnes per day initially.  With a zinc grade of over 20 percent, each tonne is worth approximately $550 on surface.
"The high-grade Bongará Zinc-Oxide Project will be our major focus in the near term. We also firmly believe that there is substantial upside for additional high-grade, zinc-oxide mineralization along the six-kilometre long trend of the known mineralization from Mina Grande in the southeast to Charlotte Bongará to the northwest," said Walchuck.
2018 drilling program
In parallel with sampling work conducted in 2017 and early 2018, which confirmed high grade values across the Bongarita, Mina Chica, Mina Grande Sur and Mina Grande Norte zones, Zinc One launched its drilling program in January 2018.  Drilling continued to validate these results, showing high grade intersections across three of the four areas.
Results included 2.4 metres of 38.1 percent zinc at Bongarita, 21 metres of 27.5 percent zinc at the Mina Chica zone, as well as 20.5 metres of 34.3 percent zinc and 8.2 metres of 42.7 percent zinc at Mina Grande Sur.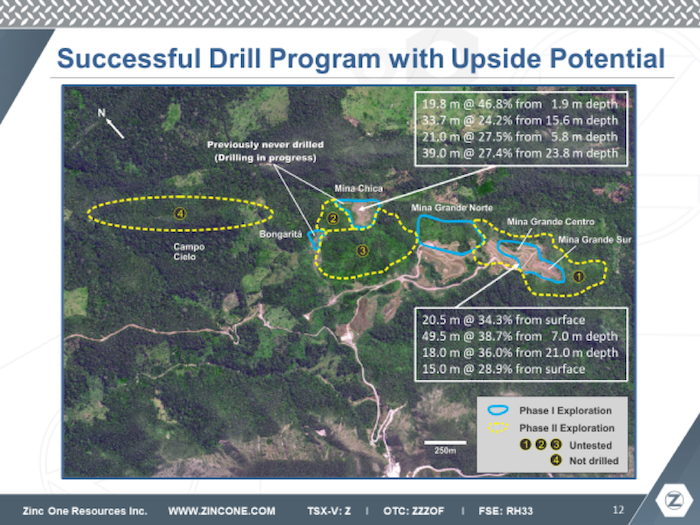 Additional Key Asset: The Charlotte Bongará Project
The Charlotte Bongará Project is primarily where Zinc One sees its blue sky potential.  Some 3,115 hectares in size, the area has already been subject to extensive upside exploration.
Past exploration shows promise
Approximately 95 drill holes from previous programs across 7,722 metres have shown high grade near-surface drill intercepts of zinc oxides: 29.5 percent zinc across 15.5 metres, 26.1 percent zinc across 12.5 metres, and 29.7 percent zinc across 11.5 metres.  Zinc One benefits from all previous research and exploration in the area, which should allow the company to expedite its future development and permitting.
Management
Jim Walchuck, BSc., PEng —President, CEO and Director
Jim Walchuck is a mining professional with over 37 years of national and international experience in the minerals industry, including work in North America, Slovakia, the UK, Ghana, and Tanzania. Walchuck was the Manager Mining for Barrick at the Bulyanhulu Gold Mine in Tanzania from 1999 to 2002. There he oversaw the building of a multi-million-ounce, high-grade underground mine in 24 months and achieved over 2 million man-hours without a lost-time accident. Prior to his 6-year involvement with Bulyanhulu (first as Sr. Project Manager with Sutton Resources then as Manager Mining for Barrick), Walchuck was Manager of Mining and then Manager – Corporate Operations for Royal Oak Mines. This was preceded by a 5-year term as Chief Mining Engineer for Tarkwa Goldfields in Ghana. A member of the Professional Engineers of Ontario for 28 years, Walchuck holds Bachelor Degrees in both Science and Engineering.
Dr. Bill Williams—Chief Operating Officer and Director
Dr. Bill Williams is an economic geologist with extensive experience in South America. He is a former Chief Executive Officer, Director and President of Orvana Minerals Corp. and since leaving that company in 2013, he has been a consultant to the mining industry. Prior to joining Orvana Minerals, he was a Vice President for Phelps Dodge Exploration. He holds a PhD, Economic Geology from the University of Arizona.
Greg Crowe—Director
Greg Crowe is a professional geologist with more than 35 years of exploration, business and entrepreneurial experience throughout North America, Latin America, Africa and Southeast Asia. Since August 2016, Crowe has served as Chief Executive Officer, President and director of Silver One Resources Inc., a mineral exploration company with silver projects in Mexico. Previously, Crowe served as a director, Chief Executive Officer and President of Entrée Gold Inc., a mining company listed on the TSX, from May 2003 to November 2015. Crowe was also co-founder and President of Azimuth Geological Inc., a private consulting company specializing in exploration and management services for junior and major mining companies such as Rio Algom Ltd., the Prime Group and Westmin Resources Limited.
Barry Girling—Director
Barry Girling has been active in various aspects of mineral exploration since 1977. He couples his geological understanding with a B.Com. Finance degree (U.B.C. 1990) to provide consulting services to a number of TSX Venture Exchange companies. Since August 2016, Girling has served as a director of Silver One Resources Inc., a mineral exploration company with silver projects in Mexico. He has strong capital markets experience gained as a founder and director of Foundation Resources Inc. and Search Minerals Inc. Girling was also a director of Roxgold Inc. from August 2006 through September 2102 and completed the re-organization of Roxgold Inc. as well as the acquisition of its Burkina Faso gold property. Aside from BRS, Girling was President and CEO of Birch Hill Gold Corporation from November 2012 until it amalgamated with Canoe Mining Ventures in June of 2014. He continues as a director of I-Minerals Inc. and Kiska Metals Corporation.
Gunther Roehlig—Director
Gunther Roehlig has more than 15 years of experience in the financial and investment industry. In particular, Roehlig has experience in restructuring, managing and financing junior public companies. Most recently, Roehlig served as the president of Terra Ventures Inc., which held a 10-percent stake in the high grade Roughrider uranium discovery owned by Hathor Exploration. In May 2011, Terra Ventures was acquired by Hathor Exploration – Hathor was then subsequently acquired by one of the world's largest mining companies Rio Tinto in late 2011.
Natasha Tsai—CFO
Natasha Tsai is a Chartered Professional Accountant with Malaspina Consultants Inc. Prior thereto, she was a senior accountant with Grant Thornton LLP. She has acted as CFO and/or controller of a number of listed companies, including Hello Pal International Inc., ImmunoPrecise Antibodies Ltd. and PPX Mining Corp, and has corporate finance and listed company experience in a number of sectors. She has a Bachelor of Commerce degree.
---
*Disclaimer: The profile provides information which was sourced and approved by Zinc One Resources in order to help investors learn more about the company. Zinc One Resources is a client of the Investing News Network (INN). The company's campaign fees pay for INN to create and update this profile page, to which links are placed on Investingnews.com and channel newsletters.
The company description, investment highlights and catalysts were sourced by INN and approved by the company. INN does not guarantee the accuracy or thoroughness of the information contained on this page.
INN does not provide investment advice and the information on Investingnews.com profile should not be considered a recommendation to buy or sell any security.
INN does not endorse or recommend the business, products, services or securities of any company profiled.
Readers should conduct their own research for all information publicly available concerning the company.