Overview
Sudbury, Ontario is like no other mining district in the world. The Canadian jurisdiction boasts a rich history rooted in mining and widespread mineralization that leverages advantageous positioning on the iconic Canadian Shield, land that is located right on the third-largest known impact crater on earth.
Known famously for its high-yield copper and nickel production, the mining-friendly district also hosts tremendous precious metal exploration and production across its many historic and past-producing mines. With such diverse mineralization and unique rock formations dating back millions of years, Sudbury presents investors and exploration companies with a perfect storm of discovery potential and rich historical production records.
Graycliff Exploration (CSE:GRAY,FSE:GEO,OTC:GRYCF) is a Canadian-based junior exploration company exploring highly prospective gold projects in this historic gold-producing district of Ontario, Canada. The Company's project portfolio consists of its flagship Shakespeare gold project and the newer Baldwin project.
The flagship Shakespeare project is located around the historic Shakespeare gold mine 88 kms west of Sudbury,Ontario. The 1, 025 hectare property leverages the region's deep mining roots and high-grade mineralization in the shadow of a historic headframe. Historic and current exploration demonstrates exciting discovery opportunities and promising gold grades across multiple quartz vein and quartz vein stockwork targets.
The Baldwin project is just East of the Shakespeare property and both projects are transected by the prolific Murray Fault. Both projects are also situated in a well-known geological zone of the Canadian Shield, where the Archean, Southern and Superior geological provinces intersect. This boasts tremendous exploration opportunities for both projects
The next steps for Graycliff include continuing extensive drilling and further exploration programs for high-grade gold at Shakespeare and prospecting, sampling and geophysics at Baldwin. Historic work at Baldwin was for uranium only and historic reports suggest similar geology to Shakespeare. . The Company already initiated its Phase Three drilling program at its flagship property and remains excited uncover future gold discoveries.
Graycliff has a tight capital structure with 25 million shares outstanding with close to 40% being held by management, insiders and strategic shareholders. In April 2021, the Company announced the completion of a C$2.4 million non-brokered private placement. The net proceeds from the financing mean that Graycliff's exploration programs at Shakespeare and Baldwin are fully funded through 2022. The Company hopes to find gold at Baldwin in 2022 and create a new Ontario gold camp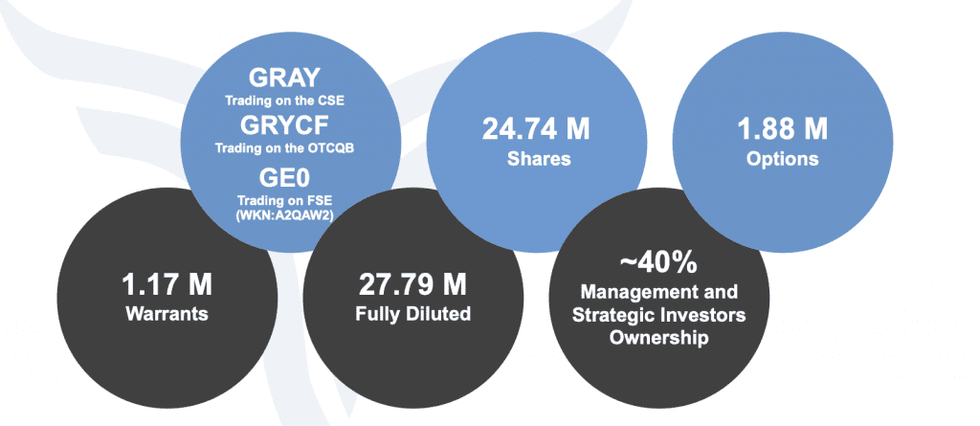 Graycliff Exploration's management team and technical advisors bring together deep exploration experience and a pedigree across multiple major projects in Ontario. A notable technical advisor driving Graycliff's mining operations is Bruce Durham, a significant figure credited with the discovery of several significant economic mineral deposits, including the David Bell mine, the Golden Giant mine, the Redstone Nickel mine and the Bell Creek Mine. Together, this leadership roster primes Graycliff for tremendous discovery and economic upside.
Company Highlights
Graycliff Exploration is a Canadian junior exploration company engaged in acquiring, exploring, developing and extracting precious metals in prolific mining districts. Its property portfolio includes the Shakespeare and Baldwin gold projects located on the prolific Canadian Shield west of Sudbury, Ontario.
The flagship Shakespeare project is located around the historic Shakespeare gold mine. Current exploration includes the third phase of drilling to identify further high-grade, near-surface gold and identifying new targets along it's SW-NE trending mineralized horizon of over six kilometers.
Historic reports suggest that the adjacent Baldwin project has similar geology to Shakespeare and initial field work is being carried out in 2021..
The Company has a tight share structure with close to 40% of its shares management, insiders and strategic shareholders.
Graycliff has an impressive management and technical advisory team with deep roots in exploration, project development and corporate finance.
Key Projects
Shakespeare Project
The Shakespeare and Baldwin Projects have excellent infrastructure with close proximity to the Trans-Canada highway, utility networks and a strong, local workforce. Many of Graycliff's workforce are shareholders and therefore very loyal to the Company.
Graycliff has now completed Phase One and Phase Two of its drilling program, which totalled of 2,800 metres and 5 of the first 7 holes returned anomalous gold values, including: 8.1 metres ("m") of 3.2 grams of gold per tonne ("g/t Au"), 6.0 m of 4.6 g/t Au, 5.5 m of 8.6 g/t Au. The Company has recently released the first two holes of the 14 hole phase two drill program and both were spectacular with hole 8 being 16.0 m of 16.4 g/t Au and hole 9 being 16.0 m of 13.3 g/t Au. The rest of the results from phase two are expected over the next couple of months. . The Company is also working on a 3D model of the current mineralization, which is expected to be completed in early 2022.
Baldwin Project
The Baldwin project comprises three mining blocks totalling 1,500 hectares located east of the Company's flagship Shakespeare project. The property has not been historically explored for gold, but historic reports from uranium exploration suggest it has similar geology to the Shakespeare Project.. The next steps for Baldwin include preliminary surface sampling and geophysics planned for late-2021.
Should Graycliff find gold at Baldwin, its proximity to Shakespeare could be the makings of a new Ontario Gold Camp.
Management Team
James Macintosh – President & Director
James Macintosh has over 35 years of experience in mineral exploration, mining research analysis, corporate finance and management of private and public resources companies. He is also currently the president, CEO and director of privately-held Kingsview Minerals and a seed investor and director of CircuitMeter. He was the lead director and Chair of the Audit Committee of Carlisle Goldfields prior its sale to Alamos Gold.Macintosh has a B.Sc. (Geology) and is a member of Queen's University Geology Council.
Julio DiGirolamo – CFO & Director
Julio DiGirolamo is a Chartered Professional Accountant with over 25 years of senior-level public company experience, 15 years of it in the mining sector. He is also the CFO and director of several junior exploration and development companies. DiGirolamo's key areas of experience include corporate governance and regulatory matters. He was the CFO of Carlisle Goldfields prior to its sale to Alamos Gold.
David Lees – Director & Non-Executive Chairman
David Lees is the managing director of Peninsula Investments (WA) Pty Ltd and Casey Lees International Pty Ltd. He is also the non-executive director of Sultan Resources Ltd.
Nicholas Konkin – Director
Nicholas Konkin has extensive business experience with over a decade of developing successful private and public resource and technology start-up's combined with a strong background in wealth management and investor relations spanning resources, technology and medical services. Mr. Konkin is currently Vice President of Corporate Development for Grove Corporate Services, a Toronto based firm specializing in full-service aftermarket support for public and private companies, including providing stock exchange listing services.
Bruce Durham – Technical Advisor
Bruce Durham is credited with the discovery of several significant economic mineral deposits including the David Bell Mine (Hemlo), the Golden Giant Mine (Hemlo), the Redstone Nickel Mine (Timmins) and the Bell Creek Mine (Timmins).
Don McKinnon Jr – Technical Advisor
Don McKinnon Jr. is a very experienced prospector who has worked all over the world with deep experience in Ontario, who has been involved in managing all aspects of exploration from property acquisition and grassroots exploration, to seeing projects through to development.
Request an Investor Kit
EXCITING upcoming projects!
IN-DEPTH reliable insights!
SUCCESSFUL growth strategies!
VALUE-BASED content!
Graycliff Exploration