Building Mexico's Next Premier Gold Mines
This profile is part of a paid investor education campaign.*
Overview
Telson Mining Corporation (TSXV:TSN, OTCBB:SOHFF) holds two properties in premier mining locations within Mexico, Tahuehueto and Campo Morado. Both of Telson Mining's properties have significant historical exploration results one also with past production from 2009 to end 2014. Telson Mining also expects that both properties have further exploration and production opportunities beyond those currently identified.
Telson's Tahuehueto project was acquired by the Company in 1997. The majority of exploration activities were performed between 2005 and 2008 and the company is now in a position to carry the property to production. In anticipation of this, Telson collected and processed a 3,500 tonne Initial Bulk Sample in early 2017, which enabled the sale of 259 dry tonnes of zinc concentrate and 201 tonnes of lead concentrate for US$1.47 million. The success of this initial bulk sample allowed the company to initiate preproduction mining with toll milling in an off-site processing plant. During Q1 2018 toll milling at the Atocha Processing Plant milled approximately 9,503 tonnes of ore. The average head grade of the total pre-production ore processed was 5.44 g/t gold, 61.59 g/t silver, 4.54% zinc, 2.25% lead.
This toll milling produced 360.29 tonnes of lead concentrate with average grades of 50.18 % lead, 99.25 g/t gold, 1,185 g/t silver, 12.19 % zinc and 712.71 tonnes of zinc concentrate with average grades of 46.28 % zinc, 7.41 g/t gold, 105 g/t silver, 0.93 % lead.
The estimated total cash sale value of the lead and zinc concentrates produced during Q1 was approximately US $3,039,487 based upon those concentrates delivered to Trafigura and invoiced by the Company to date
Telson has also acquired 95 percent of the equipment required for a 1,000 tonne per day processing facility, obtained permits for both an existing and a new tailings disposal facility and have entered a leasing facility with Caterpillar for US$2 million of mobile equipment and initiated the above referenced preproduction program, mining between 100 to 130 tonnes per day and shipping ore to a toll mill for processing and subsequent sale of concentrates. Preproduction is planned to continue during construction and commissioning of its own processing plant on site, which was permitted in October 2017. On November 2017, Telson entered into a Loan Facility and Offtake Agreement with Trafigura Mexico SA de CV, a market leader in the global commodities industry, for up to US$15 million which will provide the bulk of the capital requirements to construct and operate an initial 1,000 tpd mining operation at Tahuehueto.
The Campo Morado project is a polymetallic mine that Telson purchased from Nyrstar in April 2017 for an agreed US$20 million, of which only US$3.5 million have been paid to date in accordance to the agreement. Under Nyrstar, the property was in production from 2010 to beginning of 2015, with 2014 results including 657,000 tons of ore with an average grade of 1.2 g/t gold, 115.7 g/t silver, 4.6 percent zinc, 1.2 percent copper and 0.9 percent lead. In September 2017, Telson entered into an offtake and loan facility agreement with Trafigura Mexico SA de CV for US$5 million which helped fund the restart of production operations in October 2017 at an initial mill throughput of 1,400 tonnes per day. In November 2017 Telson released a new NI 43-101 resource estimate for the Campo Morado property which was subsequently updated with the release on April 4, 2018 of the Company's Preliminary Economic Assessment, which outlined a Measured and Indicated resource of 16,6 million tonnes with grades of 1.70 g/t gold, 123 g/t silver, 0.80 percent copper, 0.93 percent lead and 4.01 percent zinc.This is complemented by an Inferred resource of 988,000 tonnes with 1.32 g/t gold, 116 g/t silver, 0.64 percent copper, 0.92 percent lead and 3.2 percent zinc..
On November 13, 2017, the Company announced that it had delivered its first Campo Morado produced zinc concentrates to Trafigura's warehouse in Manzanillo, Mexico, and since re-starting operations at Campo Morado in October the mill is now operating on a 24/7 continuous basis, more recently approaching a production rate of 2000 tons per day in April 2018.
In August 2017, Fundamental Research Corporation issued a research report on the company . The goal of the report was to initiate coverage on the company and its two Mexican properties and it has since increased market awareness and interest in Telson.
A subsequent independent research report was published by Beacon Securities, a Toronto-based investment banking group, initiating coverage of Telson after analyst Michael Bandrowski conducted a site visit to both of Telson's projects. The research report gave a strong by recommendation.
Telson's management team is one with significant insight and experience within the Mexican mining industry and they have over 200 years of collective experience in the mining and capital market industries. Management and insiders hold approximately 52 percent of the shares of Telson.
Company Highlights
Two projects in pre-production in prime gold mining Mexican jurisdictions.
Prefeasibility study for Tahuehueto with an after-tax NPV (8 percent) of US$77  million, an IRR of 36 percent and a 21-year mine life based on a 550 tonnes per day.
Telson has initiated construction of a mine capable of processing at least 1000 tonnes per day in order to achieve better economics by shortening the mine life by 50% or more.
Tahuehueto Probable Reserves as calculated within the prefeasibility study are listed as 3.26 million tonnes with grades of 3.40 g/t gold, 41.80 g/t silver, 0.35 percent copper, 1.19 percent lead and 2.24 percent zinc.
Tahuehueto measured and indicated resource, including above probable reserves, are listed as 6.11 million tonnes grading of 2.48 g/t gold, 42.82 g/t silver, 0.31 percent copper, 1.20 percent lead and 2.15 percent zinc. Inferred resources add another 3.5 million tonnes of 1.31 g/t gold, 37.6 g/t silver, 0.27% copper, 1.34% lead, and 2.44% zinc.
Tahuehueto resources contain an estimated 634,000 oz gold and adding silver as a gold equivalent elevates this number to 815,000 ounces gold equivalent with Au + Ag only. Potential equivalent value available in base metals of lead and zinc and copper.
Purchase of Campo Morado property included full infrastructure, surface and underground mining equipment for 2,500 tonne per day production.
Campo Morado Measured and Indicated resource of 16,6 million tonnes with grades of 1.70 g/t gold, 123 g/t silver, 0.80 percent copper, 0.93 percent lead and 4.01 percent zinc. Additional Inferred resource of 988,000 tonnes with 1.32 g/t gold, 116 g/t silver, 0.64 percent copper, 0.92 percent lead and 3.2 percent zinc.
October 2017 Telson relaunched production at Campo Morado.
Current Market Cap (April 25, 2018) of approximately C$89 million.
Tightly held share structure where management plus insider controlling major shareholder holds  approximately 52 percent of shares.
Management team with over 200 years of combined experience in the mining and capital markets industries and significant insight and hands on operation experience in the Mexico mining industry.
Tahuehueto Project in the Durango State
The Tahuehueto project is a 7,492-hectare property owned 100 percent through Telson's Mexican subsidiary company. The property is located in Mexico's Durango state within the Sierra Madre mountain range—a region that hosts multiple large-scale gold, silver and base metal deposits. Tahuehueto boasts a large gold, silver and base metal epithermal mineralizing system hosting numerous vein deposits and sits approximately 100 kilometers southwest of the Guanacevi region silver mines and 25 kilometers north of Topia's silver mines.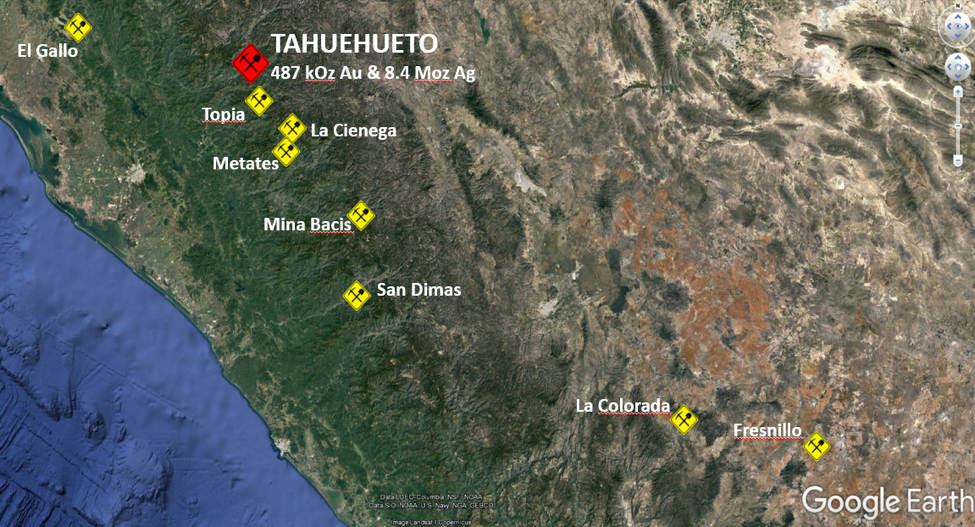 Telson has owned the Tahuehueto property since 1997 and the company performed multiple exploration activities over the last two decades when funding was available in favourable market conditions, particularly between 2005-2008. The most recent work on the mine began in mid-2016 as Telson looked to advance the mine into its production stage. Telson sees this district-scale property as having vast exploration potential and has only explored within 500-750 hectares of the 7,400 hectare property to date.
Prefeasibility Study
Part of the initial work conducted included a NI 43-101-compliant Prefeasibility Study for a 550-tonne per day ore processing mine. The study's results released in January 2017 include the following highlights:
Average Annual earnings before interest, taxes, depreciation and amortizatino ("EBITA") of US$16.7 million
After-tax NPV (8 percent discount) over US$77 million
After-tax IRR of 36 percent
Payback period of 3 years
Mine life of 21 years
Capital cost of US$32.5 million (Telson has reduced this to US$19.5 million as they will be using used milling equipment and leasing mobile equipment)
Telson recognizing that a 21 year mine life is not optimal,  and conducted an internal PFS level study and has initiated the construction of a mine capable of processing at least 1000 tonnes per day in order to reduce the mine life of the current reserve by half and thereby achieve vastly improved economics. Construction at the mine site commenced in January 2018 and the company is targeting initial operations towards the end of 2018. R.
The 550 tonne per day prefeasibility study calculated probable reserves as listed below. Of note is the elevated gold grade of 3.4 g per tonne within the reserves which will make Tahuehueto, once in full scale production, one of the highest-grade gold producers within Mexico. The PFS also included resource estimates for measured, indicated and inferred resources.
Telson indicates that with further underground development work allowing exploration along strike and to depth along the mineralized structure containing the current reserves and resources plus exploration of additional unexplored mineralized structures there is excellent potential for increasing both reserve and resources at the project which could easily allow expansion of the plan 1000 tonne per day mill processing rate.
Advancing the Tahuehueto project into production
Since late 2016, Telson has conducted significant work in order to successfully reach their 2018 production target.
As part of a pre-production initiative and based upon the successful results of the Initial Bulk Sample, Telson's management elected to conduct a program of continuous pre-production during the Tahuehueto mine development and construction phase. Between July and December 2017, Telson mined ore underground at an average rate of 132 tonnes per day from an ore shoot estimated to contain at least 50,000 tonnes. During this period, the company mined 22,662 tonnes of ore and the Tahuehueto toll mill processed 14,377 tonnes of ore averaging 6.49 g/t gold, 84.36 g/t silver, 5.29 percent zinc and 2.64 percent lead. Average recoveries of the processed ores included 82.4 percent for gold, 87.8 percent for silver, 79.4 percent lead and 74.4 percent zinc. As such, the company produced 666 tonnes of lead concentrate and 1,130 tonnes of zinc concentrate during 2017 preproduction.
During Q1, the first three months of 2018 toll milling processed approximately 9,503 tonnes of ore. The average head grade of the total pre-production ore processed was 5.44 g/t gold, 61.59 g/t silver, 4.54% zinc, 2.25% lead. This toll milling produced 360 tonnes of lead concentrate with average grades of 50.18 % lead, 99.25 g/t gold, 1,185 g/t silver, 12.19 % zinc and 712 tonnes of zinc concentrate with average grades of 46.28 % zinc, 7.41 g/t gold, 105 g/t silver, 0.93 % lead. The estimated total cash sale value of the lead and zinc concentrates produced during Q1 was approximately US $3,039,487 based upon those concentrates delivered to Trafigura and invoiced by the Company to date.
To date Telson's preproduction toll milling initiative has so far approximately generated $9.75 million in payments including the proceeds from the initial industrial scale bulk sample.
Processing Facility
Following the bulk sample analysis, in February 2017, Telson completed the acquisition of a sulfide flotation mineral processing facility capable of processing 1,000 tonnes per day. This included the purchase of 80 percent of the milling equipment needed to operate the facility, with the remaining 20 percent being sourced. The bulk of the remaining equipment has been sourced and purchased and is currently being transported to the mine site in anticipation of installation and assembly.
In August 2017, Telson also announced that it had received two permits from Mexico's Semarnat (Secretaría de Medio Ambiente y Recursos Naturales). The first of these allows the company to reactivate their existing tailings disposal facility, which has a capacity of 382,666 square meters and will handle the initial tailing disposal requirements for the first one to two years of production at a rate of 1,000 tonnes per day. The second permit enables Telson to construct a new and larger tailing facility on the property that will provide capacity for the existing resource and well beyond as new resources and reserves are added through exploration. The permit is for an area covering 9.38 hectares with an initial permitted capacity of 13,255,407 square meters.
In October 2017, Telson received a third permit from Semarnat that allows the company to construct a mineral processing facility, related mining facilities, infrastructure and underground development on the Tahuehueto project. All of these steps have been taken in the effort of enabling production on the Tahuehueto property, thus enhancing its value.
"Once Tahuehueto is in commercial production, it will be among the top five highest grade gold producers in Mexico, as gleaned from an article published by Samuel Adams of BnAmericas in Dec 12, 2016."
Campo Morado
The Campo Morado mine was first developed by Farallon Resources, which declared commercial production for the project in 2009. In 2010, Farallon was acquired by Nyrstar in a friendly takeover valued at Canadian $420 million. Nyrstar expanded the mine to its present day capacity with additional investment and produced up to January 2015 when production was halted indefinitely due to deteriorating industry conditions and the mine was placed on care and maintenance until it was recently acquired by Telson. Upon acquisition Telson overhauled and serviced the mill preparing it for a preproduction restart, which was launched in October 2017.  Milling started at 1400 tonnes per day and has steadily increased close to 2000 tonnes per day in April 2018. With the commencement of the new bulk underground mining method to be implemented by Telson's management , anticipated to start in May 2018, Mill throughput rate will be increased towards the mills ultimate capacity of 2500 tonnes per day.
Preliminary Economic Assessment (PEA)
In April 2018, Telson released a positive PEA for the Campo Morado property. Highlights from the PEA include the following:
Pre-tax NPV (8 percent discount) of US$81 million
After-tax NPV (8 percent discount) of US$65 million
Undiscounted cashflow before income and mining taxes of US$114 million
Undiscounted cashflow after income and mining taxes of US$91 million
Life of mine of 12 years, with 9.7 million tonnes of potential mill feed with average grades of 4.33 percent zinc, 1.0 percent lead, 0.78 percent copper, 131.9 g/t silver and 1.71 g/t gold
Mining rate of 2,500 tonnes per day
The company plans to implement further strategies to increase the NPV, including making use of an efficient, local workforce, conducting an aggressive exploration
campaign to increase the mineral resource, and analyzing leaching processes to increase recovery rates.
An updated NI 43-101 resource estimate was included in the PEA, using a 5.5% zinc equivalent cut-off. The resource estimate showed a measured and indicated resource of 16.27 million tonnes with grades of 1.70 g/t gold, 123 g/t silver, 0.80% copper, 0.93% lead and 4.01% zinc. This is complemented by an additional Inferred resource of 988,000 tonnes with 1.32 g/t gold, 116 g/t silver, 0.64% copper, 0.92% lead and 3.20% zinc.
Production at Campo Morado
In October 2017, Telson Mining announced the restart of operations on the Campo Morado property. In February 2018, the company provided an update on the project's preproduction efforts to Dec 31, 2017, indicating that the mill had processed 106,655 tonnes of mineralized development material over 71 operational days at an average rate of 1,502 tonnes per day. During the first 2.5 months of production, the mine produced 5,021 tonnes of zinc concentrate averaging 44 percent zinc, 1.04 g/t gold and 502 g/t silver.
The company shipped approximately 4,530 tonnes of zinc and 578 tonnes of lead concentrate for sale up to Dec 31, 2017. Preliminary invoicing resulted in payments of US$4.8 million equating to approximately 90 percent of final estimated sale price.
First quarter 2018 preproduction results from Campo Morado mine as disclosed in Telson's April 18, 2018 news release are reported as follows,
Mill processed 148,676 Tonnes of mineralized development material during first quarter 2018 with, average head grade of 3.65% Zinc, 0.41% Copper, 0.90% Lead, 1.14 g/t Gold, 108 g/t Silver,
Produced 8,206 wet tonnes of Zinc concentrate with average grades of 45.16% Zn, 1.26% Cu, 1.94% Pb, 436 g/t Ag, 2.08 g/t Au
Produced 1,365 wet tonnes of Lead concentrate with average grades of 24.94% Pb, 8.29% Zn, 2.11% Cu, 616 g/t Ag, 8.92 g/t Au
Produced 82.22 wet tonnes of copper concentrate 9.87% Cu, 1,753 g/t Ag, 11.88 g/t Au, 10.54% Pb, 5.76% Zn (Copper concentrate only produced for two week of the period)
Estimated 100% cash selling value for 7,297.27 tonnes of shipped zinc concentrates is US $6,918,452 and for 1,157.44 tonnes of shipped lead concentrates is US $785,670, totaling US $7,704,122
Mill throughput processing rate increased from 1,500 tonnes/day in January to 1,900+ tonnes per day early April 2018
Underground development totaled 1225 meters with 896m in mineralized material and 329m in waste
Total mineralized material mined was 113,477 tonnes during the quarter
Total cash proceeds from the Campo Morado six months of preproduction are estimated to be over US $12.5 million with just over 62% of this being produced in Q1 2018. Mill throughput is steadily being increased towards the mills capacity of 2500 tonnes per day and concentrate grades and metal recoveries are steadily increasing as the Company advances through the preproduction phase towards commercial production expected within the next several months.
José Antonio Berlanga , CEO and Director, states: "As we near the end of the El Largo Zone development phase in preparation of initiating bulk mining methods within the next few weeks, we have been improving efficiencies at the mill resulting in successfully increasing zinc concentrate grades to an average of 43.54% zinc and lead concentrate grades to an average of 34.88% lead during the first two weeks of April 2018 . During this same two-week period, we have achieved improved zinc metal recoveries averaging 72.7% zinc into the zinc concentrates. As soon as we initiate the bulk mining methods, within the next several weeks, the mine will be able to deliver a more consistent mineralized mill feed, without excess dilution of mining development material from various areas within the large El Largo Zone . Processing mineralized mill feed of more consistent grade and quality, containing less dilution, should allow us to further improve concentrate grades and recoveries. In addition, bulk mining methods will allow us to ramp up pre-production towards the 2,500 t/d capacity of the mill and further reduce direct site costs of approximately US $48.5 per tonne. These current direct site costs are approximately 33% lower than the estimated direct site costs of US $72.26 per tonne used for the same categories in our recently published independent Preliminary Economic Assessment."
Management
Jose Antonio Berlanga Balderas, P.Eng—CEO and Director
Sr. Berlanga is a Mining and Metallurgist Engineer with over 42 years of experience in the acquisition, evaluation, design, planning, engineering, construction and operation of mining and metallurgical units.
In addition to his role as Telson's CEO, Antonio's prime responsibility is managing all facets of Telson's mining, processing, development and exploration work, and setting Telson's strategic direction.
Sr. Berlanga has extensive experience and skills in the development and operation of mining projects through the application of technology and high optimization methods in extracting minerals. Some of the projects that Antonio through Reyna Minas has participated include: El Oro in the State of Mexico, La Negra in Queretaro, La Amelia in Sonora and Pinzan Morado in Guerrero, among others. He has also promoted important mining assets with Canadian companies, the latest being the Morelos Sur and El Barqueno projects with Cayden Resources.
From 1993 to 2001 he obtained invaluable knowledge of the deposits and mines in Mexico as deputy technical director of the Trust for Mining Development in Mexico, a development bank specializing in the mining industry. He has been a two term President of the prestigious College of Engineering Geologists, Mining and Metallurgist of Mexico and has occupied executive positions in the AIGMM as well as an advisor in the Engineering faculty at UNAM.
During his professional career, he worked eight years as divisional projects superintendent with Servicios Industriales Penoles, SA de CV participating in the development and construction on various mines between 1978-1985 and with Minas de San Luis in 1980 and Minera Autlan in 1977.
Ralph Shearing, P.Geol.—President and Director
Mr. Shearing is a graduate of the University of British Columbia holding a B.Sc Geology Degree. Since graduating in 1981, Mr. Shearing has practiced his profession as a professional geologist throughout Canada and internationally. He has been directly involved in several world class exploration and development projects in British Columbia, Canada. During an active mineral exploration and development career, Mr. Shearing has gained hands-on experience in all aspects of mineral exploration including, geophysics, geochemistry, geology and diamond core drilling, the latter as a senior partner of a successful contract diamond drilling company. In 1986, Mr. Shearing founded Telson Mining Inc. Mr. Shearing's experience managing and directing publicly listed companies over the last 22 years, combined with his practical experience in implementing major exploration projects, gives Telson Mining Inc. a director with unique insight, invaluable practical experience, and a well rounded business approach to a junior resource company.
Omar Garcia Abrego, CPA, CA—CFO
Omar Garcia Abrego is a Spanish speaking Chartered Accountant with 17 years of international experience in public practice, private sector and TSX public companies. For the most of the past decade, he has worked in the mining industry supporting senior management in the areas of financial reporting and technical areas of accounting.
Enrique Margalef—VP Corporate Development and Director
Enrique Margalef is a former investment banker with 10 years of experience in mergers and acquisitions, financial valuations, evaluation of investment projects, analysis of financial statements and cash flow management. He has performed business valuations and analysis of investment projects for Mexican and transnational companies in the mining industry, training/education industries, payments industry and hardware industry, among others. During his professional career, 5 years have been dedicated specifically to the mining industry, having been a partner at a Candiani Mining Investment Bank for 3 years. He has advised numerous clients in the valuation of their mines and exploration projects. Additionally, he managed the investments of Vander Capital Partners private equity fund for the acquisition and exploration of two early stage exploration projects before moving to Vander Mining, a Vander Capital Partners subsidiary, as a partner.
Rory Godinho—Director
Rory Godinho is the Co-Chair of Miller Thomson's Capital Markets and Securities Group. He has extensive contacts in the Canadian capital markets and has assisted several public and private companies with raising equity. He has a broad range of experience in all types of securities transactions and corporate governance related matters.
Rory's primary responsibility is Telson's capital markets initiatives.
He is the past Chair of the TSX Venture Exchange's National Advisory Committee, and a current director of the Capital Markets Authority Implementation Organization (CMAIO) which is expected to create and evolve into the Capital Markets Regulatory (CMRA). CMRA is a cooperative proposal by several Canadian Provinces, including British Columbia and Ontario, and the Canadian Federal Government to create a single regulator to administer a common securities act.
Remigio Martinez Muller, B.S.Geo—Director
Remigio Martinez has worked his whole professional career with Grupo Mexico starting in 1967 until 2016, where he became an independent consultant. In his 46-year career with Grupo Mexico, Martinez worked as a Geophysicist and Exploration Geologist, Manager of Mine Geology for underground operations, and Director of Exploration for Grupo Operations in Mexico, Peru, USA, Canada, French Guyana, Ireland, Australia and Chile. During his career, he has worked in all facets of mineral exploration and development, from field geology to final economic evaluation of properties and onward to underground and open pit mining operations. He has extensive expertise in porphyry copper and in underground vein and skarn type deposits.
Martinez graduated with a B.S. in Geology from Michigan Technological University in 1966 and in 1973 he received a M.S. in Economic Geology from the Colorado School of Mines.  He has been a member of the Asociación de Ingenieros de Minas, Metalurgistas y Geologos de Mexico, AC since 1967. He has also been a member of the Society of Economic Geologists from 1980 to 1988 and from 1998 to 2013.
Arturo Bonillas, P.Eng—Director
Arturo Bonillas was, until recently, the President and Co-Founder of Timmins Gold. His knowledge of mining in Mexico has been essential to the company's success.  As  Timmins President he built the production and exploration teams in Mexico and guided the company to consistent annual increases in reserve and resource growth, throughput and production. Timmins Mexican team led by Bonillas had an impeccable track record in relationships with the local communities, obtained in his more than 34 years of experience in the mining and exploration industry in Mexico. He has held positions ranging from mine planning engineer, operations research engineer, chief of financial planning and Vice President of purchasing for Compania Minera de Cananea and later for a subsidiary of Placer Dome in Mexico. He directed full bankable feasibility studies for the Mulatos gold project in Sonora, and the San Felipe gold project in Baja California.
Yao Sun, B.Comm, CFA, CMA, CPA—Director
Yao Sun graduated from the University of BC with a Bachelor of Commerce in 2005. He is an active member of the CFA Institute and the Certified Management Accountants (CMA) of Canada. Upon graduation from UBC, Mr. Sun was a financial analyst and portfolio manager for a private real estate company in Beijing, China. He is currently the CEO of Clearstone Capital Corporation, a Canadian company which provides advisory services to Canadian & Chinese public companies.
---
*Disclaimer: The profile provides information which was sourced and approved by Telson Mining Corporation in order to help investors learn more about the company. Telson Mining Corporation is a client of the Investing News Network (INN). The company's campaign fees pay for INN to create and update this profile page, to which links are placed on Investingnews.com and channel newsletters.
The company description, investment highlights and catalysts were sourced by INN and approved by the company. INN does not guarantee the accuracy or thoroughness of the information contained on this page.
INN does not provide investment advice and the information on Investingnews.com profile should not be considered a recommendation to buy or sell any security.
INN does not endorse or recommend the business, products, services or securities of any company profiled.
Readers should conduct their own research for all information publicly available concerning the company.