Overview
Ontario has always been a premier jurisdiction for mining in Canada. However, one of Ontario's earliest gold camps in the province's northwestern region is showing signs of high-grade revitalization.
The town of Atikokan in Ontario is known for its two massive iron ore pits mined in the middle of the Second World War and operated until the late 1970s. The earliest gold exploration dates back to the 1800s, with significant production reaching upwards of approximately 52,000 ounces of gold and 174,000 ounces of silver in that period. With over 50 occurrences, prospects and producers of gold since Atikokan's initial discovery, the gold camp boasts exploration potential for investors worldwide.
One such mining exploration company with a project in Atikokan is Falcon Gold Corp. (TSXV:FG,FWB:3FA,OTCQB:FGLDF). Its flagship Central Canada gold & polymetallic project leverages strategic positioning 20 kilometers east of Agnico Eagle's Hammond Reef gold deposit. The world-class deposit currently has an estimated 3.32 million ounces of gold mineral reserves at 0.84g/t gold grading and an indicated mineral resource at 2.3 million ounces. The Central Canada project has a high potential to mimic this exceptional high-grade gold mineralization with further exploration and discovery.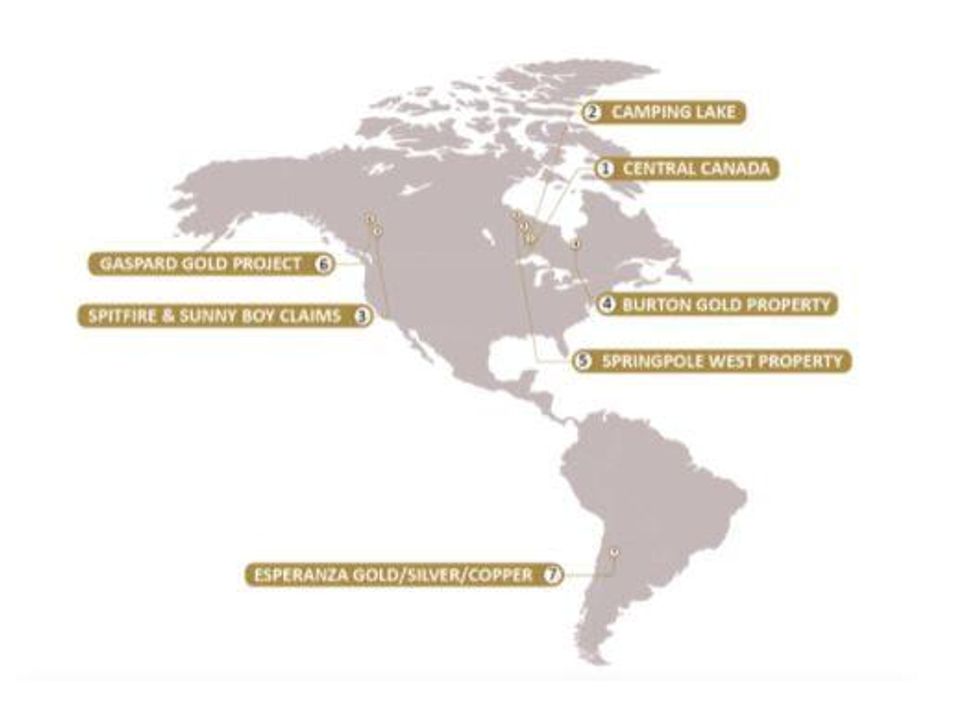 In July 2020, Falcon acquired an additional 7,477 hectares of mineral claims consisting of 369 units in the highly operational Atikokan-based gold camp, expanding its three main property claims in the surrounding area. The Hammond Reef gold property on Central Canada lies on the Hammond shear zone, a northeast-trending splay off of the Quetico Fault Zone (QFZ). The flagship project's other original Central Canada property lies on a similar major northeast-trending splay of the QFZ.
The company's portfolio of mineral projects also include ones in prolific mining jurisdictions of Ontario, British Columbia and Argentina. In April 2021, Falcon created the Argentina-based Falcon Gold LatamARG S.A. to manage its South American exploration and development operations. This creation comes at an optimal time with the recent acquisition of the company's Esperanza gold-silver-copper project in La Rioja, Argentina. Falcon intends to explore further interests in South America's mining-friendly jurisdictions.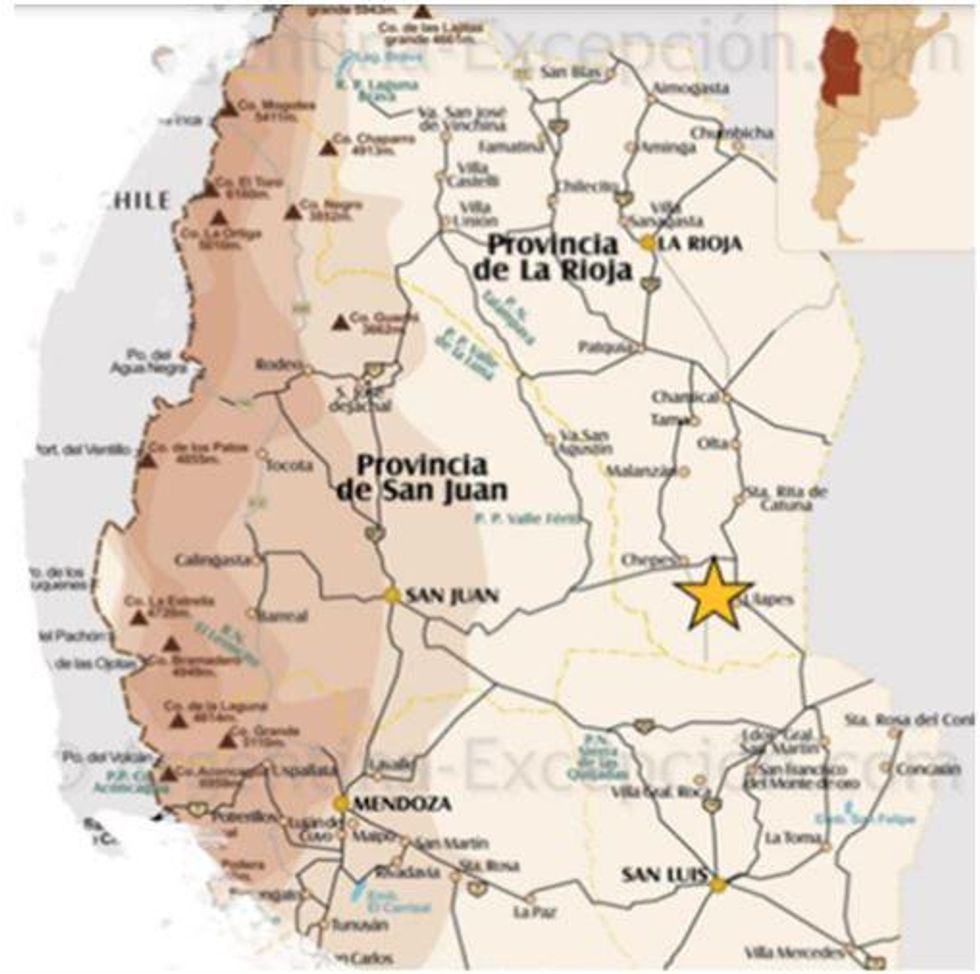 Future plans for the company include additional exploration and development of its mineral assets. It has already begun its 2021 work program on the Central Canada gold project, with initial activities focusing on the outcrop exposures and trench areas where Falcon's geological team will be conducting detailed structural mapping. Expansive development of its Esperanza project in Argentina and 230,000-ounce historical resource validation is also in the works.
The Falcon Gold management team comprises mining and mineral exploration heavyweights, including CEO & director Karim Rayani and corporate advisor R. Stuart "Tookie" Angus. Angus brings unparalleled expertise as an independent business advisor to the mining industry and senior executive for several notable holdings companies. Together, the team primes Falcon for outstanding gold discovery and economic growth.
Company Highlights
Falcon Gold Corp is a mineral exploration company focused on exploration, expanding and developing its robust portfolio of highly prospective precious metal projects in prolific mining jurisdictions of the Americas.
The company operates a robust project portfolio in prolific mining districts. These assets include the flagship Central Canada gold & Polymetallic project, Springpole gold, Burton and Camping Lake property in Ontario, Spitfire & Sunny Boy and Gaspard gold projects in British Columbia and recently acquired Esperanza gold-silver-copper project in La Rioja, Argentina.
The Central Canada gold project hosts excellent road access, gold mineralization and strategic positioning near Agnico Eagle's Hammond Reef gold deposit, which contains a multi-million estimated gold resource.
Falcon created the Falcon Gold LatamARG S.A. in 2021 to manage its South American exploration and development operations on the high-grade Esperanza gold-silver-copper project in La Rioja, Argentina.
Falcon Gold operates a tight share structure and fairly low share count with less than 100 million shares outstanding. Its tight-knit management team owns approximately 20 percent of its shares.
The company has a world-class management team consisting of several mining, finance and geological heavyweights with years of experience in a diverse portfolio of related industries.
Falcon Gold's common shares have been upgraded to trade on OTCQB Venture Market operated by the OTC Markets Group, New York. The Company's US shares will commence trading on August 10, 2021- under its current U.S. symbol "FGLDF.
Key Projects
Central Canada Gold & Polymetallic Project
The flagship Central Canada gold & polymetallic project consists of three key claims: the original Central Canada property and Hammond South and Hammond West properties. The total area spans 10,392 hectares over a historic producer with shaft and mill site capabilities and sits 21.5 kilometers each of Atikokan and 160 kilometers west of Thunder Bay. The project is accessible via highway and road access and leverages mining-friendly conditions.
Central Canada has two geological regimes. Its Northern claims contain a greenstone rock underlay dating back to the Archean age. The Southern claims of the property are covered by Sapawe Lake and underlain by iron formation and greenstone rock units that host Falcon's gold and cobalt occurrences. Historical drill intersection results highlight mineral grades upwards of 0.64 percent copper, 0.15 percent cobalt, 1.1 percent zinc and 0.35g/t gold over a true width of 40 meters.
Falcon has conducted an extensive 17-hole drilling program totaling 2,942.5 meters of core. Every hole successfully intersected a highly altered felsic porphyry rock unit with significant pyrite, arsenopyrite, lead telluride and visible gold mineralization. The company expects to complete more concrete resource calculations and use sampling and logging results to undergo fire assay gold analysis to assess the project's full potential.
Camping Lake Property
The Camping Lake property consists of five claims comprising approximately 2,250 hectares in the Red Lake mining district in Northwestern Ontario. The property leverages strategic proximity to Great Bear Resources, which recently reported high-grade gold discoveries. International Montoro Resources (TSX-V:IMT) has an option to earn a 51 percent interest in the Camping Lake property.
Historical exploration on the property includes petrographic studies; diamond drilling; rock, soil and lake sediment samples; IP/Ground Geophysics and more. The first phase of the Camping Lake 2020 exploration program consists of approximately 20 -line kilometers of ground VLF/EM geophysics and soil geochemistry.
Springpole West Property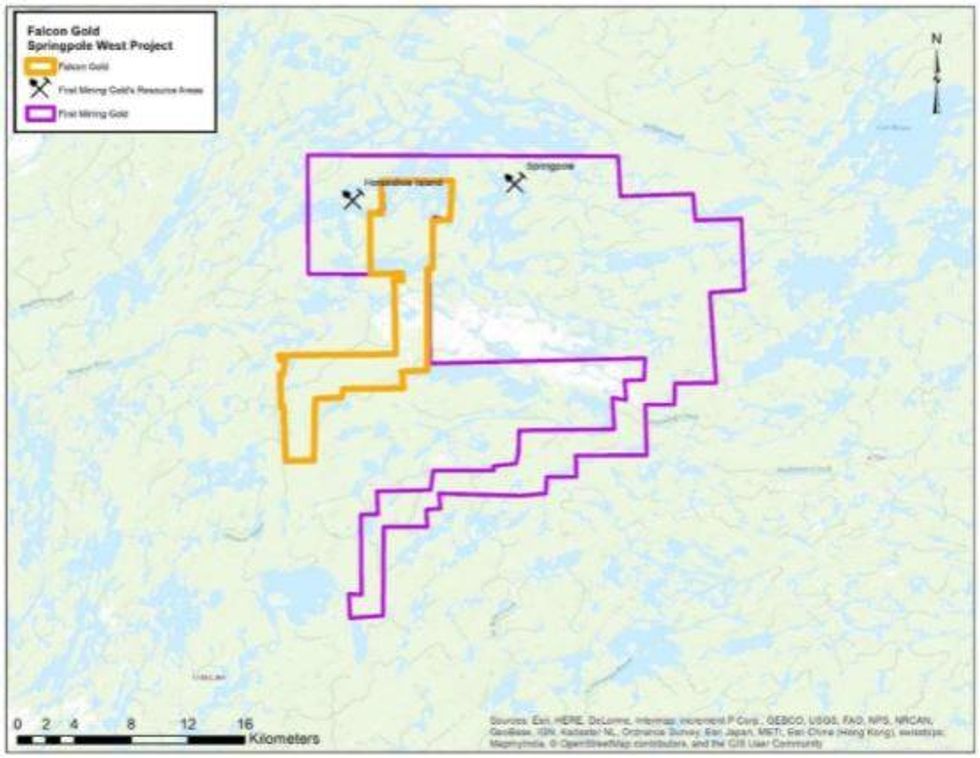 The Springpole West property spans 4,440 hectares strategically located within four kilometers of First Mining' Springpole deposit northwest of Red Lake, Ontario. The asset comprises 197 claims containing 217 units and garners accessibility via floatplane, ATV trail and winter road. The property has the potential to mimic similarly impressive indicated resource estimates as First Mining, which stands at approximately 139.1 million tonnes at 1.04g/t gold and 5.4g/t silver.
The claims cover 13.5 kilometers of strike length along a gold-bearing silicified mafic volcanic – sedimentary rock contact and a major property-wide fault zone. Historical work has indicated significant gold and silver values on the surface and at depth. Likewise, historical grab samples have revealed exceptional mineralization with grades up to 8.38 percent zinc, 16g/t silver and 0.05g/t gold.
Burton Gold Property
The Burton gold property consists of six patented and 16 unpatented mining claims covering approximately 356 hectares in Esther Township, Ontario. The property has advantageous positioning within the very actively explored Swayze Greenstone Belt renowned for hosting lode gold mines. The property also leverages close proximity to IAMGOLD Corp.'s Cote Lake deposit, which has an indicated resource of 35 million tonnes averaging 0.82g/t gold.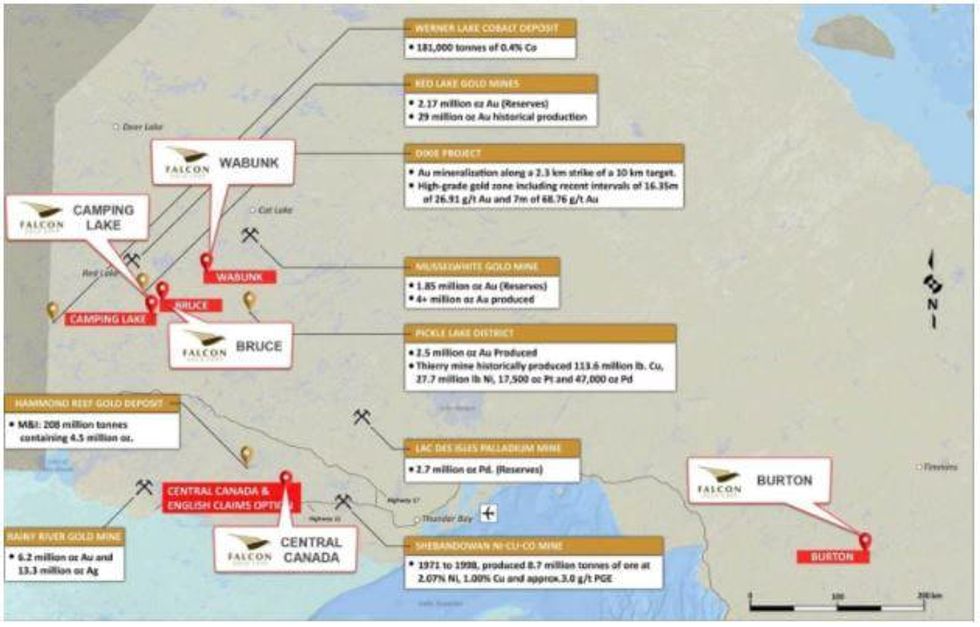 Historical diamond drill intercepts at Burton include 9.34g/t silver over an intersection length of 7.75 meters at the main Shaft zone and 12.47g/t silver over an intersection length of 3.13 meters at the East zone.
Spitfire & Sunny Boy Property
The Spitfire & Sunny Boy property spans 502 hectares in south-central British Columbia, 16 kilometers east of Merritt. The property boasts excellent infrastructure and access with narrow but high-grade veining and gold mineralization.
Sampling from 1974 revealed the main showing, Master Vein, hosted high-grade gold mineralization up to 1,433g/t gold. 2020 work program and channel samples have returned upwards of 122g/t gold over a meter and 59.8g/t gold over 2.2 meters. The asset has the potential to host additional vein structures downslope from the Master vein, which Falcon intends to explore in future development programs.
Gaspard Gold Project
The Gaspard gold project comprises three mineral claims covering 3,955 hectares in the Clinton mining district of central British Columbia. The property has year-round access with a robust network of active logging roads and favorable positioning nearby Williams Lake's regional supply center for mining, logging and ranching.
The property is located approximately 26 kilometers south of the Blackdome gold mine project, which reportedly has indicated resources of 144,500 tonnes grading 11.29g/t gold and 50.01g/t silver. Gaspard has the potential to mimic this widespread mineralization and high-grade precious metal yield with its prospective anomalous grades of stream sediment samples.
Esperanza Gold-Silver-Copper Project
Falcon's ERZA property consists of ten mineral concessions spanning an aggregate area of 11,768 hectares. The large land package leverages good road accessibility and great resource networks with close proximity to the town of Chepes within the Sierra de Las Minas district of La Rioja. Argentina.
The first discovery of high-grade gold mineralization occurred in 1865 at the Callanan occurrences, followed by limited mining conducted on a gold, silver and copper zone. Falcon intends to continue validating the historical workings of Esperanza and exploring this very high-grade system.
Management Team
Karim Rayani — CEO & Director
For the past 15 years, Karim Rayani has focused on financing domestic and international mineral exploration and development. Most recently, Rayani was head of Bloomberry Capital Group, a Vancouver-based merchant bank and capital advisory firm. Prior, he worked independently as a management consultant and Financier. He is currently chair of R7 Capital Ventures Ltd; director of Fiber Crowne Manufacturing Inc., chair of District 1 Exploration Corp. Rayani has developed an extensive network of contacts throughout North America and Europe, focusing on Corporate Development and Finance.
Geoff Balderson — CFO
Geoff Balderson has over 20 years of capital markets experience, having worked in public and private practice. Balderson is a senior officer and director of several TSX Venture listed companies and currently runs a private consulting practice Harmony Corporate Services Ltd., providing corporate advisory, accounting, filing and secretarial services to many publicly traded companies. Before, Balderson was an investment advisor at Union Securities and Georgia Pacific Securities and a University of British Columbia graduate in Marketing and Sales Management.
James Farley — Director
James Farley has been involved in the capital markets for over 25 years, initially as a financial advisor and subsequently as a private businessman. He is currently a business consultant for the mining and oil and gas industries, specializing in Health Safety and Environmental management.
John Bossio — Director
John Bossio is a registered psychologist, having received a master of arts in counseling psychology from City University, Bellevue, Wash., in 2002 and a bachelor of science in family studies from the University of Alberta, Edmonton, in 1991. He is a member of both the Psychologists Association of Alberta and the College of Alberta Psychologists. Bossio is an avid investor and experienced board member. He has a network of contacts specializing in small-cap, publicly traded companies.
R. Stuart "Tookie" Angus — Corporate Advisor
Stuart "Tookie" Angus is an independent business adviser to the mining industry and is presently chair of K92 and chair of San Marco Resources Inc. and Kenadyr Mining (Holdings) Corp. He is the former head of the global mining group for Fasken Martineau. For the past 40 years, Angus has focused on structuring and financing significant international exploration, development and mining ventures. More recently, he was managing director of mergers and acquisitions for Endeavour Financial and was responsible for merger and acquisition mandates.
Angus is the former chairman of the board of BC Sugar Refinery Ltd. He was a director of First Quantum Minerals Ltd. until June 2005, a director of Canico Resource Corp. until its takeover by Brazil's CVRD in 2005, a director of Bema Gold Corp. until its takeover by Kinross Gold Corp. in 2007, a director of Ventana Gold Corp. until its takeover by AUX Canada Acquisition Inc. in 2011 and a director of Plutonic Power Corp. until its merger with Magma Energy Corp. in 2011. He resigned in 2017 as chair of Nevsun Resources Ltd. following its acquisition of Reservoir Minerals in 2017.
Glayton Dias - Exploration Manager
Glayton Dias is a geologist with 12 years experience both domestically and internationally, developing managing and exploring mineral deposits from early-stage to mine development and 3D ore estimation. Most recently his work has been focused on the Spences Bridge Gold Belt, having been posted as a project manager for the Shovelnose Deposit currently developed by Westhaven Resources with a resource of 791,000 ounces of gold and 3,894,000 ounces of silver Indicated (Reference below). Prior to being a Project Manager for Westhaven he worked as a consulting geologist for Ximen Resources on its multi-metallic Treasure Mountain deposit, Exploration Manager for Avant and Gdgeo, leading projects in world-class deposits as Andrade (Arcelor Mittal), Germano (Samarco) and Serra das Eguas (Magnesita SA).
Mr. Dias knowledge and experience in precious and base metal projects on high-grade epithermal low sulfidation including porphyry copper-gold geology, will be value add as we start up operations again at both Spitfire-Sunny Boy, Gaspard projects in B.C., and our South America projects.
Request an Investor Kit
EXCITING upcoming projects!
IN-DEPTH reliable insights!
SUCCESSFUL growth strategies!
VALUE-BASED content!
Falcon Gold