Clean Technology Solutions for Food and Health Industry
This profile is part of a paid investor education campaign.*
Overview
Ecovatec Solutions Inc. is a Canadian based company focused on disruptive technology solutions to processing premium egg yolk ingredients for the food and health industries. The company has developed a commercial-scale clean extraction process that has the ability to effectively and efficiently achieve a higher purity product than conventional methods. Ecovatec Solutions Inc. is pioneering the development of nutraceuticals, pharmaceuticals and bioprotectants such as phosvitin, which is an important multifunctional protein peptide found in egg yolk.
Ecovatec's Ecova-Pep™ is the first commercially-produced phosvitin for food, nutraceutical, biomedical and cosmetic applications. Dr. Jack Losso, Professor of Nutrition and Food Science at Louisiana State University and a pioneer in the field of phosvitin research and development, is a key advisor to Ecovatec and has helped the company in optimizing its production of Ecova-Pep™.
Ecovatec's technology uses pasteurized liquid egg yolk approved by the Canadian Food Inspection Agency, rather than the powdered form rehydrated with solvents used by competitors. The liquid egg yolk is supplied from eggs sourced from local British Columbia egg producers including industry-leader Vanderpol's Eggs. Pieter Vanderpol, the founder of Vanderpol's Eggs is a key member of Ecovatec's Advisory Board.
Ecovatec Solutions has a 12,000-square-foot state-of-the-art pharmaceutical-grade processing plant located in Abbotsford, B.C. Due to the dedication and expertise of the Ecovatec team, the plant was designed, constructed and fully-commissioned in a mere 16 months. Ecovatec recently hired Operations Manager Christopher Nichols who is responsible for meeting the company's production targets. With a career spanning over 25-years in the food manufacturing industry, Mr. Nichols has worked as a senior manager for some of the largest multinational food companies in Canada including Labatt Breweries, Coca-Cola, Molson Breweries and Rogers/Lantic Sugar.
Currently, the plant has a production capacity of 66,000 litres of egg yolk per month and Ecovatec is projecting operations will reach full production capacity of 176,000 litres in the third year of production. Various product samples have been generated and delivered, and purchase order contracts are expected to be finalized in the fall/winter of 2017/18. Management is projecting sales in 2018 with an aggressive ramp up schedule to fulfill purchase orders. Since the company's inception in 2015, Ecovatec has raised C$7.5 million. Further financing is planned alongside a listing on the Toronto Venture Exchange. In the long-term, management is focused on building relationships with large-scale distribution conglomerates in North America, Japan, Korea and China — representing a massive market for egg phospholipids and egg yolk proteins.
Click here to read a whitepaper from Ecovatec Solutions.
Company Highlights
Ahead-of-the-curve technology produces clean, high-quality egg yolk products efficiently and at lower costs than standard methods.
Ecova-Pep™ is the first commercially-produced phosvitin for food, nutraceutical, biomedical and cosmetic applications.
Production in Canada near quality grain source for chicken feed offers a significant advantage over peers.
Fresh eggs sourced from local British Columbia egg producers including industry-leader Vanderpol's Eggs.
Advisory Board includes Vanderpol's Eggs founder Pieter Vanderpol and world-recognized phosvitin expert Dr. Jack Losso and poultry expert scientist, Dr. Stewart Richie.
Operations Manager, Christopher Nichols 25 year career brings experience and expertise working with large scale manufacturing companies such as Labatt Breweries, Coca-Cola, Molson Breweries and Rogers/Lantic Sugar.
Purchase order contracts are expected to be finalized in the fall/winter of 2017/18.
Upcoming listing on the Toronto Venture Exchange.
Egg Yolk:Under-rated Nutrient Powerhouse
The egg yolk has undeservedly been branded the villain in the fight against heart disease, mostly due to misconceptions about cholesterol. Recent research shows that the egg yolk is actually a heart-healthy superfood loaded with disease-preventative nutrients.
The yolk is comprised of 32 percent lipids (fats), 17 percent proteins and 51 percent water. Essential to brain function, 30 percent of lipids in an egg yolk are phospholipids, 83% of this being phosphatidylcholine (PC). PC is essential for human brain development, liver function and cancer prevention. An egg's yolk is packed full of essential vitamins—including A, B6, B12, E, D and K— minerals and oils. Phospholipids are essential for the bodies absorption of vitamins A,D,E and K.
Drilling down further, the yolk's nutrient profile consists of 76 percent low-density lipoprotein (lipovitellenins) and livetins, 24 percent high density lipoprotein (HDL) and phosvitin—making eggs an even more valuable and digestible source of protein than milk.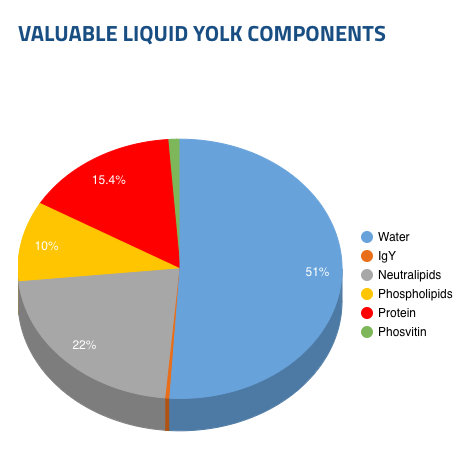 The nutritional and pharmaceutical value of egg yolks has been greatly under-utilized compared with egg whites. This is largely due to the complex chemical bonds of the yolk's composition and the limitations of existing technology which together have made the extraction and isolation process too difficult and costly.
Clean and Green Technology:
"We are the first company to produce phosvitin and high-density lipoprotein (HDL) from egg yolks at the commercial level. Our products are very attractive to customers in the nutraceutical and pharma space. Consumers prefer natural egg proteins and lipids that aren't contaminated and denatured by harsh solvents used by competitors."—Drew Perrin, President and CEO
Ecovatec's semi-continuous flow technology offers an efficient and cost-effective solution to producing high-purity products. Ecovatec's proprietary processing system uses mechanical separation to split the lipids and proteins in the liquid egg yolk into multiple products for the food and health industries, including phospholipids, egg oil, phosvitin phosphopeptides and HDL lipoprotein.
The key differentiator between Ecovatec's process and convention extraction processes is the ability to maintain the integrity of the egg yolk protein throughout the process—resulting in a product that harnesses the health-benefiting power of the yolk's unique nutritional composition.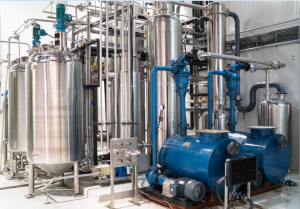 The use of harsh chemical solvents and extreme heat common in conventional methods ultimately denatures and contaminates the end products. Ecovatec's proven and patentable process uses no chemicals and operates at low temperatures and pressure; thus, avoiding denaturation and contamination as well as lowering manufacturing costs. Recognizing that sustainability is important in the food and health industries, Ecovatec has designed their process so that no waste products are generated and all of the water used in the process is recycled.
Project Economics
Ecovatec is at the forefront in bringing nature's most powerful and health enhancing proteins to the health, food and cosmetic industries.
Phospholipids
Phospholipids, central to Ecovatec's value-added products, are regularly used in nutraceutical products. In the human body, phospholipids provide structure to cell membranes and healthy membranes allow cells to function properly.
Egg yolk phospholipids have a variety of nutraceutical, cosmetic, and food functions:
Fortifying Infant Formula – Egg yolk-based phospholipids are nearly equivalent to those found in human breast milk, and are rich in Omega 3 and Omega 6 fatty acids necessary for brain and eye development.
Aiding in the prevention of dementia – Studies have shown that egg yolk-based phospholipids, a good source of known "brainfood" lecithin, help to improve short-term memory and fend off dementia.
Protecting against liver failure – Studies have shown that egg yolk-based phospholipids can aid in the repair of liver damage caused by toxins in substances like medication, alcohol, fatty foods and viruses.
Formulating cosmetics – Because they are of similar structural shape to the barrier of layers in the skin, egg-yolk phospholipids are easily absorbed and help nourish and repair skin and hair. They can also be used as a carrier oil for other cosmetic ingredients used in skincare.
Developing pharmaceuticals—Phospholipids can easily become a part of your blood and move in and out of cells and vessels, making them ideally suited for drug delivery including in topical, oral and parenteral drugs.
Phosvitin: the Wonder Protein
Ecovatec's Ecova-Pep™ is the first commercially-produced phosvitin for food, nutraceutical, biomedical and cosmetic applications. First isolated from egg yolk in 1949, phosvitin accounts for 60 percent of all the phosphoproteins and contains 90 percent of phosphorus in the yolk. Phosvitin, considered one of the best food preservatives against E. coli and salmonella, also has many health-benefitting properties. Its ability to enhance the bioavailability of both iron and calcium make it ideally-suited to a wide range of food and health applications including in anti-osteoporosis, memory, anti-inflammatory and anti-oxidant supplements. The phosvitin protein found in egg yolk's phosphate profile is vastly superior to other forms of protein including that found in milk (casein and lactoferrin), resulting in a much greater capacity to bind calcium and iron. Studies have also shown that high-grade phosvitin has the ability to remove heavy metals from the brain that may lead to cancer, Alzheimer's and dementia.
In its natural state, phosvitin—a long chain amino acid protein—is hard for humans to digest. Ecovatec's clean extraction technology includes enzymatic hydrolysis—a process that uses enzymes to cleave the chemical bonds of the protein chain—to create shorter peptide chains making the phosvitin much more bio-available.
HDL: A Heart Healthy Protein
Ecovatec's Ecova-HDL™ is a novel extraction of the HDL lipoprotein from the egg yolk protein (EYP). In a 2015 study, EYP HDL treatment resulted in a significant decrease in atherosclerotic plaque surface, in rabbits. Treatment with high and low doses of egg yolk HDL was shown to increase plasma HDL levels. Increased HDL levels are correlated inversely with cardiovascular disease and low plasma levels of HDL are associated with increased risk of coronary heart disease (CHD). However, until now there have been no commercially available sources of egg yolk HDL.
Egg Oil
Egg yolk oil's lipid profile is comprised of triglycerides, phospholipids, cholesterol and lutein, and is nearly identical to human skin. Egg oil has been used for centuries and across cultures for skin and hair care. It can be found in many cosmetic applications today including as a carrier for other active ingredients due its quick absorption rate. Egg oil can be found in skin treatments targeting a wide range of skin conditions including burns, eczema, dermatitis, skin ulcers, ringworm, nasal vestibulitis, frostbite, and hemorrhoids.
Egg Oil Fertilizer
Outside of cosmetics, egg yolk oil is also the subject of R&D by the South Korean government as an effective organic fertilizer. A recent study concluded that egg oil benefits crops in two critical ways: improves production yield by providing crops with essential macro nutrients such as nitrogen and phosphorus; and acts as a safe pesticide-fungicide.
Ecovatec's technology is well-suited to creating such a product and the company is currently collaborating with a team of scientists led by Dr. Deborah Henderson at the Institute for Sustainable Horticulture at Kwantlen Polytechnic University in Langley, BC to study this application. In addition, Ecovatec is working with an ACMPR-licensed grower to study the use of such products in the cultivation of cannabis.
Management
Andrew (Drew) Perrin, BASc. Eng., BEd.—President and CEO, Director
A proven business leader, Drew Perrin has dedicated his career to improving the use of energy in our world. He brings more than 25 years of experience in the energy field, including energy in buildings, energy management, and energy product conceptualization, design, and commercialization. His skills managing commercialization efforts, building control processes, budgets and financial reporting to stakeholders are invaluable. At CopperTree Analytics, Perrin grew the team from 4 to 27 while designing, developing, and commercializing an industry leading building energy analytics software. At Delta Controls he brought multiple products to market while developing the OEM business. During this time, Perrin worked with numerous multi-national corporations including GE, York and Uponor. Perrin holds a Bachelor's of Applied Science in Mechanical Engineering from the University of Waterloo, Ontario, Canada and a Bachelor's of Education from the University of Western Ontario.
Christopher Nichols, BSc—Operations Manager
Christopher Nichols brings 25 years of experience in the food manufacturing industry where he has built a strong reputation as a proven leader. Nichols has worked with some of the largest multinational food companies in Canada namely Labatt Breweries, Coca-Cola, Molson Breweries and Rogers/Lantic Sugar. In these companies he held a variety of positions from departmental management up to regional multi-site leadership. He has experience and in depth knowledge through direct management of quality, maintenance, logistics and production departments as well as site and multi-site leadership. With training in Lean Six Sigma he brings a strong focus on operational excellence and continuous improvement to drive cost optimization and operational performance. Over the course of his career he has demonstrated numerous examples of performance improvements delivering multiple millions of dollars in annualized cost savings through efficiency, waste reduction and reliability projects primarily without capital outlay. In addition, Nichols has delivered many other performance improvements positively impacting other areas such as capacity, quality, safety, customer service, financial reporting and analytics, as well as employee engagement. He also has experience in installing and maintaining globally recognized Quality Management Systems and Food Safety Management Systems. Nichols holds a Bachelor of Science degree in Biology from Simon Fraser University in British Columbia, Canada.
Stuart Lee—Founder
Stuart Lee brings with him a breadth of technical experience and has been involved in many R&D and manufacturing projects of health food & pharmaceutical products in Canada, USA, Korea, China, and Ukraine. A few such noteworthy projects include: extracting proteins and lipids for the nutra-pharmaceutical industry including quinine, grapefruit, flax seed, lumbricus rubellus peptide (Inovatech Canada); and human placenta extraction (Korea and Ukraine). Stuart has also been part of developing egg oil manufacturing processes (Korea & Canada, 1986) and played a key role in developing a patented process for egg yolk phospholipid extraction involving Supercritical Fluid CO2 Extraction (2010, Ukraine). Lee has been working with Willie ten Haaf in developing the new extraction technology for egg yolk now employed by Ecovatec Solutions. Stuart has also brought his technical knowledge in applied science through engineering technical processing components for biodiesel cleaning and transesterification (Korea & China) and for water and fuel emulsion (China, Korea, and Canada). On top of his technical experience in engineering and development, h has also made some successful international sales transactions: nutra-pharmaceutical ingredients in Japan, Korea, and China (lysozyme, colostrum, egg and flax lipids) and biodiesel manufacturing process equipment in China and Korea.
Willie ten Haaf—Founder
Willie ten Haaf has an accomplished career of over 25 years in the nutra-pharmaceutical and food sectors. He began in sales and marketing of extended-life liquid egg products with Vanderpols Eggs along with heading various formulating and R&D projects. He then brought his experience in international sales and marketing to Inovatech Canada Inc., where he sold long shelf-life egg products, whey protein concentrates, and isolates. Ten Haaf's abilities as a strategic thinker and visionary led to a patent in flax protein extraction with Nutrex Wellness Inc., before focusing his efforts as president of a co-founded technology company that extracted various skin products derived from the IgY-enhanced egg yolk: Isotech Research Inc Isotech was sold to IRI in 2006. Ten Haaf then took his knowledge in IgY to Immune Bio Tech Inc., which developed and manufactured vaccines for the production of chicken IgY eggs for various applications. He has been working with Stuart Lee for several years in researching and developing the ground breaking technology now utilized by Ecovatec Solutions Inc.
Patrick J. Elliott, M.Sc., MBA—VP Finance and Director
Patrick Elliott is an accomplished economic geologist who has completed a Master of Science Degree in Mineral Economics and a MBA in Finance  from Curtin University of Technology in Perth, Australia. He is currently President/CEO of Lexore Capital Corp., President CEO and Director of Plan B Minerals and VP Corporation Development at Globetrotter Resource Group.  He graduated with a Bachelor of Science Degree in Geology from the University of Western Ontario in 2002. He has over 15 years experience in mineral exploration and working in the capital markets. Combined with his technical knowledge, Elliott also has a wealth of contacts in the financial sector, including contacts in retail, institutional, corporate finance, research, private equity and venture capitalism. He also has extensive experience in project management, corporate marketing, investor relations and has helped raise over CDN$40 million for his representative resource and technology companies by way of private placements.
Pieter Vanderpol—Advisor
Pieter Vanderpol is the founder of Vanderpol's Eggs, a family owned and operated egg processing company, dedicated to the development and delivery of innovative, functional egg solutions to their valued customers and industry partners for over 50 years. Vanderpol's Eggs is an industry leader in value-added products and processes, having created over 31 distinct product offerings ranging from Industrial, Commercial, Sauces, and Prepared Foods. The Vanderpol Group operates across Canada and includes dairy and fruit product divisions. Specialties include: bakery ingredients, dairy ingredients, eggs, fruit based ingredients, Industrial Ingredients, Foodservice Sauces, Foodservice, Private Label, contract manufacturing Vanderpol's Eggs has been a pioneer in numerous new technological advances that have become industry standards across North America, including enhanced shelf-life processes, egg-white enzyme and whey protein extraction. Having Vanderpol's knowledge and experience on the board of directors is invaluable.
Dr. Jack Losso, Ph.D.,M.S.,B.S.—Advisor
Dr. Jack Losso is a Professor at Louisiana State University in the School of Nutrition and Food Science. His current research is focused on food proteins and enzymes; the recovery of bioactive compounds from novel and underutilized sources for food and biomedical; and applications, identification and development of dietary anti-angiogenic functional foods and nutraceuticals. He is a member of the Institute of Food Technologists, the American Chemical Society, the American Association of Cereal Chemists, and the American Oil Chemists' Society.
Dr. Stewart Ritchie, M.S., PH.D.,D.V.M., Diplomate—Advisor
Dr. Stewart Ritchie is the President of Canadian Poultry Consultants and S.J. Ritchie Research Farms. He has developed and been participating in the Platinum Brooding® program since its inception. The Platinum Brooding® program is an educational session used by poultry producers to promote poultry health. It is now part of the Masters of Avian Medicine curriculum at the University of Georgia and the Aviagen International Broiler Production School in Alabama. The Platinum Brooding® program is also now part of the New Producer Entrant program of the British Columbia Broiler Chicken Marketing Board. Dr. Ritchie has participated in numerous poultry production and scientific sessions throughout the globe and has recently completed his term as President of the American Association of Avian Pathologists (AAAP). Stewart was the founder (1990) and now a longstanding member of the Western Meeting of Poultry Clinicians and Pathologists. Stewart's degrees include: B.Sc.(Agr) – UBC, M.S. – U of Arkansas, D.V.M. – U of Saskatchewan, and Diplomate American College of Poultry Veterinarians. Over the course of his extensive and renowned research career Stewart has developed numerous technological advances which have been commercialized by some of the world's largest Vitamin and Pharmaceutical Manufacturing companies. He is also a featured keynote speaker and presenter at research seminars and forums around the world.
---
*Disclaimer: The profile provides information which was sourced and approved by Ecovatec Solutions Inc. in order to help investors learn more about the company. Ecovatec Solutions Inc. is a client of the Investing News Network (INN). The company's campaign fees pay for INN to create and update this profile page, to which links are placed on Investingnews.com and channel newsletters.
The company description, investment highlights and catalysts were sourced by INN and approved by the company. INN does not guarantee the accuracy or thoroughness of the information contained on this page.
INN does not provide investment advice and the information on Investingnews.com profile should not be considered a recommendation to buy or sell any security.
INN does not endorse or recommend the business, products, services or securities of any company profiled.
Readers should conduct their own research for all information publicly available concerning the company.