The profile below is part of a campaign paid for by Eagle Graphite. This profile provides detailed information, helping investors make better investment decisions. Eagle Graphite's support of Graphite Investing News ensures we can continue to bring you unbiased, independent news and information.

Overview
Eagle Graphite Incorporated (TSXV:EGA) owns one of only two natural flake graphite production facilities located in North America. The Black Crystal quarry and processing plant, 35km west of Nelson, British Columbia, is production-ready with permits and a 5-year quarry plan in place.
The Black Crystal facility is the only graphite producer operating in the burgeoning electric vehicle market of western North America. The quarry host material is naturally well-suited to low-energy, low environmental impact processing that in turn produces high-purity graphite flake products for use in both conventional and emerging industries.
Eagle Graphite is currently focused on two key elements of its long term business strategy. Through exploration at both the established quarry site, and at new exploration targets immediately adjacent to the plant facility, Eagle Graphite plans to expand its 2014 resource estimate. It is also conducting work to show that Black Crystal graphite is suitable for use in lithium-ion batteries.
Eagle Graphite is led by a highly experienced management team, a significant number of whom have been involved with the project since 2001. "We have enjoyed the luxury of excellent continuity of key people throughout the life of the project. This has allowed us to refine our processing methods to produce the superior quality that we see in our output today," explains Eagle Graphite President & CEO, Jamie Deith. The management group currently controls nearly three-quarters of the shares.
Investment Highlights
One of only two existing graphite producers in North America.
Favourable mining jurisdiction.
First mover advantage with existing infrastructure and permits.
Experienced management team closely involved with the Black Crystal graphite quarry for more than a decade.
Quarry permits in place; substantial expansion of permits possible without Environmental Assessment.
Simple, proven conventional processing plant with graphite easily liberated.
Light environmental footprint with no acidic tailings. High carbon flake ranging from 94% to 99% purity.
Offtake agreement in place with demand exceeding current production capacity.
Strategic location for electric vehicle demand from western North America and Asia.
2015 exploration program underway.
Key Property: Black Crystal Graphite Quarry & Plant
Eagle Graphite's Black Crystal graphite quarry and plant is located in British Columbia's Slocan Valley, 70km north of the U.S. border. The land package comprises two leases covering 300 hectares which are valid through to 2032 with the option to renew. The area is surrounded by 5,600 hectares of additional undeveloped mineral claims.
The quarry and plant are both accessible year-round by forest service road. Rail loading facilities are located in the nearby cities of Nelson and Trail. The plant is strategically located to the hydroelectric grid and a large creek from which Eagle Graphite has a permit to draw water for flotation. The surrounding communities have a long mining history with established infrastructure and a skilled labor force.
Historically, the Black Crystal plant produced at a rate of 4,000 tonnes per year. Eagle Graphite acquired a 100% interest in the project in 2006 and immediately invested in updating the operation with new screening, loading and hauling equipment. The processing plant was upgraded with improvements to the flotation and drying stages.
Low transportation costs
The high cost of transporting materials great distances from producer to end-user facility is unavoidable for most graphite consumers. The greater the distance, the greater the cost; especially for bulk transport. Eagle Graphite's Black Crystal plant facility is located close to Spokane, Washington and the port city of Vancouver, B.C., offering efficient and cost-effective shipping of high-purity graphite flake products to destinations worldwide.
Black Crystal is the closest flake graphite project to Reno, Nevada at 955 miles with a direct link via nearby rail. Eagle Graphite's internal research on transport costs shows at least a $100/per tonne savings for customers over its nearest competitor.
Production ready facility with offtake agreements in place
The Black Crystal project was granted a Quarry Permit in 2015 by the B.C. Ministry of Energy and Mines as a replacement of the mining permit acquired in 2001. The permit can be expanded substantially without environmental assessments. The Quarry Permit allows Eagle Graphite to bring the Black Crystal quarry and plant back into production once the requisite financing is available.
Under the Quarry Permit, the Ministry has also approved a five-year quarry plan for the Black Crystal project.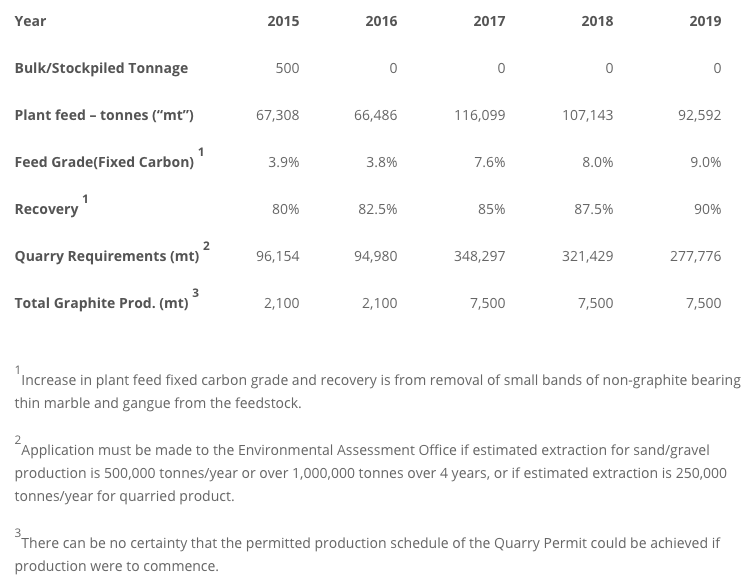 Eagle Graphite has already secured an offtake agreement with a long-established North American end-user in the conventional market for 3,000 tonnes per annum through to 2023.
Increased graphite demand expected as North American EV market expands
By 2020, graphite consumption for electric vehicle (EV) production in western North America is expected to reach 93,000 tonnes per year, eclipsing all other flake graphite applications in the continent.
Where will that supply come from? For now, most of the world's graphite production comes from China, where government regulations are expected to significantly depress output in the near future. Very few production centres exist outside of China, and Eagle Graphite is one of only two companies with existing production capacity in all of North America.
There are a number of junior exploration and development stage projects in the pipeline; however, Eagle Graphite is far more developed than its peers and has a significant geographical advantage.
"From the perspective of an EV manufacturer, we really do not have any peers. There are simply no other junior projects in North America that are close to our level of development," explains Jamie Deith, Eagle Graphite President & CEO.
Energy-efficient, environmentally conscientious production
Marketing EVs as an environmentally-friendly alternative to vehicles that run on gas is a hard sell if the materials used to power those EVs are themselves tainted with a heavy environmental footprint. And most graphite producers today can't say their projects are squeaky clean given the energy-intensive, acid-based processes used to recover and purify the material for the market.
"Our operation, however, has distinct environmental advantages. End-users will never be embarrassed about our environmental footprint," states Mr. Deith. Not only is the Black Crystal quarry the sole graphite producer in western North America, it's possibly one of the world's cleanest graphite operations.
The majority of graphite production comes from hard rock deposits, from which graphite extraction is a laborious and expensive process. The standard processing method for battery-grade graphite uses hydrofluoric acid—a highly reactive and dangerous material.
"In today's market for lithium-ion batteries, natural graphite supplies come almost exclusively from China and the most prevalent way to purify that graphite is through the use of hydrofluoric acid—cheap, but environmentally expensive. So are the byproducts. Conscientious use means even greater costs to handle the waste products which can be quite expensive," explains Mr. Deith.
Black Crystal's environmental advantage over other deposits is due in large part to the environmentally benign host rock. The very nature of the Black Crystal quarry has allowed Eagle Graphite to adopt a more sustainable approach compared to operations which extract graphite from hard, acid-producing rock, and then purify it using hydrofluoric acid.
Rather than a hard rock or clay-type deposit, the Black Crystal quarry is composed of an alkaline sandy material with loose graphite flakes that are easily separated from the host material. In contrast to hard rock deposits, Black Crystal requires no costly mitigation of environmentally hazardous waste.
Production at Black Crystal is via a multi-stage water-based flotation system. The process does not require energy-intensive grinding, includes a recirculation pond to minimize water consumption and produces no acidic tailings waste. The finished product is non-toxic and non-reactive. By-products from the operation are both environmentally benign and marketable. Primary sand and gravel by-products are sold to local buyers.
High-purity graphite flake products
The Black Crystal operation is capable of producing high-purity (94% to 99%) carbon flake graphite that is naturally low in sulphide. No other graphite producers are known to be able to achieve better purity using conventional flotation methods. In fact, most graphite mines around the world have difficulty achieving purities of 94% grade, the base grade at Black Crystal.
"The majority of our product has exceeded that, reaching 95% to 96%. And we can produce product at a high grade of 98% and 99% with just flotation techniques," said Mr. Deith.
The host rock at the quarry yields up graphite flake easily, without the need for grinding of the plant feed. Most other producers by contrast have operations in hard rock or clay from which it is difficult to separate the graphite from the host materials without compromising flake quality.
Exploration underway with potential to expand resource estimate
In November 2014, Eagle Graphite released an updated NI 43-10 report which confirmed the resource estimates established in 2002. The report includes Measured & Indicated resources of 5,411,000 tonnes grading 1.28% Cg with an additional Inferred resource of 5,107,000 tonnes grading 1.29% Cg.
The current resource only covers a portion of a 100 hectare mining lease. The 5,600 hectare mineral tenure package held by Eagle includes numerous additional exploration targets. In 2011, Eagle Graphite completed an exploration program that included 2,029 meters of diamond drilling in 12 holes and regolith sampling along four trenches. The results indicated the continuation of graphite mineralization about 250 meters east and upslope from previous exploration. This data is not included in the resource estimate.
The Quarry Permit granted by the B.C. Ministry of Energy and Mines also allows for exploration of the Beau Zone adjacent to the processing plant. In Q2 2015, Eagle Graphite initiated its 2015 exploration program on the Beau Zone. The zone was first discovered in 2002 on an outcrop exposure about 100 metres from the plant with further graphite mineralization discovered in an electrical grounding drill hole adjacent to the plant. During the 2002 drill program, the graphite zone was transected in five of seven holes. The 2015 work planned will follow up on the previous program's results.
"We anticipate that within a few months, we will have greatly improved our understanding of the structural geology of the deposit. While there is no certainty of establishing any incremental resource estimate, we would be very pleased if it does turn out that way. Having a resource available this close to our plant could significantly broaden our options for further development of the project," commented President & CEO Jamie Deith.
In addition to expanding the current resource, Eagle Graphite's objectives for 2015 also include demonstrating that the graphite produced at Black Crystal quarry—with further processing—is suitable for use in Li-ion batteries. "Investors typically want to know if we are contenders for the EV supply chain—one of our objectives this year is to prove we are the graphite company in the best position to be part of that supply chain," explained Mr. Deith. "Work is underway and we are anticipating positive results in the months to come."
Management
Jamie Deith — President & CEO
Mr. Deith has been a graphite company executive for nine years, and has total executive experience spanning 20 years. He is a former Managing Director at TD Securities, where he was co-head of a highly profitable global business unit in charge of exotic financial derivatives. Since 2004 he has been a Director of a successful private company specializing in treatment of sleep disorders.
Alan Grujic, BASc, MBA – Interm CFO & Corporate Secretary
Mr. Grujic brings to the Company over 20 years of financial markets experience. He is presently Managing Director & Head of Business Development of Coherion in San Francisco, USA. His previous roles include those of Managing Partner and Chief Investment Officer at Galiam Capital, CEO at Infinium Securities, President at Infinium Capital, and VP & Director at TD Bank Financial Group.
Edward J. Nunn, P.Eng. — Engineering Manager
Mr. Nunn has more than 26 years of experience with industrial minerals and coal projects. He is a Geotechnical, Mining and Civil Engineer, and a Qualified Person under NI 43-101. Mr. Nunn has been with the Black Crystal project since 2000.
Vernon (Rory) Miller — Operations Superintendent
Mr. Miller has been with the Black Crystal project since 2007. He is a fully qualified supervisor under the British Columbia Mines Act.
Victor Learmonth–Superintendent
Mr. Learmonth has been with the Black Crystal project since 2001. He has supervisory experience with numerous mining projects, including Black Crystal.
Steven Brunelle — Director
Mr. Brunelle has experience as an Officer and Director of numerous resource companies. He is the former President, CEO and Director of Amerix Precious Metals, and brings more than 30 years of experience as a Geologist to Eagle Graphite.
Brian Bapty, Ph.D. — Director
Dr. Bapty is a Partner at Northland Bancorp. He has more than 14 years of experience in capital markets.
Robert Matter, P.E. — Director
Mr. Matter is a Consulting Mining Engineer most recently with JDS Energy and Mining. He brings more than 20 years of project engineering experience, including resource estimation and mine operating plans.