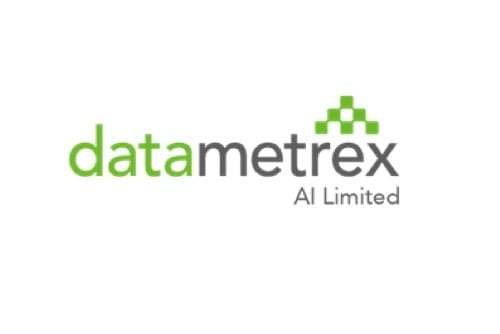 Datametrex
Developing Data-Driven Social Media Analytics Technology
This Datametrex AI profile is part of a paid investor education campaign.*
Overview
Datametrex AI Limited (TSXV:DM,OTC:DTMXF,FWB:D4G) is a technology-focused company with exposure to health security, artificial intelligence and machine learning through its wholly owned subsidiary Nexalogy Environics.
Nexalogy utilizes artificial intelligence (AI) and machine learning (ML) technology to provide data analytics insights to businesses and government agencies. Nexaintelligence, Nexalogy's core technology, is a powerful social discovery tool that analyzes millions of data points from social media platforms for our clients. This patented and scalable technology analyzes social media data to find new audiences, trends, risks and voters and removes spam for government agencies and businesses. In addition to social media discovery, Nexalogy has developed a "Fake News Filter" for social media. This technology was developed to help a client monitor the Canadian Federal Elections.
Datametrex is currently working on numerous government contracts. The company has completed several milestones for the Canadian Department of National Defence' Innovation for Defence Excellence and Security (IDEaS) program and has recently secured another contract through the program. The company is also a vendor for the US federal government. Its social media threat detection technology is expected to be tested by several NATO partners.
Since launching NexaIntelligence, Datametrex has been focused on improving the platform. The company has added bot and agent detection functions and outfitted the platform with an algorithm that detects false narratives in social media discussions.
Through its subsidiaries, Datametrex has secured contracts with various divisions of LOTTE Group, the fifth-largest conglomerate in Korea, and was chosen by Two Lakes Group to be their technology solution provider for projects in Africa. Two Lakes is an international consulting firm that is focused on helping Africa become a global economic hub through a network of trade and diplomacy.
Since launching Health Security as a result of the world pandemic COVID-19 (2019-nCoV) in January 2020, Datametrex has been engaged is the selling of COVID-19 polymerase chain reaction (PCR) based testing kits along with complete testing services. One of the main aims was to strengthen diagnostics capacity for COVID-19 detection to help governments and companies improve surveillance and early detection and track and trace the spread of COVID-19.
Datametrex formed a network referral laboratories with demonstrated expertise in the molecular detection of COVID-19 and ensured the newly developed 2019-nCoV PCR assay test kit's availability through supply chain from South Korea. Since December 31, 2019, and as of October 28, 2020, 44,052,388 cases of COVID-19 have been reported, including 1,168,076 deaths worldwide.
Datametrex's Company Highlights
Over three billion social media users worldwide.
Global social media analytics market to reach US$16.37 billion by 2023.
One patent granted and another pending approval in the US and Canada.
Approximately C$4 million in AI contracts secured to date.
Vendor to the US federal government, which spent approximately US$85 billion on technology in 2018.
Led by an experienced team of operators and capital market professionals.
Management notably holds 30 percent of company shares.
The company has received $1.8 million from the exercise of share purchase warrants and options in Q2 2020
Datametrex delivers secured COVID-19 reporting and testing solutions that are FDA, Health Canada and CE approved.
Datametrex can adapt and serve the ever-changing COVID-19 landscape.
Approximate top-line revenue estimates C$20 million in COVID-19 contracts secured to date.
Datametrex is supplying COVID-19 Tests for 13 film productions launched in Vancouver, with additions in Montreal and Toronto.
Social Media Analytics
There are over three billion social media users across the globe. Social media is one of the most widely used marketing tools used to gain actionable insights from consumers on products and services. Many public and private entities use social media to market their products to consumers, build brand awareness and gauge public opinion on products and trends, among other applications.
According to a Research and Markets report, the global social media analytics market is expected to reach US$16.37 billion by 2023. The growth of the market is due to the increasing number of social media users and spending on analytics.
Social media analytics combines monitoring, measurement and analysis tools to uncover user sentiment and identify key trends in the market. These tools allow users to decipher vast amounts of data from various social media platforms, such as Facebook (NASDAQ:FB), Twitter (NYSE:TWTR) and Instagram, to determine customer sentiment about brands and trends, customer concerns, the efficacy of marketing campaigns and competitor intelligence.
However, social media can be abused by those wishing to spread misleading information that can affect perceptions of important issues, such as elections. This has created the need for interactive platforms that detect deceptive posts.
Nexalogy
Nexalogy is Datametrex's wholly owned subsidiary and is aimed at disrupting the social media intelligence market by offering advanced intelligence functionality. Nexalogy has a patented technology with a second patent pending in Canada and the US.
The technology is offered as a software as a solution (SaaS) to government agencies and retail brands and has applications for internet of things (IoT) smart cities. The company has a growing presence in Asia and Europe and has diversified its revenue streams by targeting small-cap public companies with ad buy offerings.
Nexalogy's technology utilizes a social discovery engine that analyzes data to find new audiences, trends, risks and voters, and it removes spam. The technology has applications for companies and government agencies wanting to understand their influence online and identify fake news.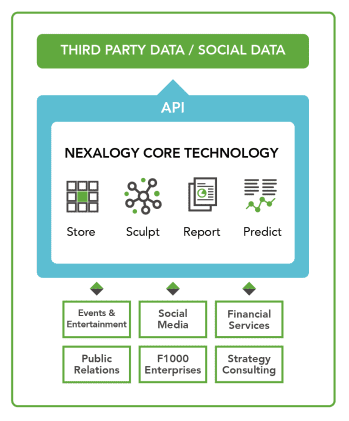 To date, Nexalogy collects data from over 500 million tweets a year and has access to over 85 million blogs and 8.8 million Facebook pages, giving Datametrex an advantage when analyzing profiles and other unstructured data and when marketing itself to companies and government agencies.
The discovery engine uses conversation sculpting and algorithm clustering to provide insights, and it cleans unstructured text. The algorithms are also able to identify themes, people, relationships, topics and content, which can be filtered out to deliver the most relevant content. Datametrex uses interactive visuals to display the collected data.
The technology is a scalable distribution system that cleans and processes data from various sources on the web to produce reports and visualizations. Datametrex can scale the platform to include the ever-increasing social data generated on the internet, especially in the wake of significant events or unforeseen developments.
Fake News Application
Datametrex has developed NexaIntelligence, a solution that identifies fake news. The solution incorporates a semantic dimension analysis, which shows users the overall sentiment on the internet towards specific posts and topics.
"We are thrilled to be first movers in this space. Fake news is a serious problem for both the public and private sectors, and we look forward to offering our solutions to help combat misinformation," said Datametrex COO and President Jeff Stevens.
The solution ranks content sentiments in over 100 categories and looks for foreign misinformation and propaganda in social media conversations, which could affect politics or prominent social issues.
To date, the company has successfully identified multiple sources of fake news on social media through various initiatives and programs.
Since launching the platform, Datametrex has made several improvements to the technology. The company has added a bot and agency actor user interface to help identify fake accounts on social media that aim to propagate messages to influence public opinion. Datametrex has also developed an algorithm that tracks false narratives in social media discussions that focus on a region or a particular topic.
"These technology developments are a major milestone for the company. Datametrex will be one of a select few AI companies that can offer this type of analysis and detection for governments, military, media, marketing and data collection agencies and corporations to identify and manage fake news. We will never be able to prevent fake news and propaganda, so having powerful tools to identify and manage the narrative is key for all stakeholders," Stevens said.
To help Datametrex breach the global military market, the company has retained One 9 Investments, a company with over 70 collective years of post-9/11 military experience. One 9 Intelligence's network extends into the branches of the government responsible for intelligence and national security community.
Nexalogy's Partnerships and Clients
Datametrex is continually forming partnerships in various industries to expand its social networks and data points. The company has partnerships in place with multiple discussion forums, blogs and news sites, among others.
US Federal Government
In January 2019, Datametrex became an approved vendor to the US federal government. In 2018, the US government spent approximately US$85 billion on technology, providing the company with a substantial opportunity to expand its services in the US.
"Nexalogy's expertise in the areas of social media monitoring and intelligence, fake news filtering and other machine learning applications are in great demand from government agencies and other organizations. Datametrex through its Nexalogy division is well-positioned to capitalize on these accretive opportunities in Canada, US and internationally," said Datametrex Chairman Andrew Ryu.
Datametrex secured its first sale in the US in May 2019.
Canadian Department of Defense IDEaS Program
Datametrex is participating in the Canadian Department of Defense's IDEaS platform, a 20 year, C$1.6 billion program that invests in defense and security innovations.
"The IDEaS program will provide unique opportunities for Canadians to put forward their best solutions on defense and security challenges and will help put those solutions into the hands of the women and men of the Canadian Armed Forces. This investment will support the growth and expansion of Canada's innovation community for the next 20 years," said Canadian Minister of National Defense Harjit S. Sajjan.
The company has completed its first and second milestones in the program totaling approximately C$1.15 million. The money is dedicated to further developing the Nexalogy SMART technology, while also expanding its fake news and narrative detection technology. If the company is successful in completing this project, it could be eligible for additional funding to continue the development of the product.
"This is a solid validation of the work Nexalogy is doing to help secure the safety of Canadians from cyber threats. Working with the Canadian government to build new tools that will be utilized by the military and then be applied to the corporate environment is a key driver for technical advancement in our country," Ryu said.
Korea Press Foundation
Datametrex has secured an initial one year contract with the Korea Press Foundation (KPF), a non-profit organization for the media and public interest sector. Under the terms of the agreement, Datametrex will be implementing its NexaIntelligence and fake news filter across a variety of content and media channels to help the KPF ensure the viability and integrity of the traditional and social media content the organization publishes. The AI technology will also deliver more targeted constituents and press members across Korea.
"This is an exciting opportunity for Datametrex and its product portfolio. Bringing our artificial intelligence to social media and content platforms through an organization like the Korean Press Foundation only further validates our capabilities. The leading social media hubs can leverage the distribution channels of this Institute in Korea allowing us to be part of a key integration process," said Ryu.
LOTTE Home Shopping Datametrex has secured a contract with LOTTE Home Shopping and LOTTE Property and Development, the second-largest retailer in South Korea, for predictive analysis. It operates businesses in the areas of television shopping, Internet shopping malls, catalogues and mobile shopping in South Korea and internationally, including locations in Japan, South Korea, China, Indonesia and Vietnam. LOTTE Property & Development operates as a high rise multi-purpose shopping mall and provides the LOTTE World Tower and the LOTTE World Mall with environmentally friendly urban green complex development, operations and other related services. Under the terms of the agreement, Datametrex will be deploying its NexaIntelligence solutions in several departments that have a strong requirement for AI and predictive analysis.
"To be selected by such a large retailer for our solution is compelling and will open up a lot of opportunities in the predictive analytic space. The need for AI and machine learning plays a key role in analyzing various data formats that retailers collect and is a major technology initiative at LOTTE," Ryu said.
COVID-19 Pandemic PCR Testing Kits
Datametrex currently offers for sale and provides testing services with 4 COVID-19 Nucleic Acid Detection Kits, 2 COVID-19 2Antigen Detection Kits and 2 COVID-19 Antibody Detection Kits.
COVID-19 Testing Film Industry
Datametrex has secured a contract to date with 13 film productions launched in Vancouver, with additions in Montreal and Toronto. Based on these current contracts and additional opportunities for testing services that the company is pursuing and in discussions for, management believes that the company is on track to achieve approximately 4,000 tests per week. Based on current operations, current cost and revenue model, this would result in revenue of approximately $20 million over the next 28 weeks.
The global film and video market is expected to decline from $252.9 billion in 2019 to $244.4 billion in 2020 at a compound annual growth rate (CAGR) of -3.4 percent. The decline is mainly due to economic slowdown across countries owing to the COVID-19 outbreak and the measures to contain it. The market is then expected to recover and grow at a CAGR of 5 percent from 2021 and reach.
Datametrex is ramping up its business to meet increasing demand, and the company's expectations based on what it is seeing in the market is to execute on approximately 10,000 tests per week on a progressive basis.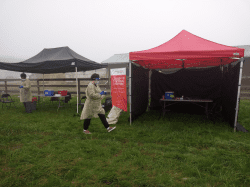 COVID-19 Testing Mining Industry
Datametrex has secured contracts with global mining companies to provide test kits and testing services, and it currently provides testing services with several Canadian based mining and exploration companies for its employees and contract workers at several locations across Canada. Datametrex has shipped test kits and PCR machines to Africa, Latin America, Asia and Canada.
Datametrex's Management Team
Marshall Gunter — Chief Executive Officer
Mr. Gunter's engineering background is rooted in big data analysis and machine learning at scale. Working with Sequoia Capital and Lightspeed Venture Partners, Marshall was responsible for bringing Varagesale to the mass market. Marshall took Varagesale from a one room shop to a powerhouse engineering department of 60 plus people and played a leading role in their $35-million-dollar raise. Marshall leads the team that built iSentium's sentiment engine. iSentium uses patented Natural Language Processing (NLP) to extract sentiment from unstructured social content then instantly transforms it into highly actionable indicators in finance, brand management and politics, handling billions of data points to harness the power of the masses as they tweet and text.
Don Shim — CFO
Mr. Shim has led a successful accounting and finance career in both the US and Canada. He brings a wealth of knowledge to the team with his expertise in auditing publicly- traded junior mining companies and high-tech industries. Member of the Chartered Professional Accountants of British Columbia and a Certified Public Accountant registered in the State of Illinois, United States. Audit partner on numerous audit engagements for various publicly traded companies, primarily focusing on junior mining, oil and gas, pharmaceutical, and high-tech industries. Mr. Shim also assisted various start-up companies in achieving public listings on the TSX Venture Exchange, Canadian Securities Exchange and the OTC Market. In addition, Mr. Shim teaches accounting at a local college in Vancouver and acts as a facilitator at CPA Western School of Business, mentoring CPA candidates enrolled in the CPA Professional Education Program.
Edward Choi — Sales Lead (South Korea)
Edward Choi joined the company in June 2020 to head up the sales team in Seoul, South Korea. Edward was a Vice President at LOTTE for leading Lotte's cyber security division.
Andrew Ryu — Chairman
Andrew Ryu is a seasoned and experienced entrepreneur and operator in public and private companies with over 20 years of experience. Graduate of McMaster University and University of Toronto. He is the founder and CEO of TLA Inc., president of business development of Archer Education Group and founder and former CEO of Loyalist Group Limited, which was nominated as the top TSXV company in 2013, ranked fourth in 2014 and was the top pick of the street in 2014. He was nominated of EY Entrepreneur of the Year in 2014. He serves as interim CEO and Chairman of Graph Blockchain Inc. As a founder of the Company, he served as CEO from 2016 until recent.
Paul Haber, C.P.A., C.A., C.Dir. — Director
Mr. Haber has been involved in corporate finance and capital markets for over 20 years. He has served as the CFO and Audit Committee Chair of many public and private companies. Some of the Boards Mr. Haber has sat on includes, XTM Inc., South American Silver Corp., Migao Corporation, China Health and Diagnostics Inc., High Desert Gold Corp. and IND Dairytech Inc. Mr. Haber has also served as the CFO of various public companies including Oremex Gold, SEL Exchange Inc., Leitch Technology Corp. and Migao Corporation. Mr. Haber started his career with Coopers & Lybrand (now PricewaterhouseCoopers LLP). He is both a Chartered Accountant and a Certified Public Accountant, with an Honours Bachelors of Arts Degree in Management from the University of Toronto. Mr. Haber was awarded his Chartered Director designation from the DeGroote School of Business in partnership with the Conference Board of Canada.
John McMullen— Director
John has over 20 years' experience in international capital markets with a focus on micro and small cap public companies. He is a cannabis industry thought leader and enterprise builder.
Benj Gallander — Director
Mr. Gallander brings over 40 years of experience in the markets, with ample skills in integrating business and strategic investors and his know-how bringing innovation to companies. Over time, he has refined his approach to investing and has achieved one of the best track records in the investment industry. Mr. Gallander is a co-editor of Contra the Heard investment letter, and over the past ten years the portfolio he manages achieved an annualized return of 18.4%. Benj co-writes "The Contra Guys" column for The Globe and Mail and is an author of three best-selling books, writes for several magazines and has been a regular on BNN Bloomberg since virtually the beginning.
Hon. James S. Peterson, PC. — Director
Mr. Peterson obtained his BA and LLB from Western University, his LLM from Columbia University, and his DCL from McGill University. He is a member of the Ontario Bar Association and the Canadian Bar Association and is a co-chair of the Canada-U.S. Law Institute. Mr. Peterson has also served for the government of Canada as minister of international trade, secretary of state (international financial institutions) and chair of the House of Commons standing committee on finance. While a cabinet minister, Mr. Peterson represented Canada at the World Trade Organization's Doha round of negotiations, which were focused on expanding trade and investment in leading emerging markets Brazil, Russia, India and China, and with complex issues related to trade with Canada's NAFTA partners, the European Union, the Middle East and the Americas.
Mr. Peterson served as chair of the House of Commons finance committee, where he began the practice of public prebudget hearings and completed several major studies, including a review of Canada's value-added tax (the GST). He retired from the House of Commons in 2007 after 23 years of public service as the member of Parliament for Willowdale (Toronto).​
---
INN does not provide investment advice and the information on this profile should not be considered a recommendation to buy or sell any security. INN does not endorse or recommend the business, products, services or securities of any company profiled.
The information contained here is for information purposes only and is not to be construed as an offer or solicitation for the sale or purchase of securities. Readers should conduct their own research for all information publicly available concerning the company. Prior to making any investment decision, it is recommended that readers consult directly with Datametrex AI Limited and seek advice from a qualified investment advisor.