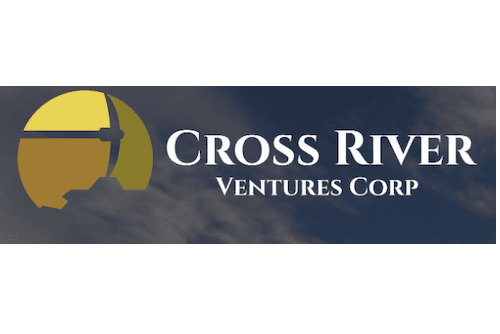 Cross River Ventures
District-Scale Potential in Northwest Ontario
Overview
Having the right team to push the development and exploration of mineral-rich assets sets a great mining company apart from the good ones. Particularly for precious metal properties, striking gold can sometimes be half the battle.
Cross River Ventures (CSE:CRVC) is a gold exploration company focused on developing high-quality exploration properties in top-tier mining districts. The company currently has a robust project portfolio in Northwest Ontario, Canada, along prolific, gold-bearing greenstone belts.
The Cross River Ventures leadership combines unparalleled expertise and technical experience across its all-star team of accomplished individuals. Dr. Rob Carpenter and Dr. Alan Wainwright, the company's leading technical advisors, helped lead the Kaminak team to success with the multi-million-ounce discovery Coffee gold project in the Yukon.
Likewise, Cross River Ventures' exploration manager, Lori Paslawski, has a proven history with volcanogenic massive sulfide (VMS) ore and gold districts, and she was instrumental in the target generation, delineation and expansion of Westhaven Gold (TSXV:WHN) Shovelnose gold discovery.
The company's flagship property is the McVicar Lake gold project, which spans over 11,500 hectares in the Lang Lake Greenstone belt in Northwest Ontario. The rest of Cross River Ventures' portfolio currently consists of the Manitou project, the Fuchsite gold project, the Tahsis copper-gold project and its four properties in the Uchi Belt, including the Dent-Jackson project.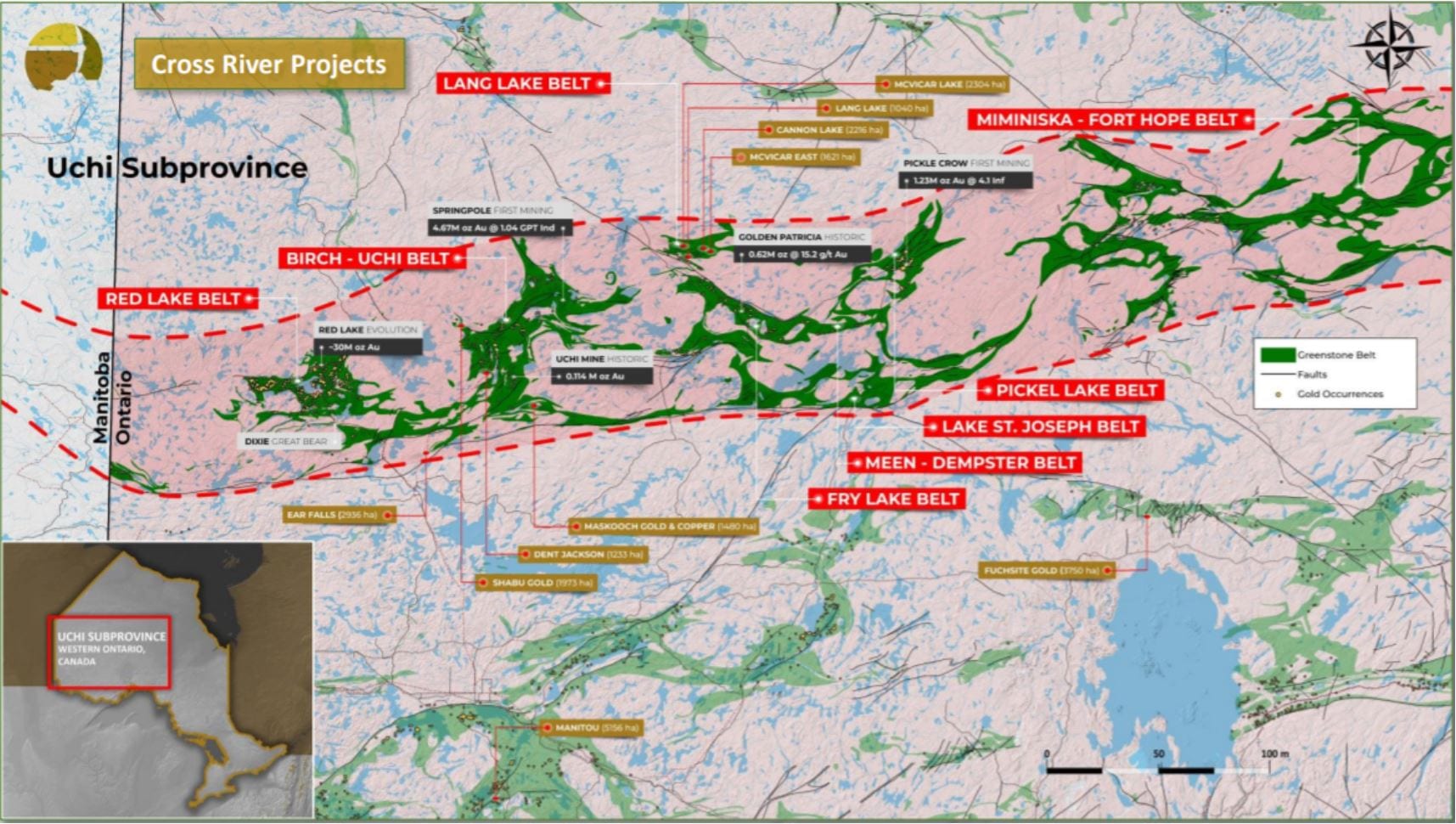 Exploration plans for 2021 include continued compilation efforts of historical data and assessment of all projects, acquisition of remote sensing data through LIDAR imagery and airborne magnetic surveys, field work and analytical sampling. Projected drilling phases are to begin at priority projects starting at the end of the year.
Cross River Ventures' Company Highlights
Cross River Ventures is a gold exploration company focused on developing top-tier exploration properties in Ontario and British Columbia.
Its flagship McVicar gold project is a dominant land position that spans the main structural elements of the entire Lang Lake Greenstone Belt in Northwestern Ontario. The project hosts high-grade gold mineralization with extensive gold discovery potential.
Cross River's project portfolio also consists of several highly prospective early-stage properties along the Uchi Greenstone Belt. This collection includes the Dent-Jackson, Shabu, Maskooch and Ear Falls properties.
The company also operates the Dryden Area Manitou project and Fuchsite gold project in Ontario and the Tahsis copper-gold project on Vancouver Island.
Cross River Ventures has a stellar technical team that includes big names such as Dr. Rob Carpenter, Dr. Alan Wainwright, Lori Paslawkshi and Daniel MacNeil.
Cross River Ventures' Key Projects
McVicar Gold Project
The flagship McVicar gold project has a dominant land position of over 11,500 hectares in the Lang Lake Greenstone Belt, approximately 80 kilometers west of Pickle Lake, Ontario. The project covers all the major fertile structural and geologic elements of the belt and leverages an excellent mining-friendly jurisdiction and resource-rich conditions.
Cross River has uncovered over 26 mineral occurrences on the property despite its limited testing and drilling history. Earlier developments revealed several potential structural splay zones with discovery possibilities and a 2002 discovery of a smoky-grey quartz vein grading 827.4g/t gold.

The property's unique geophysical profile consists of three known styles of gold mineralization, including altered tonalite intrusions, discrete auriferous quartz veins and mineralized shear zones. Additional drill intercepts to-date at McVicar include 6.46g/t gold over 10.09 meters, 9.3 g/t gold over 2.02 meters and 11.72g/t gold over 1.52 meters.
The property hosts valuable geophysical characteristics that point to potential gold systems across its mafic-felsic contacts, shear zones. Fold hinges and iron formations. These elements on the McVicar land position suggest that its untested traps and structures are highly-prospective for new high-grade gold discoveries.
Uchi Belt Properties
Cross River controls four early-stage properties within the Archean Uchi Greenstone Belt, located approximately 90km east of Red Lake.
The Dent-Jackson property is a 1,233 hectare claim block in the west-central portion of the Uchi Belt. Similar volcanic stratigraphy as neighboring gold and base metal mines underlines the property. Recent discoveries from January 2021 revealed high-grade trench samples from the Cariboo Vein in the western part of the property, measuring estimates of 26 g/t gold over 8 meters.
The Shabu property is a 1,973 hectare claim block covering a narrow wedge of greenstone located along the Uchi Belt's northwest margin. The best historic drill hole intersection saw grades of 1.065 ounces per ton gold over 15 centimeters. Systematic exploration work is being planned for the gold and copper bearing shear zones and the known mineral occurrence areas.
The Maskooch property is a 1,480 hectare claim block along the southeastern margin of the Uchi Belt. The geophysical profile consists of mafic and felsic volcanic rocks with narrow intervals of banded iron formation. Previous exploration on the property has shown high potential for significant base metal sulfide mineralization and lode gold deposits.
The Ear Falls property is a 2,936 hectare claim block located southwest of the Uchi Belt and consists of favorable rock formations that have been relatively unexplored.
Fuchsite Lake Project
The Fuchsite Lake project is located 20 kilometers north of Armstrong, Ontario, and comprises approximately 3,750 hectares. The property's main target is an Archean shear zone within deformed and altered ultramafic and mafic volcanic rocks. This type of geophysical conditioning points to potential gold mineralization that mimics some world-class gold camps in the superior province of Ontario and Quebec.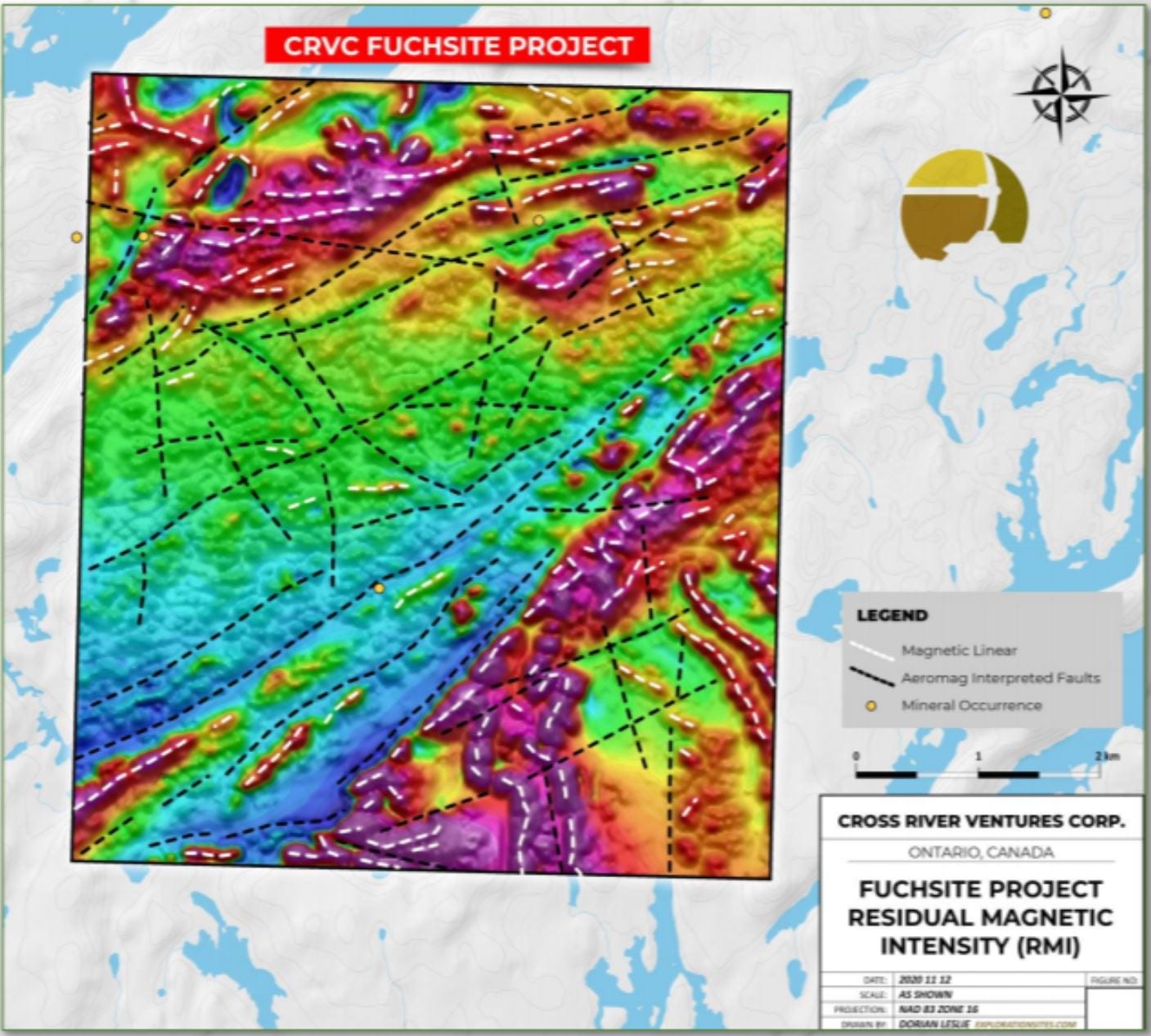 In 2020, Cross River conducted a high-resolution airborne magnetic survey at the Fuchsite gold project, which successfully defined and extended a key structural zone associated with the project's Lette gold and base metal prospect. The prospect remains relatively unexplored, which provides Cross River a first-mover advantage in exploring and developing this highly prospective project.
Tahsis Copper-Gold Project
The Tahsis copper-gold project is a 4,866 hectare gold exploration property located in Northern Vancouver Island, British Columbia, Canada. The property leverages a rich exploration history with past production at the nearby Zeballos gold camp, which produced 287,811 ounces of gold and 124,700 ounces of silver from 13 deposits between 1930 and 1948. The geology of the Tahsis project is similar to the Zeballos camp.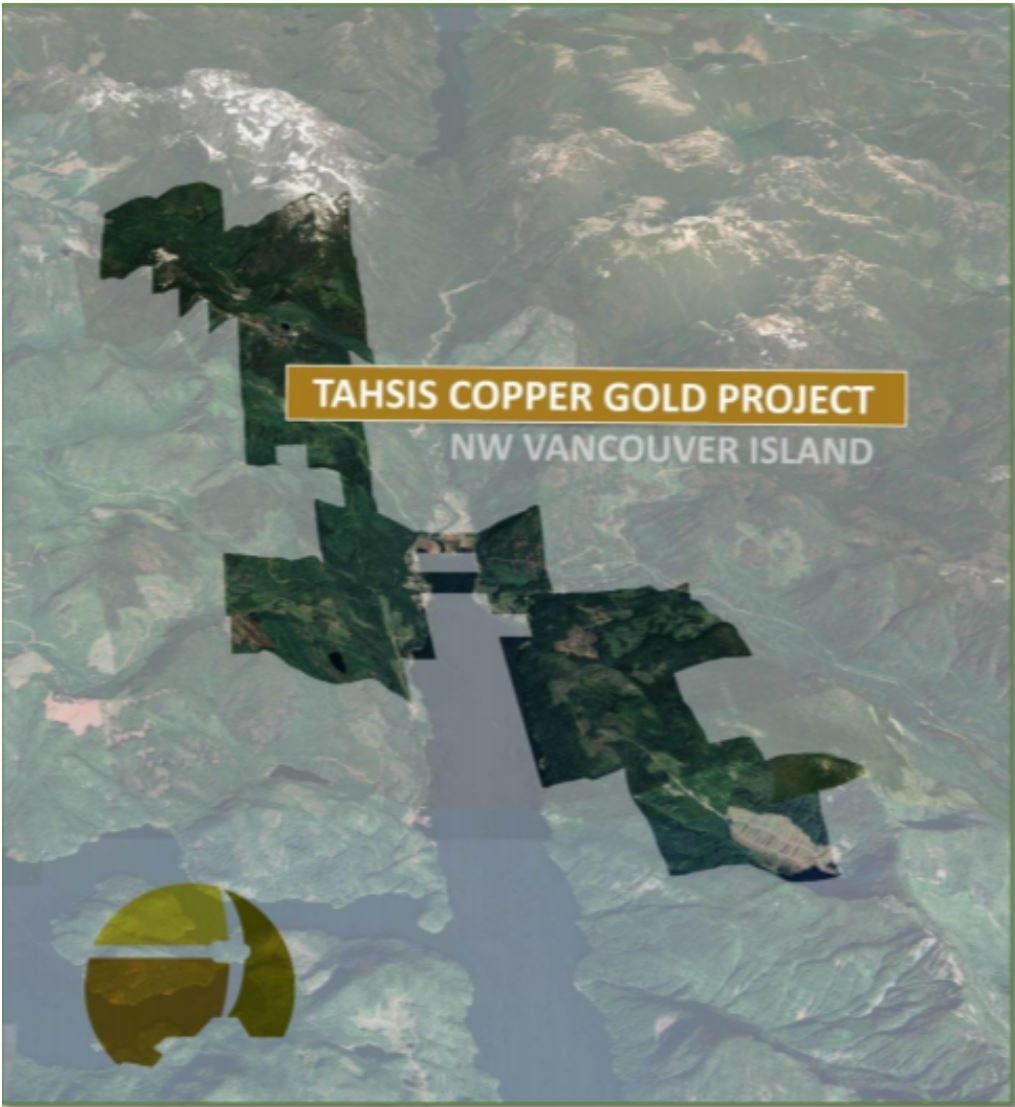 Cross River has discovered three target areas at Tahsis, which it intends to assess for subsequent excavator trenching. Cross River Ventures owns an option to acquire 100 percent undivided interest in the Tahsis property.
Manitou Gold Project
The Manitou project spans 5,156 hectares along the possible extensions of gold-bearing shear zones in the Manitou Lake area, 40 kilometers south of Dryden, Ontario. Neighboring mining companies have found several north-northeast structural zones that rank high for gold potential near the property.
Historic production has reported drill intercepts of 216.85 g/t gold over 0.3 meters and 15.5 g/t gold over 6.9 meters. The company is currently compiling historical data and interpreting property geology to further develop and analyze the project.
Cross River Ventures' Management Team
Alex Klenman — CEO and Director
Alex Klenman is an experienced junior mining executive whose career spans over 30 years of experience in the private and public sectors. Over the past decade, he has held leadership roles with numerous publicly traded resource companies, including senior officer and director positions with Nexus Gold, Leocor Gold, Azincourt Energy, Arbor Metals, Manning Ventures and others. As a consultant in the past, he has also worked with Roxgold, Forum Uranium, Integra Gold and Midnight Sun Mining, among others. Klenman began his professional career in television broadcasting, which evolved in the late 1990s into communications, finance and marketing roles principally for publicly traded companies.
John Fraser — President and Director
John Fraser has over 20 years of experience in the Canadian capital markets. Fraser worked as an investment advisor at several Canadian brokerage firms with a focus on the mining sector. Since transitioning to the business's public company side, he has held board positions and advised several mining and technology companies.
Alex Tong — CFO
Alex Tong is a highly qualified finance professional with extensive senior management experience in the mining space. He has worked directly with companies operating in North America and Africa and was most recently the Director of Finance at Lucara Diamond. Before Lucara, Tong held senior finance roles with development resource public companies Energy Metals and Novagold Resources, where he was responsible for achieving operational performance, leading mergers and acquisitions and involved with various financing strategies. Tong is a Chartered Professional Accountant who articled with Deloitte LLP, where he managed a portfolio of clients in both the Canadian and US public markets, primarily in the brokerage and mining industry.
Cross River Ventures' Technical Team
Lori Paslawski, MSc — Exploration Manager
Lori Paslawski is an economic geologist specialized in field-based exploration for base and precious metal deposits. Her expertise includes three-dimensional lithological/structural/ore deposit modeling, project evaluation and grassroots through in-mine exploration targeting. She has worked in VMS, epithermal gold, orogenic gold and structurally controlled silver-zinc-lead districts and was instrumental in the target generation, delineation and expansion of the Shovelnose gold discovery.
Lori completed her MSc at St. Francis Xavier University, where she worked in the Rio Tinto VMS district in Spain. She is currently a project geologist with Vector Geological Solutions.
Dr. Rob Carpenter, Ph.D.
Dr. Rob Carpenter is a professional geoscientist with more than 30 years of corporate and technical mineral exploration experience. He has founded and played critical roles in several successful junior mining companies, including Kaminak Gold Corporation. Dr. Carpenter led the Kaminak team as CEO from inception in 2005 through acquisition, discovery and maiden resource calculation of the multi-million-ounce Coffee Gold Project, Yukon. Goldcorp acquired Kaminak in 2016 for over US$500 million.
Dr. Alan Wainwright, Ph.D.
Dr. Alan Wainwright is an economic geologist with over 20 years of mineral exploration and research experience in North America, South America, Europe and Asia, focused on base metals and gold. He was the H.H. Spud Huestis Award co-recipient for the Coffee gold discovery.
Daniel MacNeil, MSc
Daniel Macneil is an economic geologist specializing in precious and base metals with over 19 years of experience from Continental-scale project generation to in-mine resource expansion in various geological settings in the Americas, Europe, Eastern Europe and the Middle East. His expertise includes project evaluation, target and opportunity identification, exploration strategy, district entry strategy, business development, strategic evaluation of geologic terranes and execution of target testing. MacNeil is the founder of Vector Geological Solutions.
---
*Disclaimer: This profile is sponsored by Cross River Ventures (CSE:CRVC). This profile provides information which was sourced by the Investing News Network (INN) and approved by Cross River Ventures in order to help investors learn more about the company. Cross River Ventures is a client of INN. The company's campaign fees pay for INN to create and update this profile.
INN does not provide investment advice and the information on this profile should not be considered a recommendation to buy or sell any security. INN does not endorse or recommend the business, products, services or securities of any company profiled.
The information contained here is for information purposes only and is not to be construed as an offer or solicitation for the sale or purchase of securities. Readers should conduct their own research for all information publicly available concerning the company. Prior to making any investment decision, it is recommended that readers consult directly with Cross River Ventures and seek advice from a qualified investment advisor.