This profile is part of an investor education campaign. The profile provides detailed information which was sourced and approved by Lineage Grow Company in order to help investors make better investment decisions. The Company's support of Investing News Network ensures we can continue to bring you unbiased, independent news and information.
Resource Investing News Featured Stock
Overview
Lineage Grow Company Ltd. (CSE:BUDD) is a cannabis company dedicated to developing high-quality, craft cannabis using precision agriculture techniques. Combining best-of-breed plant genetics, deep water culture and controlled microclimates, Lineage Grow plans to disrupt the cannabis market by using leading technology and small-batch production techniques designed to optimize the cannabinoid, flavor and smell profiles of its products. This combination of systems and processes will also help optimize energy use and reduce water consumption, enhancing the economics of craft cannabis production—usually an expensive approach.
Looking to develop its brand and attract a niche market of educated cannabis connoisseurs, Lineage Grow is growing its presence by incorporating cannabis experts into its operations and by investing wisely in companies and facilities that are aligned with its goals. To this effect, the company is entering the market through planned, targeted acquisitions within California, Washington and Oregon, all key locations in the US cannabis market. Other near-term catalysts for the company include their upcoming listing on the Canadian Stock Exchange (CSE).
Lineage Grow has also entered into a letter of intent for a partnership with Mt. Baker Greeneries LLC in Washington State, under which the company will license proprietary intellectual property, provide services and non-cannabis materials, and lease equipment and employees. As part of this partnership, the company is supporting Mt. Baker with the development of their 7,800-square-foot facility licensed for both production and processing, which is expected to begin cultivation in early 2018. Lineage Grow will work with Mt. Baker to help optimize the efficiency of their cultivation operations, sharing their technological and agricultural solutions and effective brand management concepts.
Lineage Grow is led by a management team that has insight into multiple industries and are proven in all aspects of corporate development and brand management, most notably within the US craft brewing industry. The management team is significantly invested in the company, holding a portion of shares, and are supported financially by a strategic shareholder: Nutritional High International Inc.
Investment Highlights
Disrupting the cannabis space with a targeted approach for scaling artisanal, small-batch craft cannabis production to an industrial level
LOI for strategic partnership with licensed producer and processor in Washington
Growing presence in US cannabis market through planned acquisitions and generic growth in California, Washington and Oregon
Management team with broad industry insight
Disruptive Cannabis Cultivation Techniques
With a goal of producing a craft product in smaller batches for a loyal customer following, Lineage Grow has developed a cultivation approach aimed at enhancing the quality of their cannabis plants. The Lineage Grow process aims to scale an artisanal approach to cannabis cultivation, integrating leading technology to perfect the system and industrialize craft cultivation.
Growing in Microclimates
Cannabis microclimates are individual grow rooms that use state-of-the-art technology including environmental controls for light, temperature, humidity and mineral nutrients. This also includes the use of LED lighting, which is used to optimize the growing environment and reduces the cost of electricity. Growing within microclimates enhances the quality of the cannabis plant as the environments can be tailored to optimize the potency, yield, flavor and scent of each unique strain. Other benefits include the reduction of disease and contamination, as any outbreaks can be contained within the individual room.
Deep Water Culture
Deep water culture is a variation of hydroponics, a process in which plants are rooted in a well-oxygenated solution of water and other nutrients that promote growth and reduces the need for watering the crops, saving water in the process. Using recycled water, the process is environmentally responsible and sustainable. Benefits also include lower labor costs as there is less need for monitoring and maintenance, increased yield per square foot, increased THC content and a lowered risk of infestation.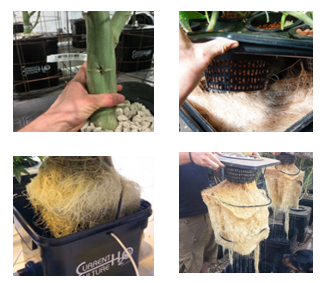 Precision Agriculture
Precision agriculture is the application of technology within the cultivation process, which enables growers to make smarter, data-driven decisions, making time-consuming and costly processes more efficient and cost-effective. In this regard, Lineage is working towards deploying a technology platform that will improve the efficiency and yield of its operations while delivering a high quality, craft cannabis product. The platform will include sensors and probes that enable real-time measurement of the crop's response to lighting and nutrients; an internet of things (IoT) functionality for management of inputs controlled by electricity; machine learning to continuously optimize control strategies based on big data analytics; and automated grow systems that reduce labor requirements and minimize the plant to human interaction.
Tissue Cultures
Instead of using plant clones for the cultivation of their strains, Lineage Grow will be utilizing advanced tissue culture techniques that enable the company to select the ideal strains and specimens for their environments. This also enables the consistency of growing strains across various facilities, ensuring the quality of the plants.
Management
David Drutz—CEO
David Drutz is an experienced in all aspects of corporate development, including international sales, operational structure and revenue generating initiatives.
Robert Schwartz—Director
Robert Schwartz is a serial entrepreneur for over 15 years of experience. His expertise lies in manufacturing and global distribution. He also has a background in financial services and financing micro-cap companies in the venture capital space.
Hamish Sutherland—Director and Operations Advisor
Hamish Sutherland is the former COO of Bedrocan Canada Inc. He is also the President & Managing Director of Bid.Com in the Asia Pacific. He holds a B.Eng from McMaster University & MBA from York University.
Aurelio Useche—Director
Aurelio Useche is the CEO and advisory board member of Relevium Technologies Inc., and President of ZVS Investments Inc. He has extensive experience in business strategy and management, with a focus on acquisitions of new technologies and products for the health & wellness sector.
Peter Bilodeau—Director
Peter Bilodeau is a successful entrepreneur across various sectors, including real estate, management, corporate finance, oil & gas, and financial consulting. He is an active board member of several companies in the retail, financial services, and oil & gas sectors.
Adam Szweras—Corporate Secretary
Adam Szweras has expertise in recreational and medicinal marijuana laws in the US and Canada. He has extensive regulatory knowledge of the cannabis industry and experience launching cannabis companies. He was a partner with the law firm Fogler, Rubinoff LLP and founder of Foundation Markets Inc., a Toronto-based investment bank and Exempt Market Dealer.
David Posner—Director
David Posner is the Chairman of Nutritional High International Inc., a director of Capricorn Business Acquisitions Inc. and an officer of Aura Health Corp. (a private company developing and acquiring marijuana health clinics in the US). He was the Acquisitions Manager for Stonegate Properties Inc. where he managed real estate properties and brokered deals in Canada and Oklahoma.