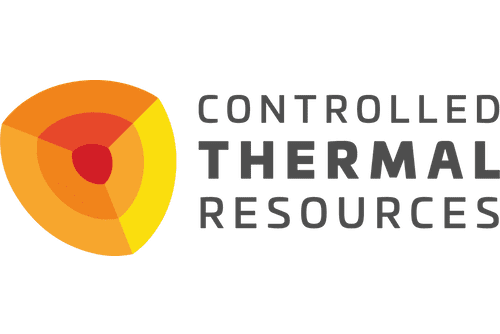 Controlled Thermal Resources
Advancing the Hell's Kitchen Lithium and Power Project
This Controlled Thermal Resources Ltd profile is part of a paid investor education campaign.*
Overview
Controlled Thermal Resources Ltd. (CTR) is a public unlisted lithium resource and renewable energy company, developing the Hell's Kitchen lithium and power project in Imperial Valley, California. CTR has invested eight years into the development of an integrated lithium extraction and conversion facility with a geothermal power facility on its leasehold within the Salton Sea Geothermal Field (SSGF). CTR is focused on delivering sustainably produced, battery-grade lithium products and renewable baseload power to support California's clean energy mandates and to ensure a secure and reliable lithium supply chain in the United States. The company has headquarters in both California and Brisbane, Australia.
Globally, attitudes toward energy-related resource extraction are evolving to better reflect climate change concerns and the demand for cleaner, "greener" products. Investors are increasingly looking at jurisdictions and resource projects that are aligned with environmental and socially responsible development.
Utilizing direct lithium extraction technology, Controlled Thermal Resources is developing a staged production path for battery-grade lithium carbonate and lithium hydroxide compounds, and other US designated critical minerals.
The integration of lithium extraction with renewable energy production provides further advantages to project economics and operating performance compared to stand-alone lithium facilities. In contrast to evaporation pond and open pit mining, direct lithium extraction is a closed-loop system that utilizes 100 percent renewable energy and steam for processing; takes hours, not months to produce high purity battery-grade lithium products; has a very small physical footprint and a near-zero carbon footprint; is not weather dependent; does not require off-shore processing, and operates 24 hours a day, 7 days a week.
Controlled Thermal Resources anticipates commencement of commercial production at Hell's Kitchen in 2023. The production of geothermal power at Hell's Kitchen provides CTR the ability to participate in California's growing renewable energy market. In January 2020, CTR announced it had entered into a 25 year power purchase agreement (PPA) with Imperial Irrigation District (IID), the largest irrigation district in North America and the sixth-largest electrical utility in California.
With the assistance of its project engineering partner Hatch Ltd., Controlled Thermal Resources completed its Canadian National Instrument 43-101 (NI 43-101) Technical Report, and the accompanying Preliminary Economic Assessment (PEA). CTR has initiated a Prefeasibility Study (PFS) and commenced well pad construction in anticipation of drilling its first two geothermal wells.
CTR is seeking an equity investment of US$37 million to fund remaining project development activities up to the completion of financial close for construction of both commercial facilities.
The management team of Controlled Thermal Resources has significant project delivery experience in the mineral, chemical and renewable energy sectors, including more than a quarter-century of experience in the development and operations of large-scale geothermal energy projects in the Salton Sea region.
Controlled Thermal Resources' Company Highlights
California location offers jurisdictional security in a stable US economy.
Staged production path, commencing with 20,000 tonnes lithium hydroxide per annum and 49.9MW of renewable power in 2023.
Designed to scale according to market demands with a total resource capacity to produce ~300,000 tonnes per annum of lithium carbonate equivalent (LCE) products and ~1,100MW renewable power.
Eco-friendly, closed-loop, direct lithium extraction operation powered by 100 percent renewable energy.
Significant Environmental, Social and Governance (ESG) advantages over today's primary sources of lithium production including,

small environmental footprint
onsite renewable energy
no off-shore processing
alignment with downstream customer sustainability mandates

Support by federal, state, and local government agencies.
CEO Rod Colwell appointed to the Lithium Valley Commission – A California Blue-Ribbon Commission established to investigate lithium recovery from Salton Sea geothermal brines.
Power Purchase Agreement secured with IID.
Advanced discussions with prospective lithium offtake parties.
Located near established infrastructure such as rail, interstate highways, and industrial water.
Proven management team with decades of experience in mineral, chemical and renewable energy industries, including geothermal development and operations in the Salton Sea region.
Key Markets: Lithium and Renewable Energy
Over the next decade, lithium-ion batteries and energy storage systems are expected to play an increasingly significant role in providing power for transportation systems, homes, businesses, and economies worldwide.
According to Benchmark Mineral Intelligence, global demand for lithium is expected to rise from ~300,000 tonnes per annum LCE in 2018 to 2,200,000 tonnes per annum LCE by 2030.
In the United States, the Biden administration has released numerous Executive Orders and has pledged to create a 'Clean Energy Revolution. Highlights include:
$2 trillion to achieve a 100 percent clean energy economy and net-zero emissions by 2050.
Additional private sector, and state and local investments totaling more than $5 trillion.
1 million new auto sector jobs propelling the U.S. back into a leadership position.
Restoring the full electric vehicle tax credit.
Prioritizing the purchase of vehicles made in America.
Using the Federal government procurement system to purchase 100 percent clean energy and 500,000+ zero-emissions vehicles.
Support of clean, American-made electricity to achieve a carbon emissions-free power sector by 2035.
Investigate supply chain security, leverage domestic lithium reserves and encourage expansion of electric battery manufacture.
In Europe, further market demand for sustainably produced lithium products is expected to be driven by the European Commission's legislation to support sustainably produced batteries through a Battery Passport System.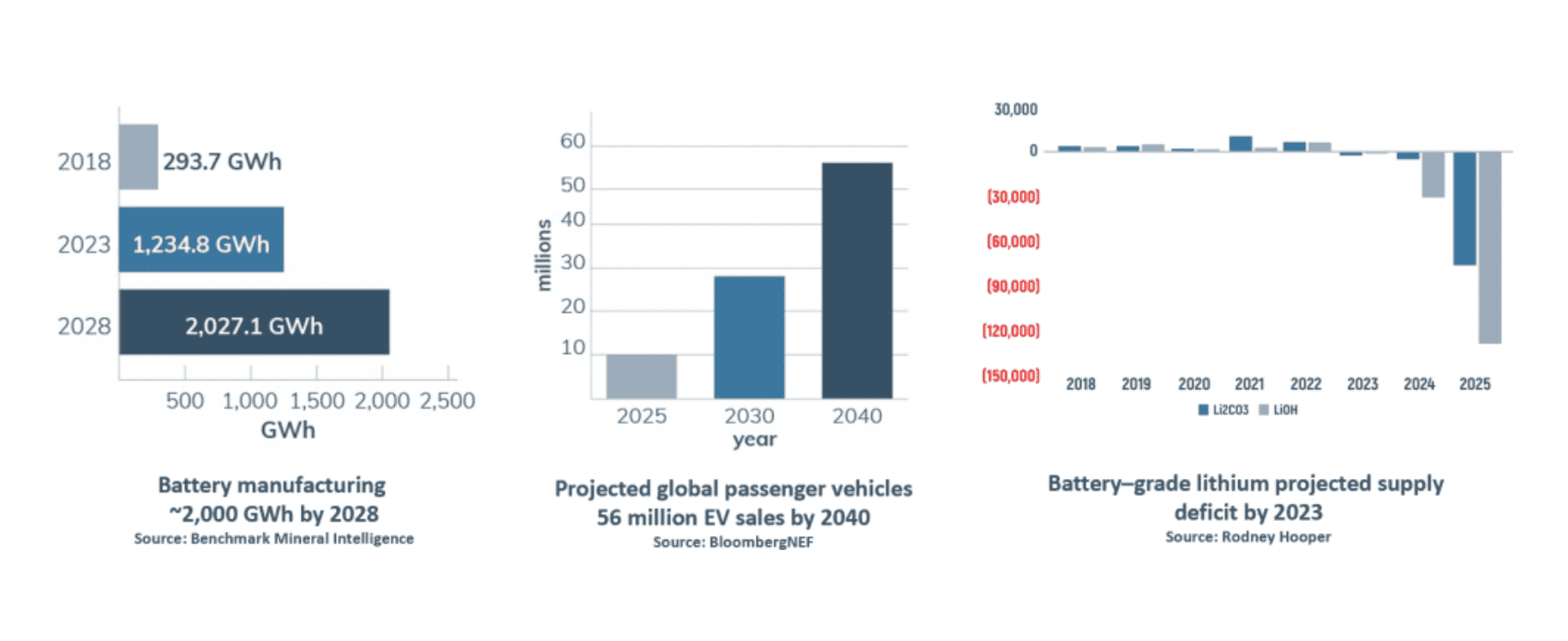 California's Renewable Portfolio Standard calls for 50 percent clean energy by 2030 and 100 percent by 2045. To reach those goals, the National Renewable Energy Laboratory has advised the state to significantly increase the ratio of baseload geothermal power in its energy mix to ensure reliability and control costs.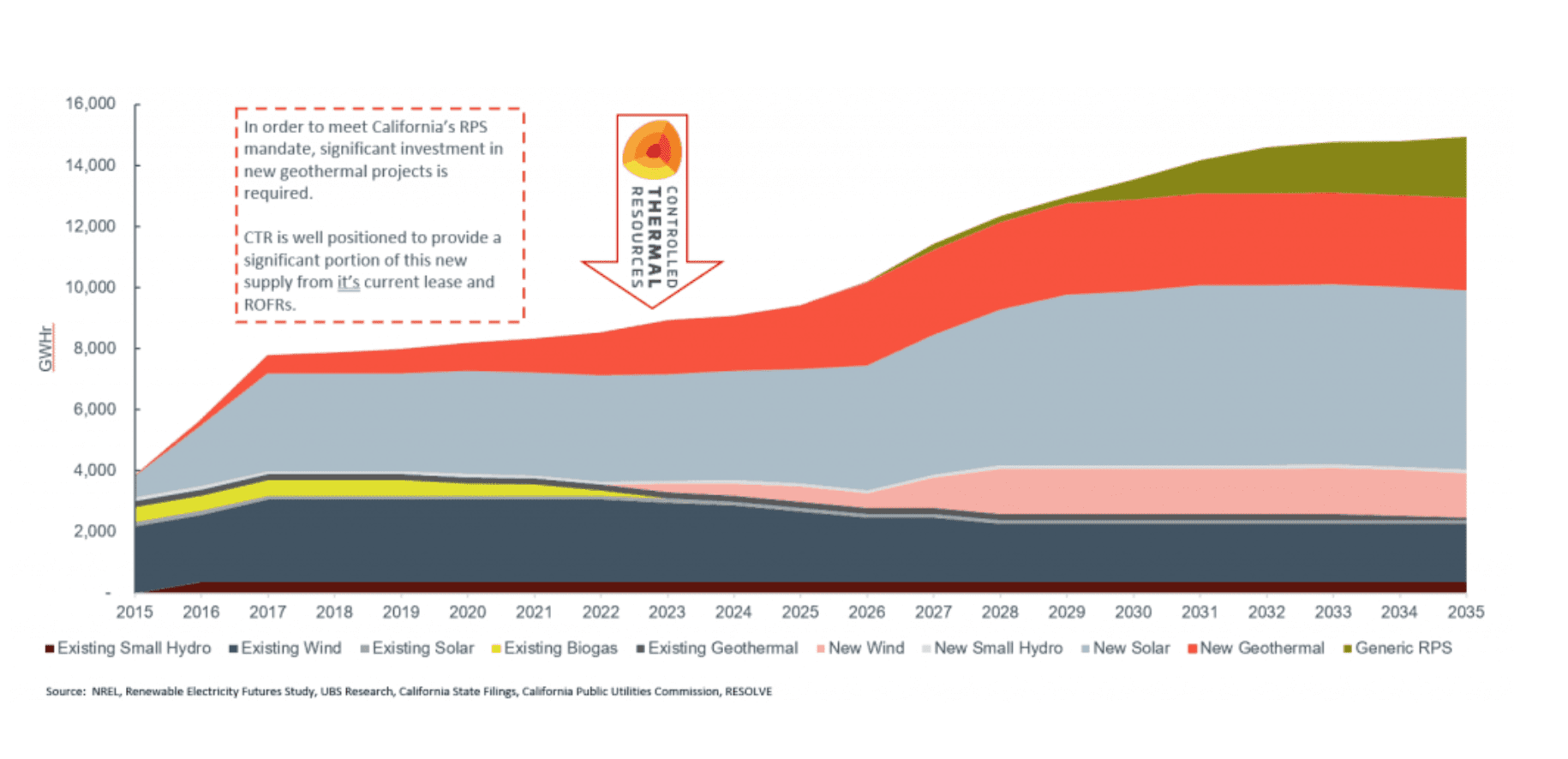 Hell's Kitchen Lithium Project
Controlled Thermal Resources' Hell's Kitchen lithium and power project is located on the southeast shore of the world's largest known geothermal resource, the Salton Sea Geothermal Field in Imperial Valley, California. The SSGF is a superheated brine aquifer that is situated between approximately 4,000 feet and 9,000 feet below surface level. Unlike most other geothermal fields, the SSGF is a very homogeneous, highly-mineralized resource body.
Geothermal operations have been active in this field for over 38 years with 240 wells drilled, resulting in extensive resource delineation and geothermal knowledge. The SSGF has the potential to produce up to 2,950 megawatts of clean power and upwards of 15 million tonnes of lithium.
Key transportation and utilities-based infrastructure in the region include rail to the Port of Los Angeles and other U.S. locations, major interstate highways, and access to water and grid power.
Established NI 43-101 Mineral Resource
CTR's lease agreement allows for the extraction of all minerals contained in the geothermal brine. Additional mineral resources at Hell's Kitchen include potassium, zinc, manganese, boron, strontium, rubidium and silica.
Proven direct lithium extraction technology
The Hell's Kitchen project will use direct lithium extraction technology (DLE) for lithium extraction from its geothermal brine. Unlike traditional brine evaporation ponds, direct lithium extraction is not weather dependent, enabling operation 24 hours per day. By eliminating the need for evaporation ponds, CTR will produce the same amount of battery-grade LCE products in hours as opposed to months; a fraction of the time required by conventional production methods.

Direct lithium extraction is a streamlined process capable of yielding a concentrated high-purity lithium solution providing the feed for the conventional production of battery-grade lithium carbonate and hydroxide chemicals.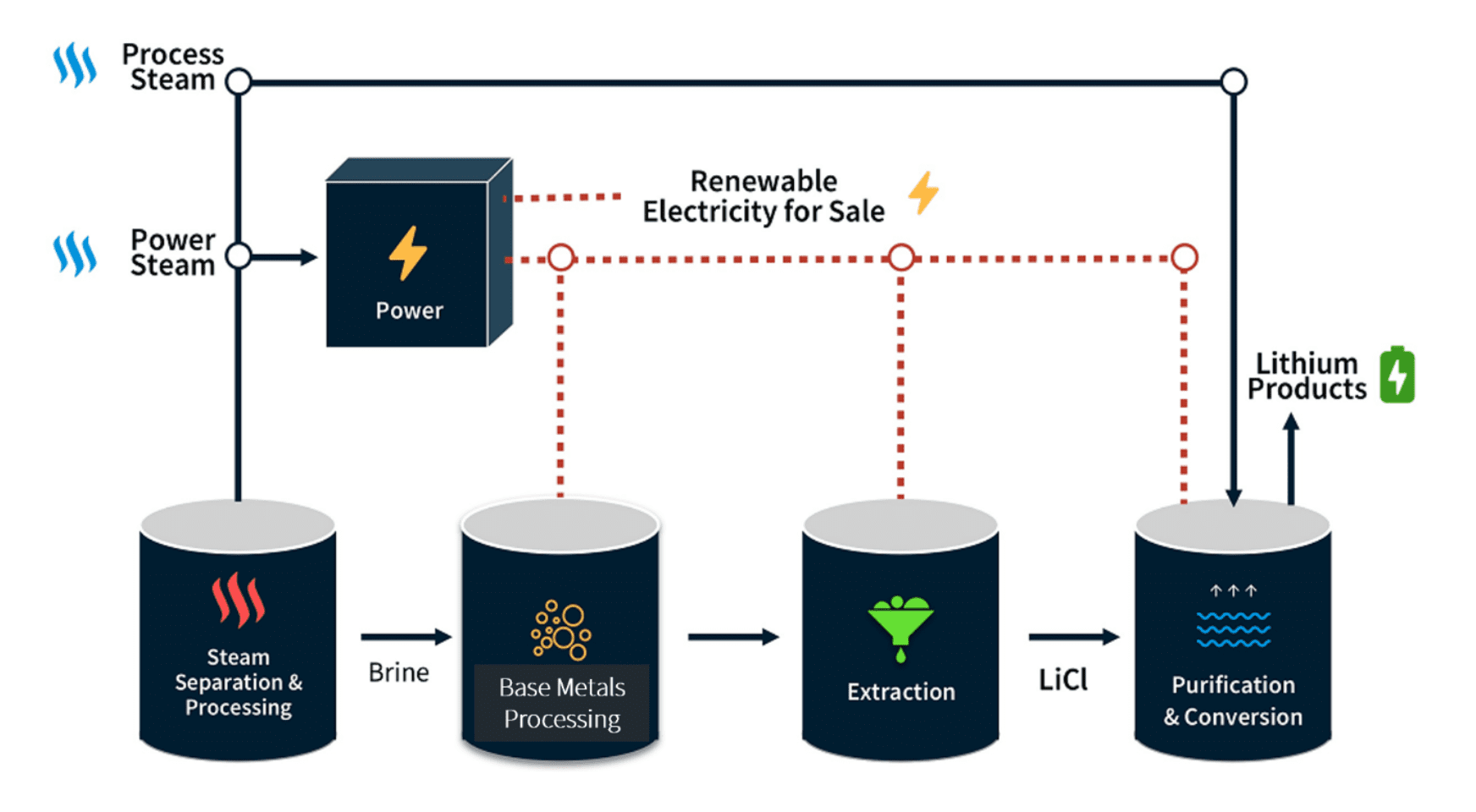 PEA highlights strong project economics
The NI 43-101 compliant PEA completed by Hatch Ltd. indicates DLE technology powered by renewable geothermal heat provides low capital and operating costs, accelerates project operations and boosts lithium recoveries from Salton Sea geothermal brine leading to strong project economics. According to the PEA, the integrated process will produce lithium with the highest sustainability credentials of any lithium production worldwide.
Small environmental footprint
Direct lithium extraction from geothermal brines represents a more environmentally friendly lithium production process when compared to the environmental impacts of traditional brine evaporation ponds and open pit mining. Integrating geothermal renewable energy produced onsite with the Hell's Kitchen lithium extraction project provides for an eco-friendly, closed-loop operation that fits well with the downstream battery and EV manufacturers' requirements for sustainably sourced materials while also dramatically reducing CO2 emissions.


Staged production path to battery-grade lithium products and clean power
Hell's Kitchen is expected to have a minimum 30 year life. Stage 1 of production is slated to begin in 2023, with a 20,000 tonnes per annum lithium hydroxide facility along with the generation of 49.9 megawatts of renewable energy from the integrated geothermal power plant. Additional stages will be developed according to market demand with a total resource capacity of approximately 300,000 tonnes LCE per annum and 1,100MW renewable power.
Controlled Thermal Resources Leadership
Rod Colwell — CEO and Director
Rod Colwell is a seasoned corporate executive specializing in property, geothermal, and minerals commercial development. He has driven all stages of project development including concept, feasibility, and commercial negotiations. Rod has over two decades of experience in optimizing returns on investment with an emphasis on prime site identification and asset value maximization. He has developed relationships with key stakeholders to ensure integrity, long-term growth, and project viability.
Jim Turner — COO and Director
Jim Turner has over 30 years of experience in senior management roles in the renewable energy and chemical industries including 25+ years developing and operating geothermal plants at the Salton Sea. He served as Vice-President and General Manager at CalEnergy (now Berkshire Hathaway Energy). His prior roles include Sr. Vice-President of Operations at AltaRock Energy and Sr. Vice-President of Business Development at EnergySource. His early career was with The Dow Chemical Company in engineering and technology management, and environmental business development. Jim holds a Bachelor of Science degree in Physics from Texas A&M University.
---
This profile is sponsored by Controlled Thermal Resources Ltd. This profile provides information which was sourced by the Investing News Network (INN) and approved by Controlled Thermal Resources Ltd in order to help investors learn more about the company. Controlled Thermal Resources Ltd is a client of INN. The company's campaign fees pay for INN to create and update this profile.
INN does not provide investment advice and the information on this profile should not be considered a recommendation to buy or sell any security. INN does not endorse or recommend the business, products, services or securities of any company profiled.
The information contained here is for information purposes only and is not to be construed as an offer or solicitation for the sale or purchase of securities. Readers should conduct their own research for all information publicly available concerning the company. Prior to making any investment decision, it is recommended that readers consult directly with Controlled Thermal Resources Ltd and seek advice from a qualified investment advisor.