Overview
Constantine Metal Resources Ltd. (TSXV:CEM) ("Constantine") is a Canadian resource company actively advancing the Palmer copper-zinc-silver-gold-barite project, located near Haines, Alaska with its joint venture partner Dowa Metals & Mining Co. Ltd. ("Dowa"), where Constantine is the project operator. The Dowa and Constantine partnership was initiated in 2013 and in 2019 advanced the project to a positive Preliminary Economic Assessment (PEA). The PEA presents a low capex, low operating cost, high margin underground mining operation with attractive environmental attributes. The Joint Venture partnership is focused on advancing the Palmer project to feasibility, while continuing exploration to locate additional resources in this world class mining district.
The Palmer property is located in southeast Alaska within a premiere mineral belt that is home to Greens Creek (Hecla Mining), a producing, very high grade, Ag-Zn-Au-Pb mine, the Kensington Gold Mine (Coeur Mining), and the giant world-class Windy Craggy Cu-Zn-Au-Ag deposit. Palmer, Greens Creek and Windy Craggy are volcanogenic massive sulphide (VMS) deposits that all occur in rocks of the same age.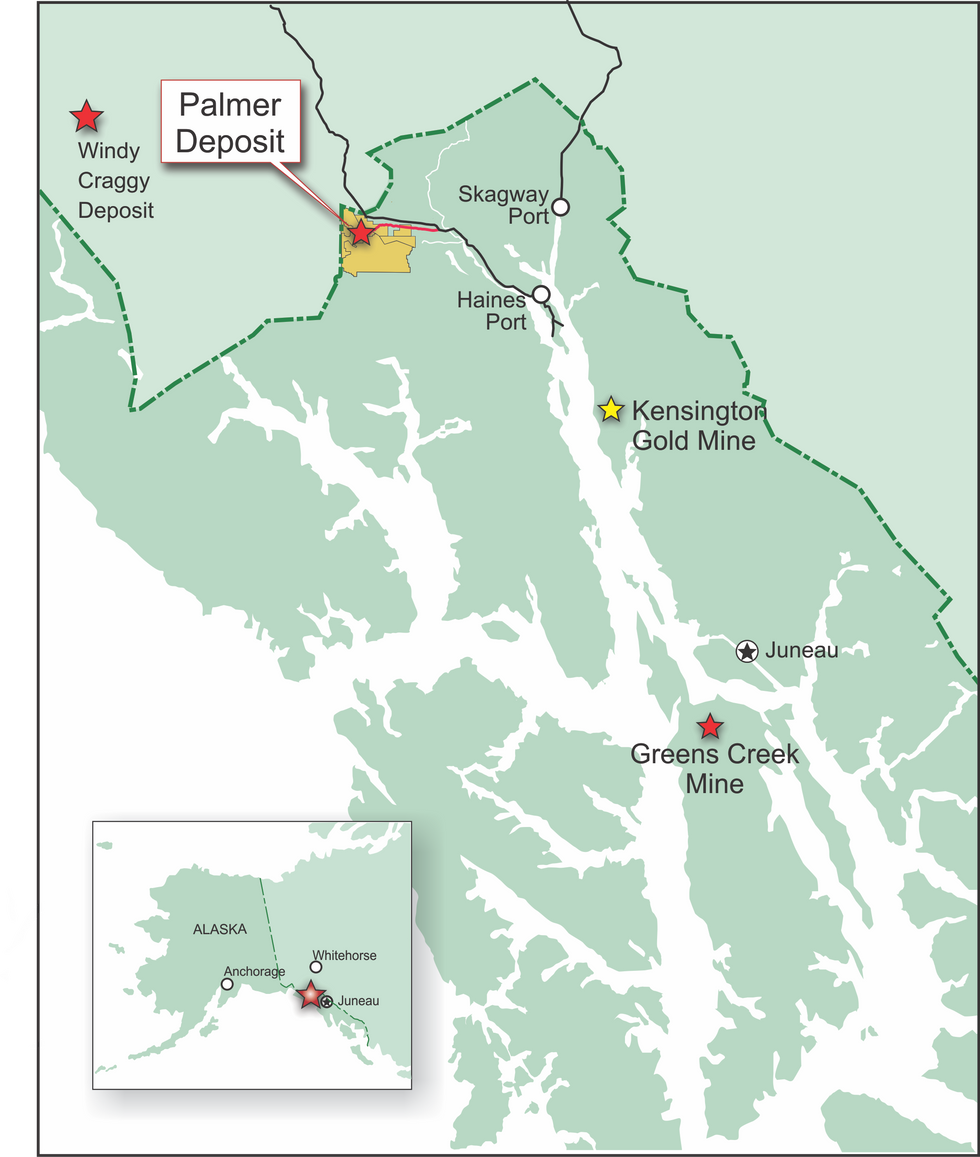 The Palmer property is host to two NI 43-101 compliant resources, the Palmer Deposit and AG Deposit, with a total consolidated mineral resource of 4.68 million tonnes of 10.2% zinc equivalent in the indicated category and 9.59 million tonnes of 8.9% zinc equivalent in the inferred category.
The Palmer project and exploration camp facilities are located approximately 14 km by good gravel road from the Haines Highway, and provide excellent access to a local workforce, local services, established power and a deep seaport in Haines AK (~60 km by road).
The PEA report is preliminary in nature and includes inferred mineral resources that are too speculative geologically to have economic considerations applied to enable them to be categorized as mineral reserves. There is no certainty that PEA results will be realized. Mineral resources that are not mineral reserves do not have demonstrated economic viability.
Why Zinc?
The rise in the price of zinc, which has increased significantly since the start of 2021, can be largely attributed to a returned demand for steel production that uses zinc as an anti-corrosion coating for galvanized steel. As countries around the world continue to develop and invest in infrastructure, the demand for steel and therefore zinc may continue to rise. Zinc is also being evaluated as an important component in large scale energy storage batteries. Other less commonly known zinc applications include use in beauty and skin creams, sun blocks, diaper rash creams, and as an additive to fertilizers in areas of zinc deficient soils, particularly in Africa where zinc deficiencies are linked to serious health problems. Another interesting zinc use is made by fishermen and boat owners, who are known to secure zinc bars to a boat's hull to prevent corrosion of the boat's propellor by salt water.
Why Copper?
Copper is key to achieving decarbonization goals and also in developing the green economy. In current global efforts to decarbonize the planet, copper availability can be a limiting factor; for the goal of decarbonizing tomorrow's world copper is likely to continue to play an important role.
Copper has unique properties that make it critical for new green technologies, and is a key enabler to global decarbonization efforts:
Electrical and thermal conductivity: Copper has the highest conductivity of any industrial metal, making it a success factor in electricity generation and transmission, and heat exchange applications.
Flexibility: Copper can be formed, stretched, and heated without breaking, making it ideal for forming into intricate wiring in cars, smartphones, pipes and more.
Recyclability: Copper can be recycled without any loss of quality.
Recycling efficiency is a huge part of supplying the ongoing demand for copper and Dowa, Constantine's joint venture partner, is a world leader in metal recycling with proven integrated smelter capability.
An important part of Constantine's Palmer project story is its potential to produce high grade, underground, copper and zinc concentrate with exceptionally low greenhouse gas emissions. The Palmer project has environmentally low impact advantages as it is located where road access already exists and in proximity to a deep seaport that could offer convenient and efficient transport of goods.
Why Constantine?
Constantine is working aggressively to answer the current and future demand for base metals and has an active roadmap, with its partner Dowa, to move the Palmer Joint Venture project forward to production. In addition, the Company holds 100% interest the Big Nugget gold project located "next door" to the Palmer project and has leased, with an option to purchase, the Bouse copper-gold project in southwest Arizona.
Constantine Metal Resources Company Highlights
Constantine Metal Resources Ltd. (TSXV:CEM) is a base and precious metal exploration company focused on mining at premier locations in North America.
The Company is led by a strong management team, providing decades of mining and international business experience.
The flagship Palmer copper-zinc-silver-gold-barite project in southeast Alaska is a strategic Joint Venture with Dowa Metals & Mining Co. Ltd., the largest zinc smelting company in Japan. Dowa's involvement significantly de-risks the project and holds the off-take rights for 100% of the zinc concentrate at arm's length commercial terms.
The Palmer project is 60 kilometers by road from a deep seaport, and a local community workforce.
The property has favorable geology for responsible mine design: (1) underground (2) small footprint (3) abundance of carbonate-rich, environmentally benign host rocks. It represents a unique, low-sulphide VMS deposit with more barite than pyrite (actually a sulphide-sulphate deposit).
The deposit is twenty-five weight percent barite that is environmentally inert and has favorable metallurgy to potentially produce by-product drilling muds for the oil and gas industry.
The 2019 Preliminary Economic Assessment (PEA) of the project estimates a US$266M after-tax NPV 7% at more conservative prices than today and presents a low capex, low operating cost, high margin underground mining operation with attractive environmental attributes. Substituting currently increased metal prices at $4.50 copper, $1.40 zinc, $23 silver and $1750 gold, increases the NPV significantly.
In September 2019, Constantine successfully spun-out its gold assets into HighGold Mining Inc. (TSXV: HIGH) where shareholders received one HighGold share for every three Constantine shares held. The properties include the high-grade Johnson Tract gold project in south-central Alaska and the Munro-Croesus gold property in the Timmins area, Ontario which is renowned for its high-grade mineralization.
More recently, the 100% owned Big Nugget Gold project, located 8 kilometers east of the Palmer project, was recognized as a potential gold lode source area, immediately upstream from the +80,000 ounce gold Porcupine Placer operations.
In May 2021 Constantine announced the acquisition of the Bouse Cu-Au Property in southwest Arizona that will be explored for its copper-gold potential.
In October 2021 Constantine announced acquisition of 100% interest in the 3,016 acres (1221 hectares) Hornet Creek property located in the Hornet Creek mining district of west-central Idaho, USA.
Constantine's Key Projects
Palmer Project
The Company's flagship Palmer copper-zinc-silver-gold-barite project, located near Haines, Alaska is being advanced through a Joint Venture partnership between Constantine (46.8%) and Dowa Metals & Mining Co. Ltd. (53.2%), with Constantine as operator. The project is road-accessible and hosts two NI 43-101 compliant resources, the Palmer Deposit and AG Zone Deposit, with a total consolidated mineral resource of 4.68 million tonnes of 10.2% zinc equivalent (3.92% CuEq) in the indicated category and 9.59 million tonnes of 8.9% zinc equivalent (3.40% CuEq) in the inferred category.
The Palmer deposits are hosted in the same Triassic metallogenic belt as the high-grade Greens Creek silver-zinc-gold-lead mine and the giant 298 Mt Windy Craggy copper-zinc deposit, both widely recognized to be world class volcanogenic massive sulphide (VMS) systems*.
As a deposit class, VMS deposits are attractive for being polymetallic (multi-metal) and having high dollar value per tonne. The Palmer project has its own unique VMS base metal mineralization that is intimately associated with barite and with minor felsic exhalative horizons in a thick sequence of basalt flows with interbeds of sediments, andesite flows and tuffs, and rhyolite fragmental and massive flows. Palmer is already well above the average VMS deposit size and has all the characteristics of a VMS camp.
In addition to the defined Palmer and AG deposits, numerous drill-ready high-grade prospects have been defined over 15 kilometers of favorable mineral trends on the Palmer project, all hallmarks of a significant massive sulphide system and presenting opportunity for the discovery of multiple deposits.
(*Qualified Person has been unable to verify the information on deposits within the region and the information is not necessarily indicative of the mineralization on the Palmer property.)
Big Nugget Gold Project
The Big Nugget is an early-stage, 100% owned gold exploration project located approximately 8 kilometers east of the Palmer project in the Porcupine-McKinley Creek area. The Porcupine Creek area is reported as one of the most important placer districts in southeast Alaska with over 80,000 ounces of historic placer gold production between 1898 and 1936. Small placer operations are still active in the area today, including placer mining on McKinley Creek.
In 2020, Constantine identified a potential gold lode source area upstream from the historic Porcupine gold placer mining operations located on Porcupine Creek. Two key gold prospects, Golden Eagle and McKinley Creek Falls, are located upstream from the Porcupine Creek gold placer operations along McKinley Creek (a tributary to Porcupine Creek). Historical government sampling in the mid-1980's returned high grade gold samples at the Golden Eagle – Vug vein prospect with samples ranging from nil to 531.1 g/t gold. Rock sampling downstream of the Vug vein returned similar gold values ranging from nil to 182.13 g/t gold.
There has been no modern, systematic exploration of the gold prospects and the upstream source of the Porcupine placer gold deposits remain untested. In 2020, rock and soil sampling by Constantine confirmed the high-grade gold mineralization with rock samples up to 57 g/t at Golden Eagle and a broad, 250 to 300 meter wide >50ppb gold-in-soil anomaly at the McKinley Creek Falls prospect with results ranging up to 970 ppb gold. As a new early-stage project, this creates an outstanding opportunity for Constantine to be the first company to thoroughly explore the area.
Bouse Cu-Au Project
The Bouse Project is located within a newly recognized geological environment in southwest Arizona, USA about 12 miles east-northeast of the Copperstone Mine with 500,000 ounce gold in past production. The property represents an exceptional, early stage, copper-gold exploration opportunity with evidence of widespread copper-gold oxide mineralization in surface rocks that has received limited modern exploration with drill ready targets. The previously unrecognized potential of the lower plate rocks that have a Mesquite deposit type pedigree have not been drill tested to our knowledge and are the initial high priority target for Constantine.
Constantine's Management Team
Wayne Livingstone - Executive Chairman
Wayne Livingstone has been active in professional exploration and development Geology for 40 years. He led the exploration and was involved in development of a 1 million ounce heap leach gold deposit in Nevada, and led the work on the grassroots discovery of a 2.6 million ounce gold deposit in Peru. Mr. Livingstone, a founding director of Constantine, is also a director of various other companies.
J. Garfield MacVeigh - President & Chief Executive Officer
Garfield MacVeigh received his B.Sc. (Hons) First Class in geology from Queen's University at Kingston in 1972 and has 45 years' experience in gold and base metal exploration in Canada, U.S.A. and Central America. He participated in the discovery of the Hoyle Pond gold mine by Texasgulf in Timmins, Ontario (now operated by Goldcorp) and contributed to the exploration and discovery of the HW deposit and several new zones at Westmin Resources' Buttle Lake massive sulphide mine on Vancouver Island, British Columbia (now owned by Nyrstar).
MacVeigh was a founding member, past President & CEO and Chairman of the Board of Rubicon Minerals Corporation from 1996 to 2006. Prior to 1995, MacVeigh spent 12 years with Texas Gulf and Falconbridge (now Glencore), 7 years with Westmin Resources and 5 years with Lac Minerals (now Barrick). MacVeigh has been President and CEO of Constantine Metal Resources Ltd. since its formation in 2006.
Aris Morfopoulos - Chief Financial Officer
Aris Morfopoulos is an executive and accountant with over 30 years' corporate management experience. He has worked as a CFO, as senior management and as a director of several junior resource companies based in British Columbia since 1994. He has significant experience in the areas of international corporate structuring and business. In addition to his work for public junior resource companies, he also provides corporate and M&A advisory services in other industry sectors including high tech and medical industries. He has been the CFO of Constantine since its inception in 2006.
Michael Vande Guchte - Vice President Exploration
Michael Vande Guchte has over 20 years of experience in the exploration and management of gold and base metal exploration projects throughout North and South America. He has been involved with major and junior resource companies exploring for gold and base metals with a focus on volcanogenic massive sulphide (VMS), orogenic gold, and magmatic Ni-Cu sulphide type deposits. In 2007, Michael was involved in the discovery and advancement of the Lemarchant VMS deposit in central Newfoundland as President & CEO of Paragon Minerals Corporation (acquired by Canadian Zinc Corporation in 2012) and as VP Exploration for Canadian Zinc (now NorZinc) from 2012 to 2019. Mr. Vande Guchte has a Bachelor of Science in Geology from the University of Alberta and is a registered Professional Geoscientist with EGBC and PEGNL.
Request an Investor Kit
EXCITING upcoming projects!
IN-DEPTH reliable insights!
SUCCESSFUL growth strategies!
VALUE-BASED content!
Constantine Metal Resources