Prospect Generator with Joint Venture Opportunities
This profile is part of a paid investor education campaign.*
Overview
Commander Resources Ltd. (TSXV:CMD) is a resource company that was founded in 1989 and operates under the prospect generator model. The company has developed a portfolio filled with joint venture opportunities, exploration projects, royalties and investments across Canada and Mexico.
As a prospect generator, Commander Resources manages exploration risk by focusing on early-stage acquisitions and target identification. Any following exploration is conducted by option or joint venture partners, under which Commander Resources keeps either a small project interest and royalty or significant equity positions. This allows for the generation of income from property payments and shareholdings while reducing exploration risk exposure (dilution).
The company is well funded with approximately $1.2 million in cash and in excess of $1.1 million in marketable securities. In 2018, the company had an ongoing JV with Fjordland Exploration and HPX who spent $1.2 million on the company's South Voisey's Bay project.
Commander Resources has a diversified royalty and property portfolio throughout Canada and Mexico that includes gold, copper, zinc, nickel and cobalt projects. This includes eight properties that are available for option. Over the course of 2017, the company announced three option/joint ventures with $2.5 million in partner-funded exploration. Partner funded exploration in 2018 was $1,200,000.
Over the course of its operations, Commander Resources has been partnered with several mining companies such as Anglogold Ashanti Ltd. (NYSE:AU,ASX:AGG), Teck Resources Ltd (TSX:TECK.A), Imperial Metals Corporation (TSX:III), Aston Bay Holdings (TSXV:BAY), Maritime Resources Corp. (TSXV:MAE) and others, illustrating its strong connections to the mining community – a critical requirement when seeking partners.
Commander Resources also owns approximately 2 percent of Maritime Resources, a company planning to re-open the past-producing Hammerdown mine within the next three years, where the company also owns a two percent NSR on the project. Maritime released a prefeasibility study in 2017, which indicated an after-tax NPV (eight percent) of $44.2 million, after-tax IRR of 46.8 percent and a mine life of five years with an annual production of 35,000 ounces. The project boasts proven and probable reserves of 179,400 ounces, measured and indicated resources of 315,000 ounces and an inferred resource of 376,800 ounces of gold.
One of Commander Resources' primary projects is the South Voisey's Bay nickel-copper-cobalt project property in Labrador, which is being developed as part of a joint venture with Fjordland Exploration (TSXV:FEX) and High Power Exploration. The project sits 85 kilometers south of Vale's (NYSE:VALE) Voisey's Bay mine, a major nickel and cobalt producer.
Commander Resources' management team has over 85 collective years of experience in the mining industry and bring strong technical expertise in project generation.
Company Highlights
Project generator with approximately $1.2 million in cash and over $1.1 million in marketable securities.
In business since 1989 (30 years)
$1.2 million in partner funded exploration in 2018
Equity holdings in Maritime Resources and Aston Bay Holdings amongst others
Eight royalties covering near term production to exploration stage properties
Proprietary exploration database from UMEX (Union Miniere)
Active joint venture on its South Voisey's Bay nickel-cobalt project which sits approximately 85 kilometers south of the South Voisey's Bay mine.
Management team with over 85 years of combined experience.
Project Generator with Presence Across Canada and Mexico
Commander Resources manages exploration risk through adherence to the prospect generator model wherein the company focuses on early stage exploration, acquisition and target identification. Ongoing exploration is offloaded to Option and JV partners who earn direct property interests. Commander Resources retains smaller direct project interest plus royalties and significant equity positions in partners. Through this process the company accumulates a significant royalty portfolio as well as generating income in the form of property payments and shareholdings. Dilution is minimized and income augments expenditures.
South Voisey's Bay Ni-Co Joint Venture,  Labrador
The South Voisey's Bay property is in central Labrador approximately 80 kilometers due south of the operating Voisey's Bay nickel mine, covering major parts of the Pants Lake gabbro complex in the South Voisey's Bay area. The Pants Lake Complex contains host rocks with alteration and nickel mineralization styles that are similar to the Voisey's Bay hosts.
The large 294-kilometer property has an extensive geophysical and geochemical database that has guided drilling in two campaigns. To date approximately $2.6 million has been spent during the first year of the option including 2,721 meters of drilling.
Properties Being Advanced for Joint Venture
Commander Resources maintains a portfolio of exploration properties across Canada and Mexico and is continually advancing these assets by ongoing exploration consistent with our prospect generator business model. Our goal is to highlight the prospectively of these assets to attract joint venture partners.
Flume Gold Project, Yukon
The 3,680-hectare Flume property, in the Yukon's White Gold District is located approximately 70 kilometers north of Goldcorp's Coffee gold project and approximately 40 kilometers northwest from the White Gold Resources' Golden Saddle project. White Gold has recently announced a new discovery at their JP Ross property that has further illustrated the exceptional potential of this emerging gold district.
This advanced property has seen about $3.5 million in historical work which has outlined a 10 kilometer by three kilometer gold and arsenic soil anomaly covering the headwaters of Ten Mile and Sestak Creeks- both former and current placer gold producers. Drilling in 2012 returned two meters grading 5.76 g/t gold.
Sabin Zinc-Lead-Copper-Silver-Gold Project, Ontario
The 9,870-hectare Sabin property is located in the Sturgeon Lake Greenstone belt 400 kilometers northwest of Thunder Bay, Ontario. The Sturgeon Lake greenstone belt, host to significant polymetallic VMS deposits including the past-producing Sturgeon, Mattabi, Lyon and "F' VMS mines. Mining ceased in the belt in 1991.
The Sabin zinc property was first worked by Union de Miniere Exploration (UMEX) in the 1970s. Initial work by UMEX led to the discovery of the Marchington zone where shallow drilling on 15-meter centers outlined a historical near surface resource from 15 meters to 61 meters depth.
Marchington Zone Historic Resource (non-NI43-101 compliant)
123,000 tonnes            2.9% Zn           0.7% Cu          1.3 % Pb          56 g/t Ag.
In addition to the Marchington zone horizon three additional partially drill tested zones have been identified including the Kash, South and S-23 zones.
The core of the Sabin property is underlain by extensive intermediate and felsic volcanic units that exhibit widespread alteration comprised of garnet, staurolite, sillimanite and sericite metamorphic mineralogy. Characteristics of the Sabin and Sturgeon Lake deposits include high zinc and silver values with low conductivity. Gold was not consistently analyzed but sporadic assays suggest elevated potential.
In 2018, Commander Resources completed a 370-line-kilometer VTEM survey over the property. The survey identified numerous high-priority conductors across the property and in areas outside of the original claim block. Subsequently, Commander Resources staked those additional areas.
October Dome Gold Project, British Columbia
The October Dome gold property is located in the Quesnel Trough near the town of Likely, British Columbia. The property is located 10 kilometers north of Imperial Metals Corp.'s Mt. Polley porphyry copper-gold mine property and seven kilometers to the southeast of Barkerville Gold Mines Ltd.'s (TSXV:BGM) QR Skarn gold mine.
The target is defined by a grid area of four kilometers by 1.1 kilometers that has been surveyed by magnetic and Induced Polarization (IP) surveys and soil geochemistry.
In 2013 a 1,086 meter diamond drill program that targeted the northern end of a four-kilometer gold and arsenic soil anomaly that coincides with an IP chargeability anomaly. The company encountered diorite and monzonite intrusions within hornfelsed sediments and propylitized basalts and a new discovery of 15 meter core length of massive magnetite skarn with semi-massive pyrite layers with chalcopyrite, epidote and garnet at the sediment-basalt contact. A nine meter section assayed 0.7 g/t gold and a three-meter length of 1.3 g/t gold. This represents a new target on the property and is very similar geologically to the gold skarns formerly mined at the QR deposit to the northwest.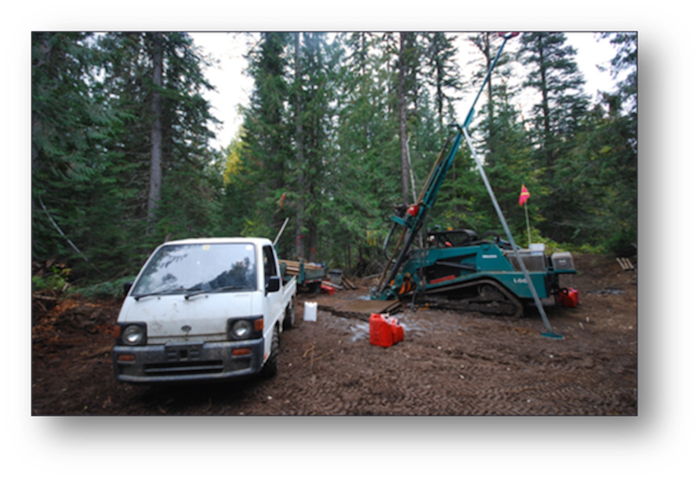 Omineca Gold- Copper Project, British Columbia
The Omineca gold-copper project is located in north-central British Columbia within the prolific copper-gold producing Quesnel Terrane. It is strategically located midway between the productive Mt. Milligan gold-copper mine and the past producing Kemess mine.
The main target is a four-kilometer-long copper and gold soil anomaly defined by greater than 100 ppb gold and 100 ppm copper underlain by altered diorite and monzonite intrusions with magnetite stockworks. This large target has only been tested by two short holes, less than 100 meters in depth, returning anomalous in gold.
Recent prospecting in 2017 and 2018  returned 10 grab samples greater than 1 g/t gold with one sample returning a high gold value of 21 g/t.
Nepisiguit Zinc-Lead-Copper-Silver-Cobalt Project, New Brunswick
The Nepisiguit-Stewart property is in the prolific Bathurst mining camp in New Brunswick, Canada which is one of the most prolific base metal mining camps in the world. The property has historical drill intersections of copper and cobalt-rich feeder style mineralization including intercepts of 25.5 meters grading 1.04 percent copper, 27.2 meters grading 1.47 percent copper and 11.0 meters grading 2.04 percent copper.
The key target is a 1.8-kilometre-long zinc-lead-silver horizon associated with heavily disseminated semi-massive sulphides and magnetite iron formation.
Pedro Gold Project, Durango, Mexico
The Pedro project is 100 kilometers northwest from the city of Torreon in northeast Durango state. Pedro is comprised of several targets including the Las Lajas gold prospect and the HP Breccia prospect.
The HP Breccia prospect is a gold soil anomaly covering a four-kilometer by 600-meter zone containing extensive silicified sedimentary breccias and conglomerate within the Ahuichila formation. Rock grab samples returned gold values from 0.2 g/t gold to 0.5 g/t gold with a maximum value of 2.26 g/t gold.
Newmont de Mexico conducted a 1,744-meter drill program in 2013. Results from the program included a core length of 10.5 meters grading at 0.51 g/t gold. The target represents a brand new epithermal gold discovery.
Henry Lee Copper-Gold Property, British Columbia
The Henry Lee property is 140 kilometers north of Smithers, British Columbia. The property contains a four-kilometer by two-kilometer copper-gold-molybdenum in-soil anomaly, which remains open to the north and west. The property also hosts several sheeted quartz and potassium-feldspar vein zones that contain chalcopyrite and molybdenite mineralization.
Commander Resource has recently expanded the property by acquiring two claims totaling 650-hectares for a one-time payment of $25,000. The vendor will retain a one percent NSR and will receive a one-time royalty payment of $1 million on the start of commercial production.
Burn Copper-Gold Property, British Columbia
The burn property located 65 km north of Smithers was acquired in 2018 to cover a large pyritic gossan reflecting a phyllic alteration zone related to a possible buried porphyry copper deposit.
Project Generation
The company always seeks to replenish its project pipeline through generation and acquisition of new projects. The focus is currently on adding additional copper and gold projects in British Columbia and gold targets in Ontario. Target generation in Ontario is driven by a new initiative in which the company is digitizing the extensive and proprietary UMEX database that reflects over two decades of gold exploration efforts.
Royalty Portfolio
Two Percent NSR on formerly producing Hammerdown Mine, NFLD (Maritime Resources)
Prefeasibility study released March 2, 2017 (Prefeasibility Engineering Study and Economic Assessment by WSP Canada Inc.), potential cash flow in 2021 or earlier
IRR 46.8 percent, NPV (8 percent) after tax $44.2 million, five-year mine life at 35,000 ounces per year
P+ P Reserves: Reserves 439,200 tonnes grading 12.7 g/t gold (179,400 ounces)
M+I Resources: 925,670 tonnes grading 10.6 g/t gold (315,000 ounces) and
Inferred resources: 1,557 tonnes grading 7.53 g/t gold (376,800 ounces)
Mt. Polly Boundary Zone Royalty (Imperial Metals)
Ninety percent interest in $2.50 per tonne milled from portion of Boundary zone (Mt. Polley Mine, Imperial Metals)
Possible Production for 2026
0.25 Percent to 0.5 Percent NSR on Baffin Gold Project, Nunavut (Valore)
4,000 square kilometers covering Proterozoic greenstone belt
0.875 Percent Gross Overriding Royalty on Storm and Seal, Nunavut (Aston Bay)
Belt scale sediment hosted copper target and stratabound zinc
Advanced Royalty payments – Tam/Misty Copper-Gold Property, British Columbia (Teck)
advanced royalty payments of $25,000 per year from Teck- exploration stage
0.25 Percent to 1 Percent NSR on Destiny Gold Deposit, Quebec (Alto Ventures)
Indicated resource 10.8 million tonnes grading 1.05 g/t (364,000 ounces) plus inferred 8.3 million tonnes (247,000 ounces)
Management
Robert Cameron, P.Geo. — President and CEO
Robert Cameron has over 30 years of international experience in the mining industry, including positions as President and CEO of Valley High Ventures and Bearing Resources Ltd. as well as Vice-President and Manager of exploration for Phelps Dodge Corporation of Canada Limited (a then subsidiary of Freeport McMoRan Copper and Gold Inc.).
In addition, he has extensive market and finance experience including a term as mining analyst for Research Capital. He is a member of the Association of Professional Engineers and Geoscientists of British Columbia.
Stephen Wetherup — VP of Exploration
Stephen Wetherup has over 25 years of global experience including work with Phelps Dodge Corporation of Canada. He is also Vice President Geology with Caracle Creek International Consulting.
Bernard H. Kahlert, B.Sc., P.Eng. — Director
Bernard Kahlert, a geological engineer, has more than three decades experience in international mineral exploration (including diamonds). Prior to joining Commander Resources in 1990, he served as exploration manager for Amoco Minerals and Superior Oil in Australia, Canada and USA, as well as a consulting geologist for junior and major companies.
Janice Davies — Corporate Secretary
Janice Davies has been a member of the Commander management team since 1990. She has been engaged in administration, systems development, management and communications for public resource companies for over 20 years.
Patricia Fong, CPA, CMA — CFO
Patricia Fong has 20 years of experience in the mining and oil and gas industries. Prior to entering the resource industry, she held various management roles in manufacturing, construction, real estate and government sectors. She is currently the CFO of China Minerals Mining Corporation.
---
*Disclaimer: The profile provides information which was sourced and approved by Commander Resources in order to help investors learn more about the company. Commander Resources is a client of the Investing News Network (INN). The company's campaign fees pay for INN to create and update this profile page, to which links are placed on Investingnews.com and channel newsletters.
The company description, investment highlights and catalysts were sourced by INN and approved by the company. INN does not guarantee the accuracy or thoroughness of the information contained on this page.
INN does not provide investment advice and the information on Investingnews.com profile should not be considered a recommendation to buy or sell any security.
INN does not endorse or recommend the business, products, services or securities of any company profiled.
Readers should conduct their own research for all information publicly available concerning the company.