Building Gold & Copper Assets in Jamaica & Canada On Over 1,000 km² of Licences
This profile is part of a paid investor education campaign.*
Overview
Carube Copper Corp. (TSXV:CUC) is a Canadian copper-gold exploration company focused on the discovery and development of copper and gold in both Jamaica and Canada. Carube's wholly-owned Jamaican assets include 11 copper-gold licenses covering more than 535 km2 of the most prospective regions of the island's emerging copper-gold district. The company has successfully drilled a series of porphyry mineralized intersections on multiple locations extending well over 250m and has aggressive plans to drill a variety of high priority targets in 2017.
Carube enjoys first mover status in Jamaica, a historically mining-friendly jurisdiction with excellent infrastructure including deep-water shipping ports, a politically-stable government and a British based constitution and legal system. The country's geology is similar to that of Chile, Argentina and the Dominican Republic—all very productive mining jurisdictions.
In Canada, Carube holds a 100-percent interest in three porphyry copper-gold-molybdenum properties, totaling 492km2 within the Tertiary-aged Cascade Magmatic Arc in southwestern British Columbia.
It also owns the promising 23 km2 Fiedmont Platinum Palladium Project in Quebec.
Carube is led by a highly-experienced team of mining industry professionals with recognized track records of success. The company is committed to corporate social responsibility and actively engages stakeholders in the communities surrounding its projects in both Jamaica and Canada.
Investment Highlights
Advancing discovery and development on its properties in Jamaica and Canada with the strategic alternatives of whole ownership or attracting large joint venture partners.
Jamaica: 7 large copper-gold projects totaling 536km2 in an emerging copper-gold porphyry country play; a mining‐friendly jurisdiction with British mining law and good infrastructure.
Canada: 3 copper‐gold‐molybdenum projects in an emerging copper-gold porphyry belt;
Promising platinum group metals project in Quebec.
Spring 2017: Next exciting phase of exploration drilling to begin on Jamaican properties, focusing on highly prospective targets.
Large portfolio of properties ensures steady news flow.
Tight share structure with 11.2% held by management& directors; 13% Wallbridge Mining; 12.3% Tigers Realm Group;
Jamaica: Emerging Copper-Gold Porphyry District
Bellas Gate Project—Numerous high-quality drill-ready targets
The Bellas Gate project is Carube's core asset. More than $15 million in exploration work has been completed at the copper-gold project, including high-resolution magnetic and radiometric airborne surveys, 46 line kilometers of IP surveys, over 10,000 soil samples, 400 rock chips and over 17,000 meters of core drilling.
This work confirms the existence of at least seven significant Cu/Au porphyry systems.
The porphyry distribution found at Bellas Gate is similar to that found in the Northparkes mining district of New South Wales, Australia. Rio Tinto sold Northparkes to China Molybdenum in 2013 for US$820 million.
Carube's recent review of exploration data has aided in the creation of a porphyry model for the property and the identification of numerous highly prospective copper-gold targets.

Carube plans to begin drilling at Bellas Gate in April 2017, including the high-priority Provost, Provost SE, Hendley, and Connor SE targets.
Main Ridge Project—Porphyry‐type copper and high‐grade gold mineralization identified
Early exploration at the Main Ridge project has identified gold and copper mineralization. Carube is now focused on further defining these zones as well as exploring other areas.
The most important zones include:
Former Pennants Gold Mine

: Gold deposit just outside of property boundary– 94,000 t at 13.9 gAu/t

Main Ridge Anomaly:

2-km long untested multiple gold in soil anomalies along strike with the Pennants gold deposit; historic drill intercept of 22.9g gold/t over 2.2 meters

Orange Hill:

Copper in soil anomaly associated with intense magnetite alteration

Trout Hall:

Copper oxide with grabs to 0.84-percent copper

Ballard's River:

A broad area of anomalous copper in soils along a linear magnetic high
Hungry Gully Project—Three large copper-gold targets identified
Dunrobin/Diggins Ridge:

Porphyry target; soils up to 4500 ppm copper.

Round Hill:

Gold‐epithermal target; soils up to 1500 ppb gold.

Home Hill:

Large prospective area for copper defined by CIDA; highly anomalous stream sediment, copper to 203 ppm and gold to 44 ppb.
Other new copper-gold licenses
Above Rocks Project: Hosts multiple systems and eight priority copper‐gold target areas, including Sue River/ Glengoffe and Jobs Hill.
Arthurs Seat Project: Located between the Bellas Gate and Main Ridge projects; high gold and copper potential.
Guys Hill Project: Along strike of main structure crossing the Above Rocks area and includes Windsor Castle and Berkshire Hall areas; covers highly anomalous copper in steam sediments.
Shirley Castle Project: Highly prospective ground of historic copper showings in the Cretaceous Blue Mountain Inlier; recent soil sampling and rock sampling over historic copper showings.
British Columbia, Canada: Emerging Copper-Gold Porphyry Belt
Carube owns three properties located in the Cascade Magmatic Arc, an emerging copper-gold porphyry belt in southwest British Columbia. The region has excellent infrastructure including all-weather roads and high tension power lines.
Rogers Creek Project
The Rogers Creek project covers 250 km2 and is located near Pemberton. Recent exploration at the property has led to the identification of a large chargeability anomaly on the northern edge of a known mineralized area. The 2015-2016 exploration programs conducted on the property defined drill targets including a 6km by 2km area of porphyry alteration and mineralization. Grab samples returned values of up to 23.1g gold/t, 0.50 percent copper, and 136 g/t silver, highlighting the presence of porphyry related D-veins.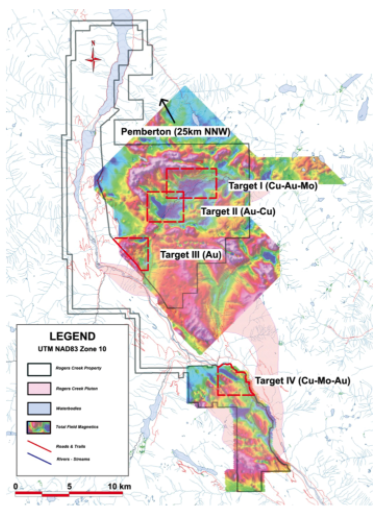 Mackenzie Project
The 216 km2 Mackenzie Project is located 100 kilometers west of Lillooet and 40 kilometers west of Gold Bridge. The property hosts three trends, including the 7.5-kilometer Bornite Trend, indicating widespread copper-gold porphyry over the property. Recent airborne geophysics indicate high copper-porphyry potential. The IKE deposit is located immediately to the north.

Grab samples have returned values of up to 4.34 percent copper, between 0.001 and 0.445 g/t gold, and values between 3.34 and 4,170 g/t silver.
Salal Project
The Salal Project lies just southwest of the Mackenzie project between the towns of Pemberton and Gold Bridge. The project is prospective for low-fluorine type porphyry molybdenum.
Fiedmont Platinum-Palladium Project, Quebec
The Fiedmont Platinum-Palladium Project is located 30 kilometers north of the major mining and service center of Val d'Or, Quebec. Data from past exploration work has identified Platinum Group Element mineralization including at least 5 high priority targets.
Management
Jeffrey Ackert, BSc. (Geology) President, CEO and Director has 30 years in mineral exploration and mine management including Lac Minerals (1990-1994) and Barrick Gold (1994-1996). He served as VP Exploration and VP Technical Services Orezone Resources from 1996 to 2007.
Vern Rampton, Ph. D., P. Eng. Executive VP Corporate Development and Director has over 40 years in mineral exploration, development and management. He served as President and CEO of Kinbauri Gold from 1984 until its $60 million takeover in 2009.
John McNeice, C.A., CPA, Chief Financial Officer has more than 25 years in public companies including in the areas of accounting, auditing and management. He has led numerous financings, totaling over $100 million.
Darrell Munro, BBA; LL.B, Corporate Administrator has over 40 years' experience as legal counsel, financial advisor and corporate management.
Alar Soever, P Geol., Chairman of the Board has 35 years of experience in mineral exploration and development, corporate restructuring and finance. He also serves as an Executive Chairman for Wallbridge Mining.
Marz Kord, Mining Engineer, Independent Director has over 25 years of experience in the mining industry in operations and management. Kord is the President, CEO and Director of Wallbridge Mining.
Greg Leblanc, B.A., M.A., Independent Director has over thirty‐five years' experience in the currency and financial markets and was a VP of RBC from 1996 to 2009 specializing in commodity and currency trading.
Mark Pfau, MSc (Geology), Economic Geologist, Independent Director has over 30 years of broad international experience in base and precious metals exploration and mine development as a chief geologist and exploration manager.
Trevor McCain, M. Sc. (Natural Resource Management) , Country Manager, Jamaica has broad experience in exploration , mine planning and corporate management having worked for Cominco, Citadel Mines, Caribbean Ecosystems, and Un Rusal Alumina.
---
*Disclaimer: The profile provides information which was sourced and approved by Carube Copper Corp.in order to help investors learn more about the company. Carube Copper Corp.is a client of the Investing News Network (INN). The company's campaign fees pay for INN to create and update this profile page, to which links are placed on Investingnews.com and channel newsletters.
The company description, investment highlights and catalysts were sourced by INN and approved by the company. INN does not guarantee the accuracy or thoroughness of the information contained on this page.
INN does not provide investment advice and the information on Investingnews.com profile should not be considered a recommendation to buy or sell any security.
INN does not endorse or recommend the business, products, services or securities of any company profiled.
Readers should conduct their own research for all information publicly available concerning the company.