Cache Exploration
Near-Surface, High-Grade Gold Exploration in Nunavut
This Cache Exploration profile is part of a paid investor education campaign.*
Overview
Cache Exploration (TSXV:CAY) is an exploration company specializing in the acquisition, exploration and development of gold projects in Nunavut, Canada. Focused on a true district play covering a majority of the Proterozoic Kiyuk Basin in Nunavut, the Kiyuk Lake gold property has significant open pit potential.
Nunavut is a mining-friendly jurisdiction that is highly appealing to junior resource companies. Three producing mines currently operate in Nunavut: Agnico Eagle Mines' (TSX:ASM,NYSE:AEM) Meadowbank gold mine, TMAC Resources' (TSX:TMR) Hope Bay gold mine and Baffinland Iron Mines' Mary River iron mine.
The Kiyuk Lake gold property is the company's flagship project and is located 50 kilometers north of the border with Manitoba, Canada, and 350 kilometers west of Arviat in Nunavut. The company has the right to earn 100 percent interest in the property subject to a 2 percent NSR.
Kiyuk Lake can be accessed by air to an ice runway in winter or by floatplane in the summer. Every drill campaign since 2011 has discovered at least one new gold zone, a factor that points to the potential of the area. To date, best drill results include 36 m at 4.95 g/t of gold from 134 m and 38 m at 4.2 g/t of gold from the surface. Many parts of the known zones remain untested by drilling, and four target areas are not yet drill tested, which means potential significant expansion on the property.
Exploration began on the Kiyuk Lake gold project in 2008 by Newmont Mining, but the company abandoned it after the financial crash. Evolving Gold and Prosperity Gold then picked up the project and went on to drill another 8 kilometers and built a winter runway as well as a 35-man camp. In 2017, Cache Exploration drilled 1,500 meters, bringing the total drilled area to 14 kilometers; over 80 percent of all drill holes tested have good mineralization.
The project is fully permitted and Cache Exploration is actively working towards funding exploration. The company received their drill, water and land use permits in 2019.
Cache Exploration has a strong management team that continues to bring together a wealth of technical and financial markets experience. Management owns about 20 percent of the company's shares.
Cache Exploration's Company Highlights
Focused on exploring near-surface gold in Nunavut
The company's current primary property is Kiyuk Lake gold property, for which it has the right to 100 percent interest
Kiyuk Lake gold property has gold showing extending over a distance of 15 kilometers in all directions
The project has had about 14,000 meters drilled and 80 percent of all drill holes with good mineralization
Cache is focused on doing a drill project in the coming winter-spring when it is cheapest to drill
Cache considers this to be the best time to invest because the gold market is hot and the north has high-grade gold
Cache has a strong management team and plans to bring on board additional management with industry experience
Kiyuk Lake Gold Property in Nunavut
The Kiyuk Lake gold property is located in the Kivalliq Region in southern Nunavut, approximately 50 kilometers north of the border with Manitoba and 350 kilometers west of Arviat. The 590 square kilometer property comprises 70 adjacent mineral claims and gold showings extending over a distance of 15 kilometers in all directions. This project offers year-round accessibility and has a 35-person base camp. The primary focus of exploration is the high-grade Rusty Zone, but there are three more mineralized zones and five high priority target areas that have not been drilled yet.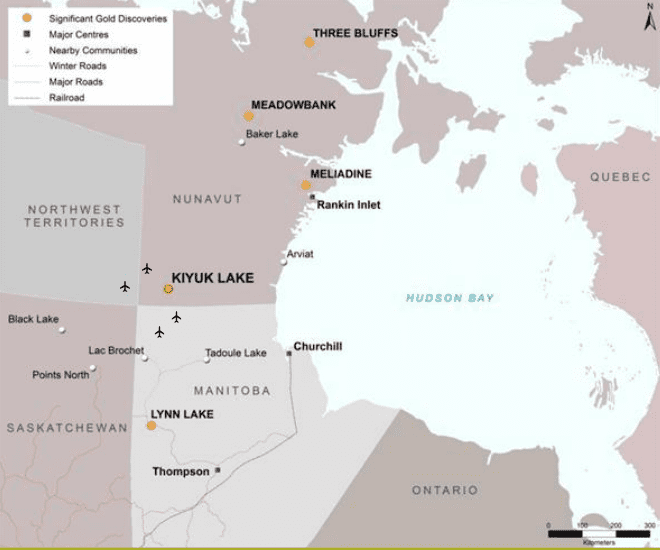 History
The first gold deposits were discovered by Comaplex Minerals in 1991. The company was following up on a footprint of anomalous arsenic discovered in samples from a survey carried out in 1976 by the Geological Survey of Canada. In 2008, Newmont completed the first drilling campaign prior to Evolving Gold and Prosperity Goldfields Corp. Today, Cache Exploration has 100 percent right to earn in the property.
Geological setting
Gold mineralization is associated with pyrite, pyrrhotite, magnetite and arsenopyrite. The mineralization occurs in Proterozoic sedimentary rocks that overlie the Archean basement. Kiyuk Lake features a structural "basin" that formed due to the Proterozoic and Archean rocks folding in during the Trans Hudson Oregon. It is argued that the faulting and folding of these rocks is related to gold mineralization in the area. However, the exact time when the magmatic event and mineralization happened is not known.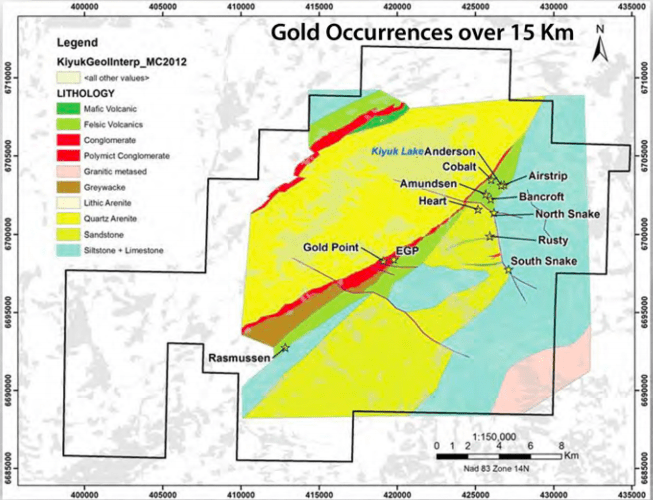 Mineralization
The Kiyuk Lake gold property is situated in an unexplored corner in the southwestern part of Kivalliq Region of Nunavut. Gold mineralization is hosted by an immature lithic-wacke sandstone that is cut by intermediate dykes linked to hydrothermal breccias. Mineralization has been discovered in both the Rusty Zone and at East Gold Point. Rusty Zone is the main focus of drilling on the property. Here, mineralization occurs in breccia infill with albite, carbonate, actionolite and pyrrhotite.
Exploration
Eighty percent of all drill holes have been found to have good mineralization, and four target areas are yet to be drill tested. Additionally, there are several boulder and till anomaly trends that make it necessary to do further drilling. Prospecting, mapping and airborne magnetics as well as regional and grid sampling have already been completed. Cache has also used proven exploration techniques like till geochemistry and ground magnetics to better define targets for drilling. The company is ready for winter drilling, as winter is a time when logistical costs are at their lowest.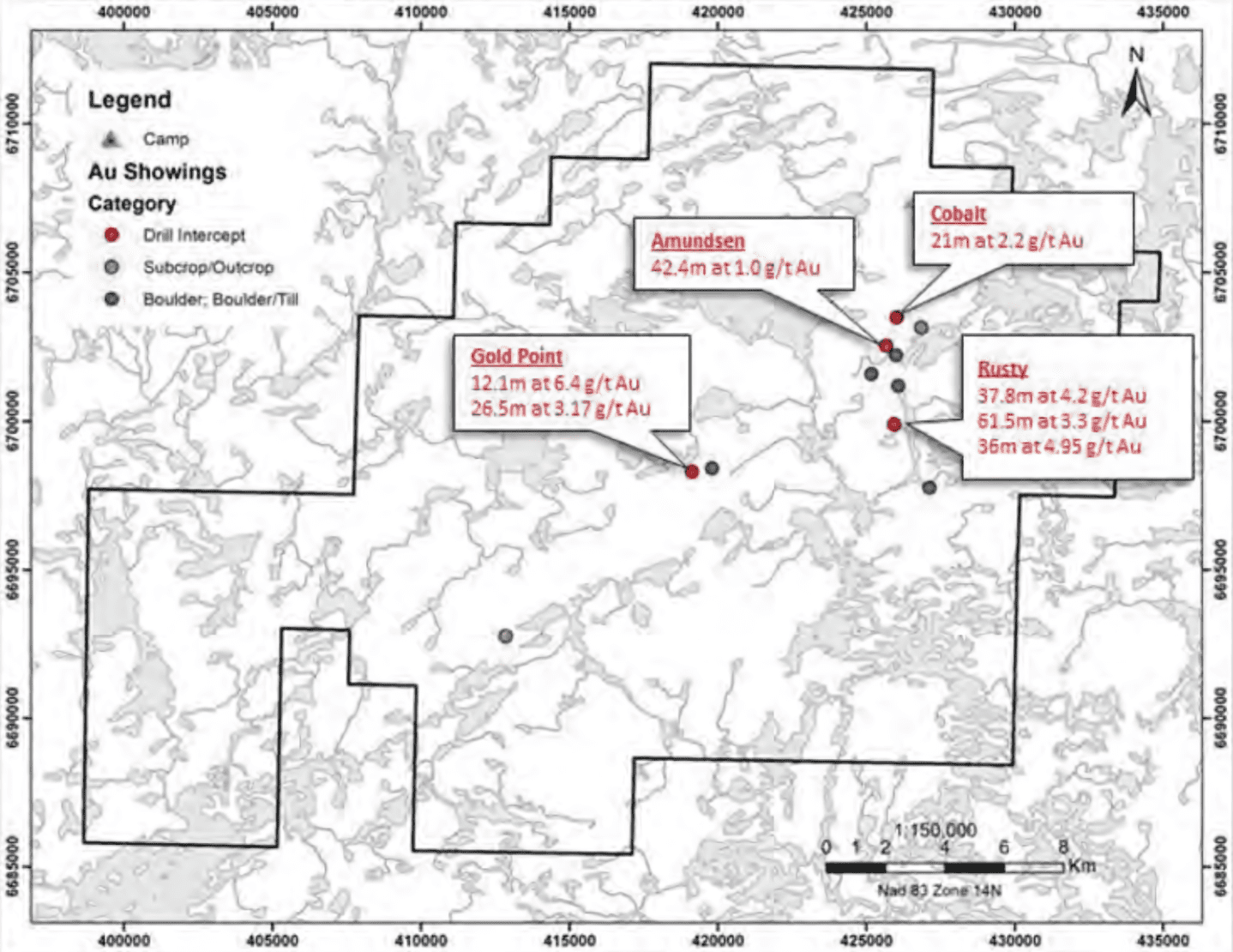 Drill highlights to date.
Cache Exploration Management Team
Jack Bal—CEO and Director
Mr. Jack Bal is a business executive with extensive experience in management, capital markets, public relations and marketing in the resource sector. The CEO of Cache Exploration has more than 15 years of experience in public markets and the resource industry. He has contacts in Canada, the US and Europe and has helped junior resource companies in oil and gas, mining and high technology raise over $50 million. Mr. Bal brings his knowledge and experience to Cache.
Ian Graham—Director
Mr. Ian Graham is an accomplished mining professional with over 20 years of experience in the industry. He has international experience, having been part of projects that involved exploration and development of mineral deposits. An astute businessman, Ian founded Discovery Harbour Resources Corp. He also served as Chief Geologist with the Project Generation Group at Rio Tinto, where he was part of the team tasked with evaluation and pre-development work on projects.
Charn Deol—Director
Mr. Charn Deol has over three decades of experience in the financial markets. Previously, he provided management and consulting services to companies on technical market analysis, investor relations, project analysis and financing of projects. The professional also serves company boards and management positions of both private and public companies. Mr. Deol has been a senior partner in Evergreen Futures, a futures trading firm operating in Canada and Asia.
Robert Bick—Corporate Development
Robert Bick served as the CEO and Executive Chairman of Evolving Gold Corp. between 2007 and 2010. While at the company, Evolving Gold raised more than $50 million and moved from the Canadian Securities Exchange to the TSX main board. The company's market capitalization also went from $3 million to more than $100 million. Before that, Bick was the founding CEO of Prima Diamond, a company that now trades as Voltaic Minerals. He has also worked as CEO and Director in a number of junior resource companies.
---
INN does not provide investment advice and the information on this profile should not be considered a recommendation to buy or sell any security. INN does not endorse or recommend the business, products, services or securities of any company profiled.
The information contained here is for information purposes only and is not to be construed as an offer or solicitation for the sale or purchase of securities. Readers should conduct their own research for all information publicly available concerning the company. Prior to making any investment decision, it is recommended that readers consult directly with Cache Exploration and seek advice from a qualified investment advisor.