Avalon Advanced Materials Inc.
Specialty Metals and Minerals for the Advanced Materials Markets
Overview
Avalon Advanced Materials Inc. (TSX:AVL,OTCQX:AVLNF) is a resource development company primarily focused on specialty metals and minerals with six properties in the resource-friendly jurisdiction of Canada. Avalon has been a leader in the specialty metals and minerals space for nearly 20 years. Today, the company is well-positioned to take advantage of emerging market opportunities presented by new technologies that require more advanced materials. Avalon has built a diverse specialty metals and minerals portfolio offering investors exposure to lithium, tin, indium, tantalum, zirconium, beryllium, rubidium, cesium, gallium, germanium and the rare earth elements.
"Avalon's strength is the expertise we've developed over the years," explained Donald Bubar, Avalon President and CEO. "We learned early on that you need to be diversified in this specialty metals and minerals sector because the supply/demand winds can shift rather quickly. These tend to be niche markets where new technology drives demand. To take advantage of these new markets you need to be positioned with a development play that's ready to go when new technology creates a new demand."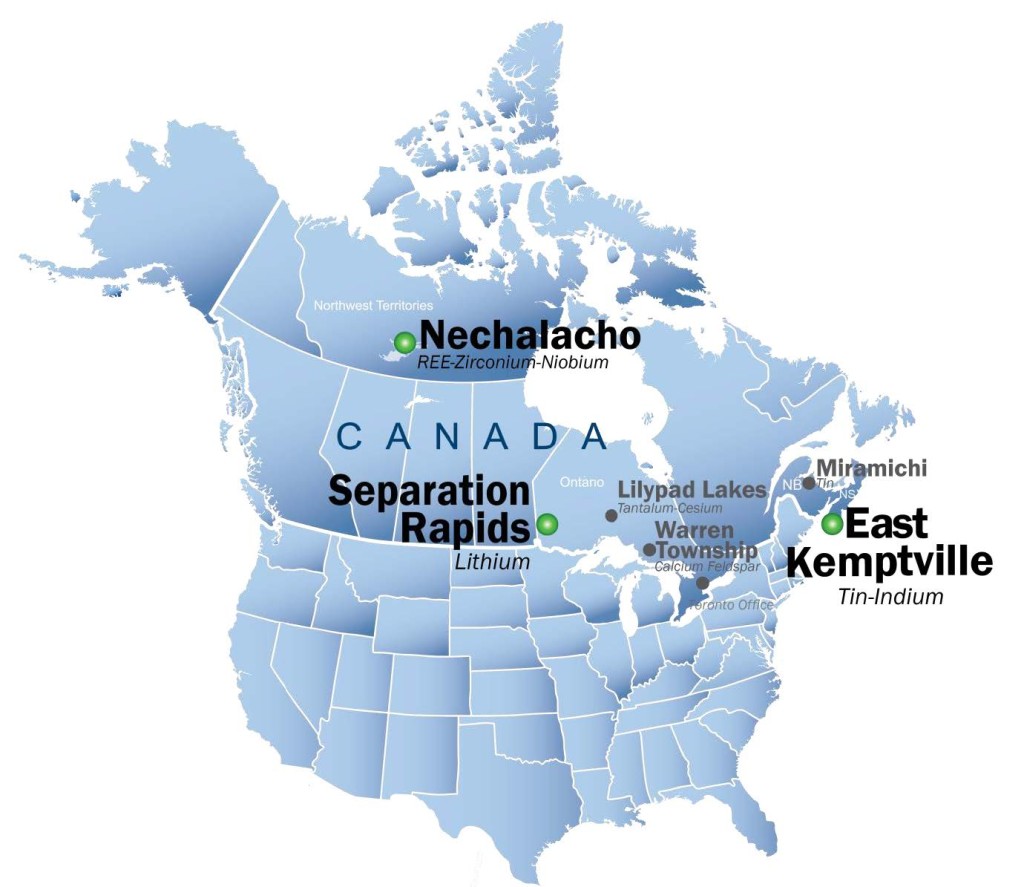 The company is actively working on two wholly-owned, advanced-stage specialty metals and minerals projects. Avalon's Separation Rapids lithium project in Ontario is one of the world's largest known deposits of the rare lithium mineral petalite. Avalon released results of its positive Preliminary Economic Assessment (PEA) for Separation Rapids in September 2016, showing a pre-tax internal rate of return (IRR) of 19 percent, an after-tax IRR of 16 percent, and a net present value (NPV) at an eight-percent discount rate of $343 million pre-tax and $228 million after-tax.
The East Kemptville tin-indium project in Nova Scotia was North America's only primary tin producer. The company is presently evaluating the potential to re-start tin production on a small-scale, using stockpiled ore left from the historical operation.
The Nechalacho rare earth elements project in the Northwest Territories is also an advanced project. The property hosts other rare metals of economic interest including the world's richest undeveloped beryllium deposit and unquantified potential for lithium and gallium.
The principles of sustainability, social responsibility and environmental stewardship are core values of the company. Avalon is a leader among junior miners in adopting best practices to reduce its environmental footprint, engage with local communities and protect the health and safety of its people.
Investment Highlights
Diverse critical metals and minerals property portfolio, offering investors exposure to a variety of important advanced materials.
Strong sustainability performance decreases social licence risk for investors.
Separation Rapids Lithium Project
Positive PEA completed in September 2016.
Separation Rapids deposit hosts the world's largest undeveloped known resource of the rare lithium mineral petalite—valued by glass-ceramics makers for its exceptional purity and high performance in thermal shock resistant glass formulations.
The high purity of the resource also makes it well suited for producing high-purity lithium chemicals for lithium-ion batteries.
With over one third of lithium demand coming from batteries, the market is estimated to grow at more than 7.4 percent CAGR until 2025, with total demand at least doubling during that period creating opportunities for new producers.
East Kemptville Tin-Indium Project
Actively working toward re-starting tin production at the East Kemptville mine site in Nova Scotia where a significant tin (+copper-zinc-indium) resource remains undeveloped.
Tin is now used primarily to make lead-free solders for electronic circuit boards. This market now accounts for over 50 percent of global tin demand.
Nechalacho Rare Earth Elements Project
Nechalacho rare earth elements project has a completed Feasibility Study and an approved Environmental Assessment in place.
Demand for rare earths continues due to their vital applications in automotive technology, wind turbines and many other consumer electronic products. China remains the only significant global producer particularly for the scarcer heavy rare earths.
The deposit is polymetallic and has the potential to be re-evaluated as a supply of zirconium chemicals and other advanced materials.