This profile is part of a investor education campaign. The profile provides detailed information which was sourced and approved by Algold Resources in order to help investors make better investment decisions. The Company's support of Investing News Network ensures we can continue to bring you unbiased, independent news and information.
Resource Investing News Featured Stock
Overview
Algold Resources Ltd. (TSXV:ALG) is an advanced-stage gold exploration and development company focused on building a strategic portfolio of properties in West Africa. The company holds a portfolio of three highly prospective properties in Mauritania, including the wholly-owned and newly acquired Tijirit Project. The Mauritanian government granted Algold a 30-year mining license for Tijirit in June 2017.
"This milestone is a significant achievement for both Mauritania and Algold," said the company's CEO, François Auclair, "and is important to our growth plan for Tijirit, as well as for the development of other deposits over the license area."
The Tijirit Project lies 25 kilometers southeast of Kinross' world-class Tasiast gold mine, which produced 175,176 ounces of gold in 2016. Algold is undertaking a mutli-phase exploration program totaling more than 45,000 meters targeting the high-grade gold deposit at Tijirit which still has significant upside.
The 2017 NI 43-101 Resource Estimate more than double the total inferred resources outlined in the 2016 Resource Estimate showing inferred resources of 602,130 ounces at an average grade of 2.29 g/t gold. In February 2017, the company began Phase 3 of the program which is focused on further increasing the resources base. Algold is working to deliver a Feasibility Study by 2018.
In March 2017, Algold completed a financing with gross proceeds of totaling $7.5 million which will be used to fund for exploration to better define the Tijirit gold resource. Algold also holds interests in the Kneivissat (90 percent) and Legouessi (51 percent) exploration licenses.
Algold Resources is led by an experienced team of mining and finance professionals with a long track record of success, especially in West Africa. "I believe we have a great team that can really deliver to our shareholders," stated Auclair. "Many of the people on our management team and on the board have been involved in the development and operation of major mines." Auclair himself was formerly the General Manager at Tasiast in the early stages of development.
Chairman Benoit La Salle is the founder of SEMAFO (TSX:SMF), a gold producer in West Africa. La Salle was instrumental in bringing SEMAFO from junior explorer to a more than 250,000 ounce-per-year gold producer with up to three mines in operation in the region when he was the CEO.
Investment Highlights
More than 4,000-square kilometer land package in excellent jurisdiction with mining-friendly government, infrastructure and huge upside potential.
Tijirit best intersects include 09 g/t and 44.02 g/t gold (Eleanor Prospect) 10.47 g/t and 9.63 g/t gold (Sophie Prospect) and 1,16 g/t and 20.90 g/t gold (Lily Prospect).30-year mining license at Tijirit, with a mine feasibility study due out in December 2018. Experienced management team and board including former founders, builders and operators of SEMAFO, Afcan, Rio Narcea, and the first general manager of the Tasiast mine.
Strong shareholder base including AngloGoldAshanti (NYSE:AU), Franco Nevada (NYSE:FNV) and Village Main Reef (JSE:VIL) which collectively hold with management approximately 20 percent of the company.
Kneivissat and Legouessi offer additional shareholder value with proximity to Tasiast gold mine in Aouéouat Archean Greenstone Belt.
Mining in Mauritania
Mauritania is located in West Africa and nearly 90 percent of its one million square kilometers are contained in the Sahara Desert. Not surprisingly, Mauritania's 3.5 million citizens live near the Atlantic coastline in the south leaving the vast majority of this country sparsely habited.

Mining first began in Mauritania in the early 1930s near Akjout in the center of the country, following the discovery of copper. High-grade iron ore was discovered a decade later in the north near Kediet d'Idjil. Today, the mining sector accounts for more than 60 percent of Mauritania's exports with iron ore, copper and gold the leading commodities. The state-owned Société Nationale Industrielle et Minière (SNIM) is ranked among the top ten iron ore producers in the world and is the second largest employer in the country.
With one of the most favorable mining codes in the region, Mauritania has attracted major players such as Kinross (Tasiast gold mine) and First Quantum (Guelb Moghrein copper-gold mine).
Aouéouat Greenstone Belt
The world-class Tasiast gold mine is located in the Aouéouat Archean Greenstone Belt—a 70 kilometer by 15 kilometer north-south trend situated within the southwest sector of the Reguibat Shield. The Archean greenstone belts of Australia, South Africa, Canada, Brazil and Russia host numerous gold and base metal deposits. For now, Tasiast (15 million ounces of gold) is the only known deposit in the Aouéouat greenstone belt.
Algold Resources is hoping to change that. Management believes that like that the world's other greenstone belts, there are still more elephants like Tasiast to be found in the desert of Mauritania. "We've got an experienced team breaking ground in an area near a major deposit situated in the middle of an Archean greenstone belt where the extension of the deposit has yet to be found," explained Auclair. "We are on trend. There is a lot smoke and eventually we will find the fire."
Through strategic acquisition and strong ties to the region the company has gathered a large land position adjoining the Tasiast gold deposit in the Aouéouat.
Key Property: Tijirit Profect
The Tijirit Project encompasses 1,000 square kilometers located 25 kilometers southeast of the Tasiast gold mine. In 2016, the Tasiast mine produced 175,175 ounces of gold, and as of 2016, contained 8.02 million ounces of proven gold reserves at 1.93 g/t.
The mutli-phase drill program at Tijirit has identified three main high-grade gold zones within five kilometers—Eleonore, Sophie and Lily. Management believes Eleonore's deposits bear close resemblance to those of the Dome Mine situated in the Timmins region of Northeastern Ontario, one of the most productive gold mining areas in the world, having produced over 60 million ounces of gold to date.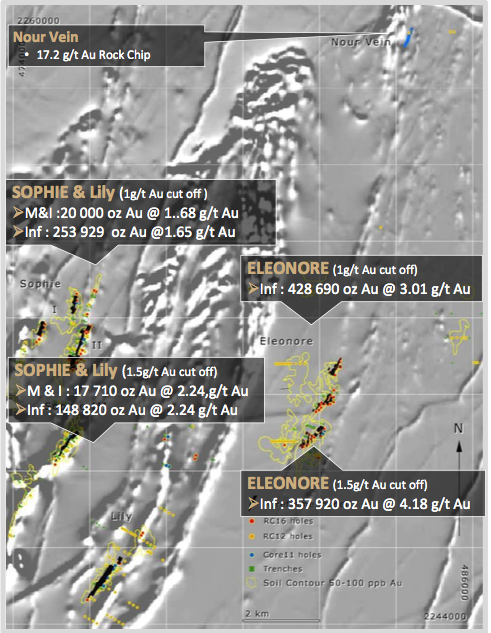 2017 Resource Estimate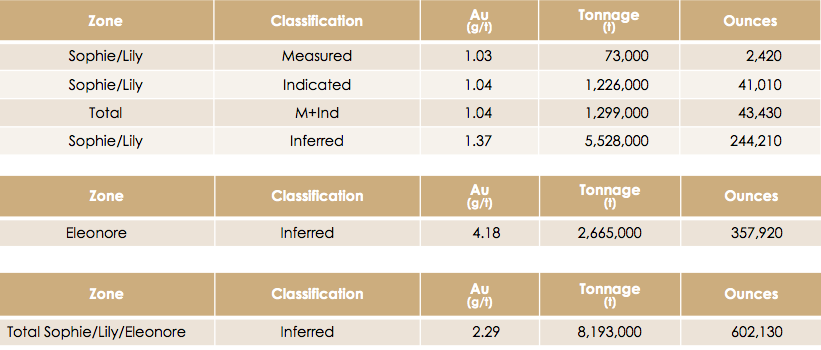 30-year mining license and on-track toward feasibility
Early metallurgical test work indicated recovery of up to 97 percent by gravity and cyanidation of the Eleonore-type mineralization. Based on these results and an environmental assessment commissioned by Algold, the Mauritanian government formally consented to issuing a 30-year mining license for the corporation's Tijirit project on June 2017. A mine feasibility study is due December 2018.
Preliminary metallurgical tests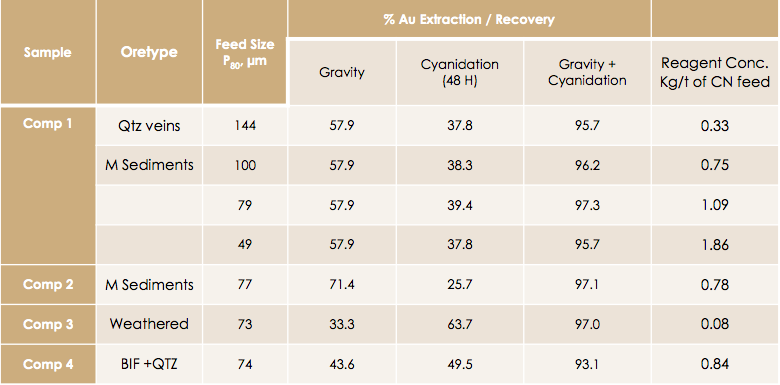 Further exploration at Tijirit 
Outside the immediate vicinity of the Tijirit zone, Algold has identified four other major prospects. Detailed study of satellite imagery indicates the Eleonore zone is situated on a major structural corridor trending northeast—for a combined potential strike of more than 30 kilometers. The company has reported significant gold-bearing quartz veins 10 kilometers north of Eleonore.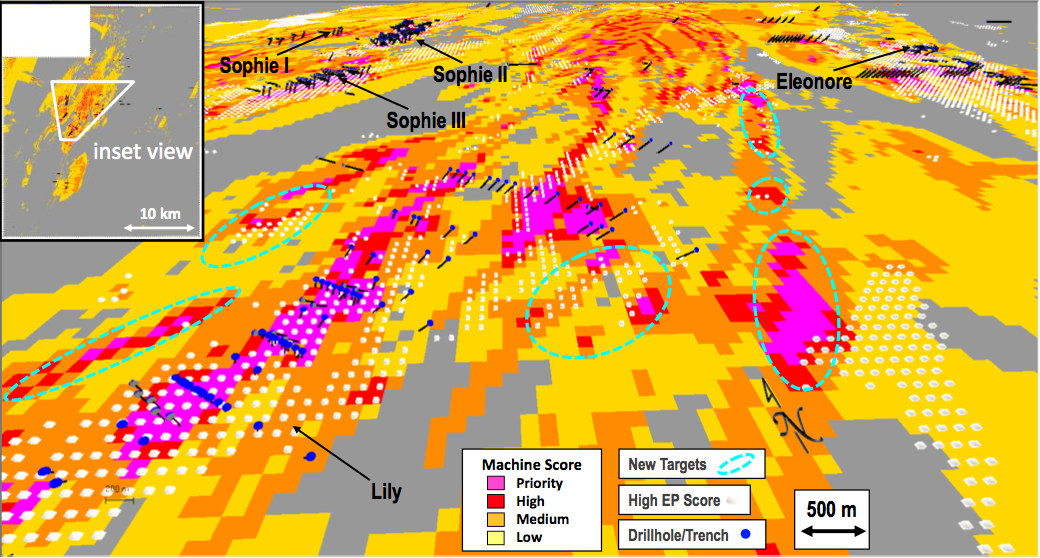 "As anticipated, Tijirit's Eleonore zone continues to deliver high-grade gold resources," said Auclair. "The ongoing phase 3 drilling indicates that the mineralization is open along strike and at depth, leading us to believe that we can continue to increase the magnitude of this resource significantly. Infill drilling on the Eleonore north, south and central areas of the drilling target continues to impress, with both remarkable grades and stand-out widths."
Kneivissat and Legouessi exploration licenses
Algold Resources currently holds rights on two adjoining exploration properties, Kneivissat and Legouessi, which together total approximately 1,600 square kilometers in northwestern Mauritania. Both of these properties are easily accessible by road from the capital city of Nouakchott. Mauritania's 704-kilometer iron ore railway line, central to the nation's economy, runs through Algold's properties to the deep water port of Nouadhibou.
Exploration work carried out on Kneivissat and Legouessi from mid 2013 through 2015 identified large zones of deep-seated alteration and structural trend, and showed that the geological formation hosting the Tasiast deposit extends on both properties.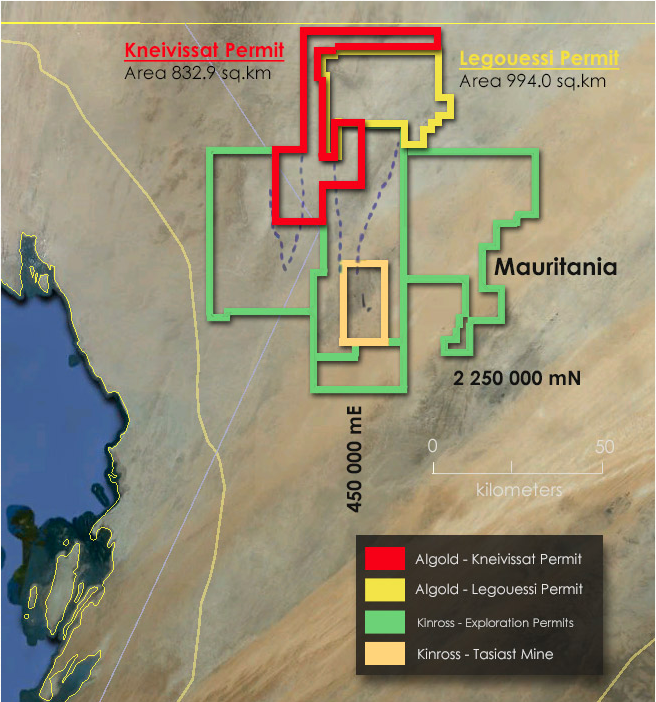 The Kneivissat property is located 300 kilometers from Nouakchott and 25 kilometers from the Tasiast gold mine. Algold holds a 90 percent interest in Société Mauritanienne d'Exploration which in return holds 100 percent of the Kneivissat exploration license.
The Legouessi property is located 40 kilometers north of the Tasiast gold mine and straddles Kneivissat to the west. The project is under option to Algold by Caracal Gold. In September 2015, the Company announced it had earned a 51 percent interest in Legouessi. Algold now has the option to increase its holding to 90 percent by spending US$3 million and completing a NI 43-101 feasibility study.
Phase 1 drilling on both properties identified two highly prospective corridors: the KC-LSO corridor and the NL-SL corridor with confirmed gold mineralization over a strike length of 20 kilometers and 15 kilometers, respectively. Both these corridors will be the focus of future exploration.
Highlights from Phase I include:
Assayed rock chip sample returned6 g/t gold on the NL prospect.
Further copper-gold potential with the discovery of an important zone containing copper, gold and barium anomalies extendingover 3.5 kilometers within the SL prospect.
Assayed rock chip samples returned 5% copperon the SL prospect.
Intersection of 0.96 g/t gold over two meters (hole KRC02) at the top of the hole and a number of intersections that displayed assay values greater than 0.5 g/t gold over two meters on KC-LSO.
Management
Benoit La Salle FCPA, CPA FCA—Chairman
Benoit La Salle is the President and CEO of Windiga Energy, a company involved in the development of renewable resource in Africa. La Salle is the founder of SEMAFO (a TSX-listed company) and a well-known mining entrepreneur in Canada and Africa. La Salle brought SEMAFO from junior explorer to a +250,000 ounce-per-year gold producer with three mines in operation in West Africa. La Salle is the Chairman of Sama Resources, a growth-oriented resource company focused on exploring the Samapleu (nickel – copper) Projects in Ivory Coast, West Africa, and Chairman of the Canadian Council on Africa. La Salle co-founded Grou, La Salle & Associates CA ("GLA") in 1980 and was a partner at the firm until it was sold in 2004 to RCMP..
François Auclair M.Sc., Pgeo—President and CEO
François Auclair is a geologist with more than 25 years of experience, including 20 years in Africa, both in exploration and development of gold deposits. Auclair has worked for major mining companies such as the Noranda group and Ashanti GoldFields, as well as medium-sized producers, such as Rio Narcea Gold. Auclair has been involved at the early stages of development of the Tasiast Mine during his tenure as General Manager, Tasiast mine, with Rio Narcea from 2004 to 2007. Prior to joining Algold, Auclair was the Vice-President Exploration of Gondwana Gold, a gold exploration company in Burkina Faso. Auclair was formerly Chief Executive Officer of Nimini Gold, a subsidiary of Polo Resources, developing the Komahum gold deposit in Sierra Leone. Prior to this, Auclair was the Vice-President, Exploration and Business Development of Diabras (now Sierra Metals) and Country Manager, Nevsun in Eritrea. Mr. Auclair was a member of Aur Resources' Louvicourt VMS deposit discovery team.
Thierry Vergnol—President of Algold Mauritania SARL. and Vice-President Government, Community Relations & Security of Algold Resources Ltd.
Mr. Vergnol is a Franco-Mauritanian with over 15 years' experience in international business, and has an excellent understanding of opportunities and challenges faced by international businesses operating in Africa and Mauritania in particular. After graduating with a business degree in France, Mr. Vergnol settled in Mauritania, with a focus on intercultural business relations. Mr. Vergnol is also the founder and manager of a private foundation for the promotion of Mauritania's cultural and historical heritage.
Yves Grou CPA CA—Executive Vice Chairman
Yves Grou is a CPA CA, with a Bachelor of Commerce degree from McGill University. He is a member of the Quebec Institute of Chartered Accountants. Mr. Grou co-founded Grou, La Salle & Associates CA in 1980 and was a partner at the firm until 2004. At GLA, Mr. Grou coordinated and led the reverse take-over process for several public companies and successfully completed several transactions with mining, oil and gas, telecommunications and medical devices for local, national and internationally-based companies. In addition to his current directorships, Mr. Grou was and continues to be part of the Board of Directors of several public natural resources companies.
Dejan Ristic Quebec CPA, CA & US CPA—Chief Financial Officer
Dejan Ristic began his career as part of the technology accounting and audit practice of Ernst & Young LLP, where he worked extensively with technology start-ups, entrepreneurial and public companies, and numerous high-profile consulting projects. Ristic was also a team leader on many public offerings on the Toronto Stock Exchange, generating over $150 million in funding for clients, primarily in the biotechnology and new economy companies sectors. In 2004, subsequent to the sale of Radical Horizon, Ristic founded Exceleris. In addition to managing the recruitment for Exceleris, he consulted (as CFO or in similar roles) with a number of mining and exploration and technology companies (both publicly traded and venture funded start-ups). Ristic holds a Bachelor of Commerce in Accounting & Entrepreneurship from McGill University.
André Ciesielski, D.Sc. Structural Geology, PGeo—Senior Technical Consultant
André Ciesielski was formerly a geoscientist with the Geological Survey of Canada where he conducted various studies on the eastern Canadian Shield. Since 1996, he has been involved in mining exploration for gold, diamonds, uranium and base metals in eastern Canada and West Africa and silver and gold in Mexico. Ciesielski also worked on specific projects in Colombia, Guyana and Morocco. He is currently involved in gold exploration in Mauritania and Quebec. Ciesielski is a member of OGQ and SEG.
Alex Ball MBA,—Executive Vice-President Finance & Corporate Development
Alex Ball is Managing Partner and CFO of PGL Capital, a Montreal-based family office (holding company). Ball's industry experience includes over $5 billion in global mining related transactions in equity and debt, and mergers and acquisition at UBS Canada and BMO Nesbitt Burns. Ball also worked as an Investment Analyst with OMERS, a large Canada pension plan with net assets of $72 billion. Ball completed his MBA in Finance at Toronto's Rotman School of Management and obtained his BA in Economics from McGill University.