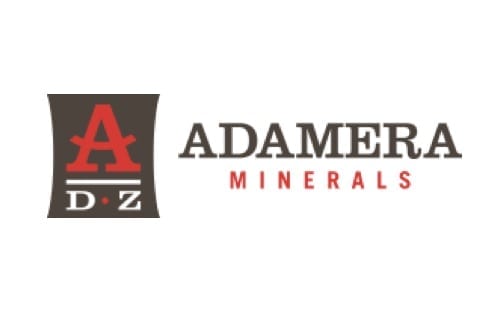 Adamera Minerals
High-Grade Gold Exploration in Washington State
Overview
Adamera Minerals Corp. (TSXV:ADZ, OTC:DDNFF) is a junior exploration company looking to establish a high-grade gold deposit in Washington state, US. The company has four projects in northeastern Washington state, including three in the Republic gold district which has reportedly produced 6 million ounces of gold. Adamera's flagship Cooke Mountain project encompasses five past-producing mines and contains two mineralized trends.
Adamera has signed an option/joint venture agreement with Hochschild Mining on the Cooke Mountain project in Washington State. Adamera has 100% interest in the Empire Creek and Flag Hill projects. Being fully funded with over 50 drill permits, Adamera's goal is to be successful in the discovery of a gold deposit.
The Cooke Mountain project is strategically located near Kinross' (TSX:K) Kettle River mill, which was put on care and maintenance when the Buckhorn mine was closed in 2017. The project is home to the high-grade gold, multi-kilometer Overlook and Lamefoot trends which host multiple high-priority targets and past-producing mines.
Key areas of focus for the project include the Key West and Lamefoot South targets. Drilling at Key West has returned intercepts of one meter grading 4.5 g/t gold, 2.3 meters grading 3.9 g/t gold and 1.07 meters grading 19.4 g/t gold. The Lamefoot South target meanwhile hosts a 400-meter by 400-meter area located 280 meters south of the historic Lamefoot mine.
Adamera also holds 100% interest in three additional projects in Washington State: Empire Creek, Flag Hill and Talisman. The Empire Creek and Flag Hill properties are also within the Republic gold district and are located near Kinross' Kettle River mill and K2 mine. Both properties have returned one-meter intercepts grading 41 g/t gold. Adamera intends to conduct drill programs on the properties in 2020.
The historic Talisman copper–silver mine reportedly produced 521 tons of ore grading five percent copper, 102.9 g/t silver and 4.1 percent zinc in the early 1900s. Adamera's initial exploration program yielded results as high as 144 g/t silver, 3.45 percent copper, 6.3 percent lead and 6.91 percent zinc. The company plans to conduct additional mapping and prospecting to better define the mineralized zones on the property.
Adamera's Company Highlights
Adamera/Hochschild Mining option – joint venture – Cooke Mountain Project -fully funded and permitted
The Cooke Mountain project hosts two multi-kilometer high-grade gold trends that contain numerous past-producing mines and several high-grade drill results and targets.
Operating in a pro-mining county in Washington State with support from local communities.
More than 7 million ounces of gold mined in the Republic district and approximately 20 million ounces within the Boundry district.
Properties are in close proximity to a mill operated by Kinross Gold Corp that has recently been put on Care and Maintenance.
drill programs are permitted and scheduled for 2020 on several targets.
Talisman mine reportedly produced 521 tons of ore grading five percent copper, 102.9 g/t silver and 4.1 percent zinc in the early 1900s.