This profile is part of a paid investor education campaign.*
Lifescience Investing News Featured Stock
Overview
3D Signatures Inc. (TSXV:DXD,OTCQB:TDSGF) is a personalized medicine company advancing toward commercialization of its proprietary TeloviewTM software platform. The technology behind TeloviewTM is based on the three-dimensional analysis of a patient's chromosomal signature and supported by 22 clinical studies (+2,000 patients) on thirteen cancers as well as Alzheimer's disease.
TeloviewTM is designed to measure the stage and progression rate of a disease. More importantly, the software platform's diagnostic and prognostic tools allow healthcare specialists to determine the best course of treatment for an individual patient and enable pharmaceutical companies to identify and develop more effective drugs.
3D Signatures plans to monetize its core intellectual property via a software-as-a-service business model. The company's growth strategy is focused on seeking partnerships and licensing opportunities with biopharmaceuticals, and clinical and commercial laboratories. "Broadening our global footprint and establishing those key partnerships with well-recognized and entrenched partners in the field is a high priority for 3D Signatures," said Jason Flowerday, 3D Signatures CEO. "We anticipate news regarding our progress on that front in 2017."
3D Signatures is managed by an accomplished team with the specialized expertise necessary to bring new products to market and to secure strategic partnerships. CEO Jason Flowerday's extensive life sciences leadership experience includes business development and marketing for two of the world's largest pharmaceutical companies, Germany's Bayer AG and US-based Johnson and Johnson. Chief Business Officer Joost van der Mark has more than two decades of experience as a healthcare executive in the biopharmaceutical industry, including in acquisition and licensing activities as the VP of Corporate Development of BioSyent Inc.
Co-founder Dr. Sabine Mai is an internationally known researcher focused on genomics, genomic instability and 3D genomic analysis. Dr. Mai is currently Professor of Physiology and Pathophysiology, Biochemistry and Medical Genetics, Human Anatomy and Cell Science, University of Manitoba. She is also Director of The Genomic Centre for Cancer Research and Diagnosis at University of Manitoba.
3D Signatures' VP Clinical Technology, Dr. Oumar Samassekou's expertise is in medical genetics, cytogenetics, cancer genomics, and the development of a non-invasive diagnostic procedures. Dr. Samassekou was the supervisor of a molecular pathology unit in one of the largest laboratories specializing in clinical pathology of breast cancer in Canada.

Investment Highlights
3D Telomere Analysis is a disruptive technology based on a universal structural biomarker.

3D Signatures' Teloview

TM

software platform is attracting attention of multinational healthcare companies.

$25 million in non-dilutive R&D funding.

3D genomic analysis technology based on 20+ years of research covering 14 diseases and including 2,000+ patients tested in 22 clinical studies.

130+ peer-reviewed papers.

Advancing toward commercial marketability with Telo-HL (Hodgkin's lymphoma) in validation stage and Telo-PC (prostate cancer) in development stage.

Steady stream of positive news flow expected including clinical trial progress and new business developments.

Expert management team with successful track record in biomedical market; and advisory board stacked with leaders in the fields of genomics, oncology, and hematology.

Well-protected IP with 16 issued and pending patents in the United States, Canada and Europe.
Teloview Image Analysis: Universal Biomarkers for Personalized Medicine
Personalizing patient treatment with 3D imaging technology is a major medical advancement in patient diagnosis and treatment.
3D Signatures' proprietary imaging technology is based on a universal structural biomarker—telomere organization within cells. Telomeres —protective regions of DNA located at the tips of chromosomes—serve a critical role in cell division. Cancer diseases are essentially uncontrolled cell division, associated with and potentially driven by genomic instability, a condition linked to telomere dysfunction.
The first step in the process is a simple non-invasive blood test or tissue sample. Next, the company's novel technology uses fluorescent markers and high resolution microscopes to digitally analyze the sample and create a 3D image of a patient's cells and unique telomeres.  This 3D image of telomeres within a given cell measures disease stage and genomic stability with a high level of accuracy.
Once reconstructed, the 3D images are exported as .TIFF files to the centralized 3DS analytics center. Based on six unique characteristics of telomeres, 3D Signatures' software program on, personalized treatment plans and regular routine monitoring via a simple and minimally invasive blood test or tissue sample.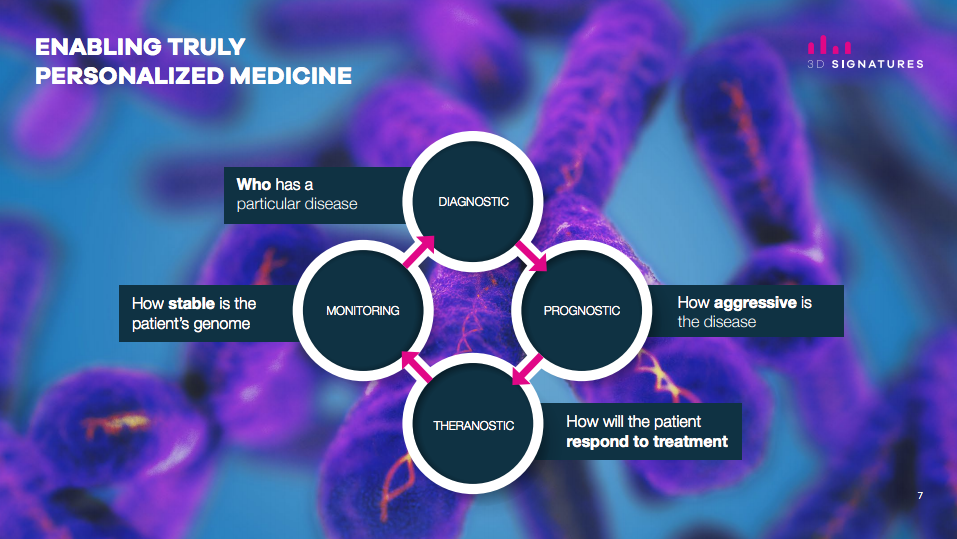 Software as a Service Business Model
Building a highly scalable software-as-a-service based business with high margins and low overhead.
TeloviewTM collects raw digital data and stores it on 3D Signatures' server to build a growing library of specific 3D telomere signatures. The data can then be analyzed by partner labs across the globe. The company's library contains the results from the 22 clinical studies completed to date, including data from more than 2,000 patients. The data becomes more robust as the company continues to analyze and process more unique signatures, increasing the accuracy and the specificity of the platform for a variety of cancers and conditions.
3D Signatures plans to generate revenue through software licensing and charging fees for each test.
Multimodal Marker Platform Address Variety of Diseases
3D Signatures has demonstrated the universality of the telomere biomarker across a broad range of diseases, showing both the clinical and investment potential of this unique imaging technology and software platform.
The company has a growing pipeline of diagnostic and prognostic products under development for cancers and neurological disorders.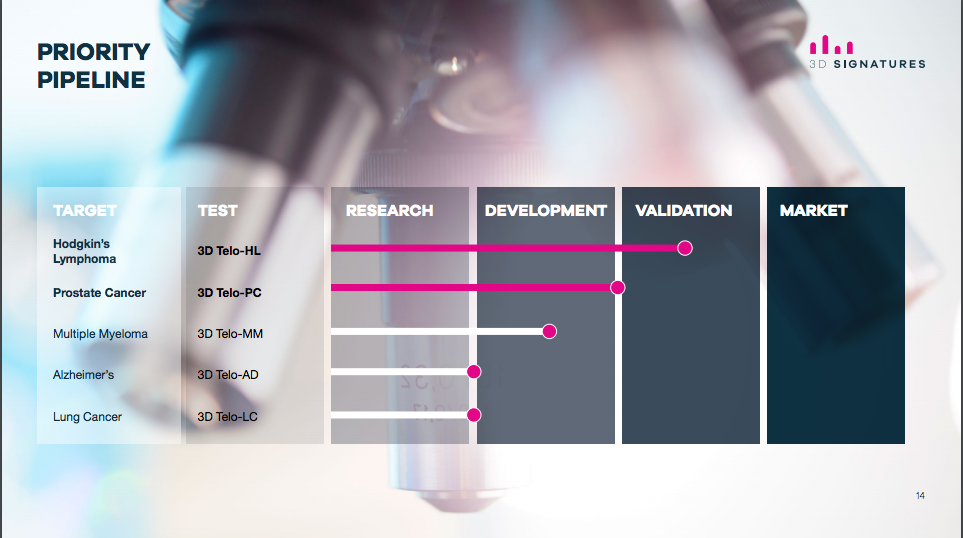 Unique 3D telomere signatures are also found to correlate with:
Alzheimer's

Thyroid Cancer

MDS/ML

Glioblastoma

Cholangiocarcinoma

Breast Cancer (TNBC)

Ependymoma

Esophageal Cancer

Neuroblastoma
Validation Stage: 3D Telo-HL Targeting Hodgkin's Lymphoma
3D Signatures' Hodgkin's lymphoma test (Telo-HL) aims to help healthcare specialists determine whether or not a patient will respond to standard chemotherapy or will likely re-lapse requiring an alternative treatment.
In the U.S. alone there were 8,500 new cases of Hodgkin's lymphoma and 1,120 estimated deaths in 2016. An estimated 20 percent of patients will not respond to standard chemotherapy and relapse within 24 months of treatment. The healthcare cost for per relapsing patient is approximately $400,000 compared to $90,000 for a non-relapsing patient.
No biomarker currently exists to differentiate between those patients likely to respond to chemotherapy and those likely to relapse. "There is a very real clinical need for an accurate diagnostic test to predict responsiveness to standard chemotherapy for Hodgkin's lymphoma patients," said Dr. Hans Knecht, 3D Signatures advisor and Professor of Medicine and Chief, Division of Hematology at McGill University and Jewish General Hospital, Montreal. "Such a test would empower physicians to make treatment decisions on an individual basis."
The potential benefits of Telo-HL for patients and healthcare include:
New treatment options

Reduced complications

Significant cost savings

Shortened treatment cycles
As of February 2017, The Telo-HL test is undergoing a five-stage validation program to develop the product into a commercially marketable Laboratory Developed Test within twelve months.
"Telo-HL has the unique ability to help physicians personalize effective treatments," said Flowerday. "Once commercially available, we believe this technology will give physicians foresight that is simply unavailable through conventional diagnostic testing."
Development Stage: 3D Telo-PC Targeting Prostate Cancer
Through a simple, minimally-invasive liquid biopsy, 3D Signatures' prostate cancer test (Telo-PC) aims to help healthcare specialists to determine the best treatment options for an individual patient based on the stability and aggressiveness of the disease.
Prostate cancer accounts for 10.7 percent of all new cancer cases diagnosed each year in the United States. Of the approximately 30 million men screened for prostate cancer annually, 180,000 will be diagnosed with the disease and 26,000 will die. The annual cost of diagnosing and treating prostate cancer is close to $15 billion.  
As of February 2017, the Telo-PC test is under development with recent testing showing the TeloviewTM software platform was successful in predicting the stability and aggressiveness of the disease in each of the 50 intermediate-risk prostate cancer patients involved in the study.
Based on the clinical data, the company believes that Telo-PC is a "promising candidate for development as an accurate, blood-based risk-assessment and monitoring platform for prostate cancer." The ability to determine the most effective line of treatment for an individual patient is critical given the significant risk of side effects and complications associated with more aggressive treatment.
Well-Protected Intellectual Property Portfolio 
3D Signatures has a robust family of patents protecting the company's IP related to its core technology, including 16 issued or pending patents in the United States, Canada and Europe.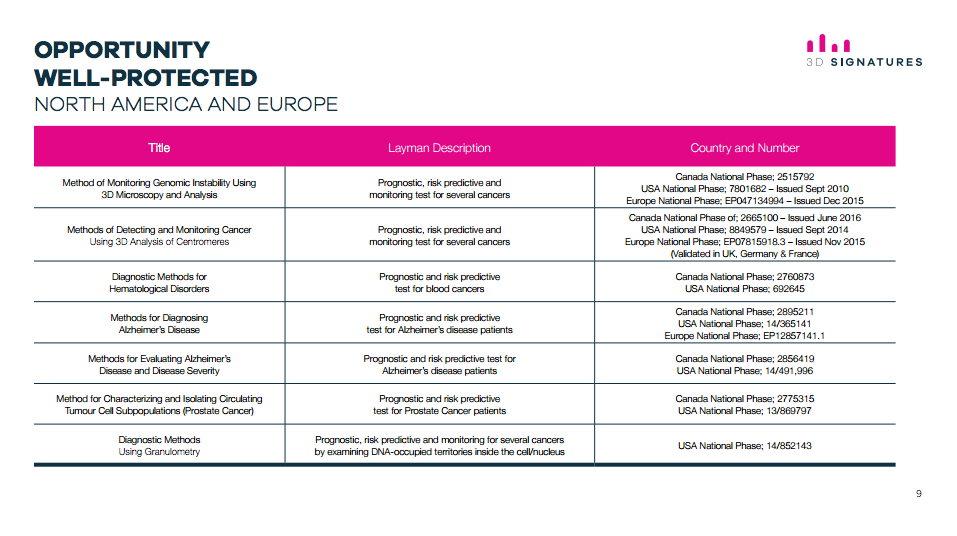 Management
Please visit the company's website for a comprehensive look at 3D Signatures' premiere management and board member team, business advisors, and clinical and scientific advisory board.
---
*Disclaimer: The profile provides information which was sourced and approved by 3D Signatures in order to help investors learn more about the company. 3D Signatures is a client of the Investing News Network (INN). The company's campaign fees pay for INN to create and update this profile page, to which links are placed on Investingnews.com and channel newsletters.
The company description, investment highlights and catalysts were sourced by INN and approved by the company. INN does not guarantee the accuracy or thoroughness of the information contained on this page.
INN does not provide investment advice and the information on Investingnews.com profile should not be considered a recommendation to buy or sell any security.
INN does not endorse or recommend the business, products, services or securities of any company profiled.
Readers should conduct their own research for all information publicly available concerning the company.