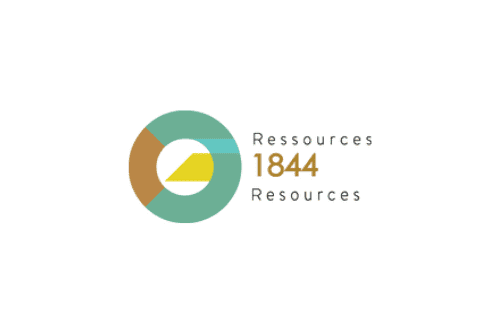 1844 Resources
Revitalizing Mineral Exploration and Development in the Prolific Gaspe Peninsula, Quebec
This 1844 Resources Inc. profile is part of a paid investor education campaign.*
Overview
The Gaspe Peninsula in southeastern Quebec covers approximately 11,390 square miles of thick forest and free-flowing rivers and lakes. Despite its humble appearance, this region stands as one of the definitive districts for geological and mineral exploration in Canada, a reputation in the midst of making a strong comeback.
In 1844, Sir William Logan, founder and first director of the Geological Survey of Canada mapped the majestic Gaspe Peninsula, unknowing the exceptional copper mining opportunities the region would later present. After decades of under exploration, Gaspe presents investors and active copper and polymetallic companies the opportunity for exciting discovery and economic success.
1844 Resources Inc. (TSXV:EFF) is an exploration company with a focus on grossly underexplored regions of Gaspé and Chibougamau in Québec. The company's robust project portfolio includes the Vortex, Native Copper, Davidson and Lac Arsenault projects.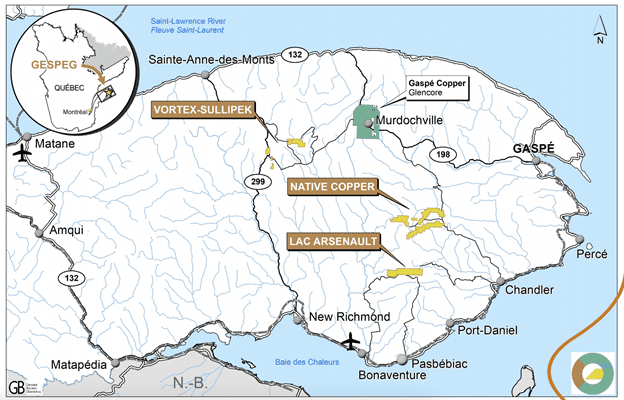 1844 Resources' strategic positioning in the Gaspe Peninsula allows it to leverage its rich past-producing mining history. The prolific Gaspe Copper Mine, a subsidiary of Noranda Mines Limited in Murdochville, produced approximately 141 million tons at 0.85 percent copper from 1954 to 1999. 1844 Resources could likely see similar margins with exploration and project development today.
The company's other region of operation in Chibougamau presents exceptional exploration upside potential with its established roadways, railroad transportation access and widespread gold and copper mineralization discovered in the early 1950s. Both Chibougamau and Gaspe are primed for extensive revitalization and exciting first-mover exploration opportunities.
After finalising a purchase agreement to acquire 100 percent undivided interest of nine claims in the Chibougamau region in 2020, 1844 Resources began its initial exploration and prospecting work program on the Davidson Project.
1844 Resources' secondary asset is the Native Copper project in the Municipality of Chandler, which is comprised of 156 claims. The project is part of the Mont Alexandre syncline, associated with an important metallotect volcanic horizon part of the Lake McKay Member, which lies within the greenstone belt present in the Gaspe Peninsula.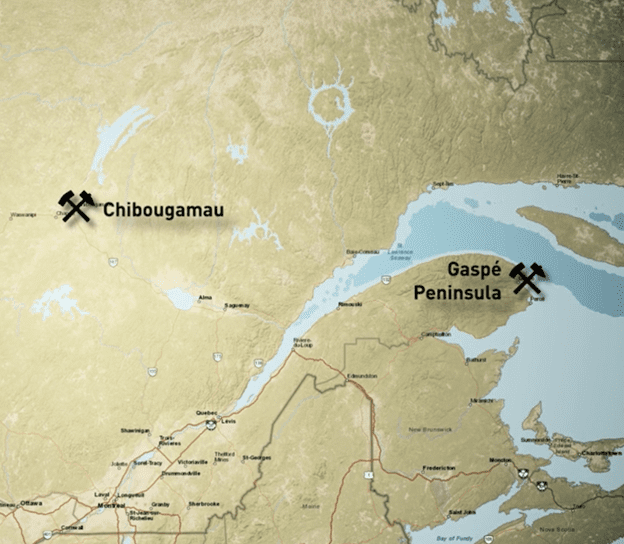 1844 Resources' management team consists of world-class experts in the mining sector. The team combines over 100 years of experience in copper resources, finance and geological exploration. These attributes prime the company for outstanding economic success and mineral yield potential in the growing copper market.
1844 Resources' Company Highlights
1844 Resources is focused on the underexplored regions of Gaspé and Chibougamau and its exciting portfolio of copper and polymetallic projects, including the Vortex, Native Copper, Davidson and Lac Arsenault Gold projects.
The Gaspe Peninsula has a rich history of past-producing successes, stemming mainly from its Gaspe Copper mine. The company has strategic positioning close to this especially valuable copper resource.
1844 Resources' management team consists of strong leaders in the copper and mineral exploration sector, who bring over 100 years of combined expertise in financial resource development and project acquisition.
1844 Resources' Key Projects
Vortex Project
The Vortex project is a copper, molybdenum and gold project, which adjoins the Glencore and Soquem property, situated at Sullipek East and 25 kilometers west of Murdochville. The project has seen extensive exploratory and developmental work since 2000, which significantly benefits 1844 Resources' future plans for the project.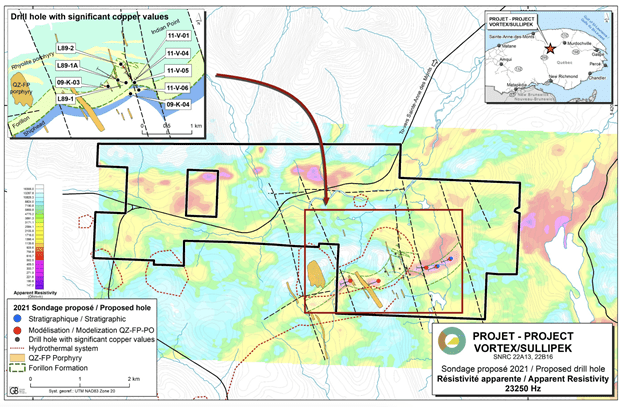 Between 2009 and 2011, the Vortex had over 4,700 meters of combined drilling, geophysics and soil surveys and an exciting discovery of 0.94 percent copper at 29 meters in 2012. Strategically positioned near the Glencore and Soquem portion of the property, estimated resources hover between 2,240,000 tons at 1.09 percent copper and 5,500,000 tons at 0.88 percent copper.
The next steps for Vortex include a 7,000-meter drill program planned for 2021. 1844 Resources remains excited for the future of this project and could see similar mineralization and discovery success as past projects from the prolific Gaspe Copper mine.
Native Copper Project
The Native Copper project is an exceptional greenfield copper exploration opportunity situated within the Gaspe greenstone belt, west of Chandler, Quebec. The property comprises 156 claims divided into four sectors: Native Copper South, North-west, North-East and Central. 1844 Resources has 100 percent undivided interest in the entirety of these claims.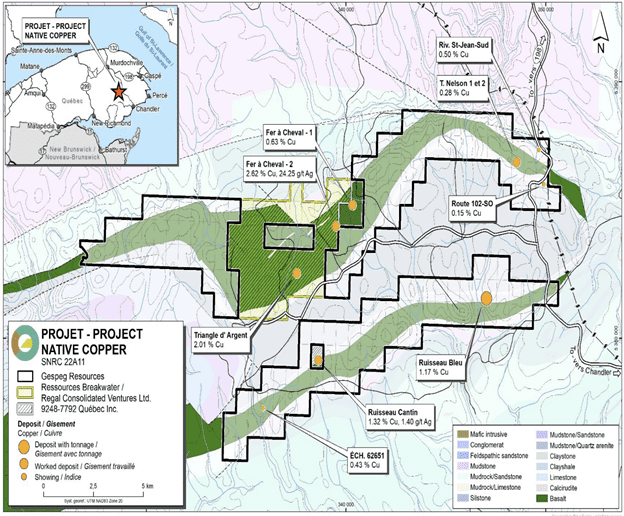 This strategically positioned asset spans 28 kilometers in length on a horizon that is known to generate multiple mineralized copper zones and has already shown nine indicators in the area. To date, the project has seen extensive prospecting, trenching and drilling, which has revealed copper grades upwards of 5.38 percent.
The company intends to conduct an exciting Airborne geophysics program in mid-2021.
Davidson Project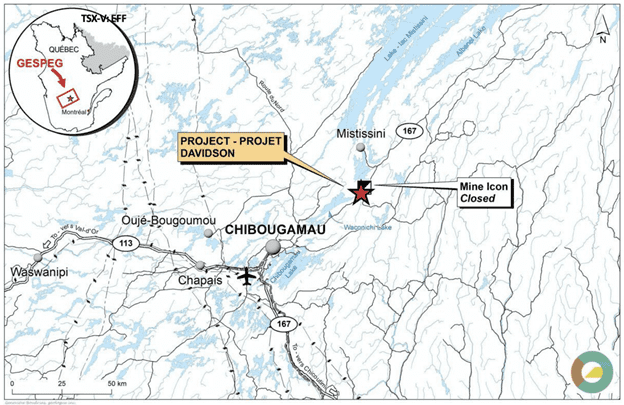 The Davidson project comprises 33 claims situated within the historic Chibougamau mining district. The asset is strategically located directly south of the past-producing Icon Mine. 1884 Resources has a 50/50 joint venture with J.A. MacLeod Exploration Reg'd for Davidson.
The project has produced over 1,616,567 tons of copper at grades of 3.07 percent copper across several known sources on the property. Davidson displays exceptional exploration upside with its close proximity to Route 167 North East of Chibougamau and several prospective copper showings, including Clero, Blondeau and Bouzan-Cuivre targets.
The company remains excited to continue exploring this highly prospective project.
Lac Arsenault Gold Project
The Lac Arsenault gold project consists of 75 mining claims equivalent to 3,918 hectares in the southern part of the Gaspé Peninsula and situated North-West of Port-Daniel and North-East of Bonaventure. 1844 Resources has 100 percent undivided interest in the entirety of these claims.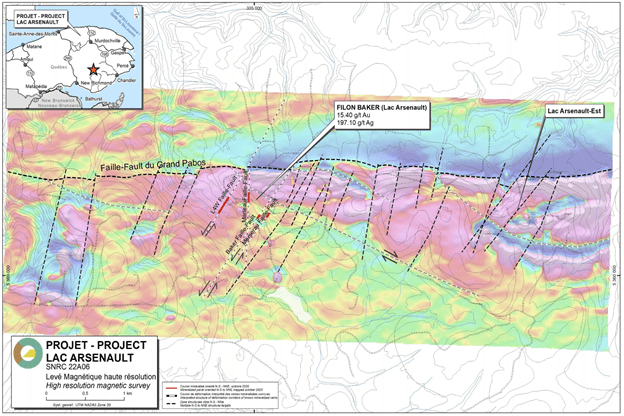 The project sits along the Grand Pabos Fault, which is known for high-grade gold, silver, copper and lead showings North of the Riviere Garin Fault. Between 2005 and 2006, Lac Arsenault saw preliminary prospecting and drilling on the property, but end results were not made available in any government report. In March 2021, the company also announced the commencement of a 2,000-meter diamond drilling program for the project.
1844 Resources' Management Team
Sylvain Laberge — President, CEO & Director
After obtaining a degree in Hotel management Sylvain Laberge entered into a sales career in a different sector. He became part of a new company founded in 1999, Renmark Financial Communication, an enterprise specializing in Investor Relations, where he became VP and developed an interest in emerging companies and especially mining exploration. Laberge has been managing Gespeg since 2013 and also managed other junior companies during that period. He is presently a director of Omineca Mining.
Andrew Davidsoni CA — CFO, Secretary & Director
A graduate of the University of Calgary (BComm), Andrew Davidson is a Chartered Accountant with Certification in both Saskatchewan and Alberta. Davidson's extensive experience in junior natural resource finance and international financial reporting standards has been gained through years of experience in the Canadian junior resource markets and in public practice accounting in both the Alberta and Saskatchewan markets, focusing specifically on assurance for publicly listed enterprises. He is also involved as an officer or director in several other junior resource exploration and production.
Bernard-Olivier Marteli — Manager of Exploration
Bernard-Olivier Martel graduated from the University of Quebec in Montreal in 1999. He is a member of the Geologist Order of Quebec and acts as a qualified person under the National Instrument 43-101. His experience includes government services, engineering and geological and mineral exploration. Before and after graduation, he worked on various mapping projects for the Quebec Department of Natural Resources. Since 2004,
Martel has worked exclusively for the mining industry as a consulting geologist for various exploration companies in Quebec and Ontario. In addition to his duties as technical director of geology for Gespeg Copper Resources, Martel acts as a geologist responsible for the exploration work for Explo-Logik Inc., a mineral exploration services company. projects in recent years: Nouveau-Monde Graphite, Maple Gold Mines, Laurion Mineral Exploration Inc. Tarkus Resources, Fancamp Exploration Ltd., Jourdan Resources and many others.
---
INN does not provide investment advice and the information on this profile should not be considered a recommendation to buy or sell any security. INN does not endorse or recommend the business, products, services or securities of any company profiled.
The information contained here is for information purposes only and is not to be construed as an offer or solicitation for the sale or purchase of securities. Readers should conduct their own research for all information publicly available concerning the company. Prior to making any investment decision, it is recommended that readers consult directly with 1844 Resources Inc. and seek advice from a qualified investment advisor.