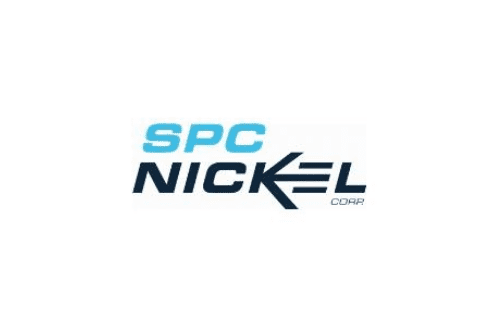 SPC Nickel
Class 1 Nickel in the Sudbury Mining Camp in Ontario
Overview
Nickel plays a vital role in electric vehicle and battery manufacturing, a sector that is expanding rapidly year after year. Market research projects this growing nickel demand to reach upwards of 1.3 million metric tonnes per annum by 2030 as nickel content in electric vehicles increases to over 40 kilograms per car battery.
However, only Class 1 nickel with purities above 99.98 percent is suitable for electric vehicle batteries. Sulphide deposits found in the Sudbury Mining Camp in Ontario are one of the world's primary sources of Class 1 nickel. Today, the Sudbury Mining Camp produces hundreds of tons of nickel and copper every year, containing some of the biggest concentrations of mines in the world.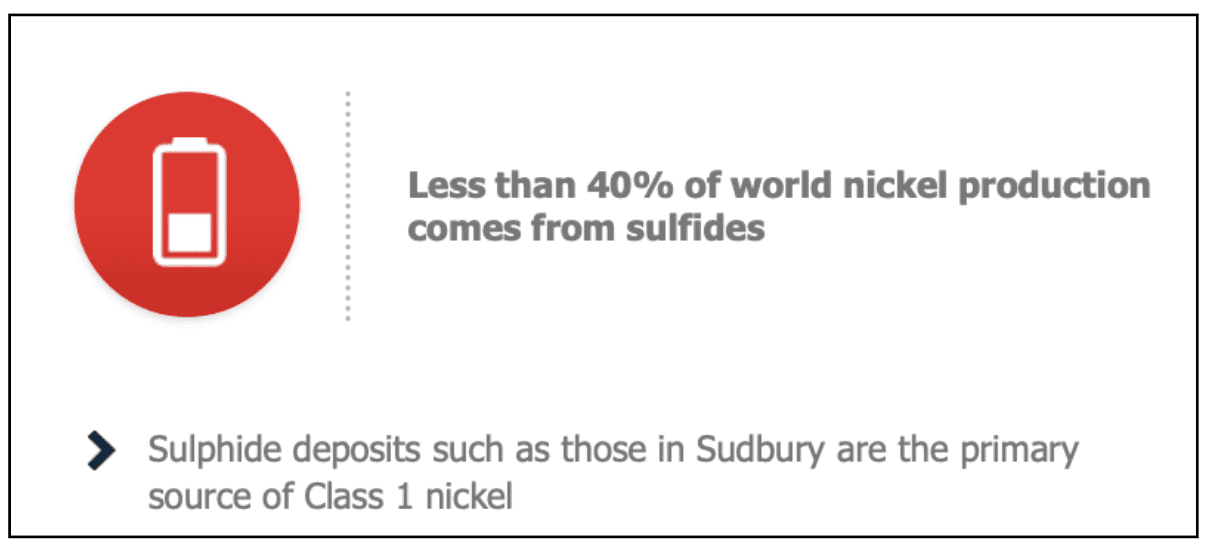 SPC Nickel (TSXV: SPC) is exploring highly-prospective nickel-copper-platinum group mineralization projects within the world-class Sudbury Mining Camp in Ontario, Canada. The camp is the world's second largest nickel camp with historic continuous production spanning over 125 years. The prolific mining camp leverages a highly skilled local mining workforce and excellent existing infrastructure with two active mills and smelters in operation.
SPC Nickel has a robust portfolio that includes the flagship Aer-Kidd project and Lockerby East project and the Janes and Owen properties. Aer-Kidd and Lockerby East are 100 percent owned advanced-stage projects, while SPC Nickel's other properties present the company with favorable growth options.
Along trend northeast of the Aer-Kidd Property is KGHM Polska Miedz's high-grade Victoria deposit that has a reported 14.5 million tonnes at 2.5 percent nickel, 2.5 percent copper and 7.6 g/t platinum group metals (PGM) resource. To the southwest is Vale's producing Totten Mine that hosted initial resources of 10.1 million tonnes at 1.5 percent nickel, 1.97 percent copper and 4.8 g/t PGM.
At the end of 2020, the company raised C$7.82 million. This funding favorably positions it for more aggressive exploration for 2021.
Immediate plans for project development include extensive drilling at Aer-Kidd, which will last between 12 and 24 months.SPC Nickel expects to continue exploration on the rest of its portfolio of base metal projects.
This funding also well-positions the company to take advantage of the forecasted growth in the nickel, copper and platinum group markets.
SPC Nickel's Company Highlights
SPC Nickel is focused on exploring and developing nickel and copper assets in the prolific Sudbury Mining Camp.
The company leverages well-positioned growth in the battery and green metals markets and a proven management team with solid exploration, development and operations skills.
The flagship Aer-Kidd project and Lockerby East project are 100 percent owned and present exciting discovery potential and advanced-stage development.
The Janes and Owen properties in Sudbury present the company with acquisition options. Both properties demonstrate high-grade mineralization.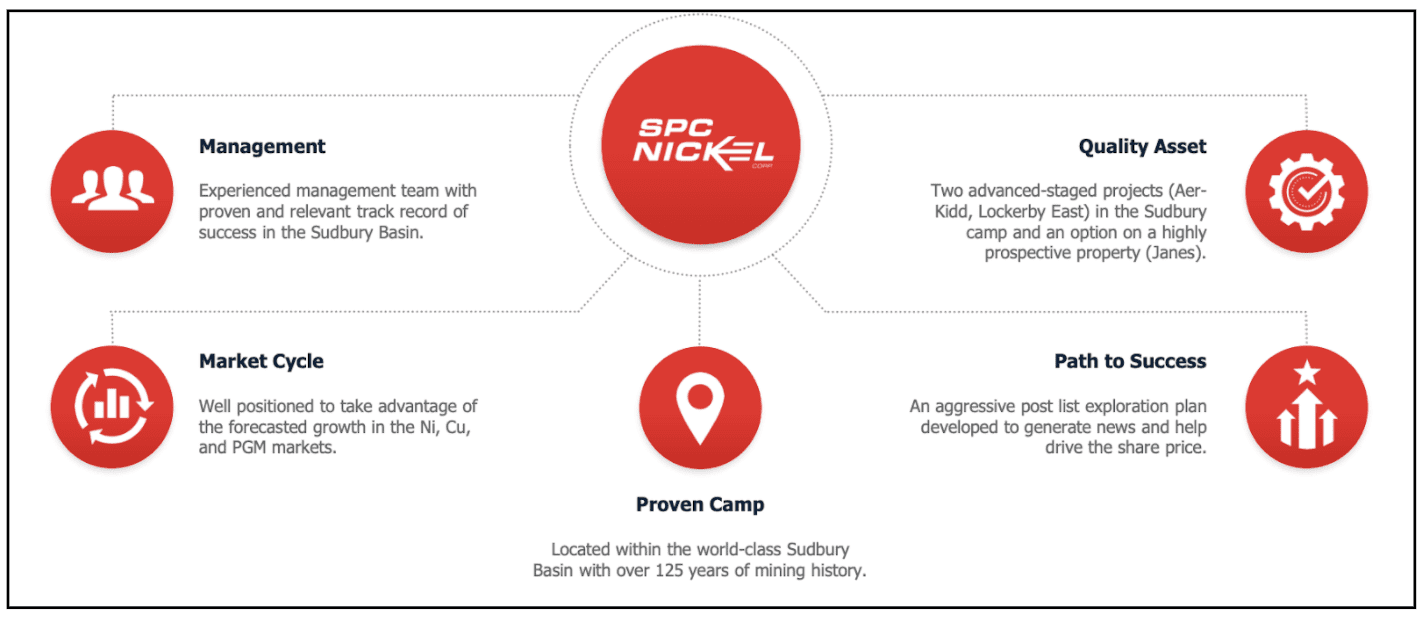 SPC Nickel's Key Projects
Aer-Kidd Project
Unique Ni-Cu PGM Project in the World-class Sudbury Mining District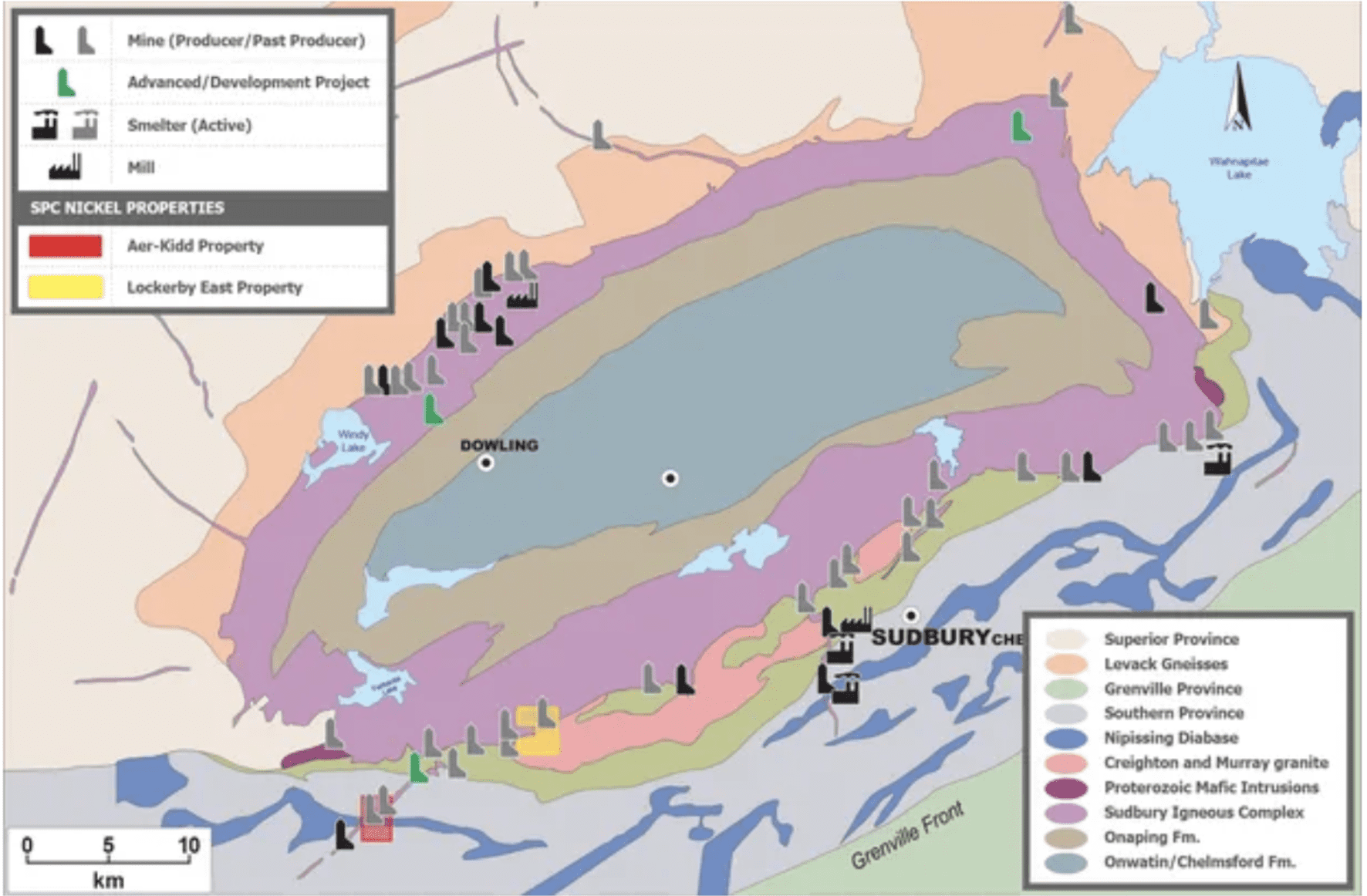 The flagship Aer-Kidd project sits only 20 kilometers southwest of the City of Sudbury, Ontario, along the Worthington Offset Dyke. The Worthington Offset Dyke hosts several high-grade nickel-copper-PGM deposits including Vale's Totten Mine located 1.8 kilometres along trend to the southwest of the Aer-Kidd Property and KGHM's Victoria development Project located 3.0 kilometres along trend northeast of the Aer-Kidd Property. The district leverages a rich mining history dating back to the 1900s, excellent infrastructure and a proven geological environment known to host world-class nickel-copper-PGM deposits.
Resources in the surrounding Sudbury Igneous Complex are estimated to contain upwards of 1.6 billion tons of nickel-copper-platinum mineralization at an average grade of 1.2 percent nickel, 1.0 percent copper and 0.8 g/t platinum-palladium. On the Aer-Kidd property, the Worthington Offset has a strike length of 1.5 kilometers and hosts three separate past producing mines, the Howland Pit, Robinson Mine and the Rosen Mine.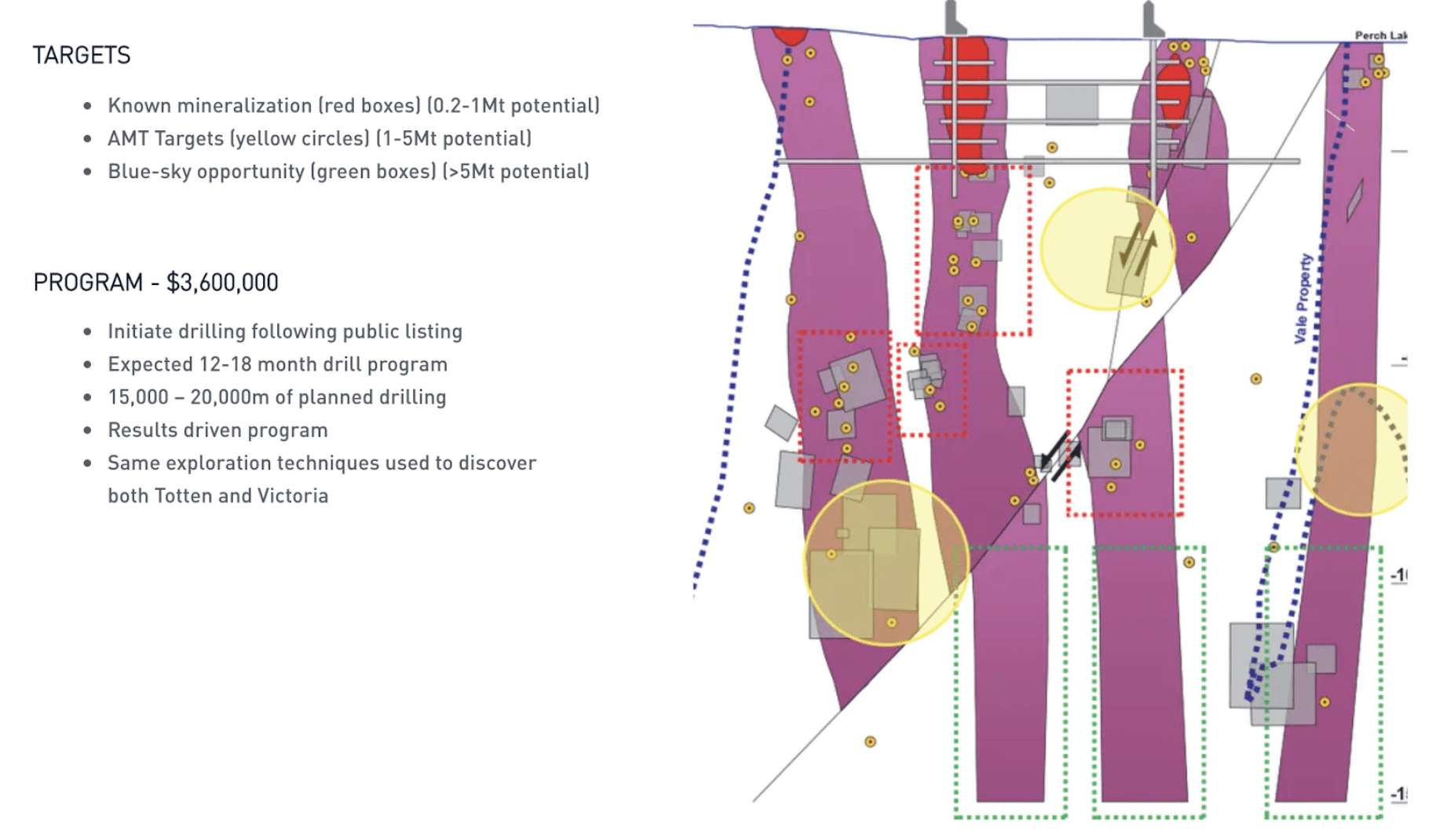 Past drilling programs have revealed high-grade mineralization with best intersections showing grades of 1.46 percent nickel, 0.56 percent copper over 8.2 meters at a drill hole depth of 844.2 meters. Aer-Kidd presents SPC Nickel with excellent discovery potential with similar geology and style of mineralization comparable to neighboring assets like Vale's Totten deposit and KGMH Victoria deposit.
Lockerby East Project
Exploring in the footprint of a past-producing Ni-Cu-PGM mine within the Sudbury Mining District
The Lockerby East Project consists of approximately 390 hectares of freehold patents located 20 kilometers west of Sudbury, Ontario, within the southwest corner of the Sudbury Basin. The property includes 100 percent of the Lockerby East and South patents and a 100 percent interest in the West Graham deposit.
A 2009 NI 43-101 Technical report published by First Nickel Inc., reported indicated mineral resources for the West Graham deposit of 8.55 million tonnes grading at 0.45 percent nickel and 0.31 percent copper, with an inferred resource of 2.0 million tonnes grading 0.38 percent nickel and 0.30 percent copper. The Lockerby East deposit has reported indicated resources of 0.18 million tonnes at grades of 2.32 percent nickel and 0.87 percent copper.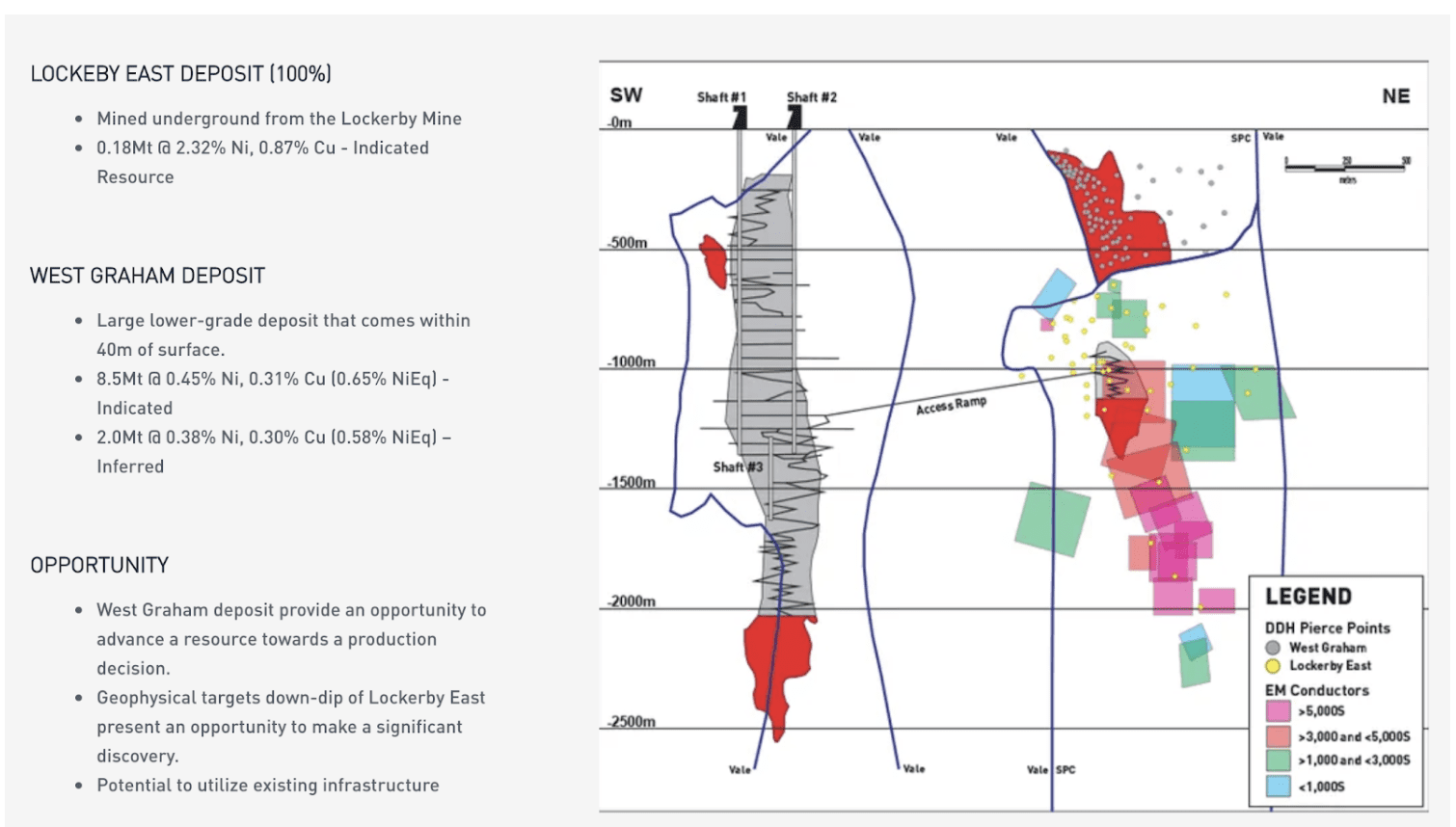 Both deposits present SPC Nickel with high-grade discovery opportunities and the potential to advance its resources towards a production decision. The following steps for the project include infill drilling to upgrade resources, completion of a Preliminary Economic Study and commencement of drill testing programming south of the Lockerby East deposit.
Janes Property
The Janes property covers approximately 2,900 hectares located 50 kilometers northeast of Sudbury, Ontario. SPC Nickel entered into an option agreement to earn 100 percent in the property.
The Janes property was initially explored in 1969 by Kennco Exploration (Canada), which reported both disseminated and massive copper-nickel sulphide mineralization (PGMs not reported) occurring near the base of a large Nipissing Diabase sill. Of significant interest was drill hole 69-08 that intersected 10.7 meters of 1.27 percent and 1.59 percent copper (PGMs not reported) at a depth of 172.8 meters. This drill hole was subsequently re-assayed by Falconbridge in 1989 returning a weighted average of 1.51 percent nickel, 1.86 percent copper, 0.27 g/t platinum, 1.30 g/t palladium, 0.21 g/t gold and 5.33 g/t silver over 7.9 meters from 172.8 to 180.7 meters. Between 1998 and 2001, the property was explored jointly by Pacific North West Capital (now New Age Metals) and Anglo Platinum Corporation under an option agreement with the current owner. Exploration activities focused on the basal contact of the sill where both disseminated and massive sulphide mineralization was exposed in a series of trenches over a strike length of over 400 meters.
This highly-prospective property presents the company with exciting exploration opportunities with the recent discovery of high-grade mineralization.
SPC Nickel's Management Team
Grant Mourre, MSC., Geo — President & CEO
Grant has more than 20 years of experience in the mineral exploration business primarily focused on magmatic nickel-copper-PGM mineralization. Through his work and research, Grant has developed in-depth knowledge of the geology and mineralization of magmatic systems with an emphasis on the Sudbury Igneous Complex. In 2013, Grant was a co-recipient of the Bernie Schnieders Discovery of the Year presented by the NWOPA for the Sunday Lake PGM Project discovery.
Guy Mahaffy, CA, CPA, CFA — CFO
Guy has over 25 years of experience, 18 years serving as CFO, Corporate Secretary and Board member of companies listed on the Toronto Stock Exchange and the TSX Venture Exchange. He has been involved in the successful completion of a number of acquisitions, divestitures and financings.
Scott McLean HBSC., P Geo — Executive Director
Scott has over 30 years of experience, including 23 years with Falconbridge Limited in exploration and management, resulting in discovering various mineral deposits, including the 17 million tonne Nickel Rim South deposit in Sudbury, Ontario. For his role in this discovery, he was named the Prospector of the Year in 2004 by the Prospectors and Developers Association of Canada. He was also appointed to the Association of Professional Geoscientists of Ontario's transitional board and has represented the profession as President. In 2013, Scott was a co-recipient of the Bernie Schnieders Discovery of the Year presented by the NWOPA for the Sunday Lake PGM Project discovery.
---
*Disclaimer: This profile is sponsored by SPC Nickel (TSXV: SPC). This profile provides information which was sourced by the Investing News Network (INN) and approved by SPC Nickel in order to help investors learn more about the company. SPC Nickel is a client of INN. The company's campaign fees pay for INN to create and update this profile.
INN does not provide investment advice and the information on this profile should not be considered a recommendation to buy or sell any security. INN does not endorse or recommend the business, products, services or securities of any company profiled.
The information contained here is for information purposes only and is not to be construed as an offer or solicitation for the sale or purchase of securities. Readers should conduct their own research for all information publicly available concerning the company. Prior to making any investment decision, it is recommended that readers consult directly with SPC Nickel and seek advice from a qualified investment advisor.</p