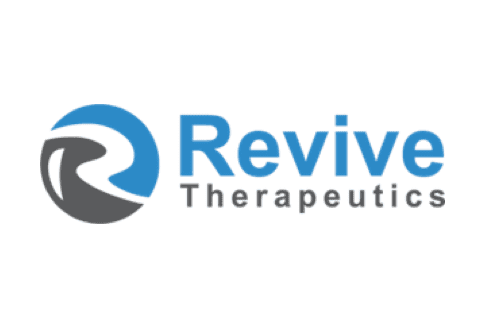 Revive Therapeutics
Repurposing Drugs for Inflammation and Infectious Diseases
Overview
Revive Therapeutics Ltd. (CSE:RVV,OTCQB:RVVTF) is a life sciences company focused on the research and development of therapeutics for rare disorders and infectious diseases.
The company is currently focused on developing IP and treatments for infectious diseases, including potential treatments using psilocybin, along with a portfolio of cannabis-based IP with a focus on autoimmune hepatitis and ischemia. The company recently announced it is exploring the use of the drug bucillamine as a potential novel treatment for infectious diseases including influenza and the side effects of the coronavirus disease (COVID-19). Revive has applied for a provisional patent with the US Patent and Trademark Office entitled "Use of Bucillamine in the Treatment of Infectious Diseases". Revive already has Phase 2 status for the treatment of gout with bucillamine.
In March of 2020, Revive Therapeutics announced that Dr. David Boulware was joining the company as a Scientific Advisor to guide on its current and future clinical programs including its research and development strategy for infectious diseases.
Dr. Boulware is an infectious disease physician-scientist and Professor of Medicine, Division of Infectious Diseases and International Medicine at The University of Minnesota. Dr. Boulware is currently the Principal Investigator of a globally recognized COVID-19 clinical trial to determine if post-exposure prophylaxis with hydroxychloroquine can prevent progression development of symptomatic COVID-19 disease after known exposure to the SARS-CoV2 virus (ClinicalTrials.gov Identifier: NCT04308668). His primary research interests are in meningitis in resource-limited areas including diagnosis, prevention, treatment, and quality improvement initiatives incorporating cost-effectiveness analyses in order to translate knowledge into improved care. Dr. Boulware's current research is focused on improving the clinical outcomes of HIV-infected persons with cryptococcal meningitis and TB meningitis. Dr. Boulware has active research collaborations in Uganda, South Africa, and Ethiopia leading a multidisciplinary, international research team. He serves on US and WHO panels for cryptococcal meningitis and WHO panels for advanced HIV disease.
In the past, Revive Therapeutics has received orphan drug status from the US Food and Drug Administration (FDA) for the use of cannabidiol (CBD) in the treatment of ischemia and reperfusion injury from organ transplantation. Revive Therapeutics is also working to leverage the anti-inflammatory properties of CBD in the treatment of autoimmune hepatitis. The company has a patent for the use of CBD in the treatment of Autoimmune Hepatitis (liver disease) and also has a patent pertaining to the use of bucillamine in the treatment of gout.

Through the company's acquisition of Psilocin Pharma Corp., Revive Therapeutics is working to develop a portfolio of psychedelic therapies using novel delivery methods including hard-shell capsules, oral strips, gumdrop compositions and sublingual formulations. Psilocin has developed a portfolio of patent-pending formulations for the active compound psilocybin which the company intends to apply towards the treatment of depression, anxiety, bi-polar disorder, bulimia, anorexia nervosa and a number of other diseases pending FDA approval.
Filed provisional patent applications for novel psilocybin delivery systems including tablets, oral compositions, hard-shell capsules, gumdrops, oral strips and sublingual and buccal administration.
Psilocin Pharma Corp
Psilocin Pharma Corp is a drug development company that has developed several potential treatments based on the active compound psilocybin. The company's treatments have been designed to work with the body's natural pathways of absorption, leveraging more contemporary delivery methods including hard-shell capsules, oral strips, gumdrop compositions and sublingual formulations.
Revive Therapeutics finalized the acquisition of Psilocin Pharma Corp in March of 2020. Moving forward, Revive intends to leverage Psilocin's portfolio of psilocybin-based compounds. The company has six patents pending pertaining to psilocybin-based formulations and delivery methods:
Solid Oral Pharmaceutical Compositions, United States Provisional Application Serial No. 62/985,052 – Psilocybin effervescent and psilocybin tablet designed to be placed under the tongue or dissolved in water. Allowing for improved taste and controlled release profiles.
Pharmaceutical Capsule Compositions, United States Provisional Application Serial No. 62/985,070 – Psilocybin hard-shell capsules containing dry, powdered ingredients in 2-piece capsules. Allowing for contemporary consumption familiar to the user (Gelatin and vegetarian enclosure options in addition to unique nutrient delivery combination options).
Pharmaceutical Gumdrop Compositions, United States Provisional Application Serial No. 62/985,084 – Psilocybin gumdrops for improved administration of compounds. Offers unique delivery methods for fat and water-soluble options.
Thin-Film Pharmaceutical Delivery System and Formulations, United States Provisional Application Serial No. 62/985,098 – Psilocybin oral strips and psilocybin transmucosal delivery system. Proprietary oral fast-dissolving drug delivery system rapidly releases though the buccal pathway.
Pharmaceutical Formulations and Methods for Sublingual and Buccal Administration, United States Provisional Application Serial No. 62/984,590 – Formulation for spray/pump/dosing pen.
Derrick Welsh, the founder of Psilocybin Pharma, has 14 years of experience in the healthcare industry including five years in the cannabis industry. Welsh has direct experience developing patent-pending formulations including water-soluble THC and CBD products such as water enhancers and effervescent tablets. Welsh has previously worked with publicly traded cannabis companies such as Green Growth Brands (CSE:GGB, OTCQB:GGBXF).