This profile is part of a investor education campaign. The profile provides detailed information which was sourced and approved by Gensource Potash in order to help investors make better investment decisions. The Company's support of Investing News Network ensures we can continue to bring you unbiased, independent news and information.
Resource Investing News Featured Stock
Overview
Gensource Potash (TSXV:GSP) is a potash development company with a difference. We see an industry that, on the face of it, is over-supplied, where pricing is soft and demand uncertain. But that is just on the face of it.
Those knowledgeable about the potash industry know that it is a highly controlled one – where three quarters of the world's production is controlled by a Duopoloy – the Canadians under Canpotex, and the Russians/Belarusians under the on-again, off-again Belarusian Potash Company (BPC). Not only is the production of potash controlled by the cartels, but also, the large producers create a second level of control by selling large volumes of potash to equally large SOE or SOE-like "in-country" distribution companies (in China, India, Brazil, SE Asia, etc.). That means the structure of product control is passed along from producer to distributor and on to selected wholesalers and on to the retailer and finally the agricultural producer.
As a result, there exists, on the ground, at the farmer's gate, a significant pent-up demand for potash. Farmers around the world know about good agronomic practice, they know they should be applying more K to their fields, but they cannot always either obtain the product they need or obtain it at an economic price. Therefore, fields and crops are frequently left K-deficient.   So, there is a real demand for potash, that demand is at the farmers field and much of that demand is simply not being met by the current supply and distribution structure.
Gensource has developed a unique business plan which will allow it to take advantage of this un-satisfied demand.  The business model consists of three key components:
Vertical Integration,
Being small, and
Expertise in up-to-date mining and processing (i.e., having the expertise to be small).
Free for Immediate Download
Vertical Integration
Because of the cartel control of the potash industry, breaking in to the industry as a new producer is very difficult.  Not only has the cost barrier ($4B capital cost to build a new mine) been an impediment, but the market side risk also represents a barrier. For a new producer, it is critical to be able to sell the potash once you produce it. As part of its industry changing efforts, Gensouce has committed to a vertical integration strategy, see the figure below.
The Vertical Integration strategy has two significant benefits:
It provides product directly from a new producing facility to the end user or customer. This will result in bypassing many "layers" within the existing sales and distribution systems and will lead directly to lower prices at the farm gate for the end users.
It reduces the market-side risk to the new project. Market risk for a new potash project is a significant impediment. For proof, look around at the other potash projects that have been proposed over the years… how many have gone forward? What has been holding them back? In many cases, especially in the cases of the large mining companies looking to enter the potash industry, it is the market risk that has stopped progress.
So, creating a business link directly between a new producer and an existing market is a key feature that will allow Gensource to move forward.
…. We'll do it in very small, but scalable and incremental, steps.
To facilitate this vertical integration, specific expertise is required to create a project that is both small and economic – a combination that has not been possible to-date. To be vertically integrated means you can't show up to the market with 2, 3 or 4 million tonnes per year of new product.   In a global market of 60 million tonnes per year, such a large new increment will not be easily absorbed.
Being Small:
With up-to-date selective mining techniques and processing technology, a small scale operation can be economic on its own. This small size is what allows for vertical integration – in this case, it becomes possible to develop a market that can accept the full production of the mine.
Gensource plans a new production facility with a target production rate of 250,000 t/y – that is about 1/10th the size of a typical new potash project.   This will be a new potash "mine" like none other in Saskatchewan: small, low impact to the environment, low impact to the local community, yet highly efficient and scalable.
Up-To-Date Mining and Processing:
The current methods of mining and processing of potash go back to the 1930's/40's for conventional mining and the 1950's/60's for conventional solution mining. Since then, methods and technologies have not fundamentally changed.   Operating within a cartel controlled industry where prices were supported/maintained by the major producers, there have been no hard business drivers to be better or more efficient or more effective. So, methods and techniques stagnated.
Now, though, there is a better way: selective dissolution.   It is interesting to note that these methods were first thought to be the right way to mine Saskatchewan potash back in the late 1950'sand early 1960's. Tests were completed at the SRC (Saskatchewan Research Council) and technical papers from within the University of Saskatchewan explored the idea, but it was determined that selective dissolution was simply too slow to work.
The problem was surface area – you need a large surface area of the ore exposed to the dissolving brine solution.   With today's horizontal drilling techniques, we can provide the required surface area. With sufficient surface area, the methods not only works, but works well.   As an example, look at the work done at Intrepid's Moab mine, where potash is being mined using selective dissolution today.
So many benefits ensue….
The mining and processing leave no salt tailings on the surface.   An artifact of conventional and conventional-solution mining is salt tailings. These tailings result in enormous and costly tailings management areas and create a negative environmental legacy for the mines and their surrounding communities.
The mining and processing use almost no fresh water. A feature of the selective mining method is the ability to use brackish water in the process. Brackish water sources are widely available throughout the potash mining area within the Dawson Bay formation, 600 – 1,000 m below surface, as well as much deeper (2,100+ m) in the Deadwood formation. These sources of brackish water are not currently fit for any other purpose, and using them as process water means that precious fresh surface water is not consumed for industrial purposes.
The facilities required to support these mining and processing methods are much simpler and thus less costly than those required for conventional mining processes. If these processes are feasible, the result is a significantly reduced capital cost to construct the facilities and an improved, i.e. faster, implementation schedule for the mine.
With the potential to create a small mine and process plant, the resulting staff requirement at the site is significantly reduced, as well as the general traffic induced on local rural roads, for both the construction and operation phases.   As a result, there could be far less impact on the local rural community as compared to a typical potash development.
Full Initial Mine Plan:
Typical Horizontal Cavern:
Processing Block Diagram:
Key Properties
Vanguard Project Area – Saskatchewan
As announced in a news release of April 6, 2016, Gensource has entered into an asset purchase agreement (APA) with Yancoal Canada Resource Co. Ltd (YCR).   The key aspects of the APA are:
The purchase by Gensource of two mineral exploration properties, which are being converted to mineral production leases.
The purchase, together with the properties, of all geological data collected to-date on the properties. Almost $4M in geological work has been completed over the last several years, including two wells and over 100km of 2D seismic lines.\Most importantly, as part of the transaction, YCR has agreed to an off-take term sheet and the negotiation of a full off take agreement by the close of the transaction. The off take will represent 100% of the planned 250,000 t/a production from one of Gensource's small, scalable facilities.
The data available at Vanguard was sufficient for Gensoruce to proceed to publish an initial 43-101 Resource Estimate on April 28th, only 3 weeks after signing the APA with YCR!
The Technical Report defined resources according to the following table:
…that is over 60 M tonnes of final, saleable potash product in just one sub-member of the Patience Lake member – in the Inferred category.   With the planned small facility producing only 250,000 t/a, you can do the math and see the potential.
The recommendations of the report included the next steps for project development: to complete a PEA (Preliminary Economic Assessment).   That work is now well underway.
Lazlo Project – Saskatchewan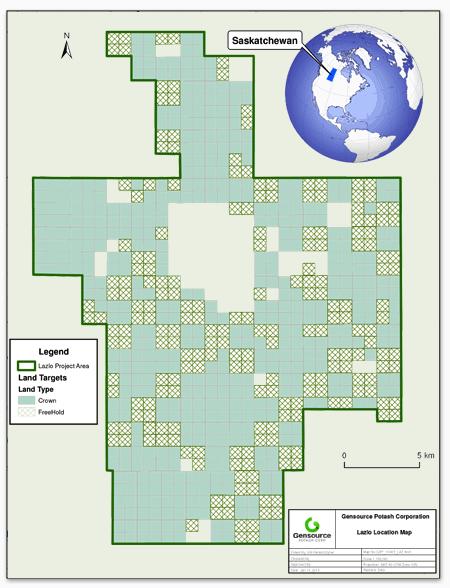 The Lazlo Project is an early-stage potash project located in potash-rich central Saskatchewan, approximately 115 kilometres northwest of Regina and 140 km southeast of Saskatoon. Gensource holds many freehold lease agreements for mineral rights in the area and is currently negotiating further leases in the Davidson Sub-basin.
Strong prospective potash resource identified
Gensource has worked diligently to identify a potash resource that represents an economically efficient mining resource. Recent resource confirmation work by Gensource coupled with historical data has confirmed Lazlo to be prospective.
The historical data obtained by Gensource indicates excellent grades, thickness and temperatures. In June 2014, Gensource completed an initial seismic review of portions of the Lazlo Project area with positive results that confirmed the data available in historical well logs. The results also confirmed Gensource's general view of the Lazlo area with respect to potash bed presence, total Prairie salt thickness and depth to Prairie salt.
The December 2014 Updated NI 43-101 Technical Report on the Lazlo Project, based on historical data and the 2014 seismic program, estimates the following potential tonnage and grade ranges or the Patience Lake, Belle Plaine and Esterhazy Members of Prairie Evaporite Formation:
Patience Lake Member: from 10 m to 18 m yielding mineralization ranging from 346 million tonnes (Mt) sylvinite grading 15% K2O to 662-Mt sylvinite grading 22.3% K2O;
Belle Plaine Member: from 9 m to 10 m yielding mineralization ranging from 324-Mt sylvinite grading 15% K2O to 368-Mt sylvinite grading 19.9% K2O; and
Esterhazy Member: from 4.5 m to 10 m yielding mineralization ranging from 167-Mt sylvinite grading 15% K2O to 378-Mt sylvinite grading 15.7% K2O.
The report also identified targets for the next-stage drilling and resource definition work on the project. On the basis of the report, Gensource will confirm a location for a confirmation wells and begin planning for drilling, coring, assay and resource definition work.
Development milestones for Lazlo:
 Complete a Preliminary Economic Assessment to confirm CAPEX and OPEX parameters for the modern solution mining techniques to be employed at Lazlo.
Completed April 2015. The engineering study confirms outstanding capex and opex for the selective dissolution and processing facility while also confirming the significant environmental benefits:

No salt tailings on surface,
No brine ponds on surface | Therefore, no brine containment structures!
No requirement for fresh surface water
Reduced energy input requirements
 Complete business partnership arrangements with Gensource's market partner.
 Confirm a 43-101 resource at Lazlo.
Financing starting for the confirmation wells and 3D seismic.
 Complete an Environmental Assessment and obtain operational permits for the initial facility.
Initial discussions beginning with Saskatchewan Ministry of Environment officials.
 Complete a detailed Feasibility Study.
Technical team being constructed and proposal being prepared to being the Feasibility Study.
Who We Are:
Gensource Potash is led by a management and technical team with direct and specific expertise and experience in potash development in Saskatchewan.
Management
Mike Ferguson – President/CEO and Director
Mike is a professional engineer with over 25 years' experience in potash and uranium mining projects in Saskatchewan. Mike graduated from the University of Saskatchewan with a B.Sc. in Mechanical Engineering. Following a few years spent with the Canadian Military, Mike settled back in Saskatoon and has spent his entire mining career in Saskatchewan participating in projects in potash, uranium, gold and base metals. His experience ranges from working at the mining face behind a Marietta Miner in a potash operations, to in-plant engineering (both surface plant and underground), engineering management, project management through to general management of engineering and EPCM companies. Most recently, Mike successfully led the Potash One team responsible for the development of the Legacy Project in Southern Saskatchewan from initial exploration through scoping-, pre-feasibility- and feasibility studies and an approved EIS, to the point where it was acquired by the international potash producer K+S AG of Germany. Mike brings to Gensource not only his experience in the potash industry but also the unique experience of leading the development of a greenfield potash property in Saskatchewan – the first such project to be developed in over 40 years.
Rob Theoret B.Comm – CIM, Chief Financial Officer
Rob Theoret is a co-founder, Director and CFO of the predecessor company to Gensource Potash Corporation (NEXXT Potash Inc.). Rob is dedicated to identifying new Saskatchewan resource opportunities, applying early-stage management and capital, and developing the resulting project to its point of sale or conversion to a public entity.
Rob Theoret has worked in the financial industry since 1995 where he has gained extensive experience within the capital markets, investment management, and private client asset management. He has spent his professional career with firms such as Raymond James Ltd., RBC, and Richardson Greenshields providing individual investment advice to families in Saskatchewan and surrounding provinces. Rob has provided independent business valuation opinions to private capital pools on companies ranging in values from $1,000,000 to over $35,000,000. He has worked with the oil & gas research division at Raymond James Ltd. and he has used his entrepreneurial skills to co-found several resource companies in Saskatchewan. Rob values education and research; earning a B.Comm from the University of Saskatchewan, a Canadian Investment Manager designation (Canadian Securities Institute) and is earning the full Chartered Business Valuator designation (Canadian Institute of Chartered Business Valuators).
Rob is active in both business and community endeavours. Currently, he is a director for four private corporations, and serves on the Advisory Board to the W. Brett Wilson Centre for Entrepreneurial Excellence. Some of his previous involvements include: Past President – University of Saskatchewan Alumni Association and District Council Board Member – Investment Dealers Association. He is very proud of his volunteer work with Junior Achievement and a local non-government organization which helps settle refugee families in Saskatoon.
Deborah Morsky – VP Corporate Services
Independent Directors
Dr. Mark Stauffer – Director
Dr. Stauffer, now retired, is the former President of the Potash and Phosphate Institute of Canada ("PPIC"), and former Senior Vice President of International Programs, at the Potash and Phosphate Institute ("PPI", now the International Plant Nutrition Institute).
Dr. Stauffer has had a long and productive career in agriculture development and the fertilizer business. He has worked in both the public and private sectors in research, education and chemical production and sales. In 1988, Dr. Stauffer became a regional director of PPI and PPIC and in 1994 was promoted to the position of Vice President, International Programs at PPI and became the President of PPIC. During his tenure as President of PPIC, Dr. Stauffer coordinated PPIC's seven international research and education based potash and phosphate market development programs throughout Asia and Latin America. Dr. Stauffer has lectured on the role of potash and phosphate in increasing food production and the role of balanced fertilizer practices in maximizing crop yield and income opportunities for the farming community.
Dr. Stauffer obtained his B.Sc. (Agriculture) and M.Sc. from the University of Guelph and obtained his Ph.D. in Agronomy from the Virginia Polytechnic Institute & State University. He served on the board of Migao Corporation (a specialty fertilizer producer listed on the Toronto Stock Exchange) and was most recently served as Independent Board Chairman of Allana Potash Corporation until its' acquisition by ICL.
Throughout his career, Dr. Stauffer actively served in both professional and community organizations.  He is a retired status member of the Saskatchewan Institute of Agrology, the Canadian Soil Science Society, the Canadian Society of Agronomy, the Japanese Society of Soil Science and Plant Nutrition, the American Society of Agronomy, the Crop Science Society of America, and the Soil Science Society of America.
Paul Martin – Director
Chair of Martin Charlton Communications (February 1, 2010 – Present), Saskatchewan Chair of the Executive Committee (March 2002 – Present), Corporate Director of First Nations Power Authority (not National) (October 2011 – Present); business broadcaster/writer/commentator (1982 – Present)
Dwayne Dahl, CPA, CA – Director
Mr. Dahl joins Gensource bringing 25 years of experience in the potash and fertilizer industry through his participation in increasingly senior positions at Canpotex Limited, including the last 16 years as CFO / Senior Vice President and Treasurer. During his tenure at Canpotex, the potash marketing and logistics export company formed by the Saskatchewan potash producers, he acted as director of all of its marketing, ocean transportation, terminaling, railcar and leasing subsidiaries. During his time at Canpotex he was directly involved in the managing the vision of growing Canpotex's sales of potash from 4 million to an excess of 10 million metric tonnes and a ten-fold increase in gross revenues to a high of $4 billion in annual revenues.
Prior to joining Canpotex Mr. Dahl was actively engaged as a farmer, business owner and principal in the Chartered Accountant firm, Androsoff and Dahl.  He attended the University of Saskatchewan in Saskatoon where he earned degrees from the College of Commerce and the College of Arts and Science.  Following university he  articled with the international CA firm,Touche Ross & Company, a predecessor of Deloitte & Touche.
During his business career, Mr. Dahl has been active in many community, business and professional activities. Current commitments include acting as a director of the Saskatoon Club, the Dean's Circle of the Edwards School of Business, University of Saskatchewan and a member of the discipline committee of the Saskatchewan Institute of Chartered Professional Accountants.  Previous commitments have included board positions with the Alzheimer Society of Saskatchewan and St. Paul's Hospital where he also acted as committee chairman, President of the Saskatoon branch of the Treasury Management Association of Canada as well as serving on and chairing a number of committees of the Institute of Chartered Accountants of Saskatchewan.
Technical Team
Max Ramey, PE – Solution Mining Advisor
Max is a professional engineer with over 29 years' experience in the solution mining of potash, nahcolite, and sulphur. Max graduated from New Mexico Institute of Mining and Technology with a B.Sc. in both Mining and Geological Engineering. He began his career as a solution mining engineer for the Duval Corporation at the Culberson Frasch sulphur mine where in a period of 12 years, he progressed from an entry level engineer to the Manager of Operations. In 1997, Max accepted a new challenge and joined a team to develop the American Soda nahcolite solution mining operation in western Colorado. Following American Soda, Max worked with Rio Tinto to develop the Potasio Rio Colorado potash project in Argentina. In 2008, Max joined Potash One as Vice President, Solution Mining and assisted in the exploration and development of the Potash One Legacy Project in Southern Saskatchewan. In 2011, the Legacy Project was acquired by the K+S Group of Germany. Since the acquisition, Max has assisted K+S to progress the solution mining at the Legacy Project and most recently has agreed to assist Gensource Potash with their projects.
John McEwan, PE – Process Engineering Advisor
B.S. Chemical Engineering 1973 – University of California, Davis Campus
M.S. Chemical Engineering 1997 – University of Kentucky
John is a registered professional chemical engineer with over 40 years of experience in the chemical process industries. Plant experience has included sulfuric acid and soda ash processing for the former Stauffer Chemical Company. He also served as the Technical Manager for American Soda's nahcolite solution mining project for a 1.2 MTPA greenfield soda ash and sodium bicarbonate plant located in western Colorado. John's involvement with the project included pilot plant operations, engineering and construction, and commercial production. He then joined Rio Tinto in 2004 and served as a Principal Process Engineer during the feasibility study for their Potasio Rio Colorado potash project located in Argentina. In 2009 he joined Potash One as Vice President – Plant Processing for the development of company's Legacy potash project in Saskatchewan, Canada. The Legacy project was later bought in 2010 by the German potash company K+S Aktiengesellschaft. John then served in a principal process engineering capacity for K+S for 2 ½ years on the project.
Professional Chemical Engineer – U.S. states of Colorado and California
Registered Member – Society of Mining, Metallurgy & Exploration
Platinum Member American Institute of Chemical Engineers
Member American Chemical Society
Sandy Debusschere – Drilling Advisor
For over the last 25 years, as President of Artisan Consulting Services Ltd., Sandy has been involved in a number of oil and gas and major potash projects in Western Canada specializing in supplying supervision services for the drilling of vertical, directional and horizontal wells. Sandy's potash experience started in 1988 with disposal, backfill and grout wells at a Saskatchewan mine as a consultant drilling supervisor. Since then he has been involved with the majority of Saskatchewan's potash exploration programs throughout the province. Debusschere has also been involved with shaft pilot wells, freeze wells, solution mining cavern and injections wells. Overall, Sandy has had involvement of some type in over 400 wells in the potash industry.
Over the years experience with the drilling of vertical, directional and horizontal wells, including multi-leg, open hole side-tracks, window milling, under-balanced drilling, short-radius, coiled tubing and pad wells, including SAGD and cyclic steam in oil sands, has given Mr. Debusschere valuable experience in applying these techniques, as well as modifying them for use within the potash industry.
Debusschere says that having spent a total of 37 years within the drilling industry in the oil, gas and potash, doing everything from lease road construction and restoration, to well
licensing, abandonment programs, disposal, drilling, servicing and the overall management of these operations, has given me an opportunity very few others have had. I have had a chance to meet and work with a large number of the most talented people the potash industry has to offer.
Paul Neufeld , P.Eng. – Project Manager
Mr. Neufeld has 11 years of practical project experience as a project manager, project engineer, risk analyst, structural engineer, and construction coordinator, primarily focusing on heavy industrial projects for the potash, uranium, and other mining sectors in Saskatchewan . Prior to joining Gensource, Paul was a partner and Vice President at ENGCOMP Engineering Computing & Professionals Inc., a private engineering consulting firm in Saskatoon where he supervised operations, business development, and the financial and accounting aspects of the company.  Additionally, Paul filled roles in project management, capital cost estimating, planning and scheduling, risk and decision analysis, and quantitative modelling. Over the course of his career as a project manager, Paul has directed and led many multi-disciplined brownfield and greenfield mining projects, of varying size and scope. Paul brings with him a natural energy and ability to get things organized and get things done.
Paul is a registered Professional Engineer, holding a B.Sc. with Great Distinction in Civil Engineering. He is currently finishing his MBA, rounding out his training in line with his substantial business building experience. Mr. Neufeld also continues to actively be involved with the University of Saskatchewan and its College of Engineering, specifically as a sessional lecturer on Project Management for 4th year students. He is also a member of the College of Engineering Project Management Task Force, which is established to assess and advance the inclusion of project management education into the undergraduate curriculum. Paul is actively involved in his professional community, as a member of the Canadian Institute of Mining and Metallurgy (CIM), the Association for the Advancement of Cost Engineering International (AACEI), and the local chapter of the Project Management Institute (PMI). Paul also takes part in the Saskatoon Young Professionals and Entrepreneurs (SYPE) network, and is a founding board member of the Young Professionals Group of the Association of Consulting Engineering Companies in Saskatchewan (ACEC-SK).