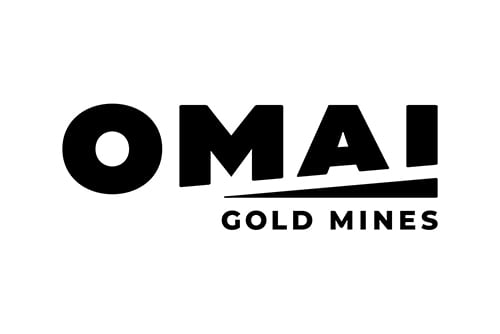 Omai Gold Mines
Rebuilding the Success of the Historic Omai Gold Mine in Guyana
Overview
Base and precious metals mining make up a significant portion of Guyana's economy. The country's mineral heritage not only includes high-quality copper, iron and nickel occurrences but well-known deposits of gold, bauxite and diamonds. Leveraging Guyana's pro-mining government and the country's stable Mining Act, resource companies operating in the country could offer investors significant returns.
In 2019, the country declared the production of 634,905 ounces of gold, up slightly from its 2018 output. For junior mining companies operating out of this prospective jurisdiction, potential discoveries offer an exciting opportunity for economic success.
Omai Gold Mines (TSXV:OMG) is a mineral exploration company focused on developing the high-grade past-producing Omai gold mine in Guyana. Once the largest operating mine in Guyana and one of the largest producing gold operations in South America, the Omai gold mine has produced approximately 3.7 million ounces of gold over its 13-year mine life.
"We're building on this past success with new tools, relationships and vision to bring this under-explored gold district back to life, providing a unique opportunity for all stakeholders to participate in value creation," Omai Gold Mines CEO Mario Stifano commented. The project also leverages well-established infrastructure, a stable mining jurisdiction and a history of proven production.
Located in the highly prospective Guiana Shield, the gold-rich Omai mine strategically positions the company for excellent discovery and development potential. Omai Gold Mines intends to revitalize and explore deeper into the main Fennell Pit zone, and below and on strike along the shallow Wenot Pit on the property to identify more high-grade gold mineralization.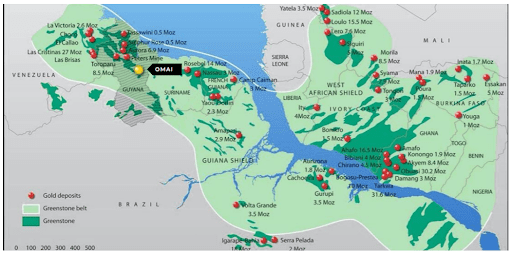 Guyana's government has directly granted the company a 100 percent interest in Omai. This project primes Omai Gold Mines for fast-tracked exploration and commencement of future drilling plans.
Compared to surrounding gold mines, the Omai mine and its mineralized trend are significantly under drilled. As development advances, the company is excited to test the extent of gold mineralization over the property.
Magnetic inversion and geophysical surveying have already mapped the profiles of Omai's primary Fennell and Wenot pits. Both zones host complex intrusives with extensive veining and multiple shears. This valuable geological structuring could point to numerous avenues for high-grade gold discovery and prolonged mine yield and production.
Likewise, the long continuous intervals could mean more widespread gold mineralization. Early sampling programs reported 143 meters at 2.6 grams per tonne (g/t) gold and 49 meters at 25.7 g/t gold. Three intervals on the property have also reported 1,130 to 3,350 g/t gold grades.
A 5,000-meter drill program commenced in February 2021, focused on expanding the open-pit potential of the Wenot Pit that produced 1.8 million ounces of gold at 1.6 grams per tonne to a depth of 190 meters. The company has reported positive initial drill results and is planning its inaugural 43-101 mineral resource estimate later this year.Omai Gold Mines' management team is a world-class team of experts in mining, project management, and exploration. This deeply connected team and its strategic shareholders prime the company for mining and economic success. Currently, Silvercorp Metals (TSX:SVM,NYSEAMERICAN:SVM), Sandstorm Gold Royalties (TSX:SSL,NYSE:SAND) and Gold Spot Discoveries (TSXV:SPOT) are strategic shareholders of Omai Gold Mines.
Omai Gold Mines' Company Highlights
Omai Gold Mines is a mineral exploration company focused on developing the highly prospective high-grade Omai gold mine in Guyana. This asset was once Guyana's largest gold mine, producing 3.7 million ounces of gold from 1992 to 2006.
The company currently has 100 percent interest in Omai, which was granted by Guyana's government. This grant offers fast-tracked development and drilling potential.
The Omai asset includes two open pits: the main Fennell pit and the Wenot pit. Omai Gold Mines expects to engage in productive exploration and advance drilling campaigns starting in 2021.
Omai Gold Mines is also owns the high-quality Grenfell property in the Kirkland Lake region of Ontario, Canada. The limited exploration history poses exciting gold discovery possibilities for the company.
The company presently has just under 200 million shares issued, and strategic shareholders that include Silvercorp Metals at 15.1 percent, Sandstorm Gold Royalties at 9.9 percent and Gold Spot Discoveries at 3 percent.
Omai Gold Mines' Key Projects
Omai Mine Project
Located on the northeastern coast of South America along the Essequibo River, the Omai gold mine is a historic gold producer in Guyana. Between 1992 and 2006, the mine produced approximately 3.7 million ounces of gold at an average grade of 1.5 g/t gold. The property also hosts excellent existing infrastructure, has road access to Guyana's capital city and features a rich resource network.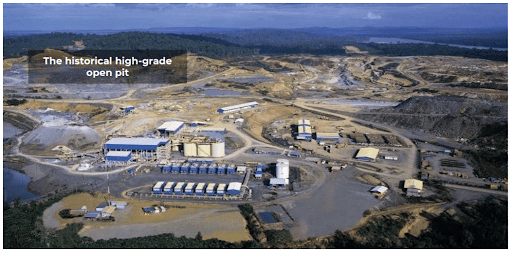 Omai Gold Mine, circa 2000
The project includes the Fennell pit and Wenot pit. Fennell has been the focus of many gold exploration campaigns and spans the top portion of an irregularly shaped pluton known as the Omai Stock. Fennell's past operation history has reported 1.9 million ounces of gold production at 1.6 g/t gold to a maximum depth of 250 meters.
Discovered in February 1989, the Wenot pit is a mineralized corridor that hosts surface level and hard rock gold mineralization. In December 2020, the company reported high-grade assays of 3.55 g/t gold over 20.6 meters with mineralization extending 150 meters to a depth below the historic pit. These are exciting results for Omai Gold Mines and warrant further exploration and drilling into the project's future. Exploration plans include an advanced 5,000-meter drill campaign.
Grenfell Property
The Grenfell property sits in the Kirkland Lake region of Ontario, Canada. The well-established Kirkland Lake gold mining camp has produced over 25 million ounces of gold at grades of 0.44 ounces per tonne across seven mines. The property leverages major road and rail access, and an abundance of mining-related services.
10 prospective vein systems have been identified at both at surface level and underground. In 1934 exploration at these veins indicated an average grade of 8.57 g/t gold across 2.38 meters for a length of 61 meters. Since then, the property has seen limited exploration and development, giving Omai Gold Mines an exciting opportunity to revitalize the project.
Omai Gold Mines' Management Team
Elaine Ellingham ― Interim CEO
Ms. Ellingham is a seasoned mining executive and veteran geologist (P.Geo.) with over 35 years of experience in the mining and exploration business. She has held numerous roles with junior and major mining companies, from field geologist to corporate development, and investor relations. Elaine worked for the Toronto Stock Exchange for 8 years in corporate finance and as National Leader, Mining. As a consultant since 2005, she has been a strategic advisor working with numerous international companies and private equity groups. She has extensive board experience of over 14 years. As a director of Richmont Mines Inc., Elaine stepped in as interim CEO, introducing a new chapter for the gold producer, where Renaud Adams (Omai's Chairman) then led the company as CEO through to the successful near-billion-dollar acquisition by Alamos Gold Inc. three years later.
Dennis Lapoint, Ph.D. ― VP of Exploration
Dr. Dennis LaPoint is an experienced exploration geologist and project manager with more than 40 years' experience in project generation, exploration, management and mining, including 18 years working in the Guiana Shield. He was then an exploration manager for Suriname at Cambior and later IAMGOLD. He was instrumental in new discoveries and resources for Rosebel Gold Mine and supervised the Omai geologists after Omai closed. Dr. LaPoint initiated, managed and discovered the Merian Gold Mine for Alcoa in Suriname, South America.
Jason Brewster, BA, MSc ― VP of Operations & Technical Services
Jason Brewster is President and CEO of Anconia Resources, as well as serving as Partner of Billiken Management Services, a full-service exploration management consulting company. Brewster received his M.Sc. in mining engineering from the Camborne School of Mines in Cornwall, England and his B.A. from the University of Western Ontario. For over 20 years, Brewster has been active in all facets of the mining industry, from grassroots prospecting to being instrumental in bringing the Aguas Tenidas mine in Southern Spain out of care and maintenance and back into production.
John Ross ― CFO and Corporate Secretary
John Ross is a Chartered Accountant with over 30 years of experience in the financial management of publicly-listed exploration and mining companies. He holds a Master of Business Administration from the University of Western Ontario.
---
*Disclaimer: This profile is sponsored by Omai Gold Mines (TSXV:OMG). This profile provides information which was sourced by the Investing News Network (INN) and approved by Omai Gold Mines in order to help investors learn more about the company. Omai Gold Mines is a client of INN. The company's campaign fees pay for INN to create and update this profile.
INN does not provide investment advice and the information on this profile should not be considered a recommendation to buy or sell any security. INN does not endorse or recommend the business, products, services or securities of any company profiled.
The information contained here is for information purposes only and is not to be construed as an offer or solicitation for the sale or purchase of securities. Readers should conduct their own research for all information publicly available concerning the company. Prior to making any investment decision, it is recommended that readers consult directly with Omai Gold Mines and seek advice from a qualified investment advisor.