Osprey Gold Development
Rediscovering Gold in Atlantic Canada
Overview
Osprey Gold Development Ltd. (TSXV:OS, OTCQB:OSSPF) is advancing a selection of quality past-producing gold projects in the mining-friendly jurisdiction of Nova Scotia, Canada. Osprey Gold's flagship project, Goldenville, is located in the historic Goldenville mining district— the site of Canada's first Gold Rush and the largest historic gold-producing district in Nova Scotia.
Nova Scotia's low geopolitical risk profile, and excellent infrastructure place it in the top 20 mining jurisdictions in the world. Although the province has a long history of high-grade production, the prospect of new district-scale discoveries exists.
The Goldenville property hosts an updated 2017 NI 43-101 Inferred Resource of more than 2.8 million tonnes at 3.20 g/t gold for a total of 288,000 ounces of gold. The deposit remains open along strike and at depth. After identifying expansion drill targets in underexplored areas, Osprey Gold commenced a 2,500-meter drill program in July 2017 with the goal of expanding the known resource.
Osprey Gold's portfolio also includes four other key assets: Caribou, Miller Lake, Gold Lake and Lower Seal Harbour.
All of Osprey Gold's projects are in the same geological neighborhood as the four deposits that comprise Atlantic Gold's Moose River Consolidated (MRC) Project, an emerging producer in Nova Scotia now under construction. The MRC Project boasts proven and probable reserves of 16.45 million tonnes at a diluted grade of 1.44 g/t gold.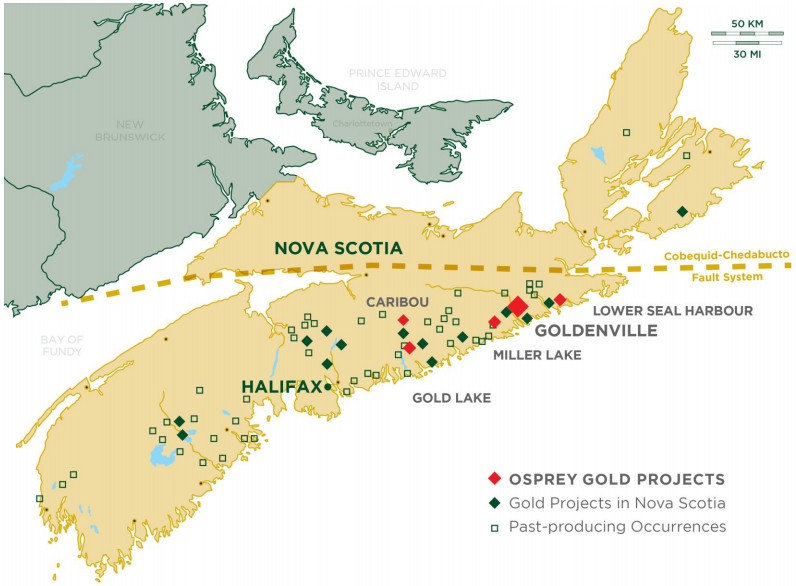 Osprey Gold Company Highlights
Goldenville District, largest historic gold producer in Nova Scotia: 212,300 ounces of gold production prior to 1942.
Goldenville project hosts NI 43-101 2017 Inferred Resource of 2.8 mill tonnes at 3.20 g/t gold for 288,000 ounces of gold (2.8 mill tonnes at 4.96 g/t gold for 447,000 ounces of gold uncapped).
Goldenville structure remains open along strike and at depth with 2017 drill program underway to grow the resource.
Building mineral inventory with a portfolio of projects.
Four additional brownfield properties in the Nova Scotia portfolio.
Raised more than $2.1 million in financing in 2017 to fund exploration.
Experienced team of mining and finance professionals.
Flagship Asset: Goldenville Project
The Goldenville property covers three contiguous mineral titles totaling 970 hectares in St. Mary's District, Guysborough County, 135 kilometers northeast of Halifax, Nova Scotia. Goldenville is easily accessible via a gravel road off of the Provincial Highway 7 which runs through the eastern portion of the property. Domestic power is on site and basic services are available in the town of Sherbrooke—a five-minute drive from the project.
The project is seated in the Goldenville Gold District where the yellow metal was first discovered in the area during the 1862 Gold Rush. Historic production from the district between 1862 and 1942 totaled 212,300 ounces from 551,797 tonnes grading 11.97 g/t gold.
The Goldenville property was the subject of intermittent exploration between 1961 and 2014, leading to a large database including more than 30,000 meters of surface and underground drilling.
After acquiring an option on the property at the beginning of 2017, Osprey Gold set to work updating the 2005 historical resource estimate to NI 43-101 standards. The company's 2017 Inferred Resource Estimate was completed in March 2017.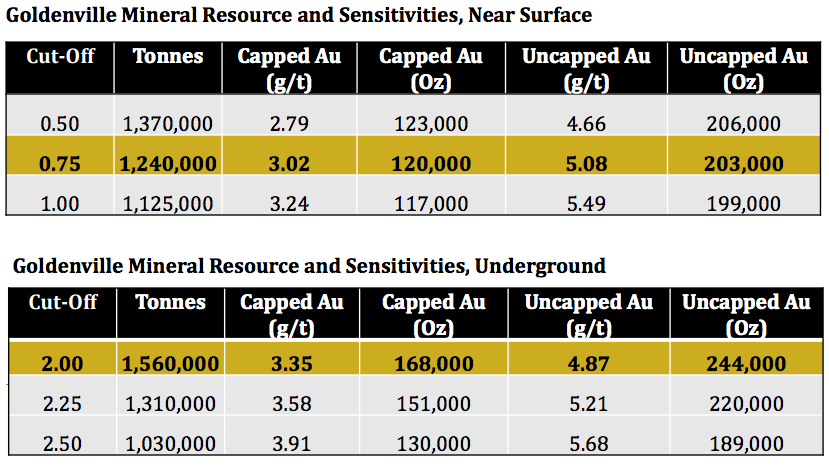 The Goldenville project shares similar geology with Atlantic Gold's MRC Project, characterized by structurally controlled slate belt hosted gold.
Osprey has developed a 3D model for the deposit at Goldenville which demonstrates a plunging anticline with stacked veins, open along strike and down dip.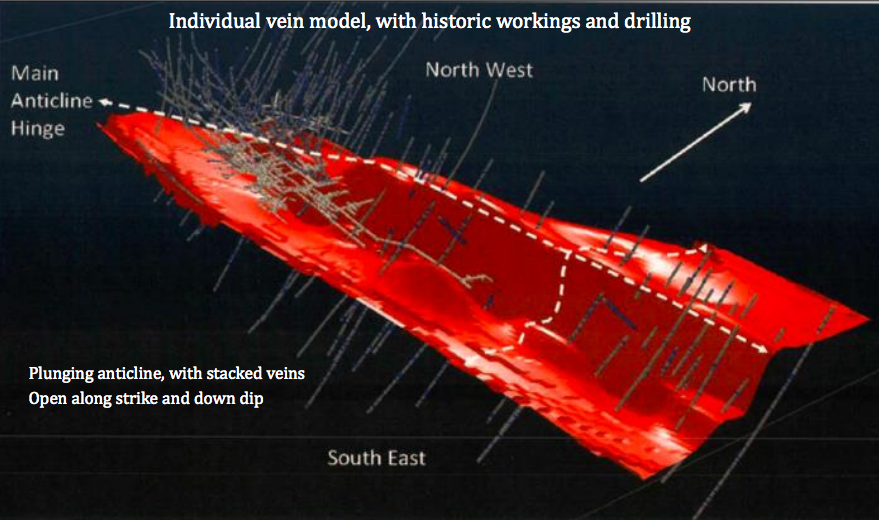 With the guidance of the new 3D Model and the historical database Osprey Gold identified targets for further resource expansion and commenced drilling in July 2017. The drill program is designed to expand the deposit resource both along strike, and by infilling areas with limited historical drilling.
The drill program is also testing targets in the Mitchell Lake area of the project, which is located 3.5 kilometers west of the existing resource. The targets were identified through historical data in combination with surface mapping and sampling performed by Osprey Gold earlier in 2017. Drilling completed by a previous operator in 1997 included two holes on the Mitchell Lake claims, one of which returned 20.3 meters of 1.33 g/t gold. This area of the project was also the subject of historical mining development in the 19th century.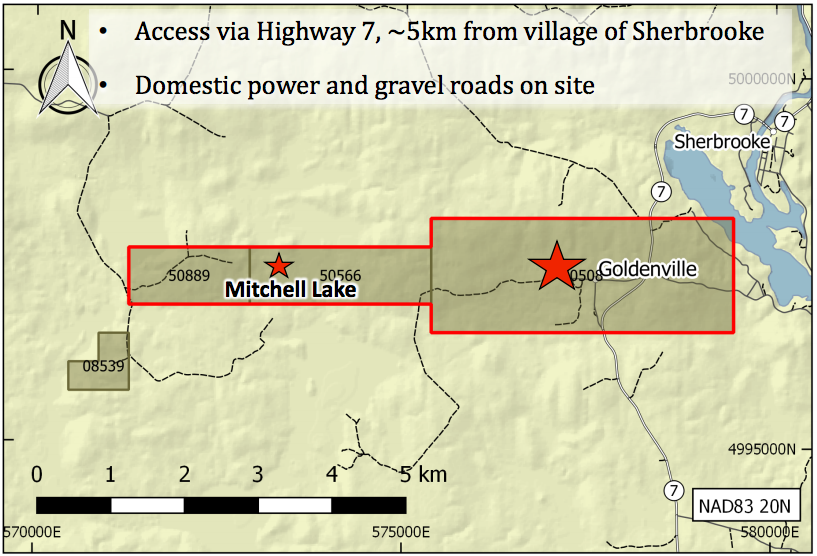 "Recent work by Osprey in this area has discovered more outcrop exposure than historic records indicated," stated Cooper Quinn, Osprey Gold President and Director. "Mapping in these areas has also helped solidify a new set of drill targets. It would be very exciting for Osprey to unlock the potential of this zone."
Key Assets in the Pipeline
Caribou Gold Property
The Caribou Gold Property is located 8 kilometers north of Atlantic Gold's Touquoy Mine and Moose River Consolidated mill site. The property covers 256 hectares of contiguous claims easily accessible by road. Recorded historical production at Caribou between 1869 and 1955 totaled 100,000 ounces. Historic drill results from work completed in the 1980s and 1990s include 11.2 meters grading 10.86 g/t gold and 9.8 meters grading 12.2 g/t gold. The 2008 Technical Report on the property details an inferred historic resource of 94,763 ounces of gold in 350,305 tonnes grading 8.81 g/t gold.
Lower Seal Harbour
The Lower Seal Harbour project is located 35 kilometers from Goldenville, and adjacent to the Anaconda Mining's Goldboro Project which is known to host disseminated mineralization. Reported historic production from Lower Seal Harbour between 1894 and 1942 totaled 39,654 ounces of gold. Veins have reported widths from 1.4 meters to greater than 10 meters.
Miller Lake Property
Miller Lake Property is located 14 kilometers from Osprey's Goldenville Property. Gold was first discovered at Miller Lake in 1910 with intermittent historical production between 1902 and 1948. Recent exploration was limited to geophysics and 2,377 meters of drilling in 1988. Two small shafts remain, with a strike length over 1 kilometer.
Gold Lake Property
Gold Lake is along strike with Goldenville and was the site of limited production in the late 19th century. Underground workings from the historical mine remain including four shafts. Recent exploration on the property includes more than 8,000 meters of drilling in 52 holes in the late 1980s.
Osprey Gold Management Team
Jeffrey Wilson—CEO and Director
Jeffrey Wilson has 20 years of experience in the mineral exploration and mining investment industry. He has raised $50M through his wealth of contacts in the investment community including institutional investors, retail brokers, investment bankers, mining analysts and private investors. During his career, Mr. Wilson has been involved with multiple junior resource companies that have seen profitable take overs by mid-tier mining companies.
Cooper Quinn—President and Director
Cooper Quinn has worked as a geologist in mining and exploration for a variety of exploration and development companies with projects around the world. His experience ranges from project and public company management to acquisitions and due diligence for private equity.
Perry MacKinnon, P.Geo—Vice President of Exploration
Peter MacKinnon, P.Geo., is a graduate of Acadia University in Wolfville, Nova Scotia (BSc, Geology) in 1982 and is an accredited Professional Geologist with the respective Professional Associations in Nova Scotia and New Brunswick. He has over 30 years' experience in the mining industry, having worked continent wide on a variety of projects from the Alaskan Cordillera, the Greenstone Belts of Northern Manitoba and Quebec, and an array of mineralizing environments in Atlantic Canada as well as porphyry style projects in Mexico. He has worked as an independent consultant since 2005, with a significant focus on Canada's East Coast.
Jasmine Lau—CFO and Corporate Secretary
Jasmine Lau is a member of the Institute of Chartered Accountants of British Columbia and has focused her career in the resource and pharmaceutical industries. Jasmine has served as CFO and was the controller of several public exploration companies with projects throughout the world. In addition to her experience working with junior resource companies, Jasmine worked at Teck Resources Ltd as a SOX Auditor. Prior to Teck Resources Ltd., Jasmine worked for Deloitte & Touche LLP's Vancouver Assurance & Advisory group where she focused on audits of public mining and resource companies. Jasmine earned a Bachelor of Commerce from the University of British Columbia.