Nordic Gold
Near-Term Gold Production in Finland's Lagoda Region
Overview
Nordic Gold Corp. (TSXV:NOR) is a junior precious metals mining and exploration company dedicated to enhancing shareholder value by identifying and securing early-stage precious metals exploration opportunities.
Nordic Gold currently has holdings in two properties, including 100 percent of its flagship Laiva gold project in Finland and 49 percent of the Star property in Northwestern British Columbia.
The Laiva mine is fully permitted and funded for production. The company expects to start mining in August 2018 and will pour gold in October 2018. The bulk of the financing—also used for the acquisition of Nordic Mines AB, the past owners of the Lavai mine—was obtained through a prepaid forward gold purchase agreement with Pandion Mine Finance for $20.6 million. With the Laiva project in a state of near-term production, the company expects to become an 80,000-ounce-per-year producer within the second year of production. To this end, the company released a prefeasibility study on June 4, 2018.
Unbeknownst to many, Finland is a mining jurisdiction that hosts five of the eight gold mines in the Nordic region. The country is a safe and stable mining jurisdiction with a strong heritage and supportive political infrastructure with accessible regulations.
Alongside the Laiva property, Nordic Gold also holds 49 percent of the Star property in British Columbia. The company has been in an option agreement with Prosper Gold Corp (TSXV:PGX) since 2013, under which Prosper is the operator of the property, conducting extensive exploration and development work.
In February 2018, Fundamental Research Corp. released a report on Nordic Gold, granting it a target stock price of $0.25 when the company still held only 60 percent of the Laiva gold project.
Nordic Gold is led by a strong management team with vast experience in the mining and capital finance industries. This includes CEO Michael Hepworth, who has built five organizations from the ground up, and Executive Chairman Basil Botha, who has worked within various jurisdictions in the mining space. Please see below for full bios of the management team. The team is supported by a board of directors with extensive insight in both industries as well. Management is significantly invested in the company, holding over five percent of company shares.
Company Highlights
After-tax NPV5 of $103 million and an after tax internal rate of return (IRR) of 46.1 percent
75,981 ounces of average annual gold production at a cash cost of $863 per ounce and AISC of $974 per ounce.
Measured mineral resources of 355,000 tonnes at 1.132 g/t gold and Indicated mineral resources of 3.44 million tonnes at 1.248 g/t gold.
Inferred mineral resources of 9.03 million tonnes at 1.531 g/t gold.
Mill grade of 1.45 grams per tonne with a recovery of 90.4 percent
Life of Mine production of 456,600 ounces gold over a 6 year mine life
Payback of 1.7 years
Fundamental Research gave Nordic Gold stock price target of $0.25 with 60 percent ownership of the Laiva project and before the PEA ; the company now owns 100 percent and has a very positive PEA. Un updated report from Fundamental is due shortly.
Management team holds over 5 percent of company shares
Flagship Property: Laiva Project
The Laiva project is a 1,700-hectare property located in Finland's mineral rich Lagoda zone, near the town of Raahe. The property hosts the past-producing Laiva mine—which it plans to bring back to production—and has excellent access to local infrastructure including all-weather roads, grid power and a port just 20 kilometers away.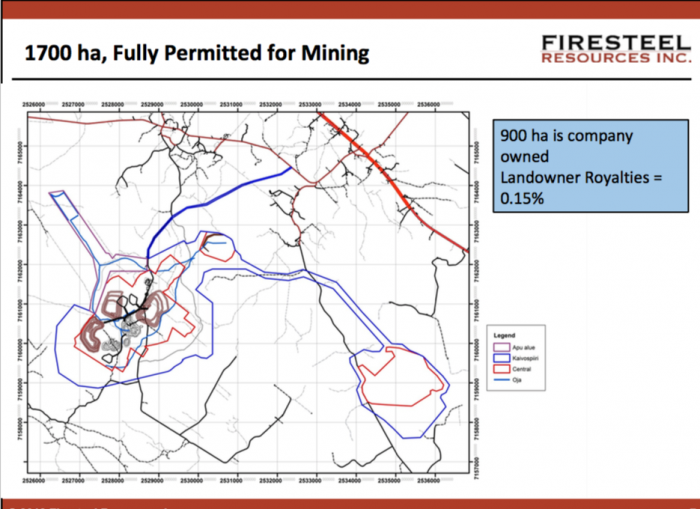 Known as one of the largest gold resources in the region, the Laiva mine hosts two pits which were mined between late 2011 and 2014, producing over 2,000 kilograms of gold.
Moving towards production
Nordic Gold began its investment in the property as part of an agreement with Nordic Mines AB, whereby Nordic Gold owned 60 percent of the Laiva project. During its ownership of the property, Nordic spent €200 million on exploring and advancing the mine towards production. Nordic Gold has since finalized the acquisition of the rest of the property, making it the sole owner.
Resource estimate
In August 2017 Nordic Gold released an updated NI 43-101-compliant resource estimate for the property. The publication outlined a measured and indicated resource of 3.76 million tonnes at 1.23 g/t gold (151,000 ounces) and an inferred resource of 9.03 million tonnes at 1.53 g/t gold (445,000 ounces).
PEA

In June 2018, Nordic Gold released a PEA for the Laiva project. Highlights from the PEA report included the following:
An after-tax NPV (5 percent) of $103 million
An after-tax IRR 46.1 percent
75,981 ounces of average annual gold production at a cash cost of $863 per ounce and AISC of $974 per ounce.
Mill grade of 1.45 g/t gold with a recovery of 90.4 percent
Life of Mine production of 456,600 ounces gold over a 6 year mine life
Payback of 1.7 years
Exploration
Moving forward, the company will also focus on developing additional target areas so as to prioritize zones for potential resource development while the Laiva mine re-enters production. This includes the Mussuneva and Kaukainen targets, which hosts a similar geochemical signature and mineralization as the Laiva mine, as well as high potential for open pit production. The company plans to conduct a further 3,000 meters of drilling, the results of which will be used to determine the targets for a later phase.
Other target areas on the property include the North and South pit area, both of which are open at depth and host high-grades near surface. Results from these areas include 1 meter at 2.5 g/t gold in the southern region and 2 meters at 44.7 g/t gold in the northern pit.
Lastly, a third area of exploration upside is the Oltava area, which is 12 kilometers away from the Laiva mine and hosts similar geochemical signatures to the past-producing mine. Historic drilling results include intersections of five to eight meters of 2 g/t gold. The company believes that there is high potential for new discoveries in this region.
Management
Basil Botha—Executive Chairman
Basil Botha brings more than 30 years international coal mining and marketing experience. He has extensive knowledge of the minerals and metals markets in Japan, Taiwan and South Korea where he supplied lithium to the ceramics and glass industry from Bikita Minerals' mines in Zimbabwe. In addition he has extensive knowledge of Canadian capital markets and the junior mining sector. In addition to his Nordic Gold commitments he is President, Chairman and Director of Lithium Energy Products (LEP). He also holds an MBA from the University of the Witwatersrand, South Africa.
Michael Hepworth—President and CEO
Michael Hepworth is an accomplished entrepreneur and business leader with more than 35 years of diverse international business experience. He has started and built 5 successful businesses from the ground up. He also consulted and advised businesses, in many sectors including professional and financial services, high tech, engineering and manufacturing. He has over 12 years of corporate development experience in the resources industry. He is experienced negotiator of technology agreements, corporate acquisitions and divestitures. At the moment he is President of Nordic Gold and director of Condor Precious Metals, Canadian Iron Metallics and Alpha Resource Management.
Joe Ranford—COO
Joe Ranford has a Bachelor of Engineering from the University of South Australia and an MBA from the University of Adelaide. He has a wealth of experience mining various commodities; including gold, copper, platinum, lead, zinc and iron ore. His diverse management experience includes operations, business and project development and stakeholder engagement. While working on three continents, Joe has held various leadership roles with companies such as Crocodile Gold Corp., Mount Gibson Iron Limited, Goldcorp Inc., Brandrill Limited and Normandy Mining Limited.
Vern Langdale—Mine Manager
Vern Langdale has over 30 years experience in mining and 20 years of this is in operations either managing departments or working within them. Vern has also specialised in Bankable feasibilities and commissioning new mines in remote locations doing this in China, Indonesia, Bolivia and Saudi Arabia.
Recently he successfully project managed a heap leach feasibility to approval stage in Java managing a $10million dollar budget and 35 consultancies.
Ernest Cleave—Director
Ernest Cleave is financial executive with extensive capital markets experience; Goldcorp, Falconbridge, Grandview Gold, Cline Mining. Currently he is CFO
of Largo Resources.
Paul Sarjeant—Director
Paul Sarjeant is a professional geologist with mineral exploration and development experience in North and South America and throughout Africa, Asia and Europe. His career in mineral exploration spans 25 years. He has extensive experience having served as President & CEO roles for several small cap exploration and development companies and is currently a director and consultant to a number of private and public mining companies. He is also the President, CEO and founder of Doublewood Consulting Inc. that provides technical and management services to the mineral exploration industry. He holds a BSc (honors) in geological sciences from Queen's University in Kingston, Ontario and is a member of the Association of Professional Geoscientists of Ontario. He is the Qualified Person for Lithium Energy Products Inc. under NI 43-101.
David Forest—Director
David Forest is founder and COO – Sunward Resources, COO – Condoto Platinum and VP Exploration – Asia Pacific Mining. Formerly – Investment analyst with Casey
Research.
Peter Pollard—Director
Dr Peter Pollard is a geologist with global experience in mineral exploration and development. He holds a PhD from James Cook University and is a Chartered Professional Member of the Australasian Institute of Mining and Metallurgy and a Fellow of the Society of Economic Geologists. He is a non-executive director of Asiamet Resources Limited.
---
*Disclaimer: The profile provides information which was sourced and approved by Nordic Gold in order to help investors learn more about the company. Nordic Gold is a client of the Investing News Network (INN). The company's campaign fees pay for INN to create and update this profile page, to which links are placed on Investingnews.com and channel newsletters.
The company description, investment highlights and catalysts were sourced by INN and approved by the company. INN does not guarantee the accuracy or thoroughness of the information contained on this page.
INN does not provide investment advice and the information on Investingnews.com profile should not be considered a recommendation to buy or sell any security.
INN does not endorse or recommend the business, products, services or securities of any company profiled.
Readers should conduct their own research for all information publicly available concerning the company.