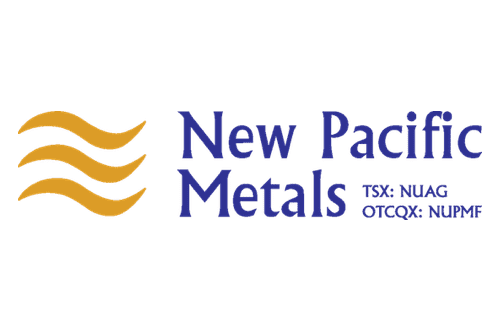 New Pacific Metals
A New Frontier of Silver Exploration
New Pacific Metals (TSX:NUAG,OTCQX:NUMPF) is exploring and developing precious metals projects in Bolivia. The company's largest shareholders are Silvercorp Metals Inc. (TSX:SVM), the largest primary silver producer in China, and Pan American Silver Corp. (TSX:PAAS), one of the world's largest primary silver producers, whose mines include the San Vicente mine located in the Potosí Department of Bolivia.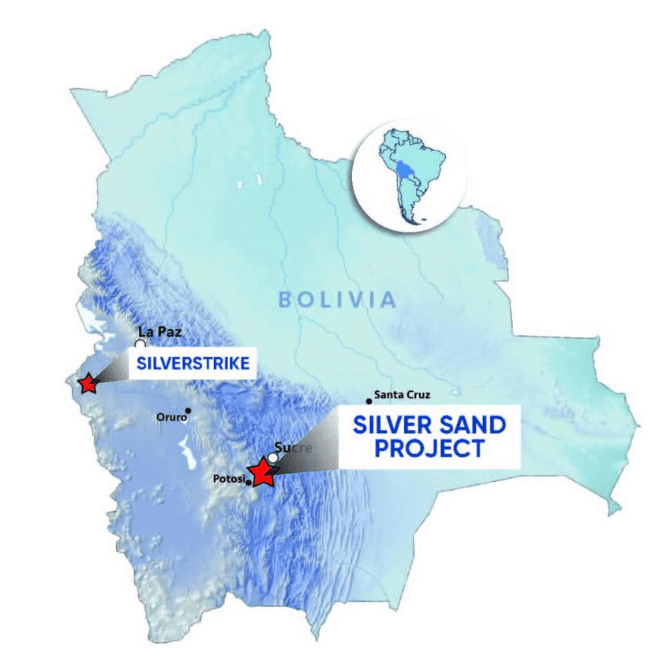 The company's flagship project is the Silver Sand project in the Potosí Department of Bolivia. The Silver Sand project is silver only and hosts a 2020 NI-43 101 compliant resource estimate, including measured and indicated resources of 35.39 Mt at 137 g/t silver for 155.86 Moz and inferred resource tonnes of 9.84 Mt at 112 g/t silver for 35.55 Moz. In addition to the Silver Sand project, New Pacific acquired the Silverstrike project, an analog to Silver Sand, in December 2019.
New Pacific Metals' Company Highlights
Resource: Detailed drilling indicates mineral continuity, providing high confidence and lower technical risk. Silver Sand hosts measured and indicated tonnes of 35.39 Mt at 137 g/t silver for 155.86 Moz, plus 9.84 Mt at 112 g/t silver for 35.55 Moz in the inferred category. Potential exploration upside at Silver Sand north blocks and southeast blocks.
Open Pit: Mineralization starts at or near surface and is amenable to potential open-pit mining extraction. Approximately 70 percent of the resources are within 200 meters of the conceptual open-pit surface.
Recovery Rates: Favorable initial metallurgical test work indicates laboratory-based recoveries of up to 97 percent for the various oxide – transition and sulfide mineral domains (see news release dated August 23, 2019). Updated metallurgical work is underway.
Quality Leadership: Board and management consist of former top executives from mining majors such as Anglo American, Trevali Mining, Eldorado Gold, Silvercorp Metals and MAG Silver. Experienced in bringing projects from exploration and development to production.
Capital Structure: As of June 2020, the treasury stands at C$68.6 million. On June 9, 2020, New Pacific closed a second Bought Deal Financing C$25 million.
Exploration Progress: PEA for Silver Sand is currently underway and due for release in Q1, 2021. More results are expected from open targets in Silver Sand.
Graduation: On August 12 New Pacific Metals graduated from the Toronto Venture Exchange (TSXV) to the Toronto Stock Exchange (TSX).
Another Asset for New Pacific Metals: New Pacific Metals acquired the Silverstrike project from an arm's length private Bolivian corporation in December 2019. The Silverstrike project includes three distinct zones of mineralization: Silverstrike North, Central and South.
New Pacific Metals' Silver Sand Project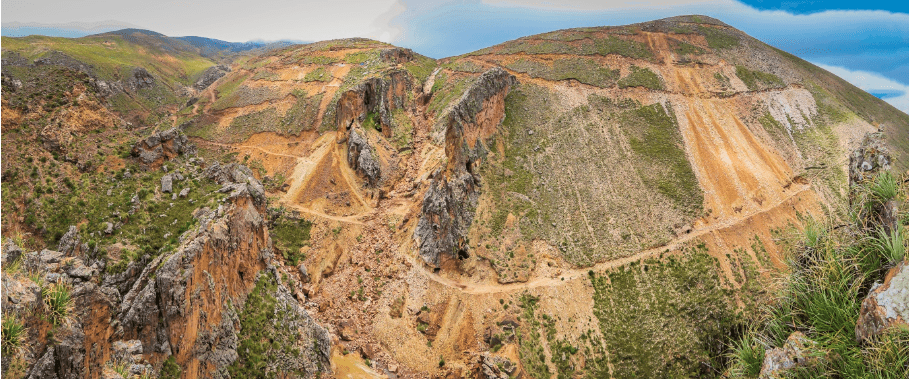 New Pacific Metals' Silver Sand project is located approximately 35 kilometers northeast of the world-famous Cerro Rico silver and base metal mineral system near Potosi, Bolivia. Cerro Rico hosts approximately 1.6 billion historical ounces of silver. The Silver Sand project hosts measured and indicated resources of 35.39 Mt at 137 g/t silver. The property can be accessed easily by road from Potosi, including year-round gravel road access for the purpose of mining. Silver Sand, which was discovered in the mid-1550s, was one of the earliest mineral discoveries made in Bolivia. Silver was historically mined in the core area of the property by Spanish Colonials from the early 16th century to the end of the 19th century.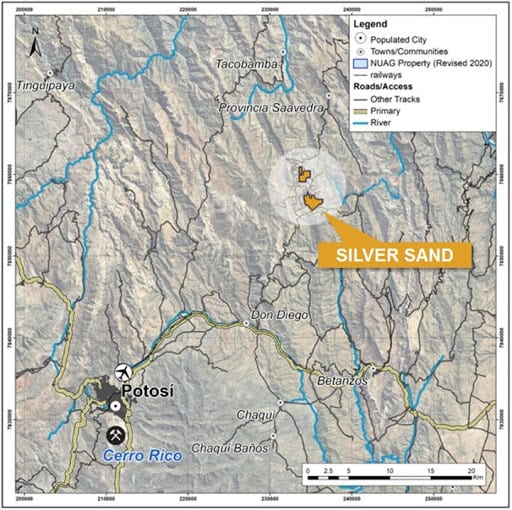 Silver Sand comprises four concession areas of North and South blocks totaling approximately six square kilometers. The Core Silver Sand mineral area is a total of 3.17 square kilometers.
Exploration
In 2018 to 2019, New Pacific conducted the largest drill program for an exploration company in South America, completing roughly 100,000 meters of diamond drilling at Silver Sand, returning broad intervals of near-surface, structurally controlled silver mineralization.
The final 37 drill holes of New Pacific Metals' resource definition and discovery program included highlights of:
DSS525021, 279.25 meters at 91 g/t silver from 4.9 meters to 284.5 meters, including 5.4 meters at 657 g/t silver from 217.55 meters to 232.95 meters
DSS522513, 108.98 meters at 228 g/t silver from 40.32 meters to 149.3 meters, including 54.46 meters at 414 g/t silver from 43.84 meters to 98.3 meters
DSS527505, 78.2 meters at 245 g/t silver from 40.1 meters to 118.3 meters, including 28.44 meters at 335 g/t silver from 43.3 meters to 71.74 meters, including 13.2 meters at 541 g/t silver from 83.1 meters to 96.3 meters
Resource Estimate
On April 14, 2020, New Pacific Metals released the inaugural NI 43-101 Mineral Resource estimate for the Silver Sand project. Using a cut-off grade of 45 g/t silver, the estimate reported measured and indicated resources of 35.39 Mt at 137 g/t silver for 155.86 Moz and inferred resource tonnes of 9.84 Mt at 112 g/t silver for 35.55 Moz. According to the report, mineralization on the property begins at- or near-surface and is amenable to potential open-pit mining extraction, as approximately 70 percent of the resources are within 200 meters of the conceptual open-pit surface.
Initial metallurgical test work indicates laboratory-based recoveries of up to 97 percent. No feeder zones or source instructions were discovered, and mineralization remains open to the north and south at depth. The resource estimate did not include the discovery at the Snake Hole zone, where drilling intercepted 72.4 meters grading 279 g/t silver.
Currently, advanced studies are being conducted to advance the Silver Sand project.
Expanding Silver Sand
Moving forward, New Pacific Metals intends to continue to expand Silver Sand by following up on high-grade zones of mineralization at Snake Hole, which is to the east of the current Silver Sand deposit. The company believes the project is open to expansion based on the existing drill results.
The Snake Hole prospect is located approximately 600 meters east of the core area of the Silver Sand project and comprises artisanal underground workings and structures. Geochemical sampling conducted on the workings and mine dumps has returned encouraging results typically ranging from 100 g/t silver to 300 g/t silver. Exploration drilling began on the Snake Hole prospect in August 2019; the drilling included a total of 24 completed drill holes totaling approximately 6,000 meters. The majority of the drill holes intersected evidence of silver mineralization.
Highlights from the drill program include:
DSS5218: 72.44 m @ 279 g/t silver from 60.5 m to 132.94 m including 32.96 m @ 517g/t silver from 84.95 m to 117.9 m
DSS525020: 38.4 m @ 143 g/t silver from 29.9 m to 68.3 m including 6.2 m @ 749 g/t silver from 36.8 m to 43.0 m
DSS5217: 11.12 m @ 761 g/t silver from 149.48 m to 160 m
The three northern blocks of the Silver Sand core area, El Bronce, Jardan and Jisas, host numerous ancient workings and dumps. Surface grab samples taken from El Bronce have returned up to 1000 ppm silver.
New Pacific Metals' Silverstrike Project, La Paz, Bolivia
In December 2019, the Silverstrike project was acquired from an arm's length private Bolivian corporation. New Pacific Metals' Silverstrike project comprises nine concessions totaling approximately 13 square kilometers. The project is located in the historic Berenguela Mining District, approximately 140 kilometers southwest of La Paz, Bolivia, at an elevation between 4,000 and 4,500 meters above sea level. The project hosts sandstones intruded by a felsic dome, with fracture-controlled silver mineralization and veinlets in massive altered sandstone units.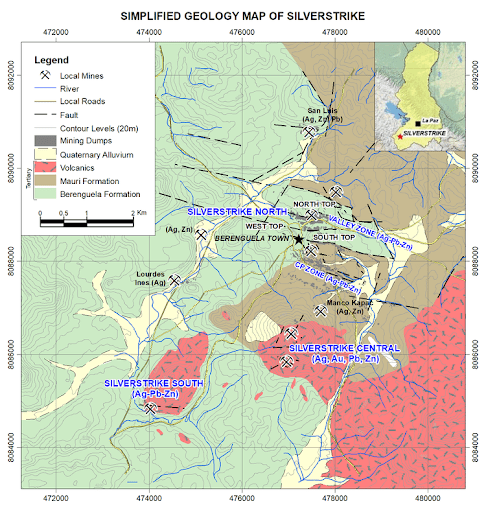 There has been limited exploration in the Silverstrike project, where three main target areas have been identified: Silverstrike North, Silverstrike South and Silverstrike Central. In the mid-1990s, Rio Tinto had conducted extensive sampling and a limited amount of diamond core drilling and reverse circulation drilling, including these intercepts: 2 meters at 1,254 g/t silver, 0.33% lead, 0.19% zinc and 0.48% copper; 2 meters at 237 g/t silver, 0.6% lead, and 0.5% copper; 220 meters at 45 g/t silver, 0.51% lead and 0.44% zinc; and 62 meters at 0.74 g/t gold.
The style of mineralization at Silverstrike is similar to that found at Silver Sand, including subvertical silver-lead-zinc mineralized fractures developed in sub-horizontal sandstones. Initial drill testing in Silverstrike is expected to commence in Q4 2020.
New Pacific Metals' Management Team
Mark Cruise, CEO
Dr. Mark Cruise is an exploration and mining professional with in excess of 25 years of global experience having discovered, developed or operated mines in Europe, South America, Canada and Africa. Most recently, Mark founded Trevali Mining, at which he grew the company from initial discovery to a global top 10 zinc producer. Mark has held a variety of professional and executive positions with Anglo American and various TSX/TSXV listed exploration and development companies. Mark holds a Bachelor of Geology and a Doctorate of Geology from the University of Dublin, Trinity College. Mark provides oversight to the Canadian leadership team in addition to the Bolivian development and exploration teams as the Company continues to de-risk and advance the Silver Sand Project and grow its project pipeline.
Jalen Yuan, C.P.A., C.A.
Jalen Yuan is a professional accountant with over 14 years of diverse international experience in financial reporting, financing, auditing, internal control and accounting in the mining industry. Mr. Yuan is a member of Chartered Professional Accountants of British Columbia since 2009.
Alex Zhang, Vice President, Exploration
Mr. Zhang is a Professional Geoscientist registered with Engineers and Geoscientists BC (EGBC) and in good standing, with more than 30 years of experience in mineral exploration. He has worked with Eldorado Gold, Afcan Mining, Sino Gold, Silvercorp and New Pacific Metals.
David Tingey, Vice President, Sustainability
David holds formal qualifications in Civil/Environmental Engineering and brings with him over 20 years of diverse leadership experience across the mining and construction sectors ranging from small-scale to international market leaders, including Rio Tinto, Western Coal, Coeur D'Alene Mining and Comsur.
Yong-Jae Kim, General Counsel and Corporate Secretary
Yong-Jae Kim is called to the British Columbia bar. He previously practiced law at Gowling WLG (Canada) LLP in their corporate finance group, where he advised a number of large companies in the resource sector active in various international jurisdictions.
---
*Disclaimer: This profile is sponsored by New Pacific Metals (TSXV:NUAG,OTCQX:NUMPF). This profile provides information which was sourced by the Investing News Network (INN) and approved by New Pacific Metals, in order to help investors learn more about the company. New Pacific Metals is a client of INN. The company's campaign fees pay for INN to create and update this profile.
INN does not provide investment advice and the information on this profile should not be considered a recommendation to buy or sell any security. INN does not endorse or recommend the business, products, services, or securities of any company profiled.
The information contained here is for information purposes only and is not to be construed as an offer or solicitation for the sale or purchase of securities. Readers should conduct their own research for all information publicly available concerning the company. Prior to making any investment decision, it is recommended that readers consult directly with New Pacific Metals and seek advice from a qualified investment advisor.