This profile is part of an investor education campaign. The profile provides detailed information which was sourced and approved by Neo Lithium in order to help investors make better investment decisions. The Company's support of Investing News Nletwork ensures we can continue to bring you unbiased, independent news and information.
Resource Investing News Featured Stock
Overview
Neo Lithium Corp. (TSXV:NLC, OTCQX:NTTHF) is an emerging lithium brine exploration company in the world's leading lithium production hub, South America's Lithium Triangle. The company is aggressively advancing on its wholly-owned 3Q Project located in Catamarca Province, Argentina's largest lithium producer. The newly discovered Tres Quebradas (3Q) Project's unique geochemistry makes it one of the highest-grade and lowest-impurity salars in the world.
Demonstrating the significant potential of the size, grade and low impurities at 3Q Project , the maiden resource estimate includes a measured and indicated resource of 0.7Mt of lithium carbonate equivalent at an average grade of 716 mg/L lithium and an inferred resource of 1.4Mt of lithium carbonate at 713mg/L.
Low impurities allow for low-cost evaporation techniques in the production of lithium carbonate. The favorable results from recent process, pump and porosity studies at 3Q were factored into the Preliminary Economic Assessment (PEA) completed in October 2017. "We are very pleased to have advanced this project from discovery to PEA in less than two years," stated Waldo Perez, President and CEO of Neo Lithium. "We will continue to rapidly advance our wholly owned 3Q Project with a view to a full feasibility study towards the end of 2018 along with project finance, and mine construction soon thereafter."
Neo Lithium is fully permitted and well-financed through feasibility. The company recently completed a $30 million financing and is fully financed to feasibility with $65 million in net cash as of December 2017.
Neo Lithium's management and technical teams are highly knowledge and experienced with lithium salars. President and CEO Dr. Waldo Perez was formerly the President and CEO of Lithium Americas as well as the technical leader from discovery through to full feasibility on the Cauchari lithium salar, the third largest lithium brine resource in the world. Neo Lithium Chairman Constantine Karayannopoulos is a professional chemical engineer and a former Director of Lithium Americas.
Investment Highlights
Fully-permitted, 100-percent owned pure lithium brine play in Argentina
Large salar footprint encompassing one of the highest grade, lowest impurity lithium brine projects in the world
Robust potential from its maiden resource estimate for 3Q

Measured and indicated resource of 714,242 tonnes of lithium carbonate equivalent at an average grade of 716 mg/L lithium
Inferred resource of 1,339,546 tonnes of lithium carbonate equivalent at an average grade of 713 mg/L lithium

Low impurities allow for low-cost solar evaporation process for lithium carbonate production
US$15 million invested in advancing the project with infrastructure in place including lab and pilot evaporation pond
Fast-tracking project with robust PEA now complete followed by Feasibility Study in Q4 2018 to Q1 2019
Exceptionally experienced management and technical teams
Strong net cash position of $65 million as December 2017 following recent financing of $30 million.
Strongest institutional shareholder base with 44%; 16% insider-owned
Key Asset: 3Q Lithium Project
The most recent high-grade lithium brine lake and salar complex discovery in the Lithium Triangle.
The 3Q Project covers 350 square kilometers and includes three brine reservoirs and three salars. The complex is located in the Puna Plateua which lies in the southwestern portion of Catamarca. The province is also home to FMC's Fenix lithium mine and Galaxy's Salde Vida project. 3Q is easily accessible year-round via an upgraded project road and a provincial highway. With a direct road to Pacific ports, the project is a mere 30 kilometers from the high-grade Maricunga Salar located along the Chilean border.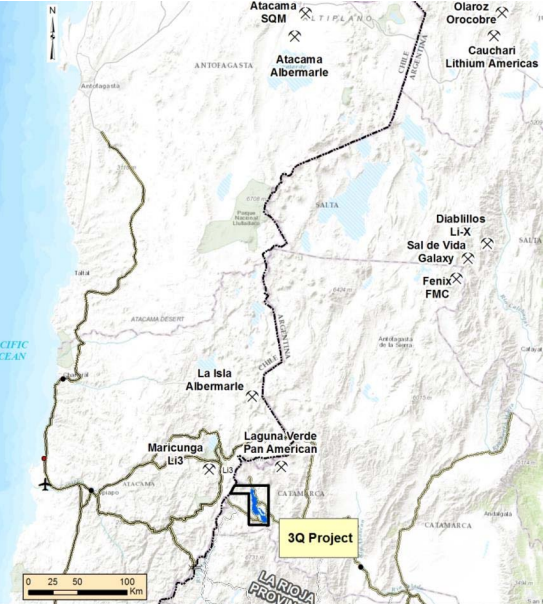 Over $15 million has been invested in the 3Q Project. Infrastructure includes onsite fully-functional solar power, diesel generators, a diesel pump station, a state-of-the-art Vaisala weather station, a 60-kilometer all weather road, a full geochemical laboratory and a completed pilot pond.
Resource Estimate for 3Q
In just one season of drilling Neo Lithium completed its maiden resource estimate for 3Q, ranking the project as the 8th largest lithium brine deposit in the world combined with one of the highest lithium brine grades and low impurity levels of any salar.
Preliminary Economic Assessment
The Preliminary Economic Assessment for the 3Q Project is based on construction commencing in 2019 with a three-year ramp-up from 2021 to 2023. Capital costs for the project are within industry parameters on a 35,000/yr production.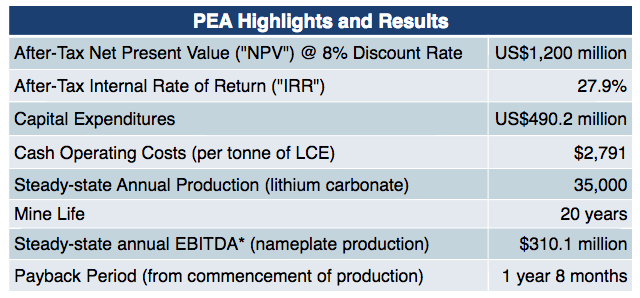 Cash costs of $2,791/t are very competitive with current producers and compares well with advanced development projects.
Northern Target: Unique High-Grade/Low Impurity Chemistry
The right chemistry for low cost evaporation process: high lithium grades and low impurities.
Several lithium-rich geothermal springs have been identified (as indicated by the yellow stars on the map below) in the northern portion of the project—which has the highest concentration of lithium and potassium grades, including the lowest concentration of impurities, in the 3Q complex. Neo Lithium sampled 25 of these springs and the results averaged 367 mg/L lithium with a maximum grade of 1,440 mg/L lithium– impressive considering thermal springs typically contain less than 100 mg/L lithium.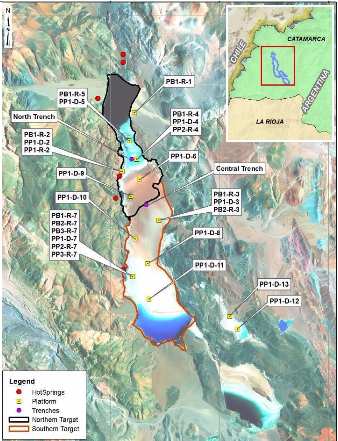 2017/2018 Development Program
Neo Lithium is conducting definition drilling to expand the current resources and define resources into reserves with a new resource estimate along with a hydrological model for the project expected in Q2 2018.
As a part of the ongoing program, the company applied seismic reflection technology—used in oil exploration—to guide drilling. Seismic programs employed by the lithium brine industry are seismic refraction. "Seismic reflection has much more resolution than seismic refraction, and we believe that it is the first time that it has been applied in a lithium brine project," stated Perez. This portion of the program is expected to be completed in December 2018.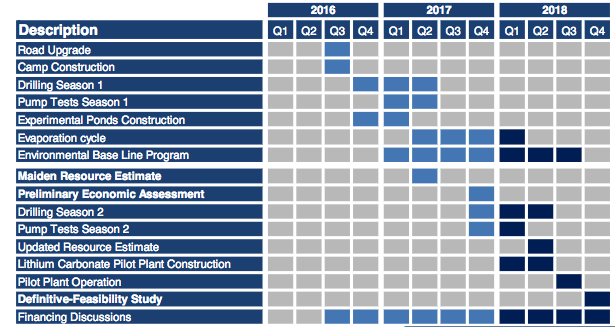 Management
Waldo A. Perez, Ph.D., P.Geo — President and CEO
Dr. Waldo Perez has 28 years of academic and industry experience in mineral exploration in South America. He was the founder and technical leader of the Cauchari project acquired through Lithium Americas Corp., and its President and CEO from inception until the end of the technical work resulting in a definitive feasibility study with strong economics. Previously he served as interim President and Chief Executive Officer of Latin American Minerals Corp and Senior Geologist for Barrick Gold, IAMGOLD, Opawica Explorations and APEX Geosciences.
Constantine Karayannopoulos — Chairman
Constantine Karayannopoulos is Chairman of the Molycorp Board of Directors, Director of the Canada China Business Council and is a member of the Advisory Board at the University of Toronto's Department of Chemical Engineering and Applied Chemistry. A professional engineer, he holds Bachelor and Master of Applied Science degrees in Chemical Engineering from the University of Toronto. Previously he served as interim President and Chief Executive Officer of Molycorp and President and Chief Executive Officer of Neo Material Technologies. He was Director of Lithium Americas Corp. from 2011 to 2015.
Carlos Vicens, MBA — Chief Financial Officer
Carlos Vicens has over 15 years of experience in financial analysis, corporate development, strategy and investment banking including mergers and acquisitions and corporate finance.  Vicens previously worked as Vice President in Scotiabank's Investment Banking Mining team and participated in over $10B of M&A transactions and well over $5B in equity and debt issuances.
Gabriel Pindar — COO and Director
Gabriel Pindar has over 22 years' experience as a Project Executive in the development of mining, gas and large scale infrastructure (rail and port) projects in Argentina, Peru, Mexico, Australia, Canada, West Africa and United Kingdom. Pindar joined the ArcelorMittal Group in 2013 as Project Controls Manager for the ArcelorMittal Mining corporate office in London and was appointed GM and Head of Projects in January 2015. His particular expertise in the area of Fast Tracking projects developed through the Iron Ore boom in Australia.
Thomas Pladsen — Director
Thomas Pladsen has over 20 years' experience in the exploration and mining industry.  Pladsen is a director of Northfield Capital Corporation, Crystal Peak Minerals Inc. and KWG Resources Inc.
Paul Fornazzari, L.L.B., LLM — Director
Paul Fornazzari is currently a partner at the law firm Fasken Martineau LLP and has a broad range of corporate, commercial and securities law experience. He was formerly the Chairman of Lithium Americas Corp., Director and Corporate Secretary. He has broad experience advising boards, executive teams and investment dealers and acts for domestic and foreign clients in various industries including: mining, petroleum, technology, life sciences and financial services.
Martin Erroz — Project Manager
Martin Erroz is a Senior Geologist with over 15 years of experience in Mineral Exploration. He
Has previously worked with Lithium Americas Corp, Latin American Minerals, Vale de Rio Doce , Gold Fields , Cardero Resources and Minera Piuquenes, on lithium, potash, gold, copper and zinc exploration and development projects.Erroz worked with Dr. Peralta and was instrumental in the discovery of Cauchari Salar, Lithium Americas Corp.
Mark King, B.Sc., PhD., P. Geo. — Independent Qualified Person
Dr. Mark King is a hydrogeologist specializing in groundwater flow and migration of constituents dissolved in groundwater. He has worked in this field, as both a researcher and consultant, for 25 years – first as a Research Associate at the Centre for Water Resources Studies (Technical University of Nova Scotia), and subsequently as a senior Project Manager in the largest environmental consulting firm in Atlantic Canada. Dr. King produced the first 43-101 compliant report filed in SEDI for a Lithium Brine deposit in Cauchari Salar and had consulted with most of the Lithium Brine salars in the Puna Plateau.
Claudio Suarez-Authievre, Ph.D Chem., B.Sc. Chem. — Process Engineer Manager
Dr. Claudio Suarez-Authievre is an expert in electrolysis, photo-electrochemistry and electro-catalysis research with 17 years of experience in academy and Industry. He worked for SQM as Process Researcher for 3 years and developed the process for Lithium Americas Corp. in the Cauchari Salar, and was the co-inventor with Waldo Perez of the proprietary lithium extraction process in Cauchari.