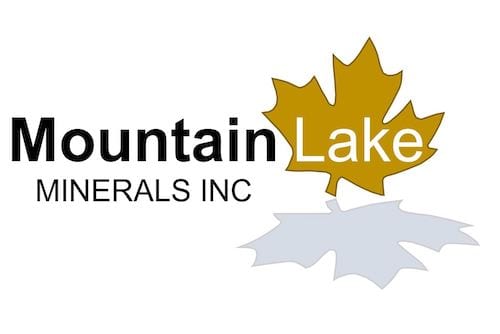 Mountain Lake Minerals
Gold Exploration in Mining Friendly Newfoundland
Overview
Mountain Lake Minerals Inc. is a new Canadian gold exploration company with a portfolio of gold projects in mining-friendly Newfoundland. The company is currently nearing completion of a series of low-cost acquisitions, including the Manuels Gold and Caledonia Brook Projects in the province, and some of the acquisitions have been completed. MLK also owns a 100 percent interest in the high-grade Golden Eye Project at Little River. Located along major gold trends, these properties exhibit the potential to host large-scale mineralizing systems.
Newfoundland ranks among the world's top 10 mining jurisdictions, according to the Fraser Institute's Mining Survey. Although Newfoundland's only producing gold mine, Anaconda Mining's (TSX:ANX) Point Rousse, is running low on gold reserves, the region has become a recent hotspot for gold exploration and development.
Mountain Lake's flagship project is the Manuels Gold Project, which has the potential to host extensions of a low-sulphidation epithermal gold system that strikes onto the property. The company commenced a fully funded Phase 1 exploration program in the fall of 2020, which includes drilling, trenching and geological mapping and sampling. This Phase I program is designed to provide the exploration team with a better geological understanding of the alteration, structure and stratigraphy controlling gold mineralization on the property. The results will help inform the remainder of a three-phase exploration approach expected to continue into 2021. Mountain Lake's management will acquire additional financing to complete Phases 2 and 3 of the Manuels project.
Positive results from three successive exploration programs at the company's Caledonia Brook Project suggest that potential for granite-hosted gold mineralization similar to Marathon Gold's Valentine Lake deposit, which lies further southwest and along the same mineralization trend. MLK will continue its ongoing exploration there into 2021.
The Golden Eye Project has historical assays up to 18.9 g/t Au from angular grab samples. A prospectus mineral corridor based on drilling, trenching and soil sampling runs through the center of the property. Canstar Resources, under an option agreement with Altius Resources, surrounds the company's Golden Eye property and recently announced gold assays up to 4,485 g/t Au along the same mineral trend. Mountain Lake believes its new geological interpretation at the property will result in further gold discovery.
Mountain Lake Minerals is led by a team of seasoned veterans with decades of experience in resource exploration and raising capital. President and CEO Paul Smith is a professional geologist who spent 33 years with the Mineral Resources Section of the Nova Scotia Department of Natural Resources as a Senior Research Gold Geologist and as Liaison Geologist for the Mineral Resources Branch before entering the private sector. Executive Chairman Bill Fleming has years of experience raising equity for small cap companies, including mineral exploration. The team also benefits from a strong network of contacts in Newfoundland's resource sector.
Mountain Lake Company Highlights
Operating in the world-class mining jurisdiction of Newfoundland, an emerging hotspot for gold exploration and development.
Has a strong portfolio of gold projects with discovery and resource development potential.
Flagship Manuels gold property is located along major gold trend and exhibits the potential to host a low-sulphidation epithermal gold system.
Mountain Lake Phase 1 will initially pursue extensions of historical epithermal gold mineralization as well as preciously unrecognized vein systems.
The Caledonia properties host mesothermal lode gold mineralization on the Marathon Trend, which is the same neighborhood as Marathon Gold's Valentine Lake gold deposit and New Found Gold to the north.
The company is also expanding its efforts at the high-grade Golden Eye Project on the south coast of Newfoundland.
Funded exploration program underway at Manuels gold property and soon to be generating news flow.
Experienced management team well-connected to Newfoundland resource sector and throughout Atlantic Canada.
Expected to be listed stock with good share structure.
Flagship Project: Manuels Gold Property, Newfoundland
Mountain Lake's Manuels gold property covers 21 claims on three contiguous licenses located in eastern Newfoundland. A mere 3 kilometers south of the town of Conception Bay South and adjacent to existing pyrophyllite mining operations, the Manuels project area enjoys excellent infrastructure including paved roads, utilities and a skilled workforce, as well as rail and a seaport immediately to the north.
The Manuels project occurs along an underexplored north-south trending structural setting with epithermal quartz veins hosting a series of vein and breccia gold occurrences along a 10 kilometer long portion of the Manuels high-alumina mineral belt. There are five specific north-south, sub-parallel structures crossing the property that could all host mineralization. There is also potential for an east-west trending mineralizing fault system. Grab samples from the Bergs and Steep Nap vein, which trends onto the property, assayed up to 9.3 g/t Au and 54.3 g/t Au respectively.

Mountain Lake's management team believes this geological environment is an ideal setting for a large, shallow, volcanogenic low-sulphidation epithermal gold vein system. This setting shares similarities to epithermal systems found in the North Island of New Zealand that gave rise to the Waihi gold deposits.
The company is pursuing both known mineral extensions on the property identified through historical work and new vein systems. In 2004, Rubicon Minerals drilled broad zones of gold-bearing veins and hydrothermal breccia with assay returns of up to 1.9 g/t gold over 0.7 meters. At Bergs, immediately to the north, a grab sample from a 1 meter wide vein trending onto the Manuels property assayed 54.3 g/t gold.
Mountain Lake's current exploration work will test the strike and down dip potential of this extension.
Exploration Update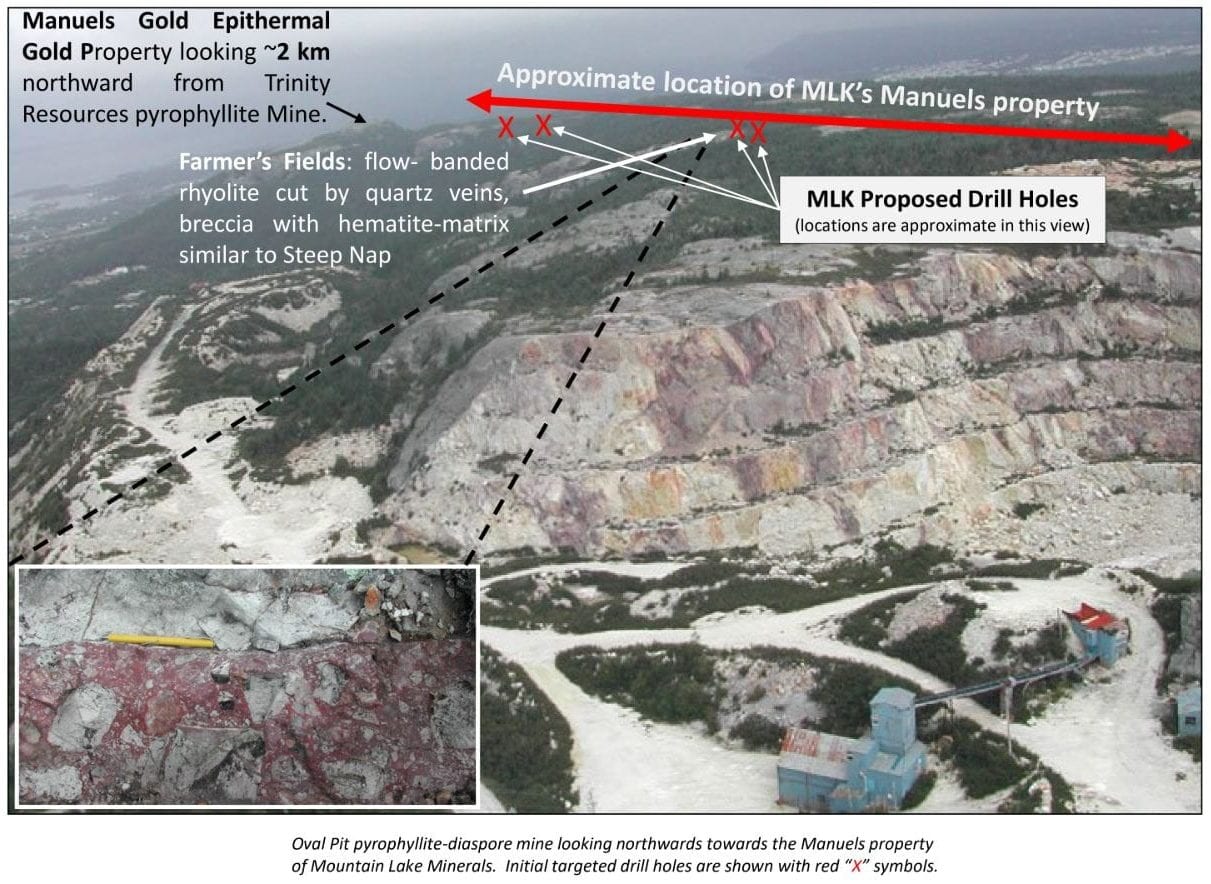 Mountain Lake has planned a three-phase exploration program at Manuels. Preliminary aspects of its Phase 1 program began in Fall 2020 and are centered on the Steep Nap and Farmers Fields mineral corridors, which transect the entire property. This phase features a 1,000 meter drill program targeting the near-surface and depth extension within each corridor. At the same time, surface trenching will evaluate stratigraphy for correlations with drill results. The company's Phase II program will consist of additional drilling to test the depth potential of these vein systems as well as trenching and geological mapping. Phase III will include resource evaluation.
Mountain Lake's team currently believe that extensive zones of high-grade gold mineralization will be encountered both at depth and in new, near-surface gold discoveries.
Mountain Lake Management
William (Bill) Fleming—Executive Chairman
Bill Fleming has founded and served as CEO for a number of entrepreneurial companies and has served with senior executive teams dealing with equity and debt financings. Fleming has developed corporate strategies for a wide range of companies, from family-owned businesses to multinational companies. He currently serves as Executive Chairman of Mountain Lake Minerals and was President of Mernova Medicinal Inc., which recently sold to Switzerland-based Creso Pharma Limited. Fleming is a Director of SpeakEasy Cannabis, and he served as the CFO and Director of NWest Energy Corp. He has experience raising equity for small cap companies and has experience in mineral exploration, renewable energy, cannabis and the psychedelic industry.
Paul K. Smith (P.Geo.)—President and CEO
Paul Smith initially assumed the role of president and CEO of Mountain Lake Minerals in July 2012 after the successful plan of arrangement between Mountain Lake Resources and Marathon Gold. A professional geologist with an MSc in structural geology from Acadia University, Smith has a unique mineral deposits skill set that stems from both private and public sector experience. He spent 33 years with the Mineral Resources Section of the Nova Scotia Department of Natural Resources as a Senior Research Gold Geologist and finally as Liaison Geologist for the Mineral Resources Branch. He joined Acadian Mining Corp in 2008 and was instrumental in the cleanup and sale of the ScoZinc Zn-Pb mine at Gays River. Smith joined Mountain Lake Resources in 2011 as Exploration Manager and then became COO. He has strong communication skills and has traveled and worked extensively throughout Canada, the US, Australia and New Zealand.
Kiley Sampson—Independent Director
Kiley Sampson has been a professional engineer in the Marine and Oil and Gas industries for the past 30 years. For the past 15 years he has been the owner and operator of his own business, supplying expertise on both construction and conversion of sea-going vessels. A native of Cape Breton, Sampson has worked for major oil companies and small independent operators alike, at all times delivering customer value with a high degree of technical expertise and knowledge. He is recognized as a leader in marine, oil and gas industry where he specializes in project management with projects now completed ranging from $60 million to $150 million. As project manager, Sampson was recently responsible for the successful delivery of the Cecon Pride, a multipurpose subsea construction vessel. He has experience in both the technical aspects and financial arrangements of complex projects, resulting in positive return on investment for his clients.
Abbey Abdiye—Chief Financial Officer
Abbey Abdiye has extensive experience in the financial sector, in both public and private companies. He is a Chartered Professional Accountant (CPA), and current chief financial officer of reporting issuers, where he is responsible for all financial, fiscal management, regulatory compliance matters and reporting aspects of company operations. He also provides strategic guidance and direction in capital structuring and is engaged in innovative financing programs that leverage sales and development.
---
*Disclaimer: This profile is sponsored by Mountain Lake Minerals, soon to be trading as TSXV:MLK subject to TSXV approval. This profile provides information which was sourced by the Investing News Network (INN) and approved by Mountain Lake Minerals in order to help investors learn more about the company. Mountain Lake Minerals is a client of INN. The company's campaign fees pay for INN to create and update this profile.
INN does not provide investment advice and the information on this profile should not be considered a recommendation to buy or sell any security. INN does not endorse or recommend the business, products, services or securities of any company profiled.
The information contained here is for information purposes only and is not to be construed as an offer or solicitation for the sale or purchase of securities. Readers should conduct their own research for all information publicly available concerning the company. Prior to making any investment decision, it is recommended that readers consult directly with Mountain Lake Minerals and seek advice from a qualified investment advisor.