This profile is part of a investor education campaign. The profile provides detailed information which was sourced and approved by Margaux Resources in order to help investors make better investment decisions. The Company's support of Investing News Network ensures we can continue to bring you unbiased, independent news and information.
Resource Investing News Featured Stock
Overview
Margaux Resources (TSXV:MRL; OTCQB:MARFF) is building a portfolio of polymetallic properties in southeastern British Columbia's prolific Kootenay Arc. The company has four properties near Salmo, B.C., including its main focus the Jersey-Emerald project.
The Jersey-Emerald is a near-term production project which hosts lead-zinc, tungsten, gold and silver mineralization. The large land package was the site of historical zinc-lead and tungsten production; in fact, the Jersey Mine was once the second largest lead-zinc mine in the province while the Emerald Mine was formerly the second largest tungsten mine in North America.
Jersey-Emerald is in the same geological region as the HB Mine, once among the world's largest zinc-lead producers, and within a half hour drive of a potential customer smelter.
Jersey-Emerald's historical production and the large underexplored land package provides shareholders with the benefits of existing infrastructure as well as significant upside potential. The fall 2016 exploration program on the property is nearly complete and the results will help inform an updated resource estimate for the project.
Margaux's vision for the property includes a mill designed to process lead-zinc, tungsten, molybdenum and gold. The company plans to begin producing lead-zinc concentrate to take advantage of the current favorable pricing environment and to switch to tungsten production on a recovery in prices for that metal or at the end of the lead-zinc mine life.
Margaux's growth strategy is based on regional consolidation of prospective historical mining claims in close proximity to the company's core assets in the Kootenay Arc. The company's most recent acquisitions include the Jackpot, Bayonne and Sheep Creek properties.
Margaux has a few key catalysts on the horizon. "The fall 2016 exploration program at Jersey-Emerald is coming to an end and we are really looking forward to bringing those assay results to the market," said Tyler Rice, Margaux President and CEO. "Our recent financings total just over $3 million to date and we're excited to put that into the ground to move the project forward into production. We are looking to commence small-scale mining operations in the summer of 2017, subject to permitting. And we're also working to strengthen our management team and board with a few strategic additions."
Investment Highlights
Regional consolidation in a resource-rich, mining-friendly and politically-stable region.
Kootenay Arc zinc-lead-tungsten-silver belt home to over 44 past producing mines and one key smelter.
Polymetallic properties (zinc, lead, tungsten, gold, silver molybdenum) offer shareholders operational diversity and mitigated market cycle risk.
High grade gold discovery zone.
New resource estimate early 2017.
Combining existing extensive database with modern data mining methods to create 3D geological and mineralization models.
Key Property: Jersey-Emerald Project
The Jersey-Emerald project is located 10 kilometers southeast of Salmo, British Columbia and covers more than 30,000 acres in the Nelson mining division. The project lies within the Kootenay Arc, a zinc-lead-tungsten-silver belt which extends for 200 kilometers. This geological region contains numerous carbonate-hosted lead-zinc deposits including 44 past producing mines.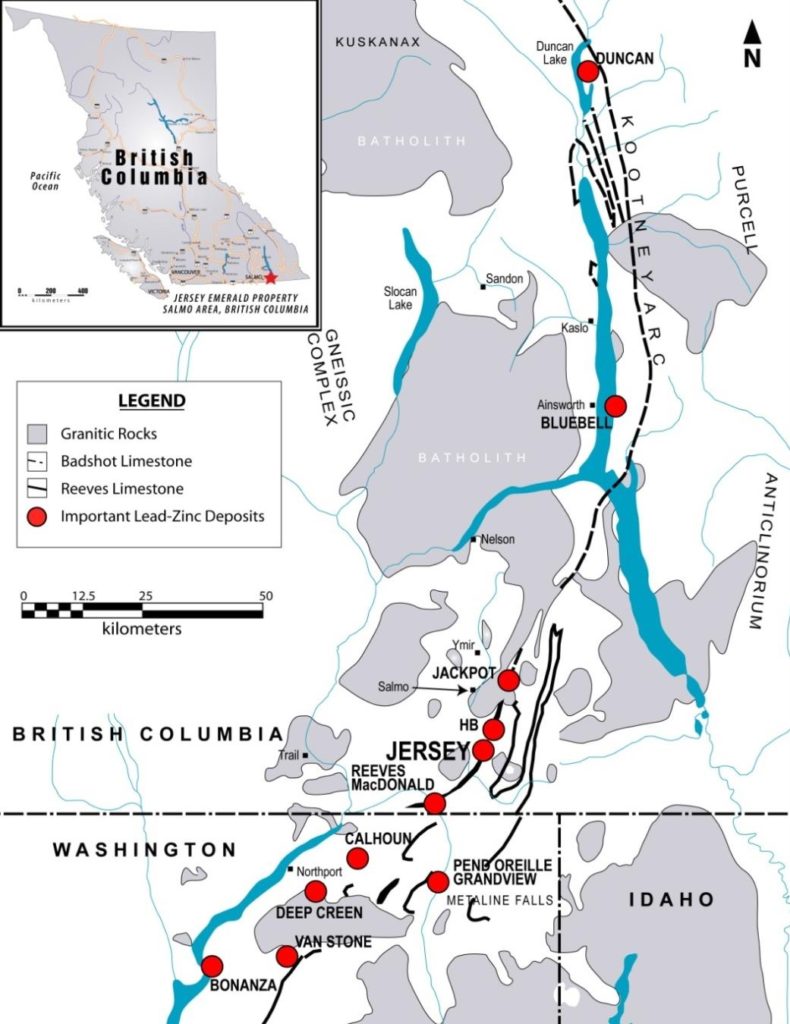 Excellent infrastructure in the area includes paved highways, nearby power lines, a skilled labor pool as well as local mining service and supply companies. Infrastructure in place on the property itself includes more than 30 kilometers of underground development.
Polymetallic project offers excellent operational diversity
The Jersey-Emerald Project has a significant lead-zinc and tungsten resource and is prospective for gold, silver, molybdenum and bismuth.
Zinc resource and historical production
The property hosts the past producing Jersey lead-zinc mine which reportedly produced 8 million tonnes between 1949 and 1970 while under ownership of CANEX (precursor to Placer Dome).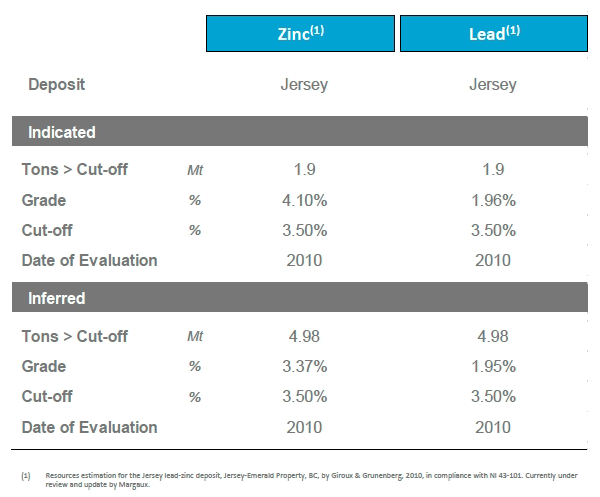 Recent zinc-lead-silver discovery
Zones of significant zinc-lead-silver mineralization were discovered during Margaux's 2016 surface prospecting program and grab samples included:
7.9 percent zinc, 22.6 percent lead, 646 g/t (22.8 oz/t) silver; and
11.6 percent zinc, 12.8 percent lead, 228 g/t (8.0 oz/t) silver.
These samples were taken from areas beyond the historic production zone, indicating the potential for expanding the resource at the project.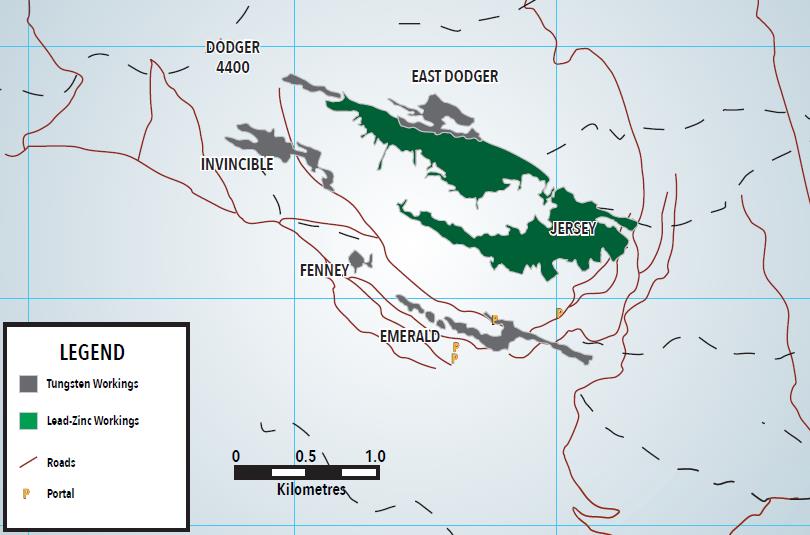 Tungsten resource and historical production
The project also hosts the Emerald, Dodger, Invincible and Feeney Mines which historically produced 1.6 million tonnes of tungsten. Tungsten production first began at the Emerald Mine in 1942 under the Canadian Government to serve the war effort. The mine was later purchased by CANEX (Placer Dome) in 1947 and tungsten was produced until 1973.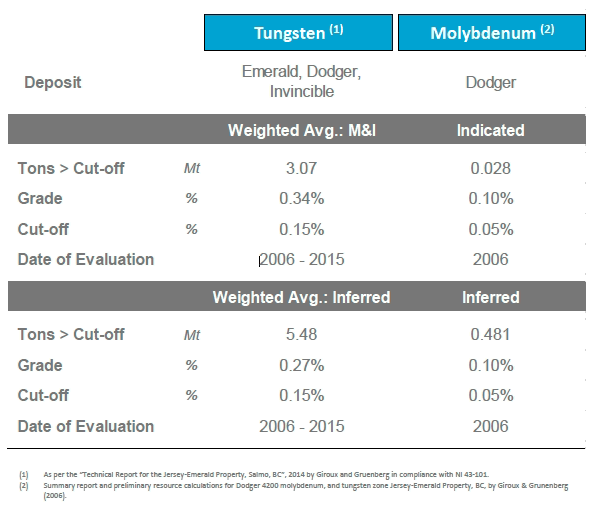 High grade gold discovery in Emerald area
Recent drilling in the Emerald area of the project has demonstrated the property's gold potential. Gold values from drill hole E1411 averaged 25 g/t over 10.20 meters including a portion with up to 68.3 g/t gold.
Data Mining: modern approach to development
Margaux has access to a substantial historical database accounting for 50 years' worth of exploration and development data on the Jersey-Emerald property including maps, surveys and drill work. Taking a modern approach, the company is collating and digitalizing the database to analyze the data, create an optimized 3D geological model and effectively identify new drill targets.
Fall 2016 drill program
Margaux is soon to complete its 2016 Fall Exploration Program at the Jersey-Emerald project. "The drilling program aims to advance our understanding of the continuous chip samples that were taken from a band of galena-rich mineralization, running the length of the 13-metre long drift identified as the Emerald 4640, as well as provide additional understanding of our previously announced high-grade gold discovery," said Rice.
Following the completion of the 2016 fall exploration program, the company plans to complete an updated resource estimate for the project.
Kootenay Arc Regional Consolidation
"Margaux is pursuing a regional consolidation strategy targeted at prospective historical mining sites proximal to Margaux' core assets, where we believe there is likely to be untapped polymetallic mining opportunities," stated Rice. "Much of the historic mining in this region dates back prior to the turn of the century, when modern exploration and mining technologies were not available, leaving high potential for unexploited opportunities."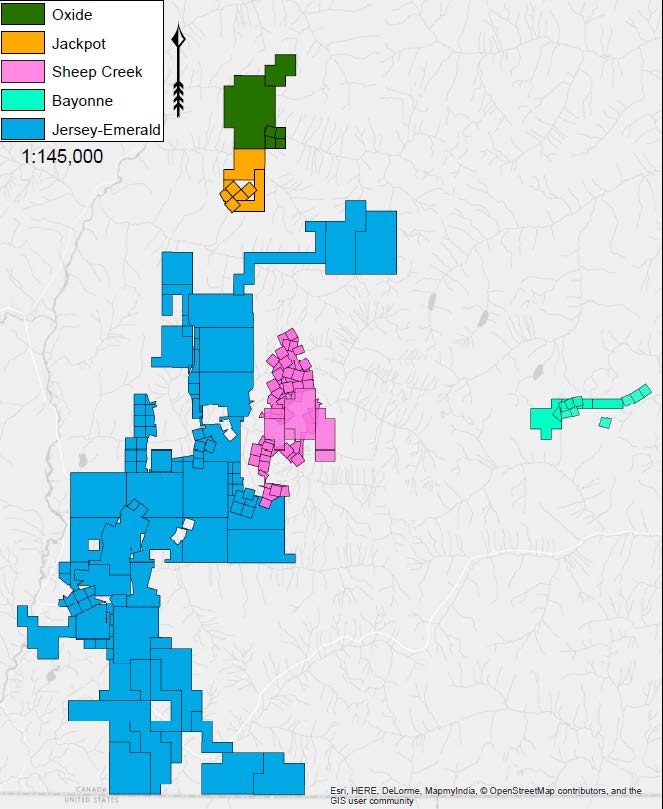 Margaux plans to use the data mining process employed at Jersey-Emerald to establish a more accurate and up-to-date understanding of the mineral potential at Jackpot, Bayonne and Sheep Creek.
Jackpot Property
The Jackpot Property is located a short two kilometers north of the external claim boundary of Margaux's Jersey-Emerald Project. Acquired in October 2016, the 1,326-hectare property represents the company's first step toward becoming a regional consolidator within the Kootenay Arc.
The project is prospective for zinc, lead and silver, and is on strike with the same geological structure that hosts several key lead-zinc mines including Jersey-Emerald, Reeves MacDonald and HB. In fact, drill results from 2008 confirmed the presence of mineralization similar in grade to several mines in the Nelson mining division.

Grabs sample results announced in December 2016 identified three significant high-grade zinc horizons. The samples contained zinc grades of 30.8 percent and 16.4 percent.
Bayonne Property
Prospective for gold and silver, the 466-hectare Bayonne Property was the site of historical production totaling a reported 81,782 tonnes, grading 16.0 g/t gold and 45.9 g/t silver.
A technical report completed on the property in 2008 details an historic (non 43-101 compliant) resource estimate of 29,730 tonnes Measured and Indicated at a grade of 12.8 g/t gold and 95,000 tonnes Inferred at a grade of 14.9 g/t gold.
Sheep Creek Property
The Sheep Creek Property covers 1,589 hectares and encompasses the past-producing Motherlode, Reno, Nugget, Goldbelt and Queen mines. Together these mines have historically produced 632,590 ounces of gold with an average grade of 15.12 g/t gold and 252,461 ounces of silver. The Sheep Creek mining camp was active between 1899 and 1951, discovering 55 gold-bearing quartz veins distributed over an approximately 8-kilometer north-south trend. Notably, 34 of these veins were past producers.
Management
Tyler Rice—President, CEO and Director
Tyler Rice has substantial experience with both public and private companies as a consultant, investor and/or an employee in a wide spectrum of industries, including healthcare, oil & gas production and shipping, oilfield communications, real estate and mining. As a Chartered Professional Accountant, he has provided consultancy services to several public and private companies in numerous capacities, including International Financial Reporting Standards, Sarbanes-Oxley implementation and providing virtual CFO services.
Jim Letwin—Chairman
Jim Letwin is the CEO and co-owner of Jan Kelley, a full-service marketing and consulting agency with global clients that include Petro-Canada's Lubricants Division (mining, transportation, manufacturing, construction), Sasser Family Holdings (transportation), ROXUL Insulation (commercial and residential), Navistar (transportation, commercial vehicles used in mining and construction) and Export Development Canada. He holds a Bachelor of Science degree and a Master of Business Administration, and has been an award-winning instructor within the MBA program at McMaster University for more than 20 years.
Jason Linkewich—CFO
Jason Linkewich has spent over 20 years in the resource sector with extensive experience in all aspects of management, strategic planning and development. He has served in various leadership and strategy positions across a variety of sectors. Linkewich has achieved both FCPA and FCMA designation status and currently serves on several private and not-for-profit boards.
Richard Kilpatrick—Vice President, Exploration
Richard Kilpatrick has over 28 years of industry experience in domestic and international exploration, mine operations and consulting for junior and mid-tier companies. Most recently, he served as President and CEO of a TSX-V junior listed exploration company, where he led exploration projects for gold in Canada. Kilpatrick is a registered professional geologist.
Edward Lawrence—Director
Edward Lawrence has been involved in the mining industry for 57 years, 23 of those specific to the Jersey-Emerald Property. Prior to the formation of Margaux, he spent the last 8 years as a consultant for Sultan Minerals, guiding the exploration program, commencing an evaluation of the exploration results and designing a mine production plan.
Robert Derkitt—Director
Robert Derkitt has over 35 years of corporate and consulting experience and has provided services to multiple industries, including energy, petrochemical, telecommunication, healthcare, manufacturing, financial and not-for-profit. Derkitt started his career as a commissioned officer at various Canadian and international military installations, and received a United Nations Peacekeeping medal for his service within Egypt.
Doug Foster—Director
Doug Foster has had a banking career spanning over 25 years. During his banking tenure, he has been involved with structuring, consulting and financing of major national and international infrastructure projects. His experience includes Founding President and Chief Executive of Bank West and Scotia Capital.
Ryan Bignucolo — VP Business Development
Ryan Bignucolo is a seasoned investor relations executive who brings more than 18 years of experience in a broad array of industries to his role at Margaux. For the last 5 years, he was at The PACE Network where he assisted clients in identifying new opportunities along with attracting new investors while building strategic alliances and improving stakeholder communications. Prior to that, he owned and ran his own successful construction and resource services company in Northern Ontario.